Anti-CAA sit-in at Kamrup
'BJP has committed a crime by destroying the secular structure of the democracy'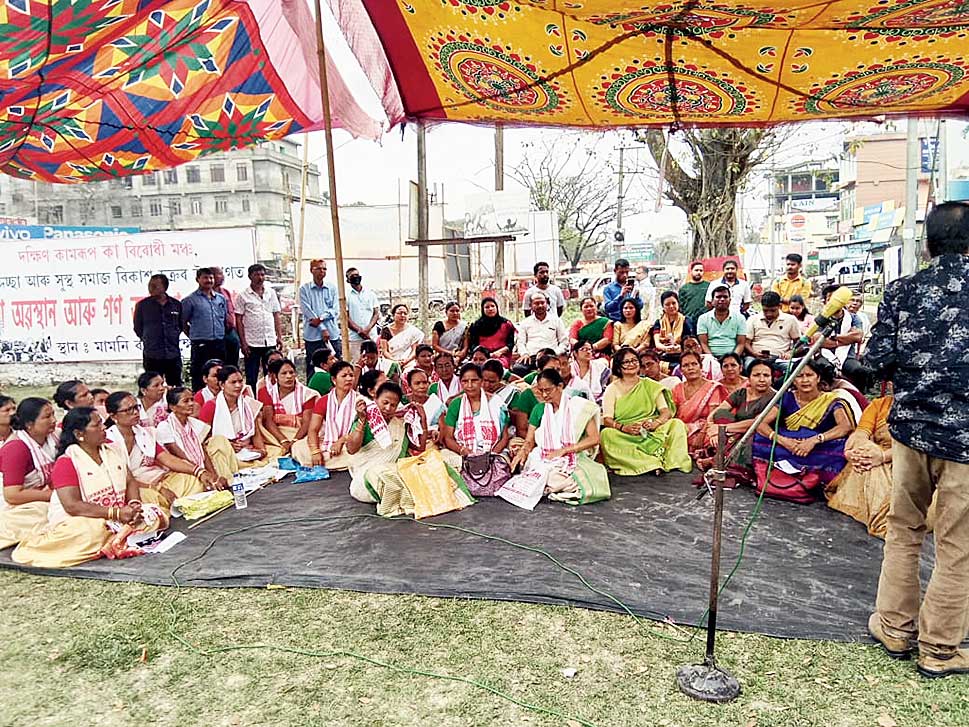 Women at the protest at Mirza on Saturday.
Picture by Debananda Medak
---
Guwahati
|
Published 15.03.20, 09:38 PM
|
---
The Sustha Samaj Bikash Chakra, Dakhin Kamrup CAA Birudhi Mancha and Sadissa, a Leftist cultural organisation on Sunday reiterated its demand for the immediate release of KMSS leader Akhil Gogoi and other anti-CAA protesters who have been languishing in jail.
The three organisations staged a two-day demonstration and conference at the Mamoni Raisom Goswami Park at Mirza in Kamrup district from Saturday.
Asom Songrami Mancha working president Adip Kumar Phukan said, "The month-long democratic movement launched by the people of Assam on the streets is not only against the Citizenship Amendment Act, it is also against those law makers who have brought the draconian law. We must answer them (the law makers) by exercising our voting franchises to throw out of power."
Stating that the people of Assam have been facing multiple challenges like never before, Phukan said, "Apart from CAA, during this current BJP regime, Assam is also facing the highest rate of unemployment. Most of the small scale industries, that is more than thousands have been dilapidated. The economy of the state has gone beyond a repairable state."
The regional political party leader stressed that the BJP has committed a crime by destroying the secular structure of the democracy.
"It is unfortunate that the Centre as well as the government of Assam has been dividing the people of Assam in the line of ethnicity and religion at time when they (BJP) should have been find a way out to revive the decaying economy. Keeping in mind the Assembly election scheduled for 2021, the state government is attempting to centralise its power through divisive and tricky politics," Phukan said.
He also urged the leaders of political and ethnic organisations of the scheduled areas and northeastern states having an inner line permit provisions to oppose the CAA.
"If the people and the land of Assam is not secured after the implementation of the Act, how will those scheduled areas and ILP states be secured?" Phukan argued.
The sit-in-protest was also attended by a number of scholars, retired university professors, students' union and political party leaders, and representatives from different organisations.