An-32 plane wreckage sighted
Ground search under way, landing sight identified
---
|
Tinsukia
|
Published 11.06.19, 07:02 PM
---
The wreckage of the Indian Air Force aircraft that went missing on June 3 with 13 people on board was spotted 16km north of Lipo in Arunachal Pradesh on Tuesday, an air force statement said.
The IAF posted on Twitter at 3.21pm: "The wreckage of the missing AN32 was spotted today 16 Km North of Lipo, North East of Tato at an approximate elevation of 12000 ft by the IAF Mi-17 Helicopter undertaking search in the expanded search zone".
Another tweet, posted two minutes later read: "Efforts are now continuing to establish the status of occupants & establish survivors. Further details will be communicated as the recovery actions progress".
The An-32 transport aircraft (tail number K-2752) had taken off from Jorhat in Assam at 12.27pm for Mechuka advance landing ground in Shi-Yomi district of Arunachal Pradesh and had gone off radar around 1pm. Its wreckage was spotted around 69km (road distance) from Mechuka, IAF sources said.
"The latitude and longitude of the wreckage site is 28 degrees 39'59'N and 94 degrees 29'16'E", a source said.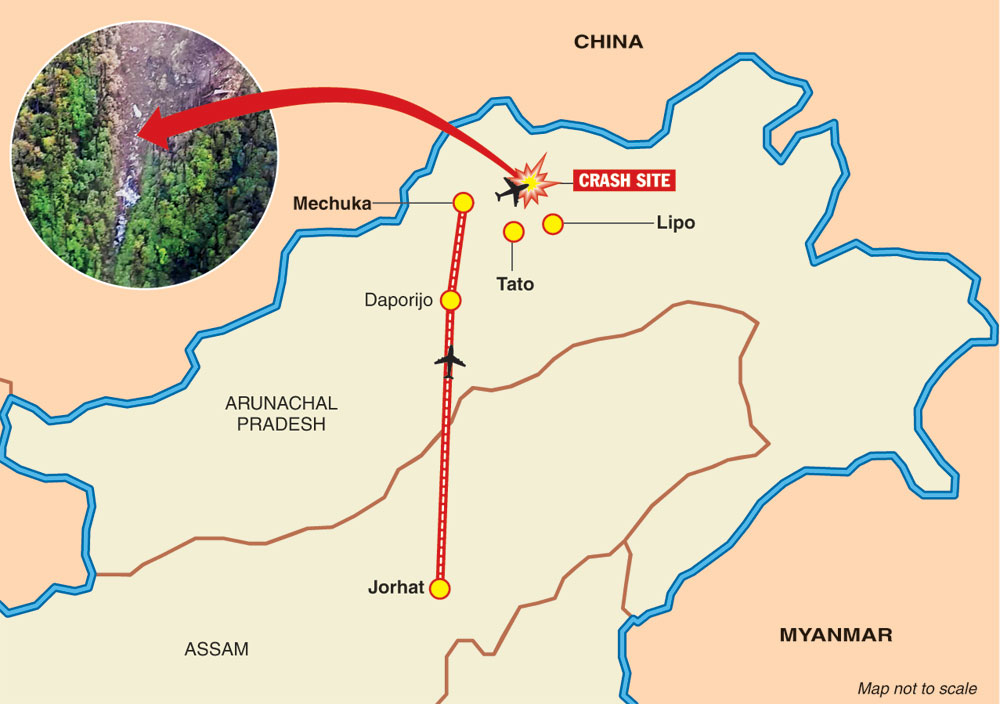 The deputy director of Arunachal Pradesh Energy Development Agency, Somar Potom, deputed by the West Siang district administration on the search mission, was on the IAF helicopter that spotted the wreckage and communicated to the deputy commissioner.
"After identification of the wreckage of An32 by Mi-17V5, the Cheetah of IAF & ALH of #IndianArmy reached the crash site. Due to high elevation & dense forest, helicopters could not land next to the crash site," the air force tweeted at 7.46pm.
Another tweet read, "However, nearest landing site has been identified & the rescue operation by helicopters will commence tomorrow early morning. Ground forces will continue to reach the crash site during the night."
Sources said all 13 persons on board are feared killed but there is no official word yet.
A statement by West Siang district information and public relations officer Gijum Tali said, "The aircraft seems to have lost control at Payum after take-off from Jorhat and appears to have turned left towards Mechuka from Gasheng village before finally losing full control near Gatte village. The area has tough topography and terrain and retrieving of the bodies may take some time. The army and local Arunachal scouts are moving towards the spot."
Siang superintendent of police Kushal Pal Singh told The Telegraph, "We have sent the teams to the spot."
Shi-Yomi deputy commissioner Mito Dirchi said, "One of my officers informed me around 2pm that the aircraft has been spotted near Gatte village in Siang district. The teams are on the way to recover the wreckage."
The search and rescue mission gained momentum on Tuesday after clear skies opened the way for aerial sorties after three days of inclement weather and low clouds. In the morning, Wing Commander Ratnakar Singh had said Mi17s and advanced light helicpoters, Cheetah helicopters and long range P8i aircraft of the navy were airborne for the mission.