Akhil plea for united protest
The bill lapsed with the end of the term of the 16th Lok Sabha in May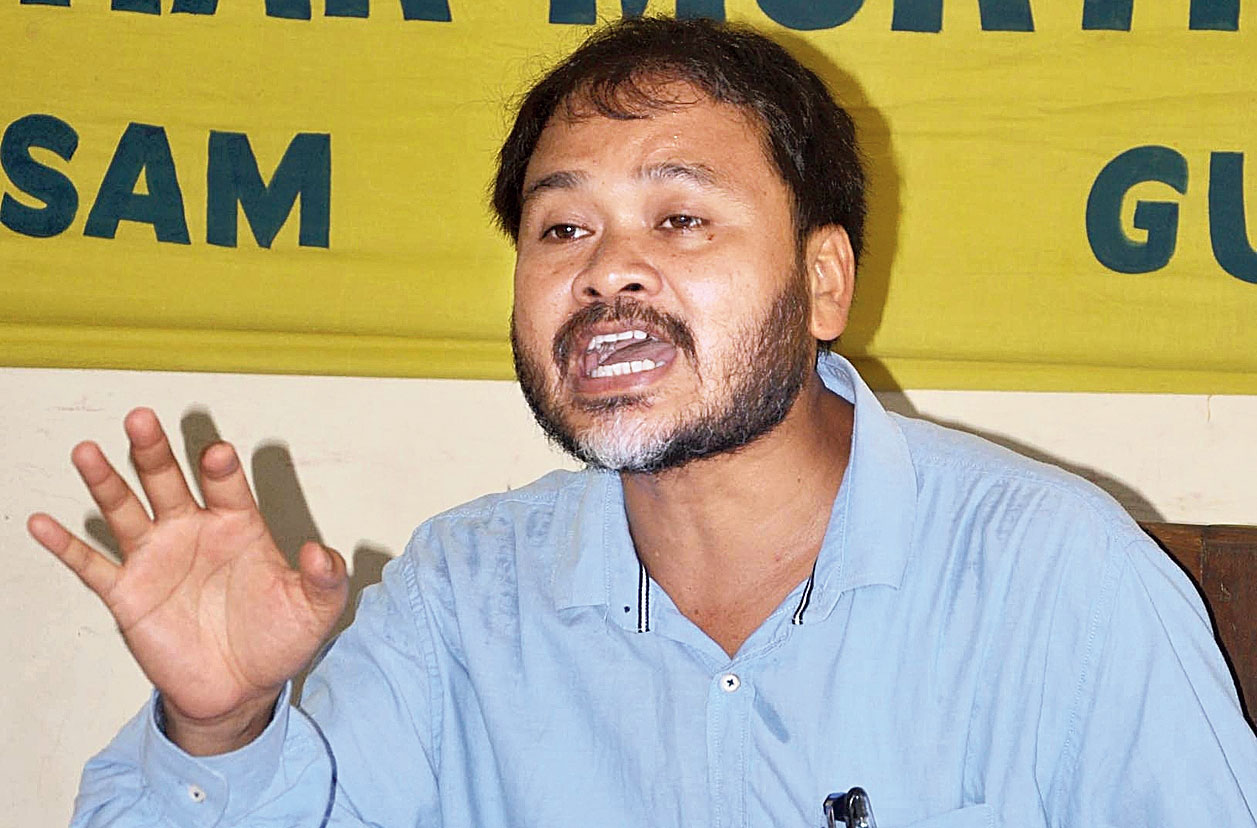 KMSS adviser Akhil Gogoi addresses the news conference in Guwahati on Thursday.
Picture by UB Photos
---
Guwahati
|
Published 26.09.19, 07:12 PM
|
---
The Krishak Mukti Sangram Samiti has urged all organisations and people in general to unitedly protest against the Citizenship (Amendment) Bill for the sake of Assam and other states of the Northeast.
Addressing a news conference on Thursday, KMSS adviser Akhil Gogoi said: "We will not accept the citizenship bill under any circumstances. There is a huge threat which will affect the spirit of democracy. We will fight like before against the bill. We cannot let this kind of bill destroy our society."
A few days back, senior cabinet minister Himanta Biswa Sarma had said the central government would reintroduce the bill in Parliament in November.
The bill seeks to amend the Citizenship Act, 1955, and grant Indian citizenship to people from minority communities — Hindus, Sikhs, Buddhists, Jains, Parsis and Christians — from Afghanistan, Bangladesh and Pakistan after six years of stay in India instead of 12 even if they do not possess any proper document.
The bill, which triggered massive protests in Assam and the other northeastern states, was passed by the Lok Sabha on January 8, but the government did not table it in the Rajya Sabha as it did not have the numbers in the Upper House to pass it. The bill lapsed with the end of the term of the 16th Lok Sabha in May.
The KMSS, along with 69 organisations, were opposing the bill while the Centre's move to amend it triggered demonstrations, processions and hunger strike. The group also held a nude protest in front of Parliament.
Akhil said: "The BJP has the majority in the Lok Sabha and now in the Rajya Sabha too. So, it is obvious that the citizenship bill will be amended. They are all prepared to bring the Hindu Bangladeshis in the state. The BJP is trying to suppress regional organisations. This is the time for all to unitedly protest against this unconstitutional, unethical and immoral bill. The BJP-led government is emphasising mostly on Hindutva."