Akhil dares Himanta to respond to Mamata's Saradha claim
Mamata had cited a letter by Sudipta Sen in which Sen claims Sarma had cheated him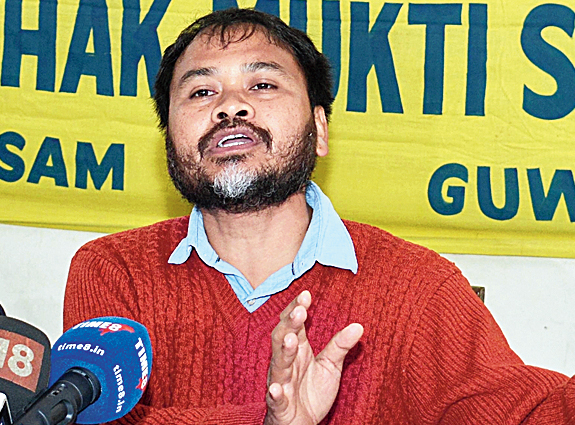 Akhil Gogoi speaks at the news meet in Guwahati on Friday.
Picture by UB Photos
---
Published 08.02.19, 06:58 PM
|
---
Krishak Mukti Sangram Samiti adviser Akhil Gogoi on Friday dared Assam finance minister Himanta Biswa Sarma to respond to Bengal chief minister Mamata Banerjee's allegations against him in the multicrore-rupee Saradha case.
"I challenge minister Himanta Biswa Sarma to respond to the allegations levelled against him by Mamata Banerjee and clear doubts over his alleged involvement in the Ponzi scheme scam by holding press conferences in Delhi in both Hindi and English," Akhil told reporters here on Friday afternoon.
Mamata had, during the Save the Constitution protest in Calcutta on Tuesday, claimed to have "enough evidence against the Assam deputy chief minister" and dared BJP president Amit Shah and the Prime Minister to get him arrested. She also released an 18-page letter dated April 6, 2013, addressed to the CBI with Sudipta Sen's signature on it alleging "Hemanta Biswa Sarma (sic)" of "dramatically" cheating him of Rs 3 crore.
The Congress later said in a press conference that Mamata had meant Sarma.
Sarma responded to Mamata's allegation through a tweet, "The frivolous & baseless campaign by Mamata didi against me is very painful. I am not fortunate enough like your Police Commissioner. I've joined the investigations and offered my full cooperation as a witness. And all this happened much much before I joined the BJP."
Sarma joined the BJP in August 2015.
Mamata's allegations had triggered a series of protests here demanding to "reinitiate" investigations against Sarma. Thousands of Youth Congress members gheraoed the CBI office here on Tuesday and the CPM took out rallies on Wednesday.
Akhil accused the BJP of being an "institution" to convert "chor into chowkidar" (thief to watchman). "The BJP has realised that their grip in strongholds such as Uttar Pradesh and Madhya Pradesh is loosening and is targeting Bengal and the Northeast for votes. The party has two pointsmen, Mukul Roy in Bengal and Sarma in Assam, both accused in the Saradha case, to further their cause. Modi who talks about checking corruption should show it in letter and spirit by acting against Sarma and Roy."
Sixteen months after the letter was sent, a team of the CBI led by senior officials from Delhi conducted searches at Sarma's residence, former Assam PCC president late Anjan Dutta, at whose printing press one of Saradha Group's daily newspapers was printed, former Assam DGP Shankar Baruah, who committed suicide days after the raid, and Assam singer Sadananda Gogoi who was arrested in the case.
The team had also raided an Assamese TV channel owned by Sarma's wife Riniki Bhuyan and a biscuit factory owned by the Saradha group and inaugurated by Sarma in 2010, among 14 other locations.