AGP writes to Shah on CAB
Protesters blocks National Highway 8 and the state's solitary railway line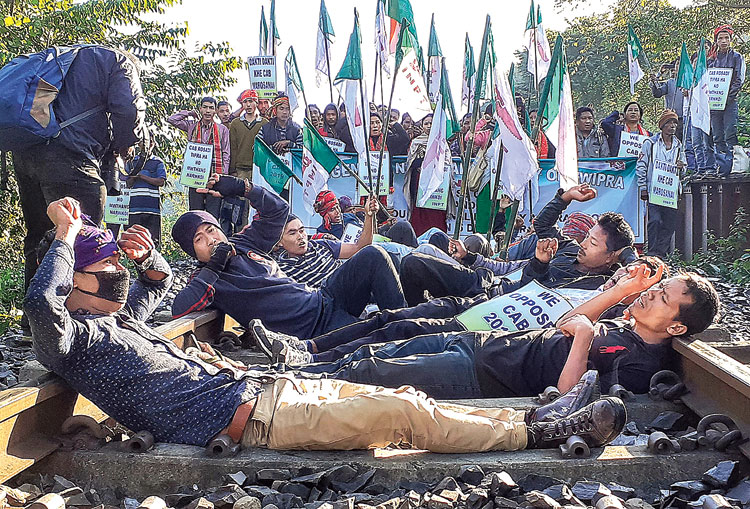 INPT members block tracks on Thursday.
(PTI)
---
Agartala
|
Published 05.12.19, 10:14 PM
|
---
The Asom Gana Parishad (AGP), an ally of the ruling BJP in the state, wrote to Union home minister Amit Shah on Thursday demanding that the Centre ensure constitutional safeguards for the indigenous people of the state before bringing in the Citizenship (Amendment) Bill.
The move follows strong criticism of AGP leaders from all corners, including party insiders, for choosing the echelons of power over Assam's interests.
Three AGP legislators, Atul Bora, Keshab Mahanta and Phani Bhusan Choudhury, ministers in the BJP-led state government, have been accused of maintaining a "safe" stand on the bill while party seniors are opposing it.
Bora, who is also the party president, called an emergency meeting of party leaders on Thursday and decided to send the letter to Shah. However, senior leaders Prafulla Kumar Mahanta, Brindaban Goswami and Ramendra Narayan Kalita were absent. Mahanta has been vehemently opposing the bill and had earlier blamed Bora for adopting a weak stand.
After the meeting, AGP legislator and Assam water resources minister Keshab Mahanta said their letter sought constitutional safeguards for the indigenous people of the state before bringing in CAB, 100 per cent reservation for indigenous people in government jobs, Assembly and MP seats from the state, inner-line permit system and Scheduled Tribe status for six communities —Sootea, Muttock, Moran, Koch Rajbongshi, Tai Ahom and tea tribes.
Party insiders, however, feel the move has come too late. "The party leaders, especially those in the government, could have taken concrete steps to stop the bill. But they kept silent. Now they are only trying to avert criticism," one of them alleged. They demanded a change of guard in party leadership.
INPT blockade
A 12-hour road and rail blockade called by the Indigenous Nationalist Party of Twipra (INPT) from 6am on Thursday to demand scrapping of the bill concluded peacefully in Tripura. Workers and supporters of the INPT, its students wing, the Indigenous Youth Federation of Tripura, and the Twipra Students Federation, blocked National Highway 8 and the state's solitary railway line that links Agartala with the rest of India through Assam at two places.
Additional reporting by Tanmoy Chakraborty in Agartala