ABVP Assam unit tries to counter 'propaganda' against citizen bill
War room set up at a skill development centre, teams visiting colleges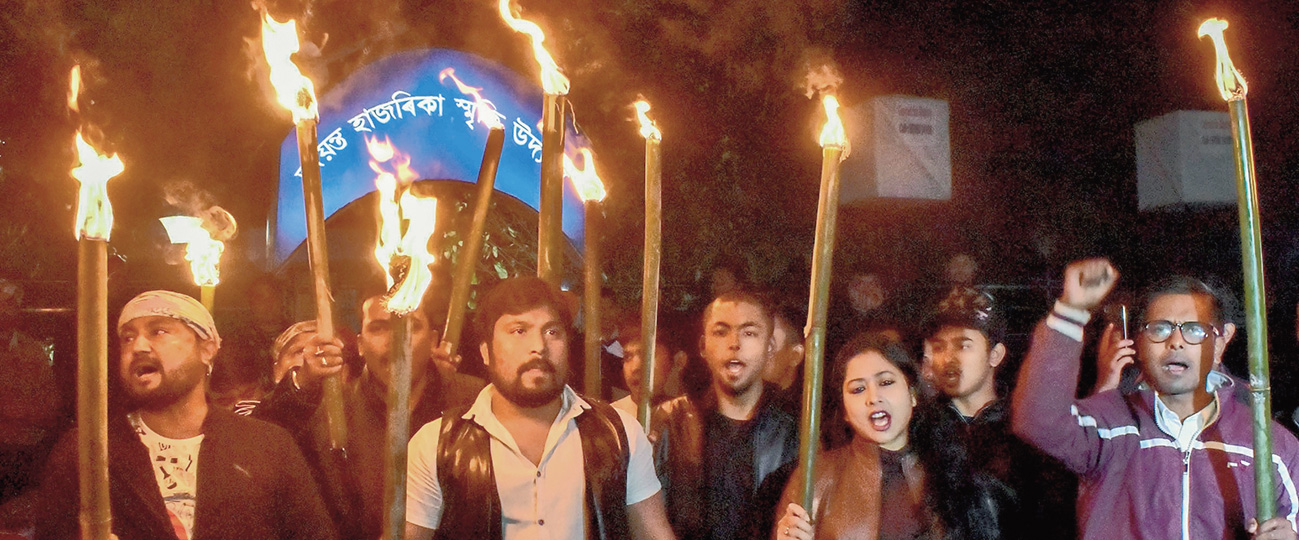 ---
Guwahati
|
Published 22.01.19, 06:47 PM
|
---
With the battle over the Citizenship (Amendment) Bill, 2019, intensifying ahead of the Union budget session from January 31, the Akhil Bharatiya Vidyarthi Parishad (ABVP) has set up a 24x7 "war room" at Amingaon here to counter the "negative propaganda" against the proposed bill through social media.
The war room was set up by the pro-bill right wing youth organisation at a skill development centre for computer training and tailoring, in Amingaon five days ago.
Apart from using social media, ABVP members are religiously doing the rounds of city colleges to "neutralise the negative campaign launched by the anti-bill brigade" .
The ABVP's East Guwahati secretary Shubham Chaudhury told The Telegraph that its members are running a positive campaign on the bill using social media platforms such as Facebook, Twitter, WhatsApp and Instagram, sending at least 200 messages a day on an average.
ABVP, affiliated to the RSS, has considerable influence in at least 12 government-aided colleges in the city, including Gauhati Commerce College (GCC), Arya Vidyapeeth, Beltola College, KC Das College, Guwahati College, Dispur Law College and JB Law College.
"Ours is a positive campaign targeting youths and students because the anti-bill brigade has been emotionally misleading this section by spreading lies about the bill, that it is anti-Assam and anti-Assamese. We are clarifying what is false and highlighting the benefits of the bill. It is very positive. And there is no trolling," Choudhury, a degree student of GCC, said.
Through social media and personal interactions with students and youths, the ABVP is highlighting that the bill does "not guarantee automatic citizenship".
It is also explaining that the bill is meant for entire India and not just Assam or the Northeast, and that "only persecuted" non-Muslims who entered India before December 31, 2014, from Bangladesh, Pakistan and Afghanistan and only those having lived in the country continuously for six years can apply for citizenship.
"Moreover, citizenship applications will be vetted by the district and state administrations and the Centre will take the final call. The bill does not guarantee automatic citizenship. We decided to set up the war room because of the surfeit of misinformation over the bill, including 1.9 crore Bengali Hindus from Bangladesh entering India," Choudhury said.