31 Bangladeshis held at Assam railway station
The arrests come amid the update of the NRC in Assam that is meant to weed out illegal foreigners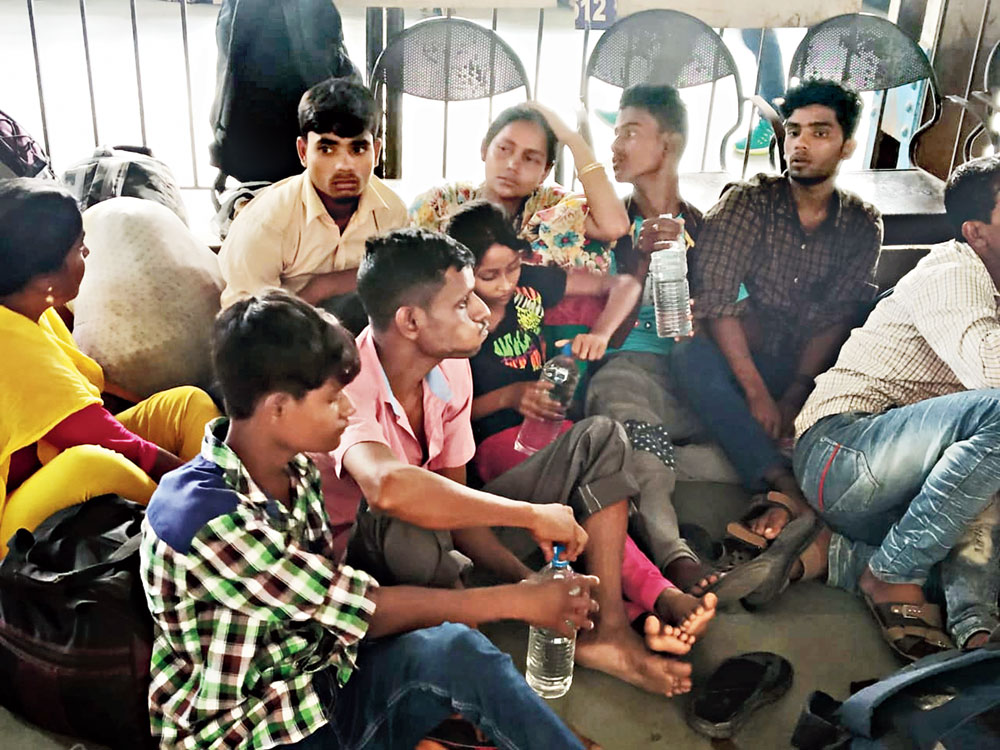 ---
Guwahati
|
Published 15.10.18, 06:06 PM
|
---
Altogether 31 Bangladeshis, including 13 minors, were arrested by Government Railway Police from Guwahati railway station on Monday, exposing once again the threat from the porous India-Bangladesh border.
Those arrested had arrived in Guwahati from Bangalore, where they had worked as daily wage earners in factories, by Bangalore Express on Sunday morning. They passed the night on the platform and tried to catch the Kanchanjunga Express to Tripura on Monday morning. From Tripura, they were planning to cross the border to Bangladesh.
Iftekar Ali, deputy superintendent of railway police (headquarters), said, "They were apprehended from platform number 1 during a routine check. They were preparing to board the Kanchanjunga Express to Agartala. During questioning, they could not produce any valid document to prove their Indian citizenship. They said they hailed from Bagerhat district, Khulna division, Bangladesh, and had illegally entered India two to three years ago. They had gone to Bangalore to earn a livelihood."
The arrests come amid the ongoing update of the 1951 National Register of Citizens in Assam, based on the March 24, 1971 cut-off date (as fixed in the 1985 Assam Accord) for weeding out foreigners staying illegally in the state.
One of the arrested, Masum Howlader, 35, said he hailed from Sanyashi village under Moralganj police station under Bagerhat district. "My family is very poor. I was told by a middleman from Bangladesh that there would be a lot of money and plenty of jobs in India. I had entered West Bengal two years ago from where I went to Bangalore," he said.
Sulleiman Sarrower, 39, had entered India in 1996. "I had come to New Delhi with my parents who returned around eight years ago. I have a voter ID and PAN card. I went to Bangalore three years ago and worked in a plastic factory," he said.
The group of 31 Bangladeshis were being guided home by a middleman from Bangalore in lieu of money. But when the GRP started inquiring the group about their destination and documents, he quietly slipped away.
Railway police have registered a case (No. 279/2018) under Section 14 of the Foreigners Act, Section 4 of the Passport (Entry into India) Rules, 1920, and Section 6 of the Passport (Entry into India) Rules, 1950. A senior advocate of Gauhati High Court said when a Bangladeshi national is arrested, he is kept in detention camp, all his records in government documents like voter ID and ration card are deleted and then he is deported.
Bangladesh and India share a 4,156km border of which 262km falls in Assam, 856km in Tripura, 180km in Mizoram, 443km in Meghalaya and 2,217km in West Bengal. Of this, the Centre had sanctioned fencing of 3,326km. So far, only 2,746.44km has been completed. In Assam, over 50km remains unfenced, especially the riverine section, while 106km remains unfenced in Tripura.
According to state government records, 79,000 people have been declared foreigners by tribunals since 1985, of which 42,000 have gone missing, while nearly 30,000 were pushed back. There are 100 foreigners tribunals in Assam.