Amid the hustle and bustle of busy New Market - coolies carrying groceries, skilful haggling at every corner, and a renowned bakery selling yummy pastries, brownies and fruit buns - lies a quaint stationery shop, Yacoob Mullick and Son. The tiny store, brimming with laughter, joy, and positivity, is the answer to every stationery quandary.
The Sir Stuart Hogg Market or the S S Hogg Market was originally designed for affluent colonials looking to shop and mingle (not necessarily with the natives). Naturally, high-end dressmakers like Ranken and Co, saddlers Cuthbertson and Harper, publishing houses like Thacker, Spink and Co. found a spot in the sprawling market, along with the stationers Yacoob Mullick and Son. This family-run business is 140-years-old; it has survived two fires and a painful, panicky pandemic, and is still a go-to haunt for many.
"The shop was established by my great-grandfather, Yacoob Mullick, during the British Raj," confirms Latiuddin Mullick, the third-generation owner of the stationery shop. 
At the time of its inception, it was one of the only high-end stationery stores in the city that lined up academic supplies along with certain jute products (mainly jute bags and pouches). In 1961, the shop began manufacturing its line of candles, scented candles and smoke-free varieties in many shapes, sizes and colours. Over the last 60 years, the candles have become one of their top-sellers especially during the festivals of Diwali and Christmas.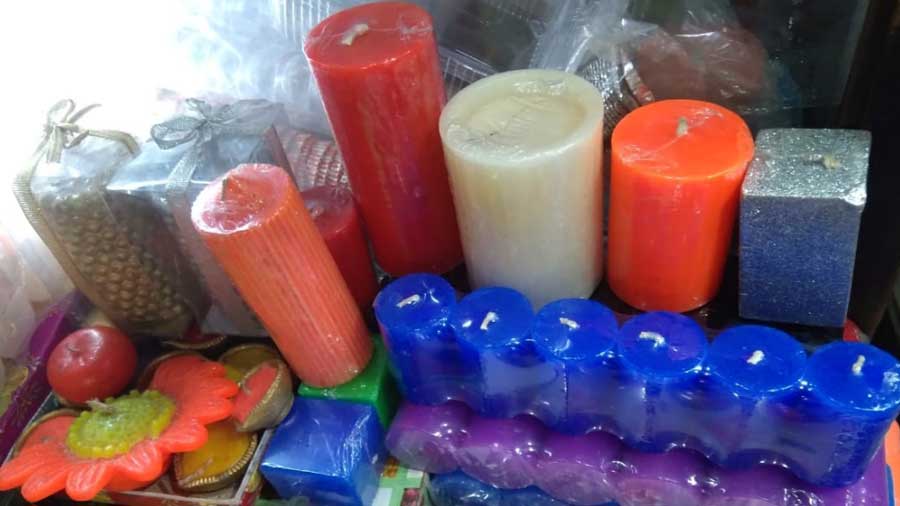 Yacoob Mullick and Sons' range of scented and smoke-free candles.
Now, the modest brick-and-mortar store sells almost every kind of writing material and utilitarian essentials from 100 per cent cotton watercolour paper, horse-hair brushes, oil paints and soft pastels along with niche items such as baking equipment, handmade mount boards, and party props etc. Acclimatisation has clearly been key for the heritage stationers and is helping them pull through the most dramatic period in retail.
"While I was growing up, I'd visit the shop with my father and now I visit it with my children. Every time I need any kind of stationery, something crafty, or have to host a party I run over and I'm never disappointed. I don't think I've ever returned empty-handed! It's one of my favourite shops in New Market because it has every item one could possibly need and more," shares Brinda Mukherjee, who's been visiting the store for the last 50 years.
It's important to remember that innovation does not necessarily do away with the old; even though learning has moved to screens, parents and teachers still use the same old laminated, 24x36 cm animal-fruit-vegetable pyramid charts for beginner science lessons that are found aplenty at Yacoob Mullick. The most popular collection at the store is their back-to-school ensemble of notebooks, fountain pens, erasers (that never need replenishing!), quirky journals, and a wide variety of over-the-top pouches that seal in that back-to-school spirit.
"The students of St. Xavier's Collegiate School, St. Jude's, St. Josephs, and all Loreto schools visit our shop every year in March to get ready for the new academic session. We love meeting and interacting with the children and we've seen many of them grow up!" says Latiuddin.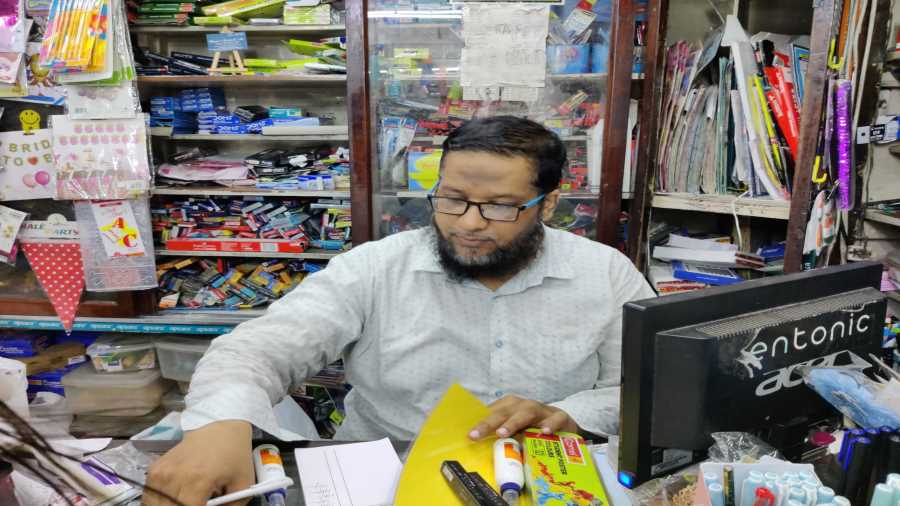 Latiuddin Mullick is the third-generation owner of the stationery shop.
With the advent of the pandemic, Yacoob Mullick and Son was hit significantly as it had to shut shop for a total of eight months (stretches of four months each in 2020 and 2021). To adapt to the next normal, the store recently introduced a range of stationery aimed at assisting children with online education and adults with remote working, such as laptop stickers, keyboard skins, workspace lighting, pop-sockets and earphone cases.
"Our sales have been consistent over the last 140 odd years and we have immense faith in our business. Even during the pandemic, when things were hard, we brain-stormed and now sales are slowly catching up. We aim to carry on the legacy of our family forever," smiles Latiuddin.