Goodbye Covid. Welcome new destinations. The shadow of the pandemic seems to be lifting and with winter vacations around the corner, people are busy planning their next trip with more gusto than ever.
The pandemic had seen almost negligible travel in 2020, but once more and more people were vaccinated in 2021 things had begun to look up. According to travel operators with offices in and around Salt Lake, the hospitality sector saw a rise in business of 35-40 per cent. And since October 2022, the travel and tourism industry has not only gone back to registering pre-pandemic figures but is also seeing new travel patterns emerging in a post-pandemic world.
Shift to Asian spots
Nirmal Jain, owner of Toucan Holidays in Baishakhi, said: "The trend has been upward but there have been several dampers as well. First, travel has become more expensive. Flight fares are very high and so are hotel fares and food costs. The war in Ukraine is majorly affecting travel plans. I have a particular clientele which would like to travel to Canada, Australia, America or Europe but has been forced to travel to other places like Dubai, Maldives, Bali, Bangkok, etc owing to delay in visa interviews."
Ashim Mondal, franchise owner of Tripfactory in CD Block, said: "The waiting period for visas to Australia, New Zealand, Europe and America is almost two months while for Central Asia and West Asia it is just one week. Even for Southeast Asia, the waiting time is one week or less. This makes customers choose these places. Even for the Fifa World Cup, people are travelling to Qatar from different parts of the township. Some are even planning a Qatar holiday while the World Cup is on to soak in the atmosphere. But we also have others who have backed off owing to high prices."
Late bookings
Saibal Basu, a travel agent from Ghosh Para in Kestopur, said: "There has been a tourism boom in India in recent times but tourist behaviour and travel pattern have undergone a big change. Before the pandemic, people made bookings three-four months in advance. Now they only make bookings for hotels and transport 45 days before the due date. This is mostly because one never knows what kind of natural calamity or emergency might force them to change plans."  
"Also, travel is now a luxury item. After the pandemic it has become twice as expensive. Tickets, hotels, transport and food combined a trip leaves quite a dent in pockets. Customised tours are the order of the day and the quality of the tour depends on the age and background of the traveller. While some opt for a quiet destination in the lap of nature, others choose popular destinations with lots of sightseeing options. In 2020, business was down to zero, in 2021 there was a 30-40 per cent rise. But in 2022, this has jumped to a 60-70 per cent. Compared to the early part of 2022, when people were still undecided, now everyone is making travel plans," Basu added.
Behaviour patterns and itineraries have also evolved with time, especially after the pandemic. Whether someone is looking for restful travel or plans to cover many cities at one go in a foreign destination depends on the maturity of the traveler, industry insiders say.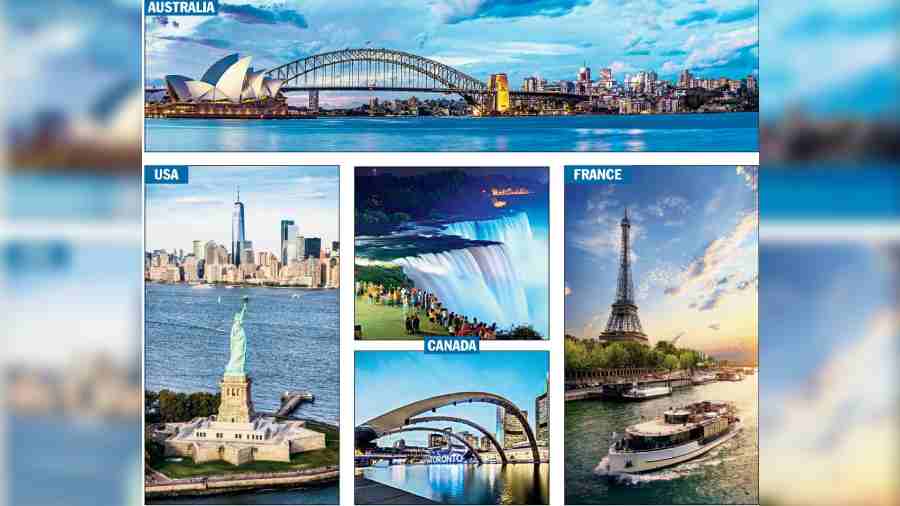 Young travellers tend to hop around quickly from one destination to another. If one is a more seasoned traveller, he/she tends to be more relaxed, the travel operators say.
High on awareness
"Customised tours are in demand now. An average traveller today knows a lot about the place that he/she is going to. The women in the family are very active in planning customised tours and also negotiating good deals. Gone are the days when people travelled as per the itinerary laid out by the travel agent. They now do their homework and come to us with their list of demands," added Jain.
Look Northeast
In the domestic sector, more and more people are heading to the northeastern states like Assam, Nagaland, Manipur, Arunachal Pradesh, Meghalaya and Assam. Rajarshi Moitro from Explore North East Tourism in CE Bock said: "People have always been very interested in travelling to the seven sister states. But the primary interest was in states such as Nagaland, Arunachal Pradesh and Assam. Now they want to explore other virgin locations in the Northeast. In a post-pandemic world, every business under the sun has gone through an evolution. Post-Covid, there were a lot of entry restrictions in the Northeast. Even the locals were very sceptical about the kind of people coming into their hotels and homestays. The quarantine period in Arunachal Pradesh was almost 45 days at one point during 2020-21. That caused a lot of agitation among tourists travelling from other parts of the country because in other places the quarantine period was not so long, barely a week may be. But people still made bookings to these places."
Work on vacation
Another change of pattern has been brought about by the work-from-home culture. "This has been a big factor in the travel market. Most companies have given up office space and have asked their employees to work from home through the year. This has brought down establishment costs by a big margin. So now people can work from anywhere, travel anywhere. All they need is a laptop, a phone and a reliable internet connection. This is a huge shift in what was earlier a definite corporate structure. This shift has also had a bearing on the hospitality sector. Most employees are opting for staycations and booking rooms for a long duration. For example, I have had tourists make bookings for a whole month. They have also hired a car for a whole month. So they pick up their things and go stay in some remote location in the Northeast and work from there. This obviously is a very liberating experience as you can relax, participate in local activities in the evening after working online through the day," added Moitro.
"No one ever imagined there would be a two-year-long pandemic in our lifetime. The market has revived but the economic breakeven is very hard. Corporate travel has gone down significantly. Before the pandemic people would have corporate conferences for three to five days in destinations both in India and abroad. Now they do it all online, to cut costs. That segment has definitely been affected by the work-from-home culture," he signed off.
Where are you planning to go for your next vacation and why?Write to The Telegraph Salt Lake, 6 Prafulla Sarkar Street, Calcutta 700001 or email to saltlake@abp.in