The dark black clouds have been replaced by the feathery white clouds and the monsoon is all set to bid goodbye. With autumn at the doorsteps, the butterflies are emerging out of their hideouts fluttering their colorful wings. To learn more about their world, their lifecycle, the host plants, an awareness and conservation of the butterflies and the wildlife as a whole, India celebrates Big Butterfly Month (BBM) all through September every year. Events ranging from photo-walks, workshops, butterfly counts, seminars, quizzes to uploading butterfly records on several biodiversity platforms are being organised throughout the country by various wildlife and butterfly forums.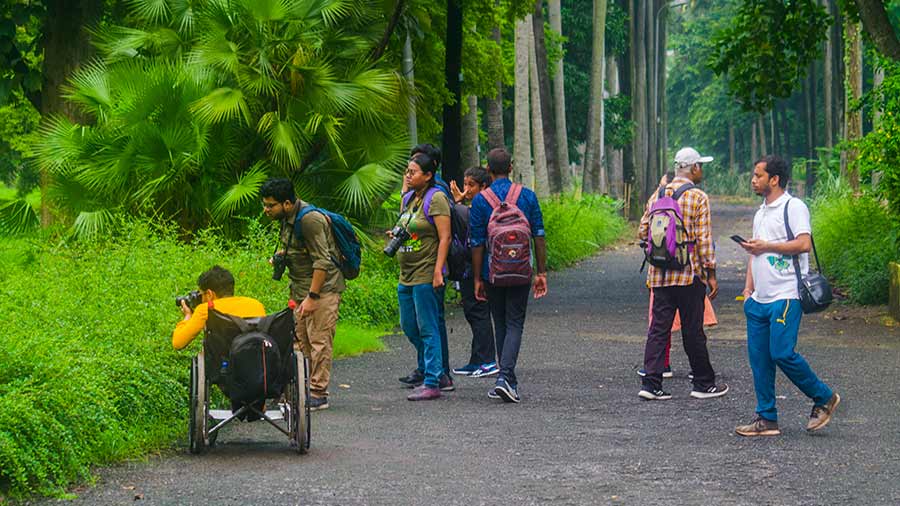 WLB participants documenting butterflies during the celebration of BBM at Botanical Garden, Shibpur
Wiki Loves Butterfly (WLB) is a project supported by the West Bengal Wikimedia User Group under the patronage of Wikimedia foundation (USA based trust that runs Wikipedia, the world's largest online free editable encyclopedia). WLB started in 2016 and is presently in its 6th successive phase. The project was started and initiated by Butterfly Wikimedian Ananya Mondal from Kolkata. The overall purpose of WLB project is to increase the amount of free license materials regarding available butterfly species and subspecies of eastern and Northeastern part of India, their life cycle, behavioral pattern, larval host plants, nectar plants etc. Apart from the image uploaded, the WLB team creates and develops scientific articles in Bengali language. Ever since its inspection, WLB has contributed over 8000+ butterfly images, covering over 550 species and subspecies, to the online encyclopedia.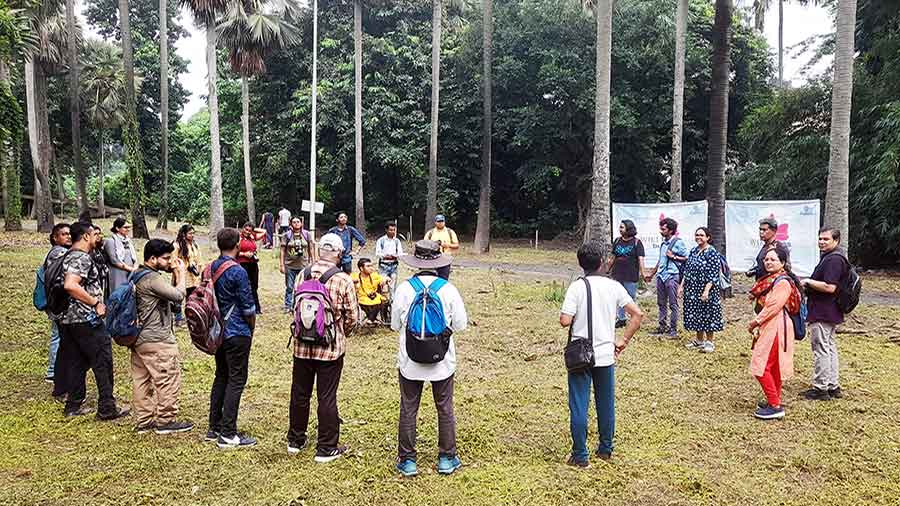 Briefing session at Botanical Garden, Shibpur
Currently, Mondal's team consists of seven core members along with a 25-member support team working under the guidance of a team of butterfly experts. Like several other nature and wildlife forums, WLB is also celebrating the BBM-2023 with a series of butterfly photo-walks ( five photo-walks in four states).
The Botanical Garden Butterfly walk, the first photo-walk in the series of five, was scheduled on September 3. The walk attracted 25 participants comprising veteran wikipedians to absolute newbies and from butterfly experts to novices. The participants came from a wide range of backgrounds — from IT professionals to college professors — and even included researchers on butterflies and allied fields.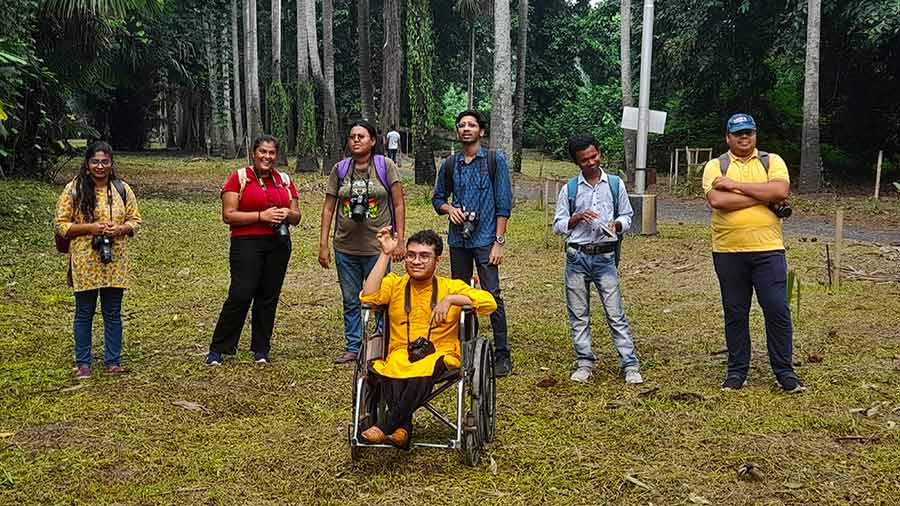 WLB participants at Botanical Garden
After breakfast, the walk started at 9am under the mentorship of veteran science writer Judhajit Dasgupta. Known for his science columns in the prestigious Bengali magazine, Desh, Dasgupta has the distinction of writing the first Bengali book on butterflies. In the introductory session,Dasgupta briefed the participants about the importance of butterflies in the ecosystem. He said, "Butterflies are an indicator of the ecosystem. A decrease in the number of butterflies of a certain region can indicate a degradation of the local ecosystem." He further spoke on butterfly identification and added,"Many butterflies have different patterns on the front and rear surface of the wings. So, photographing both are important for identification of the butterfly."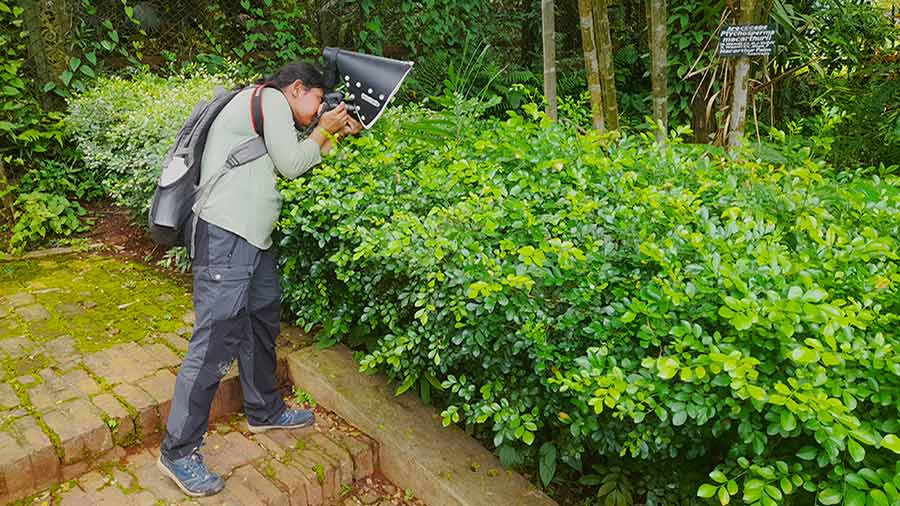 A participant shoots a butterfly using a flash and diffuser
Mondal briefed the participants about the WLB and its future plans. She requested the participants to upload the photos in Wikimedia Commons, the place where Wikipedia photos are uploaded. She added, "Once the photos are uploaded, they can be used in the articles of Wikipedia and as the photos are copyright free anyone can use them giving due credit to Wikimedia Commons and the photographer."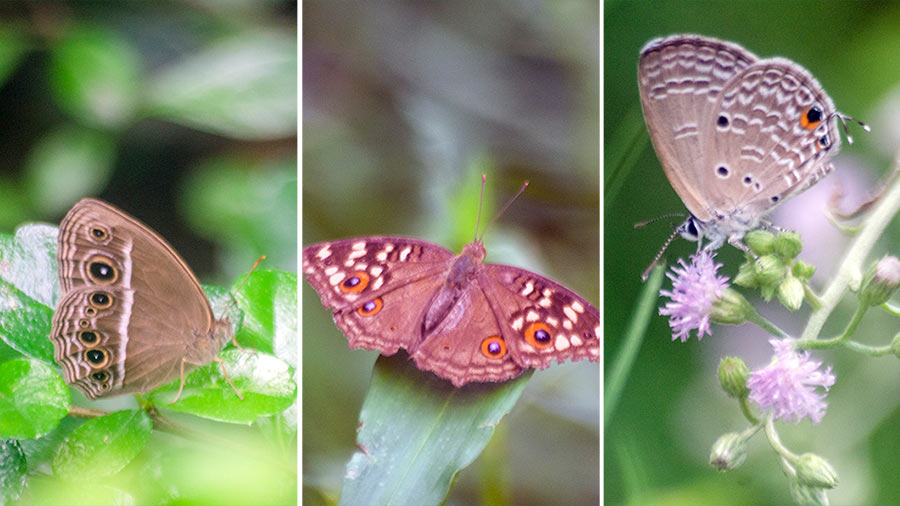 Dark Band Bushbrown, Lemon Pansy and Plains Cupid
Shuvendu Das, a damselfly and dragonfly researcher at the Wildlife Institute of India in Dehradun, participated in the event. Mentioning the significance of the BBM, he said, "The country needs to have more centralised data on butterfly population and types besides their regional diversity. For most parts of the country, their season started during September." Das further added, "With more organised efforts through citizen science, BBM can be the butterfly equivalent of the Great Backyard Bird Count (GBBC), which runs for four days in mid-February globally, when the birds have limited movement."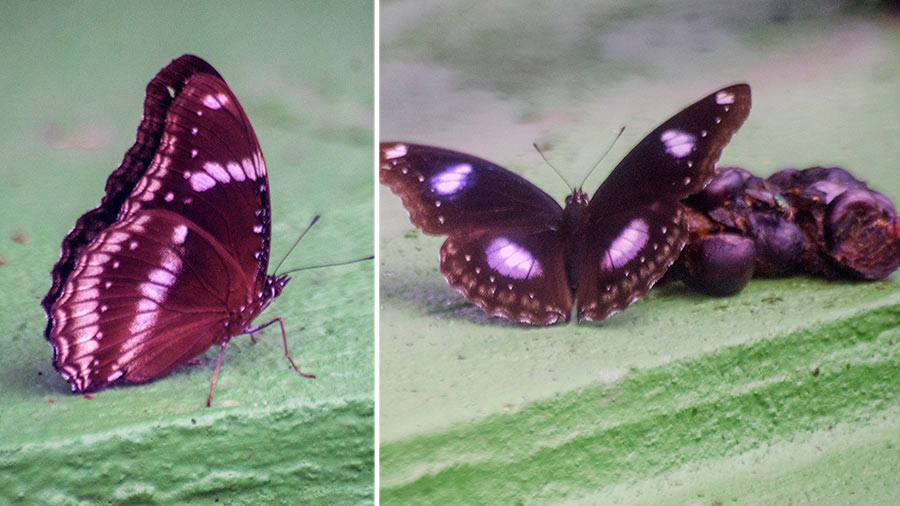 Great Eggfly Butterfly (male) has different patterns on inner and outer wings
Another participant was Arnab Bar, a differently abled MSc student with a locomotive disorder. Although confined in a wheelchair, Bar has picked up photography about five years back and his main area of interest is street and landscape photography. When he heard about this walk, he at once decided to participate. He added, "My 18–55 lense is not at all suitable for butterfly photography but I want to give it a try." He further added, "Once I get a feel of butterflies, I may buy a telephoto lens with a macro mode, which is an absolute necessity for butterfly photography."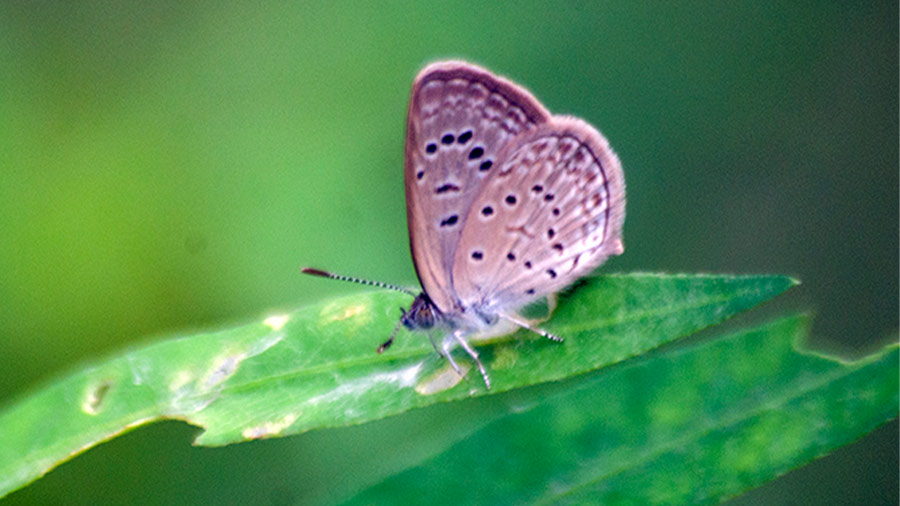 Dark Glass Blue Butterfly
Kuntal and Shreyashi Chaudhuri, the professor couple from Lake Gardens, were also part of the team. Kuntal, a professor of Botany, highlighted the relation between butterflies and trees. He said, "Most butterflies have a host tree. Since the Botanical Garden has a variety of trees, it does host a huge assortment of butterfly species."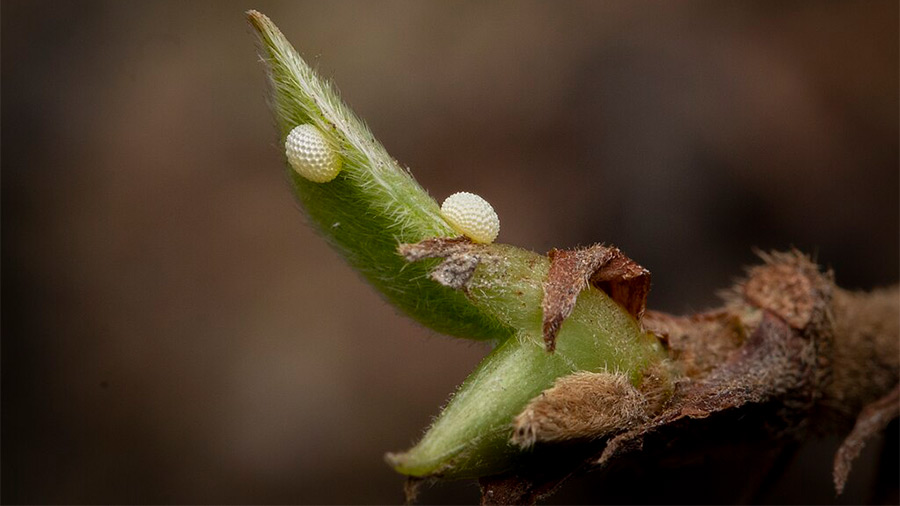 Silver Streak Blue Butterfly eggs
Wikipedia Commons, Sarpita Basu
His better half teaches History and has done her PhD in Art History. She added, "From the early days of art, butterflies have played an active role of symbolism. The butterflies have appeared in various art forms throughout history. But it was simply the grace and beauty of the fluttering insect that has attracted me towards the walk."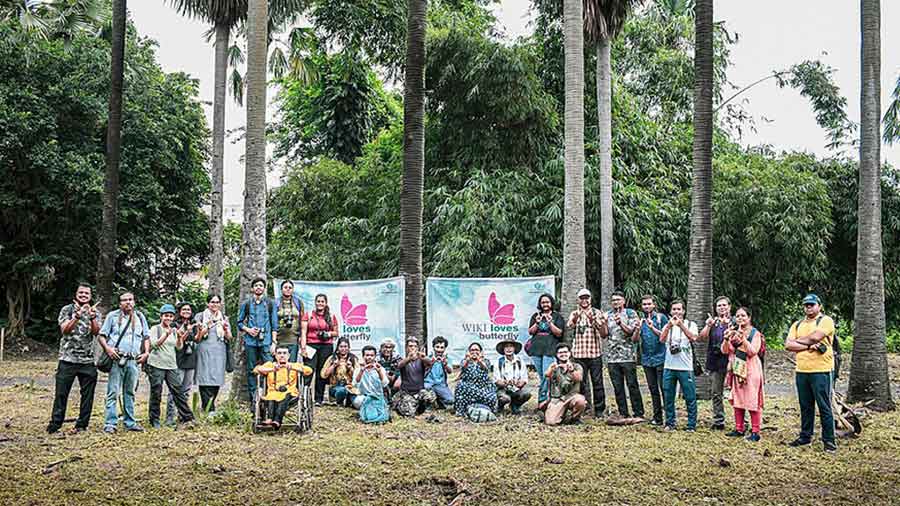 Group photo of WLB participants during the celebration of BBM at Botanical Garden, Shibpur
Wikimedia Commons, Sandeep Das
The walk that lasted for over three hours recorded about 30 species of butterflies including some lesser-known species like silver streak blue, brown awl, common leopard, forest hopper, etc. The walk ended with distribution of certificates along with Wikipedia stickers and badges.