When going on morning or evening walk, form groups of five or six and walk with eyes and ears open along routes suggested by the local police station. This was the advice of the New Town police to the 110 residents who had turned up on Sunday morning to volunteer to make the township a safer place.
The meeting under the Axis Mall flyover with the police top brass was organised by New Town Forum and News, a residents' social group, after a few incidents of snatching, stalking and public nuisance in recent months raised concerns about rising lawlessness.
Deputy commissioner of New Town Bishop Sarkar put the situation in perspective. "The lockdown has had economic repercussions which have been especially felt in the private sector. Take the case of the recent snatching under the Techno City police station. Two of the people who were arrested used to be cab drivers of a multinational company in the IT sector." 
The second challenge is the large number of constructions still going on. "This means there is a regular influx of outsiders of different economic status, culture and mindsets." The third challenge, he pointed out, were the large areas which were still uninhabited. "Take Street 622 near Eco Urban Village. It is almost deserted, even in the morning. These problems are peculiar to a developing place." 
The last problem for policing New Town is the easy escape routes. "New Town has fine roads supporting high speed driving. It is also well-connected to the airport and all other nearby areas." 
The volunteers, Sarkar pointed out, would help the police increase their presence on the streets. "Our expectation is simple. You do your morning or evening walk in a group in the location we ask you to. If there are 100 volunteers then they will be divided into three groups under the three police stations. We have to ensure every street is covered. A single person walking alone may be vulnerable. But if you are in a group, even if something untoward happens, one of you will notice (the culprits') features or remember the licence number of the (culprit's) bike."
WhatsApp groups will be formed police station-wise with the volunteers. There are three to five patrol vans moving in the area. Every morning, the inspector-in-charge will provide the number of the mobile duty officer for that period in the group. "If you see something suspicious, take a picture of what you want to report, specify the location and call the duty officer."
But Sarkar also had a warning. "Do not get involved (in an incident). After all, you are only volunteers. If it is an emergency, also call the inspector-in-charge or dial 100."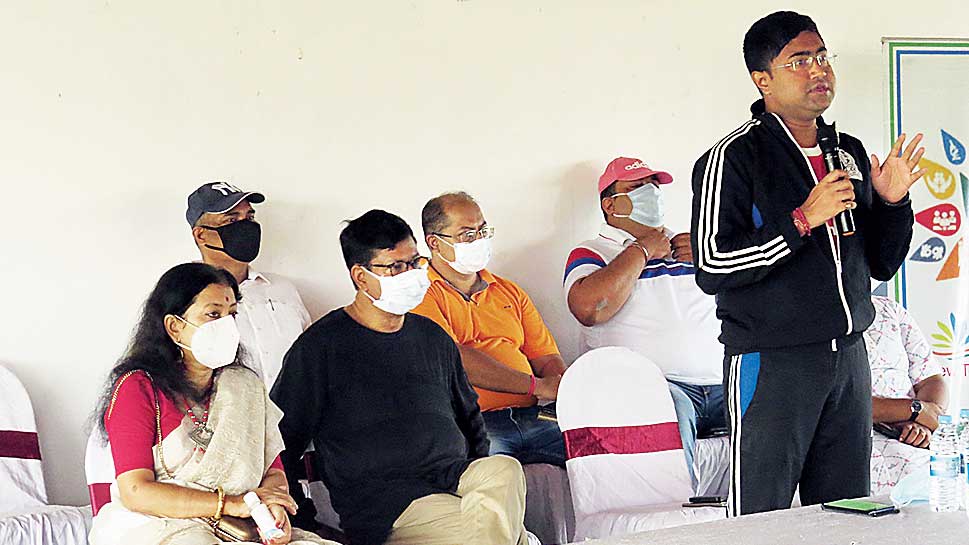 New Town deputy commissioner Bishop Sarkar addresses the volunteers at the meeting on Sunday. Seated from left are Urmila and Debashis Sen, assistant commissioner Shreya Sarkar (partially visible) and (back row) inspectors of New Town, Techno City and Eco Park police stations Sanat Das, Anindya De and Sushim Ganguly respectively.
Sudeshna Banerjee
Another suggestion he gave was to ask the volunteer groups to invite solo walkers to join the group. "This way, we get more volunteers."
But he clarified that anybody preferring to walk alone at his or her own pace was welcome to do so. "New Town is still a very safe city at all times," he added.
A direct line of communication with the deputy commissioner has also been opened on which residents can report permanent societal problems (see box). "Issues like drinking dens, which need my intervention, can be reported here with photograph and location. The complain will be attended to within two days. But this number is not for emergencies. I will check the messages once or twice a day," he said. Nor can the number be used to make calls, he added.
Sarkar also clarified that encroachments, a cause for growing concern in New Town, was a civil issue and outside the purview of direct police intervention. 
He urged residents to report crimes to the police. "Even if you do not have evidence, inform us. Gathering evidence is our job," he said, while warning against false or baseless reports which would invite prosecution.
A self-defence training programme for residents will be organised at a future date. 
Also present at the meeting under the flyover was NKDA chairman Debashis Sen. "You have seen how dirty and full of encroachments spaces  under flyovers can be. We are trying to transform this place so that public gatherings like this can be hosted here, allowing people to sit on fixed seats and interact. Community life needs to come back from Facebook. I am glad that this meeting is happening here even before the entire space has got ready," said Sen.
E-vigil also to increase
New Town, the NKDA chairman said, had 565 CCTV cameras on the streets. "The police has asked us to install 300 more and we have agreed."
Sarkar also responded to questions and suggestions from the volunteers. Parikshit Das of BC Block wanted crime-prone areas in New Town to be identified and plainclothes policemen to be deployed there. "We have already done the same on the basis of a survey by NTFN. It is these areas where you will also go for walks," he replied.
Shweta Killa of Action Area IIC wanted to know if a complaint could be filed without visiting a police station. Sarkar encouraged people to file FIRs in person. "Otherwise, there might be legal issues later like the complaint not bearing a signature. But we do lodge FIRs on the basis of e-mails. We are also targeting the Puja before which to upgrade our Bipol (Bidhannagar Police) app which also has a panic button," he said.