Unknown to many, tucked among the residential and office blocks of Salt Lake lies an amazing themed museum, based on one of Bengalis's favourite pastime – theatre.
The Natya Shodh Sansthan Theatre Museum is located near the busy Karunamoyee crossing in Sector II of Salt Lake. It was inaugurated on August 25, 2019, by the former President of India and Bharatratna Pranab Mukherjee. Managed by Natya Shodh Sansthan, an institution that goes back over four decades.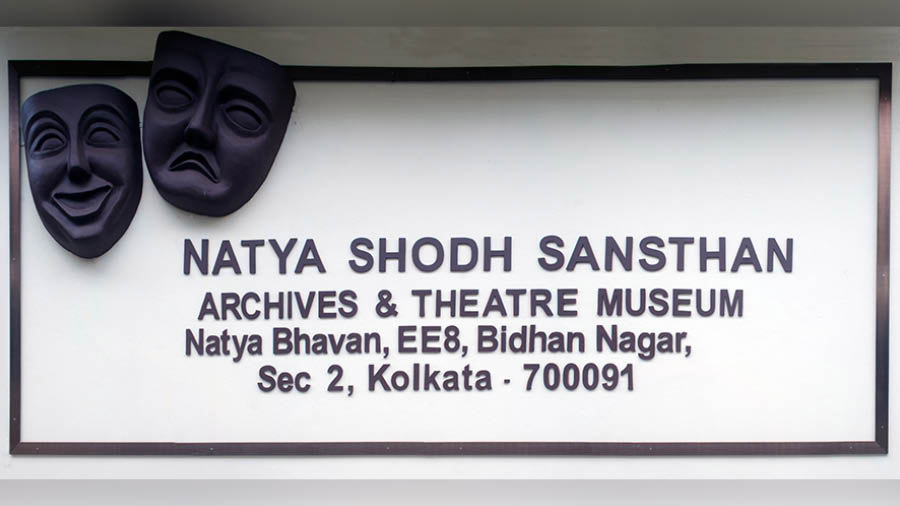 Entrance of the Theatre Museum
Natya Shodh Sansthan was founded in 1981 and functions as a resource and research centre for theatre scholars and academicians. The huge archive consists of photographs, audio and video cds, newspaper and magazine clippings along with original manuscripts, letters, rare books, old tickets, memorabilia and posters. The archive also has a rich collection of masks, costumes, makeup kits and ornaments along with scale models of different production sets. Earlier, the archive was only accessible to researchers. It was only recently the Natya Shodh Sansthan authorities decided to put up a fraction of their collection for public display, complete with detailed documentation, as in a museum.
Thus, the Natya Shodh Sansthan Theatre Museum (popularly known as Theatre Museum) was conceived. The museum is spread across two floors (ground and third) of the Natya Bhavan, office of the Natya Shodh Sansthan and has three galleries, namely:  
Sanskrit Theatre
Folk Theatre
Modern Theatre
Sanskrit Theatre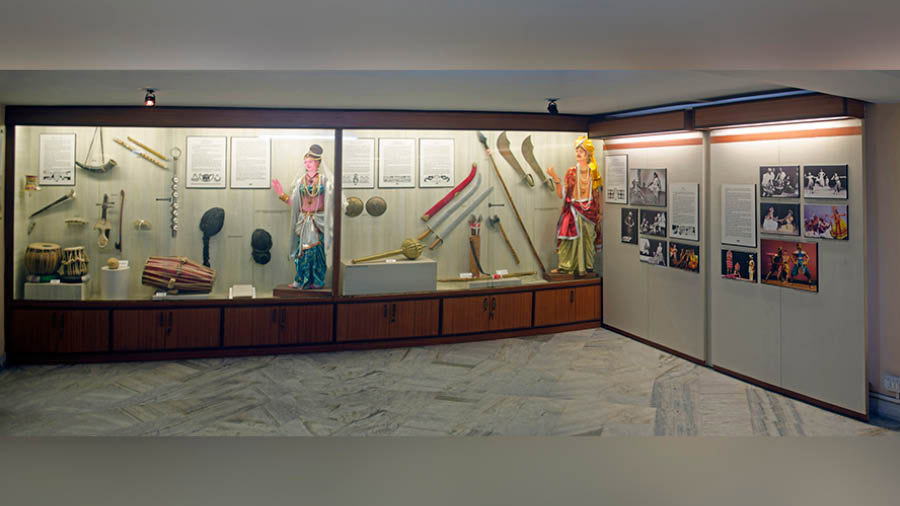 A section of the Sanskrit Gallery
Sanskrit Theatre refers to traditional Indian theatre based on the Sanskrit language. The gallery is on the ground floor, which also has a mezzanine section. It is centred round the statue of a sutradhar. Literally meaning, 'thread-holder' the sutradhar is the narrator and an integral part of Sanskrit theatre. He is the one who introduces the characters with narrations and songs and even enters into conversation with them. A model of Bharata's Natya Mandap, a four-headed mask of Bramha, musical instruments, weapons and models of Bharata and Sakuntala in proper costume are some of the prominent displays. The gallery also focuses on Sanskrit plays translated and performed in several Indian languages like Kannada, Manipuri, Hindi, Chhattisgarh, Marathi, Bengali.
Folk Gallery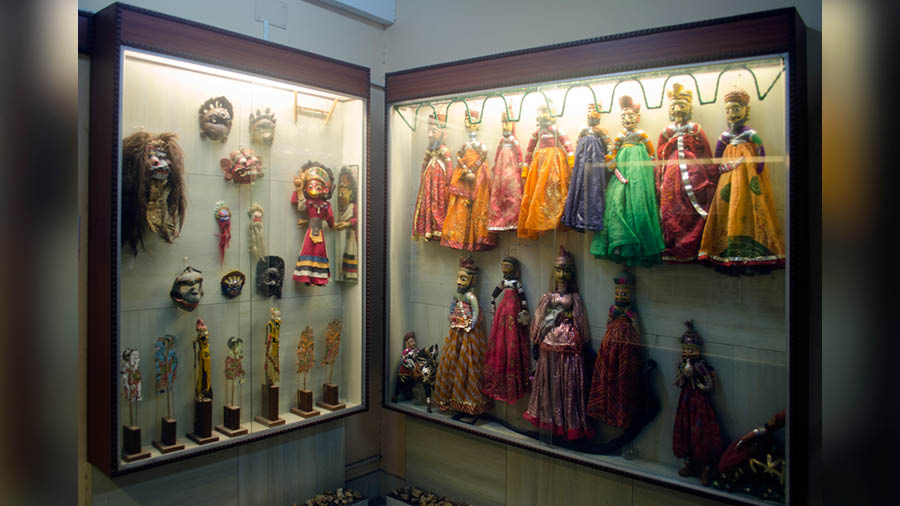 A collection of puppets at the Folk Gallery
This gallery occupies the third floor with a few displays on the ground floor. The Folk Theatre Gallery displays artifacts from several folk arts from across India like Ramlila, Raslila, Nautanki, Jatra, Chhau, Gambhira, Bonbibir Pala and many more. The artifacts come in with corresponding detailed write-ups explaining the minute features of each folk art form. Musical instruments and folk theatre costumes are also on display and contain a tiger costume of Banbibir pala. The section also has a huge collection of Chhau masks.
Modern Theatre Gallery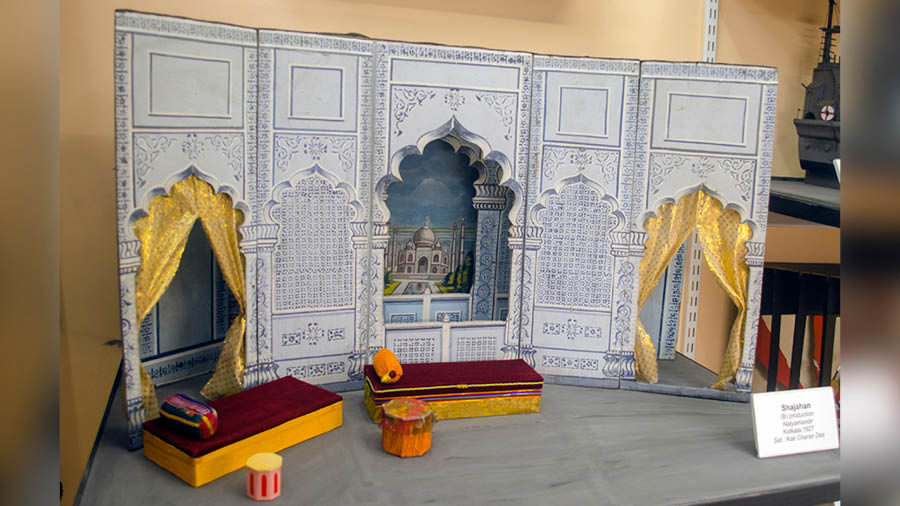 Backdrop of Shah Jahan, Modern Gallery
The Modern Theatre Gallery depicts a pan India picture of modern theatre practices all over India. At the centre of the gallery is a showcase displaying several original manuscripts. An interesting exhibit includes the costume and makeup kit of a mime artiste. Vintage copies of a few rare theatre magazines like the Saurabh, Natya Mandir, Nach Ghar are also on display.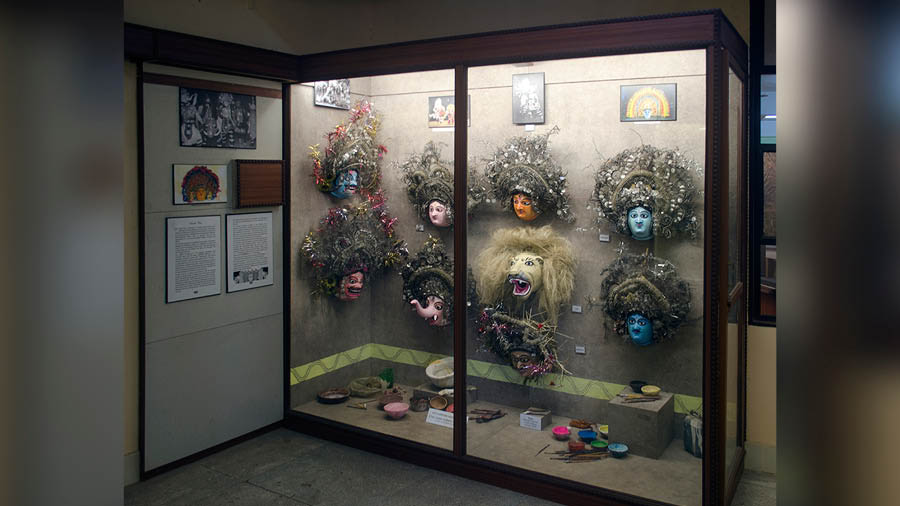 Chhau Masks at the Folk Gallery
Although a lift is available, it is advisable to take the stairs as the walls along the stairs are decorated with vintage theatre posters.
Travel details: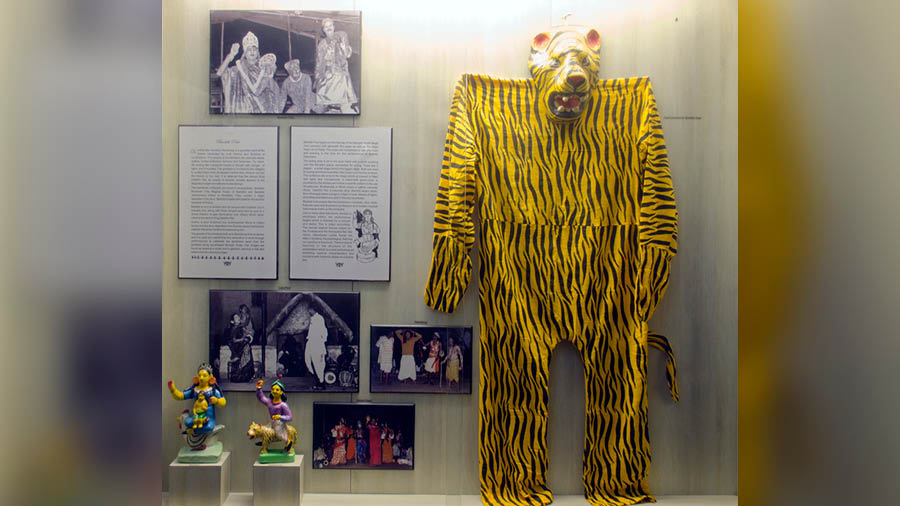 A panel of Bonbibir Pala, Folk Gallery
Location: EE 2, Salt Lake, Kolkata 91
Timing: Monday – Saturday, 11 am-5 pm
Tickets: Rs 20 (tickets can be purchased on the spot or through Integrated Tourist Pass of West Bengal Tourism Department)