How many times have we booked ourselves a holiday and then realised we needed another holiday to recover from said holiday? The times we live in rarely allow us to do absolutely nothing without feeling guilty about productivity. But this is exactly what Eco Adventure Resorts – more commonly called The Temi Bungalow – in South Sikkim encourages you to do. Nestled in the midst of 400 acres of rolling tea gardens is a 137-year old bungalow restored by Arijit and Esha Dutta. While you can go paragliding, mountain biking, ziplining once you've arrived here, it's also the perfect place to just lie back and bask in some much-needed solitude.
My Kolkata took a trip to do absolutely nothing for three days in the hills. Here's what that looks like…
It's holiday time!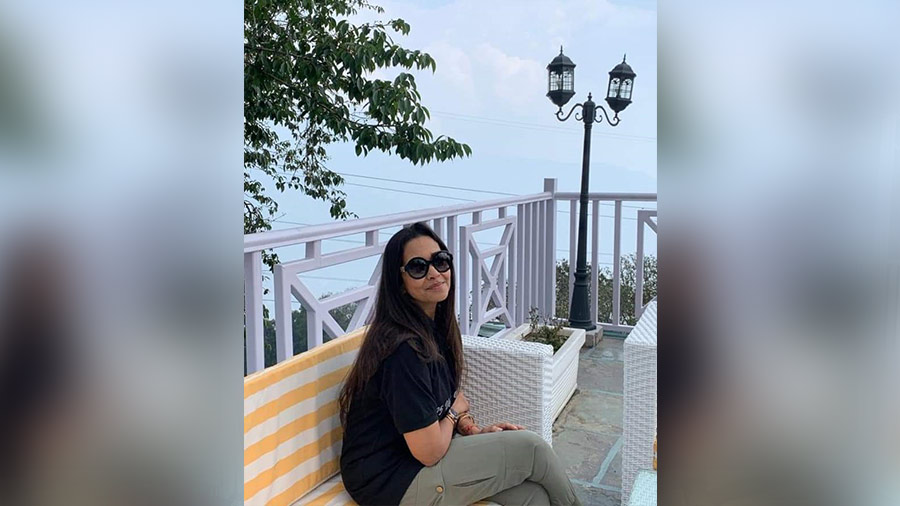 "Temi is a place to unwind, read a book, go on long walks, explore the local culture or listen to stories of plantation life and the changes that have come by with time. Stepping outside the beaten tourist path will lead you not only to breathtaking views but also let you explore the area on foot. It provides a soothing balm and a respite from the fast and tiring city life," says Esha Dutta of The Temi Bungalow.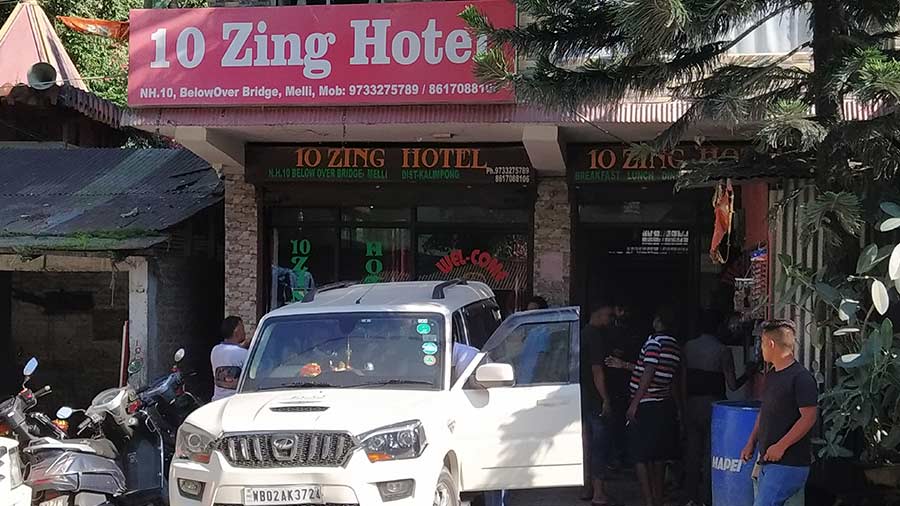 10 Zing: The drive from Bagdogra Airport or NJP Railway Station to The Temi Bungalow is about three-and-a-half hours. As the weather gets steadily cooler, your appetite will mount. At the Bengal-Sikkim border is 10 Zing Hotel, a little eatery which you can stop at, for Aloo Paratha or "Chicken Rice" which is really a thali replete with dal, bhaji, papad and dalle chilli.
Tea off: Here's a glimpse of the drive up to The Temi Bungalow. It's narrow, steep and you can stick your hand out to brush the tea leaves as you drive past. With luck there won't be another car making its way down! This road will lead to the gates of the bungalow, where you and your luggage can tumble out…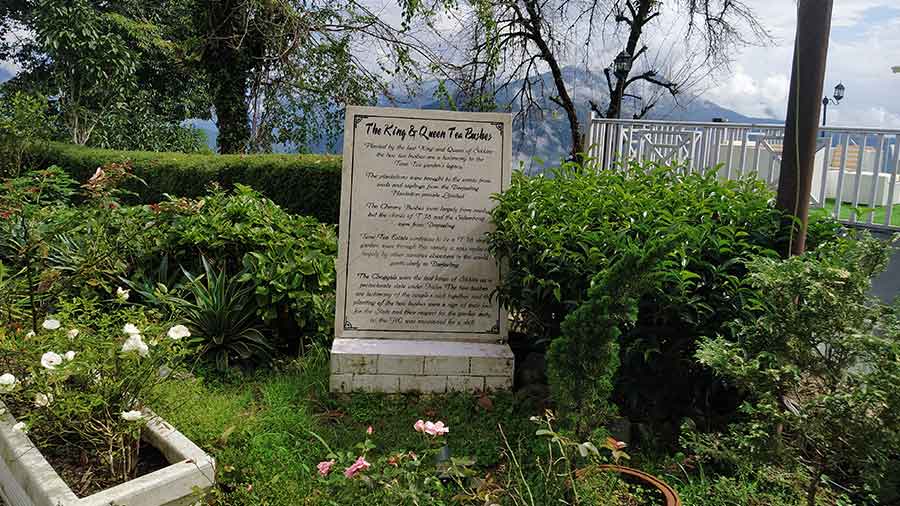 Backstory: The Temi Bungalow, locally known as Bada Bungalow, was built in 1885 by the British Missionaries and inhabited by the British pastors thereafter. When the British left India, so did the pastors, the bungalow went to forest rangers. In the 1970s, Temi became the headquarters of tea and the estate manager moved to the Bada Bungalow. On the grounds, you'll find two tea bushes called the King and Queen Tea Bushes. These were planted by the last king and queen of Sikkim. The saplings were brought from Darjeeling tea plantations. Partnered with Priya Entertainments Pvt Ltd – that's Arijit and Esha Dutta – since 2018, the property is now a heritage resort which encourages an eco-lifestyle and promotes sustainability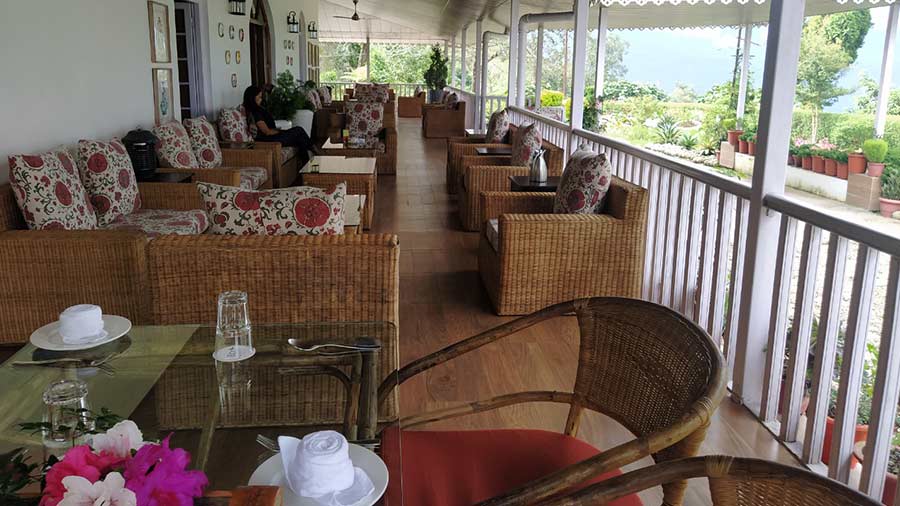 Lounge about: Here's the wrap-around verandah at Temi, where you will be greeted with your welcome drink – sweet, warm, lemon tea which is just what you'll need after a drive up those winding mountain roads. Pause here a moment to soak in the calm, while your luggage makes its way to your room. You've finally arrived at this haven of peace where there's nothing to do, where the must-see list is almost blank. This is where you can spend your next three days, right here on one of these plush armchairs, with that book you've been meaning to read for months. Or start scribbling the novel that's been stewing in your head, which you haven't had a moment to start penning.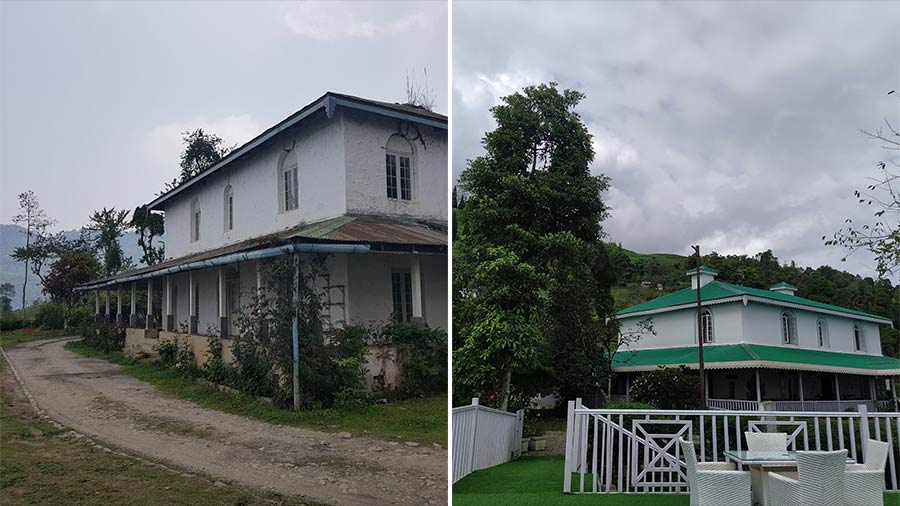 Then and Now: "When we started renovations, the staircase had caved in, the floor of the suite had completely fallen through, all the bedroom walls were in a state. It took us more than a year to have it up and ready, with everything being shipped from Kolkata, along with all the workmen who we put up in the village. And of course, we built cottages alongside the bungalow as well," says Esha. The Bada Bungalow with its wooden floors, luxurious drapes, distressed wood sideboards and patchwork armchairs combines modern comforts with antiques and vibrant colours, giving it that classic retro feel.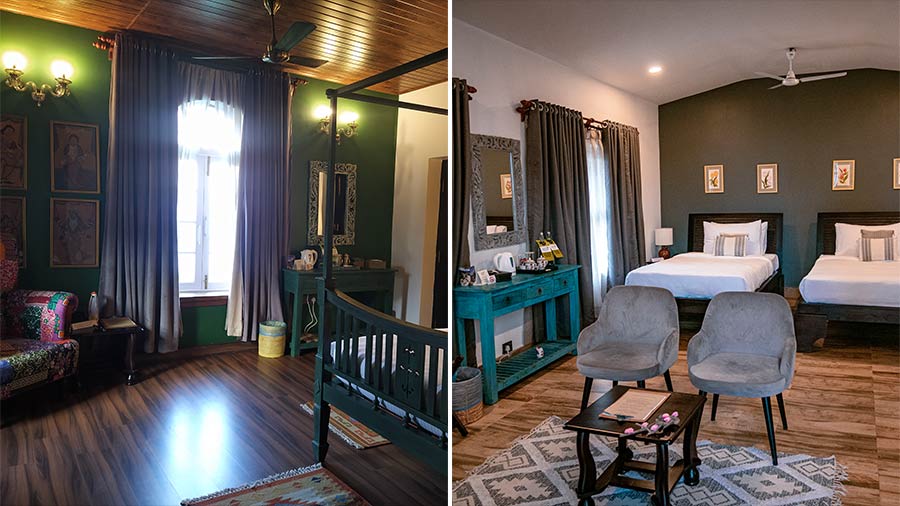 Classic vs Modern: The Bada Bungalow is more than just the old restored house which boasts four rooms and a suite. Next to the main house is a row of cottages. The two different kinds of accommodation come with their own advantages. The rooms in the bungalow have an old-world charm with four-poster beds and grand bathrooms. Inside the bungalow, you're only a step away from the verandah and the kitchen, which makes it easier to coordinate with the staff. The cottages, however, offer twin beds, and a breathtaking front view of the sloping tea-gardens. There's more privacy here, as well as your very own front porch to lounge on. Quiet honeymooners, take the bungalow we say! Friends looking to spend some alone-time together? Take the cottage. One of the cottages is two-storied, which allows for a family to put up together without getting in each other's way.
Eat, sleep, breathe
What's a getaway without good, wholesome food to keep you going from one meal to the next? Although the menu at The Temi Bungalow keeps changing, what remains constant is that many of the ingredients are locally and organically sourced, sometimes from the garden. Here are some of the highlights from the good life: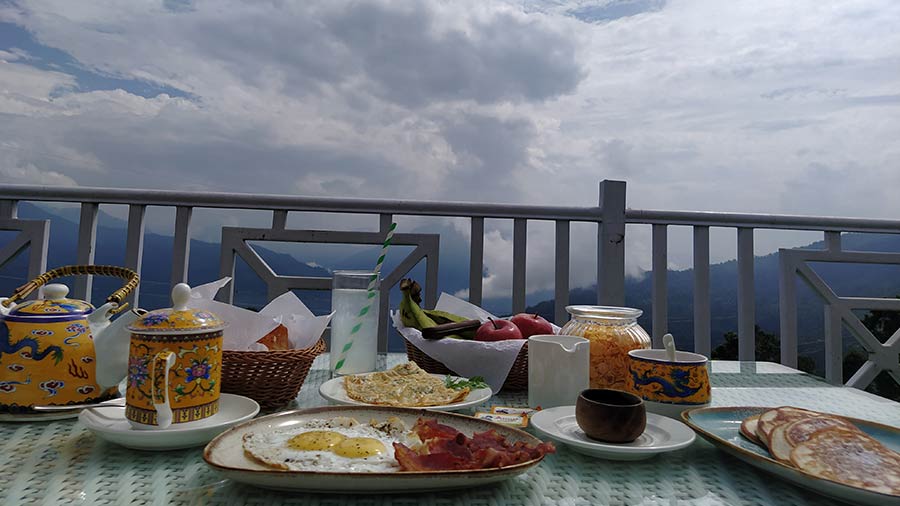 Breakfast: How many times do you ignore that old adage, 'Breakfast like a king'? At Temi, if you're waking up to catch the sunrise and setting your body clock right, then you'll be raring to dig into the enormous breakfast on offer. Fresh fruit, cereal, eggs, bacon, pancakes with maple syrup or an even heavier and most satisfying poori-subzi will see you through your morning if you want to step out and explore the green neighbourhood for a few hours.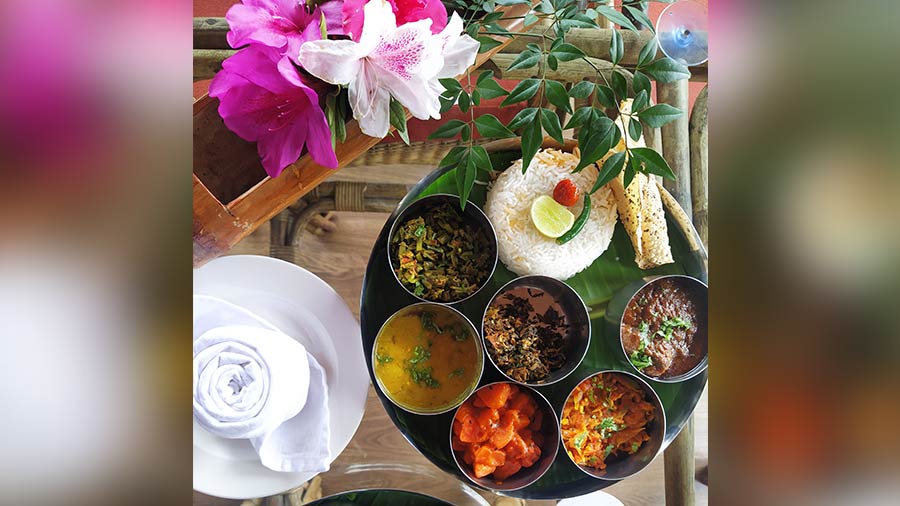 Lunch: Thalis come with egg and pork options as well but those aren't the focus. The real stars are the many options of seasonal vegetables accompanied with a dal and a local salad rustled up from offerings from the garden, most of them local varieties of saag. We suggest ordering the thali for lunch on a day you've had a light breakfast and a long walk.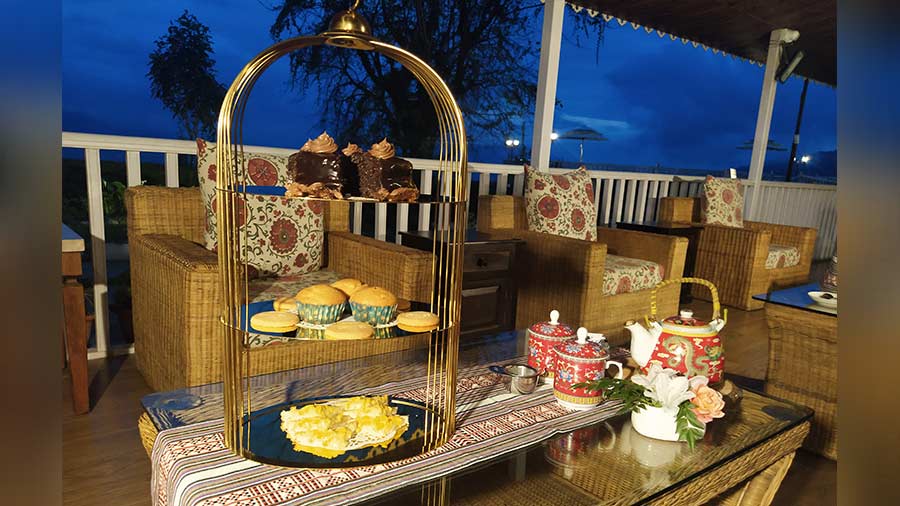 Tea: For all you tea connoisseurs, rest assured a tea garden getaway holds the promise of wonderful, flavourful tea. In fact, you can even visit the Temi Tea Factory and sign up for a guided tour of the tea-making process. But that's not all there is at this hill-station tea party. Muffins, cookies, a dense-gooey chocolate cake, corn on bread and even pizza are on offer on this unconventional tea tray. Pour yourself a cuppa and lie back to watch the sky change colour at sunset.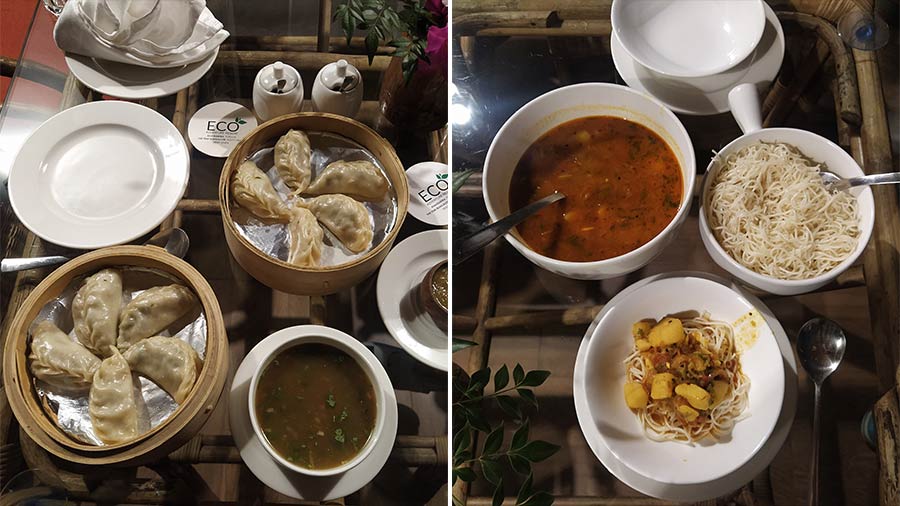 Dinner: If you prefer a light dinner, the Aloo Thukpa is a speciality here. Yes, you might be more familiar with the pork thukpa, but it turns out that the Aloo Thukpa is a popular dish amongst the locals here. What looks like a light aloo curry with noodles comes together in a delicious burst of flavours. Of course there's always soup, momos, and noodles if you want to be up at night and prefer a more substantial late dinner.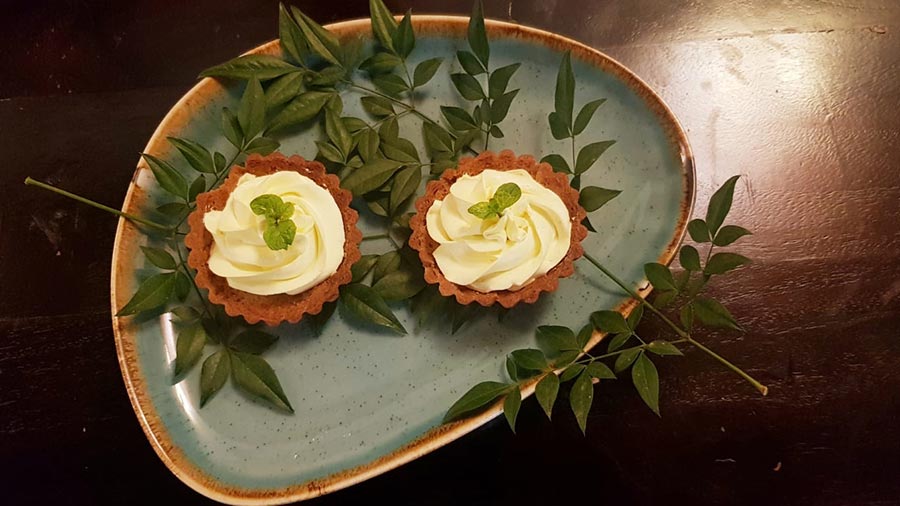 Dessert: The chef at The Temi Bungalow is always experimenting with dessert. The baked curd is a winner as well as the lemon tart.
Shake a leg
If you want to rouse yourself and head out to a nearby town or two, here are some options which won't ruin the peaceful you-time you're taking out for yourself.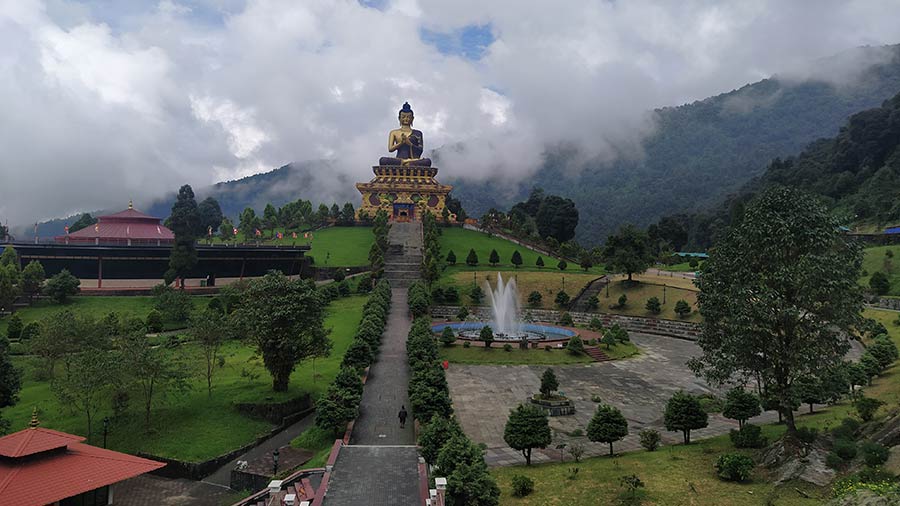 The Buddha Park of Ravangla: Also known as the Tathagata Tsal, the 130-ft Buddha statue will leave you mesmerised. It is situated near Rabong (Ravangla) in South Sikkim district. The statue was built over seven years and was consecrated in 2013 by the Dalai Lama. There are a great many steps to climb if you want to explore the grounds at the foot of the statue, which comprise pristine gardens replete with fountains. The Cho Djo lake is located within the complex, surrounded by a forest. There are also a row of shops near the gate, where you can pick up knick-knacks ranging from key chains to jewellery.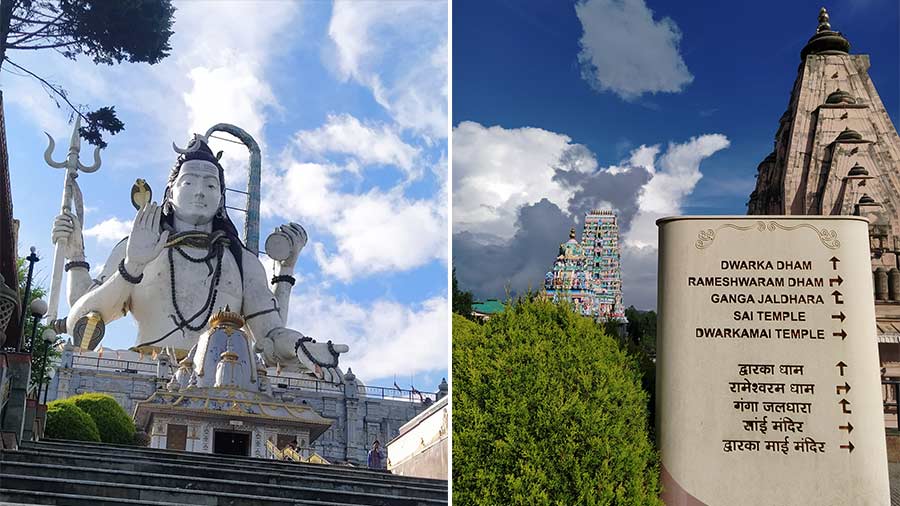 Char Dham at Solophok Hill: South Sikkim's Namchi hosts miniature versions of the Char Dham – India's four pilgrimage sites — as well as imitations of the country's other famous places of worship. Inside the grounds atop Solophok Hill, is also an imposing 108-ft statue of Lord Shiva. You will be able to see,within the same complex, the temples at Badrinath, Dwarka, Puri and Rameshwaram in their miniature versions, along with the 12 Jyotirlingas. Blissfully quiet and clean, you can find a spot to meditate right here.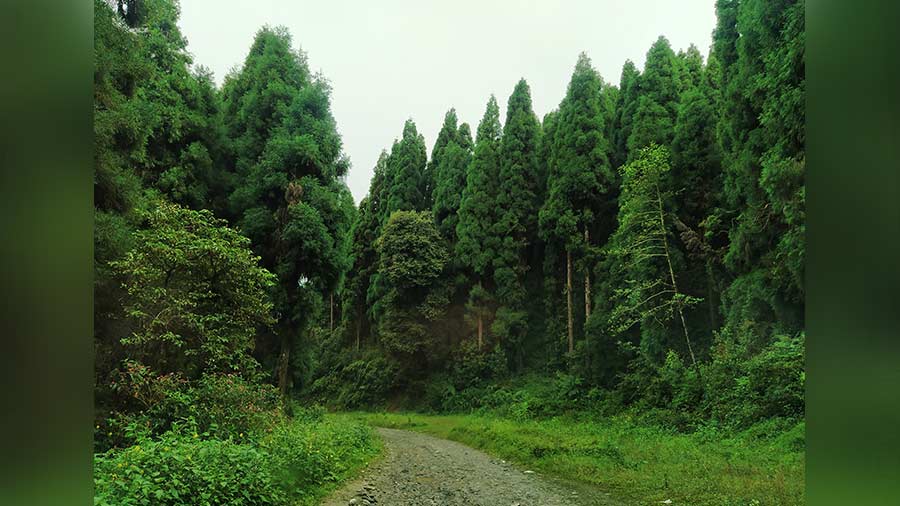 Tendong State Biodiversity Park: Fancy a walk through the forest? Adjoining the Temi Tea Garden, this is a 15-minute drive from The Temi Bungalow. Stop the car outside the woods and begin your trek through the 255-hectare hilly terrain. It won't be hard to imagine you're Frodo Baggins off on an adventure. A rocky path has been carved through a dense growth of trees – chestnuts, oaks, bamboos, walnuts, canes, amongst others. It's an area rich in diverse flowering and medicinal plants and if you're lucky you might spot flying squirrel or barking deer.
Explore the neighbourhood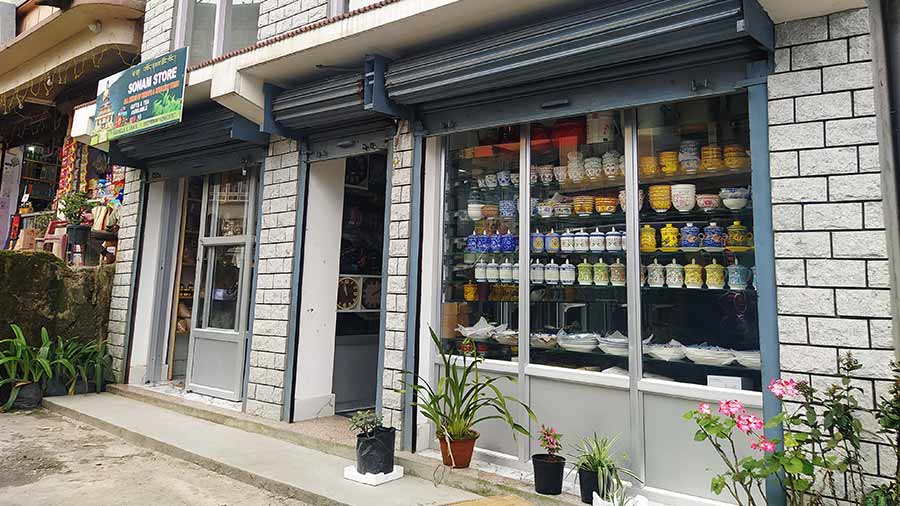 Knick-knacks: The nearest town, Namchi, is small and seemingly unexciting, unless you want to pause at an unnamed noodle shop and try the egg noodles they're whipping up with dalle chilli. The thing to do here is to keep an eye out for the crockery shops whose windows will beckon you with lovely chinaware boasting elaborate and delicate designs. Here's where you can stock up on your party plates and gifts.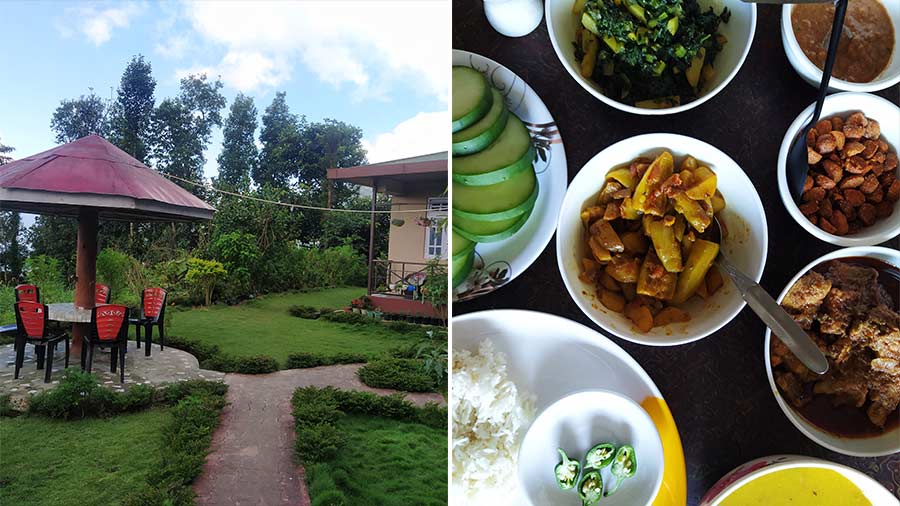 Aansham Kutir Homestay: Ten minutes away from The Temi Bungalow is the Aansham Kutir Homestay, which offers modest rooms to tourists but also opens its doors to outsiders for a meal, which the folks at Temi Bungalow will help you pre-book. A family-run affair, it's a warm, friendly place, with dogs, cats and a mighty bull to keep you distracted while you wait to be served. The words 'fresh' and 'organic' can't be overused in this context, with many of the vegetables being sourced from their own garden. They might serve chicken but the saag, dal and thick curd made from fresh milk sourced from the cow in the backyard, will very likely outshine all the meat.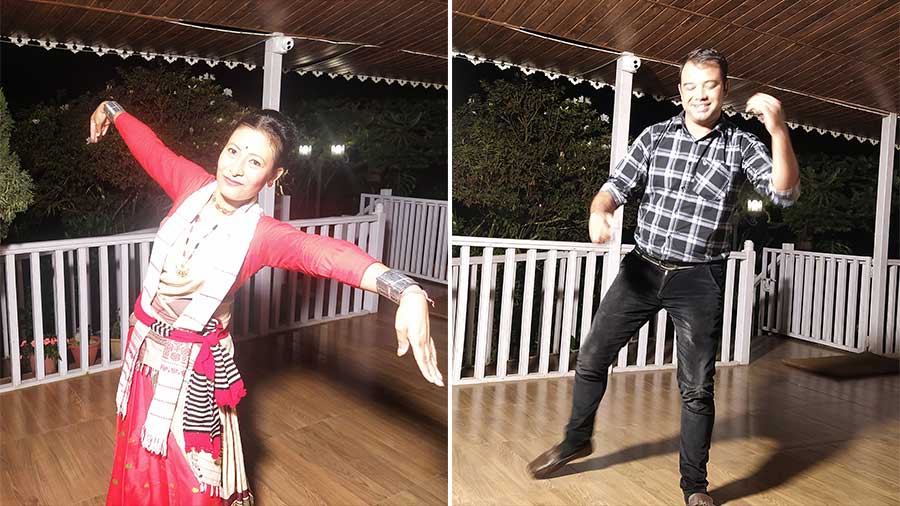 So long, farewell: Back to Bada Bungalow. On your last night there, the staff are very likely to put up a concert for you. Assamese folk dances, Nepali songs, some fusion and perhaps even some karaoke with popular English numbers will draw you into a night of early revelry, revving up the vibe just in time for you to return to the chaotic energy of city life.
The best time to visit Temi is November, for the first bloom of cherry trees. The cherry blossoms are associated with the Buddhist notions of change and transformation and in Sikkim they herald the onset of winter. Catch the holiday offer at The Temi Bungalow (valid till January 31, 2023) which invites two people to put up for four nights for Rs 60,000.