A sudden idea to stroke the nostalgic heart back in 2018, led to the inception of bonfire nights at the cozy, independent Storyteller Bookstore in Picnic Garden. The idea was to bring back the school fete that had all students keenly waiting the year round. Acting as a perfect throwback to those annual school events, the turnout at the 2018 bonfire night for children surprised founding owners Mayura and her son Aman Misra. There were a few games to entertain the kids but the highlight remained simple storytelling sessions while sitting around the fire. While Covid put further plans on hold, this year, bonfire night was back at the Storyteller Bookstore and it was only bigger and better this time. With almost 40 people showing up for the event held on December 18, the storytelling session was led by Kavita Gupta.
Going all out this year to replicate school fetes, more games were introduced that kept the little ones occupied throughout the evening. The games included Ring Toss, Cancan and Tail the Donkey to name a few. With Christmas titles on display that the bookstore had been collecting since October, carol-singing also formed a major part of the sundowner evening. Food and beverage stalls served up steaming hot momos and French fries for kids to enjoy while we caught some parents enjoying themselves equally, if not more!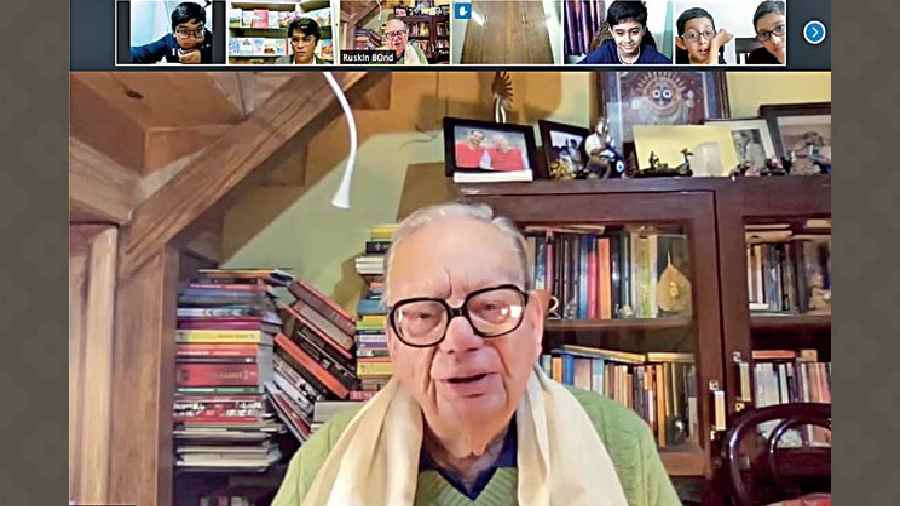 On a cold evening from Mussoorie, Ruskin Bond logged on to Zoom for an interactive session with little ones at Storyteller Bookstore to discuss his new book The Tunnel. Getting a lot of writing done in the pandemic, he managed to release three new titles this year! Speaking about The Tunnel, he said, "It is not a new story but is one that I had written many years ago. However, the editors at Puffin thought it deserved to be converted into a chapter book. So I edited it and here we are!" Beautifully illustrated, this little novella in its new avatar is already running out of copies at the bookstore. Bond has always paid keen attention to the illustrations illuminating his stories, going so far as to say that some of his books only come alive with them. "While illustrations are great, the cover of a book is also important, even for a book for adults! Particularly with a new writer, the browser in a bookstore will judge the book by the picture. I am a visual writer anyway, and before I write a story, I see it in my head like a film. Then it's only a question of putting it down in words. The visual element is there already and for younger readers, I appreciate the little details we add in terms of illustrations," he summarised.
Bond spoke about his keen observation skills which allowed him to blossom into a writer of his unimaginable stature –– 'a necessary quality for any writer'. He also spoke about the coveted notebook that he uses to jot down thoughts and interesting moments that he knows could later evolve into a story or a novel. In all sessions with Bond, the one thing that is unmissable is his love for children. From playing pranks on his mathematics teacher to reminiscing old technology like the radio, Bond took a nostalgic trip with the little ones in attendance. As they all held up their copies of The Tunnel, their love for the grand old man in the hills shone equally bright across the screens!