News of wild elephants going on a rampage on agricultural fields and attacking humans are quite common in different parts of India. No wonder with the increasing human population, the wild elephants are losing their ground. They often make inroads into human settlements resulting in man-animal conflict. To control these rogue elephants, specially trained elephants are needed. There are a few camps across the country where these elephants are trained. Kozhikamuthi Elephant Camp, located deep inside the Anamalai Tiger Reserve, Tamil Nadu, is one such camp.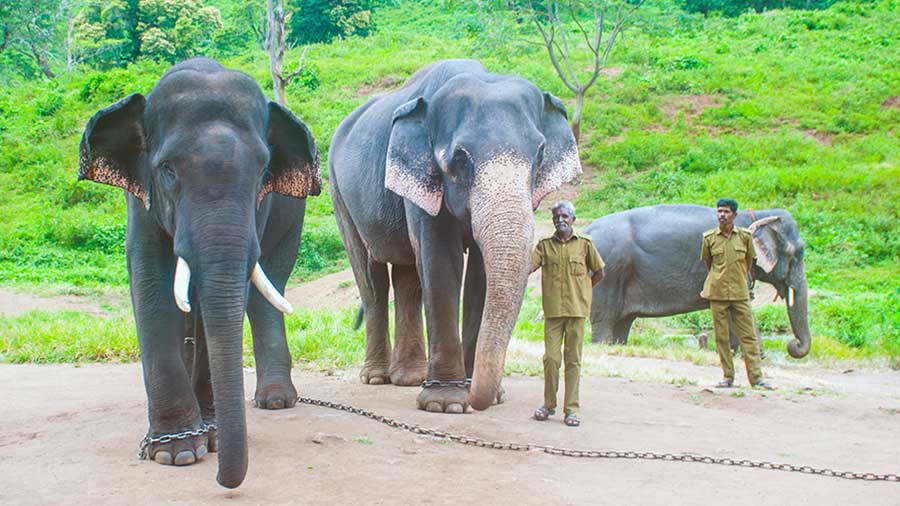 Elephants and mahouts at Kozhikamuthi Elephant Camp
The camp is managed by local tribes known as Malasar. Over the centuries the Malasar tribes have lived with the elephants and in the process have developed specialised knowledge and skill to train and work with them. The members of the Malasar tribe have expertise in capturing, taming and handling wild elephants. The elephants of this camp have made journeys to different parts of the country to capture and tame rogue elephants. 
Kumkis are trained male tuskers who carry out the capture operations. These captured animals are often brought back to the Kozhikamuthi Elephant Camp and are trained and the cycle continues.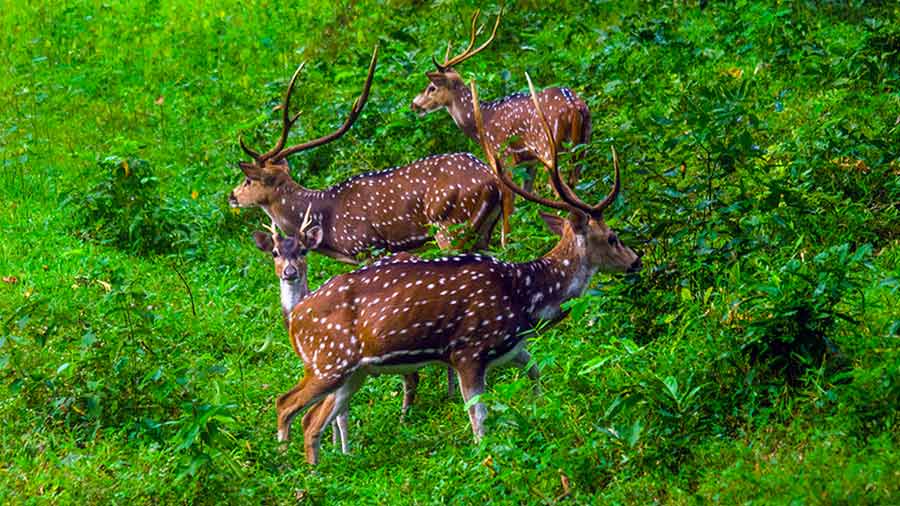 A herd of deer (chital) spotted on the way to Kozhikamuthi Elephant Camp
The Kozhikamuthi Elephant Camp presently houses 26 elephants. The star attraction is Kaleem, a 56 year old Kumki, who has helped capture more than 25 wild elephants in Tamil Nadu, Andhra Pradesh and Kerala over the past 20 years.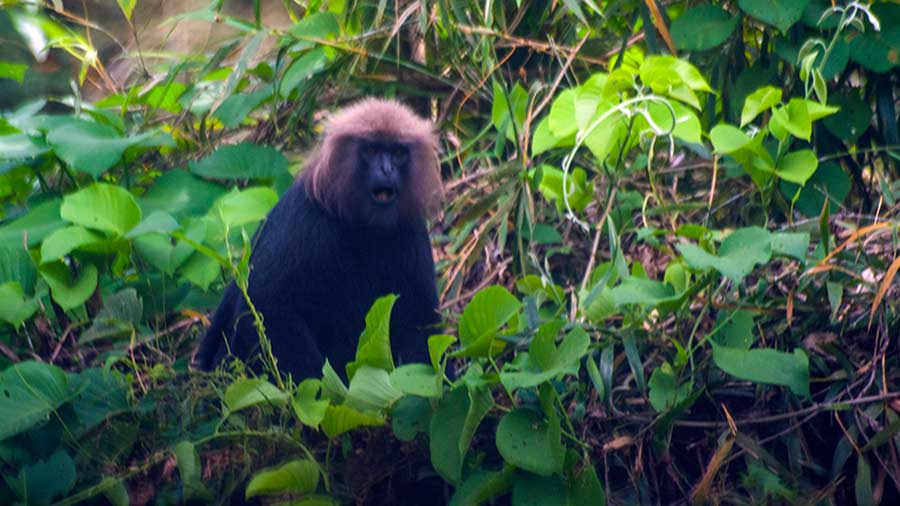 A Nilgiri Langur captured on camera
The Kozhikamuthi Elephant Camp is explored from Topslip, a tourist complex located deep inside the tiger reserve. The forest visitor needs a permit to enter Topslip. It stands majestically at the base of lush green hills and is surrounded by enchanting forests. Wild boars, monkeys, peacocks and deer roam right in front of the forest lodges of Topslip.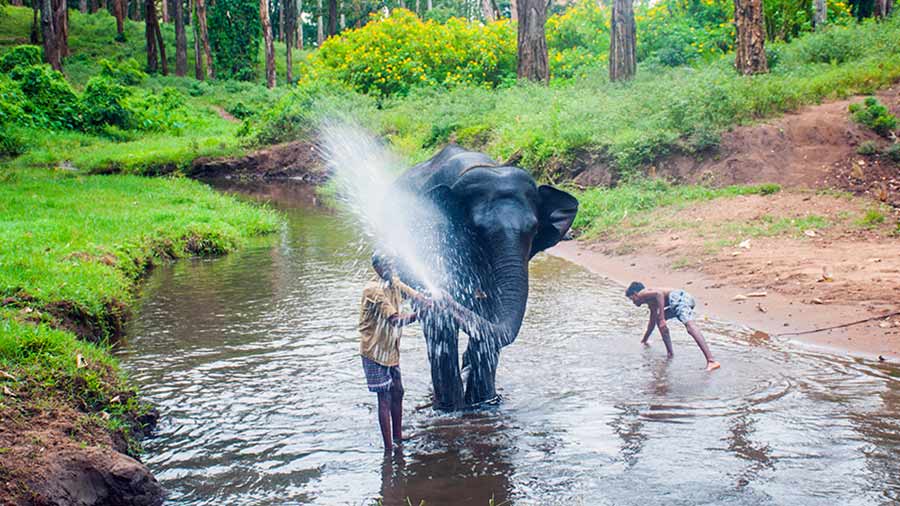 An elephant having a bath at the Kozhikamuthi Elephant Camp
The elephant camp is located about half an hour drive from Topslip and one can encounter various wildlife during this short jeep ride and may even come across Nilgiri Langur, a monkey endemic to the southern regions of western Ghats. The day at the elephant camp starts early and begins with a bath at the nearby stream. Next is breakfast time and the elephants are fed with a large dough of millet, rice, jaggery and coconut. Each elephant has a customised diet.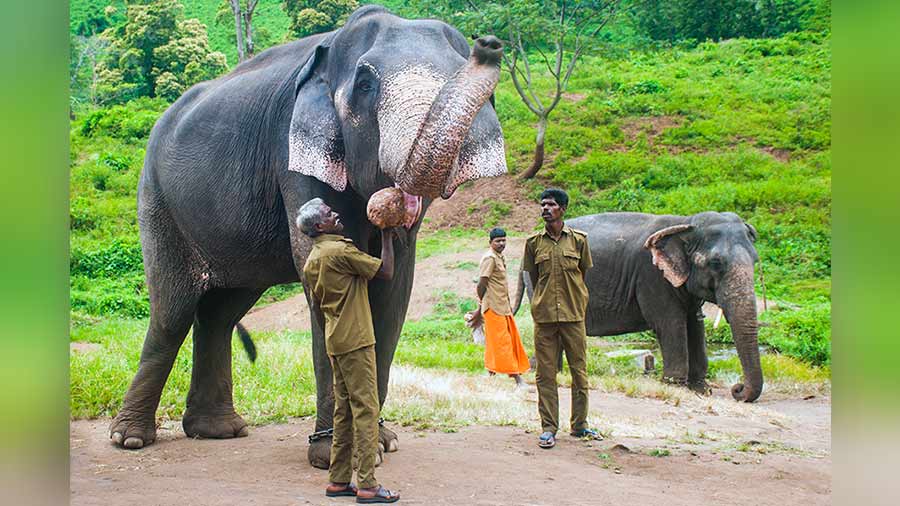 Mahouts feeding elephants at the camp
The tourists are welcome during the morning hours only to witness the activities of the elephant. Under the supervision of the mahouts they can even interact with the elephants and click photos and selfies.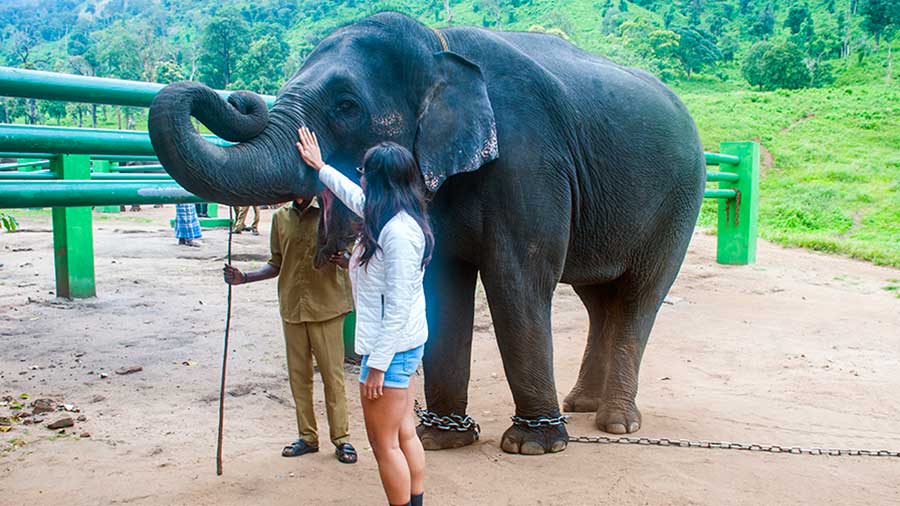 A tourist poses with a elephant at the Kozhikamuthi Elephant Camp
After breakfast, tourists leave the camp and so do the elephants. The elephants are taken to the forest for grazing. They return after eight hours in the evening. Their evening meal consists of cut fodder, however this happens in the absence of tourists.