What is artificial sports turf? In cricket, red leather has been scrapped for pink or white on balls. Heavy leather footballs have been replaced by lightweight synthetic footballs. So naturally, grass, which is difficult to maintain, has found its alternative in artificial turf. The  cost-saving measure is a welcome addition to the already-expensive realm of sports. Artificial turf is made of synthetic fibres and requires no trimming, watering or maintenance.
Open spaces in Kolkata are shrinking. Many Calcuttans are now hitting artificial turfs to be able to play sport without dirt, injuries and inclement weather. Here are some of the best venues to play cricket, football or other games on astro turf.
Turf Air Plaza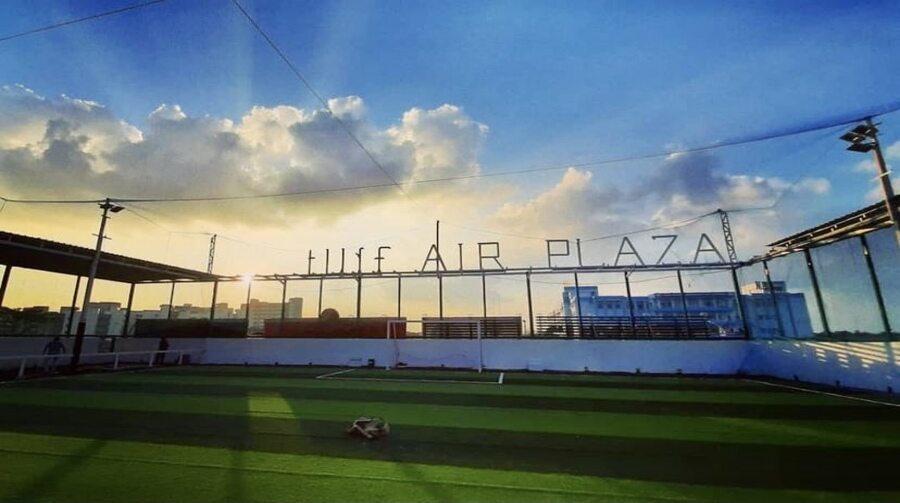 Turf Air Plaza is one of the city's finest single ground astro turf facilities. The turf is located in New Town, Rajarhat, and can be booked for football or corporate events and tournaments.
Where: 1st Floor Terrace, Rosedale Plaza Mall, opposite St. Xavier's University, Action Area III, New Town, Kolkata 700160
Timings: 8am- 9pm
Check out these posts from their official Instagram account:
Sky Turf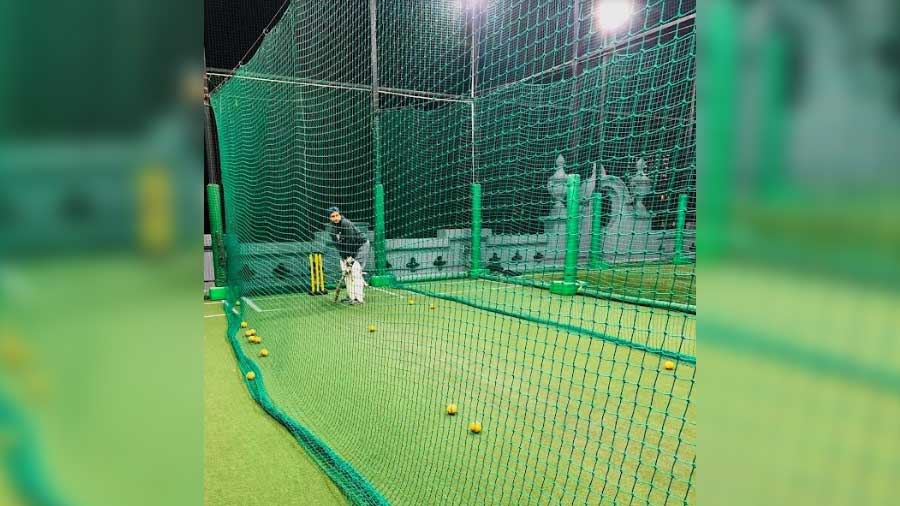 Sky Turf, a Fifa-certified, shock-resistant astro turf is south Kolkata's one-of-a-kind rooftop sports arena. At SkyTurf, you can play 5-a-side-football, badminton, box-cricket and bat it out at their cricket nets with their professional bowling machine.
Where: 209 AJC Bose Road Kolkata, 700017
Timings: 6am- 12am
Find more details on their website here 
I prefer turfs as there is no dust. Even on rainy days, you can play without getting dirty like you would in a Kolkata ground. If you fall on turf grounds, you don't injure yourself easily or severely. We book it once or twice a week.
Prithviraj Jhunjhunwala, Calcutta International School
V/S Sports Arena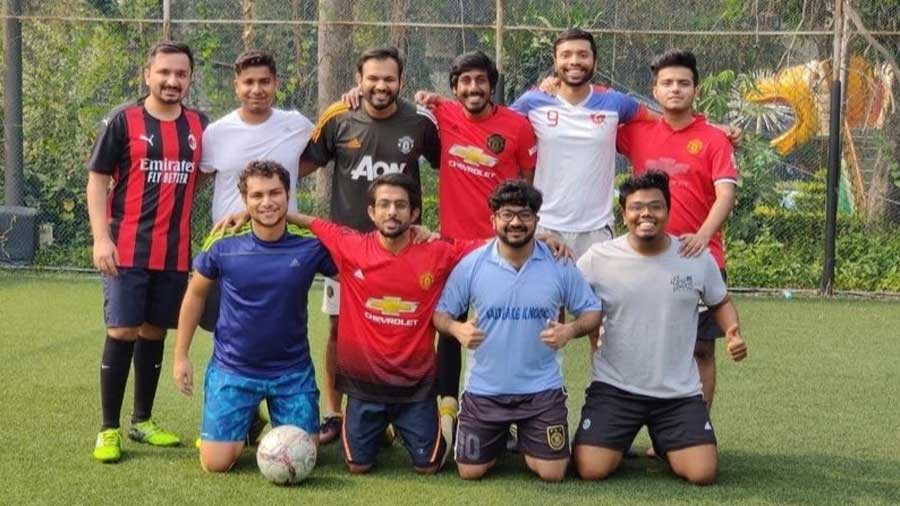 Arinjay Ghosh and his friends before a match at the arena.
This one has two addresses which makes it accessible for people from all parts of the city.
Arinjay Ghosh visits the turf on Sarat Bose Road. "It was difficult for people like me from Salt Lake or New Town to commute to the other astro turfs. Travel time is cut by half here," said the communications manager and local organising committee of FIFA U-17 Women's World Cup India 2022. The turf is medium-sized but has adequate length.

The second address, V/S Sports Arena 2.0, has opened in Salt Lake Stadium. 
Where: 5A Sarat Bose Road, lane beside Chandrani Pearls, opposite Ashok Hall Girls School, Kolkata 700020
Timings: 6am-10 pm

Where: Salt Lake Stadium, Gate No.3 (Stadel Gate), between Ramp 17 and 18
Timings: 5am-11 pm.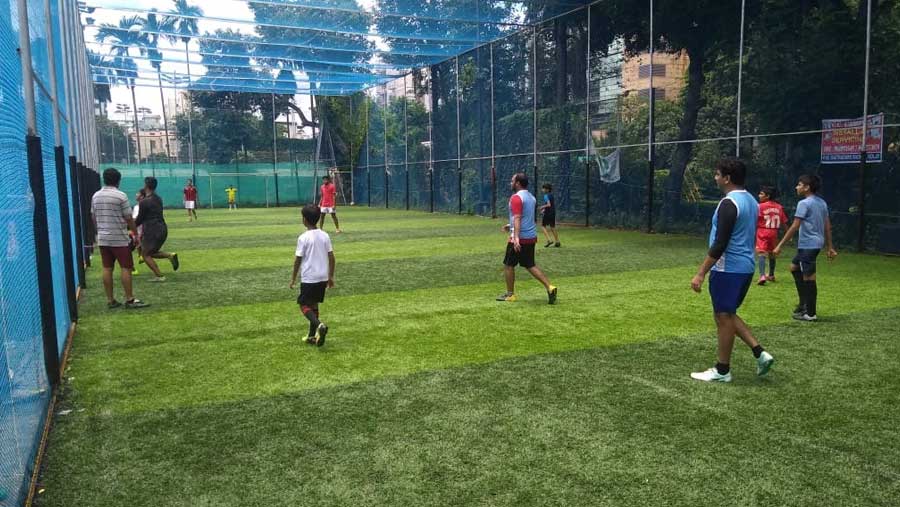 Many turfs have sheds and covers whereas grounds do not have any protection against extreme heat and sunlight, which tires players easily. My friends and I have been playing on astro turf for a year or two, more often since the pandemic started.
Manan Poddar, Calcutta International School
Turf XL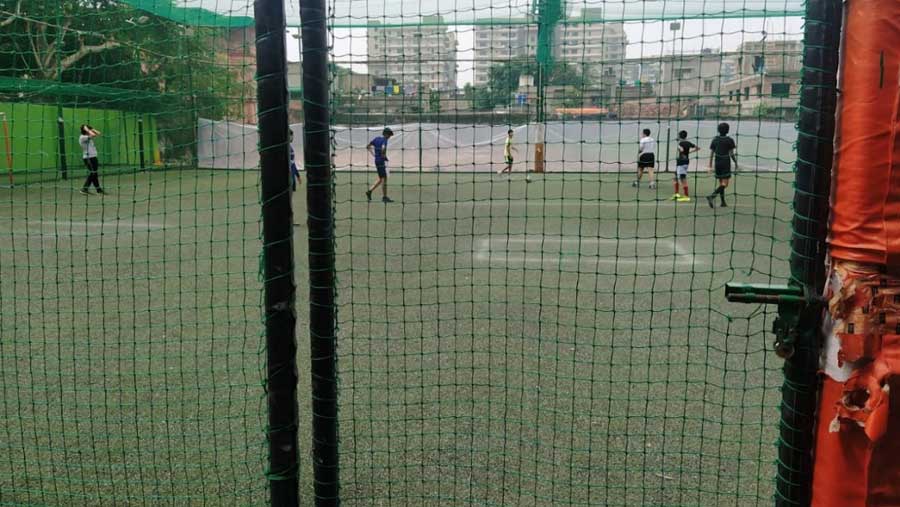 As per government regulations, no more than 15 people will be allowed on the ground at a time.
Turf XL is currently the biggest box-cricket and football arena in Kolkata. It has multiple grounds and you can play a game of football or cricket ranging from 5-a-side to 11-a-side. Other facilities include floodlights and marked scores.
Where: 48 SN Roy Rd, Buroshibtalla, New Alipore, Kolkata 700038
Timings: 6am-10pm
You don't need 22 people anymore and your group of 10-12 friends can gather and play any time. Even late in the evening, which wasn't possible earlier because the maidan or other grounds didn't have lights. For the smaller 5-a-side games, you don't need to create makeshift goal posts as the cage-like structure ensures no time is wasted in fetching your football if someone kicks it too hard.
Arinjay Ghosh, 26, Communications Manager, Local Organising Committee of FIFA U-17 Women's World Cup India 2022