In Bengal, Goddess Durga is worshipped in her Mahishashuramardini avatar, but Bengalis love to think of her as Parvati, whom Lord Shiva took as his second wife after losing Sati. It is believed that Sati was reborn as Parvati and performed her penance to marry Shiva.
Hindu mythology describes Durga as a warrior goddess, who emerged from the collective power of all male gods, specifically to kill Mahisasura. No way, by any Hindu text, was she Parvati or the daughter of Himavat, the king of the Himalayan mountain range. 
This, however, is no obstacle to a Bengali mind, which thinks Durga and Parvati are the same — daughters of Himavat.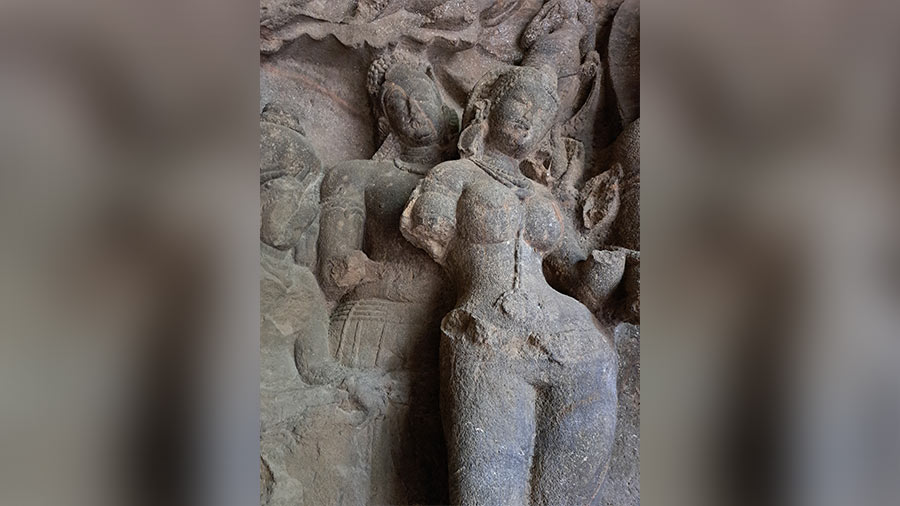 Himavat leading his daughter Parvati to marriage
For one, who thinks Durga and Parvati are same, the best way to find a coexistence is perhaps on a small island near Apollo bunder of Bombay, where the sixth century rock-cut caves enshrine an array of sculptures vividly describing some of the important chapters of Hindu mythology, with Shiva and Parvati as main characters.
The monolithic caves of Elephanta Island, now an UNESCO world heritage site, houses one of the best Shiva shrines of the world. The island was under Portuguese rule from 1540 to the mid-19th century. And during that time, the sculptures suffered an unimaginable ravage and vandalism in their hands. With no sense of valuing an extraordinary piece of art, they used to practice rifle shooting by targeting these idols. Many panels of the cave still contain marks of bullets and iron rods.
After its renovation by the British, and then the Indian government after 1947, the cave temples now stand fit to display a series of sculptures from Hindu mythology, primarily focusing on Shiva and Parvati.
One of the prime wall panels in the main cave shows Shiva's marriage to Parvati.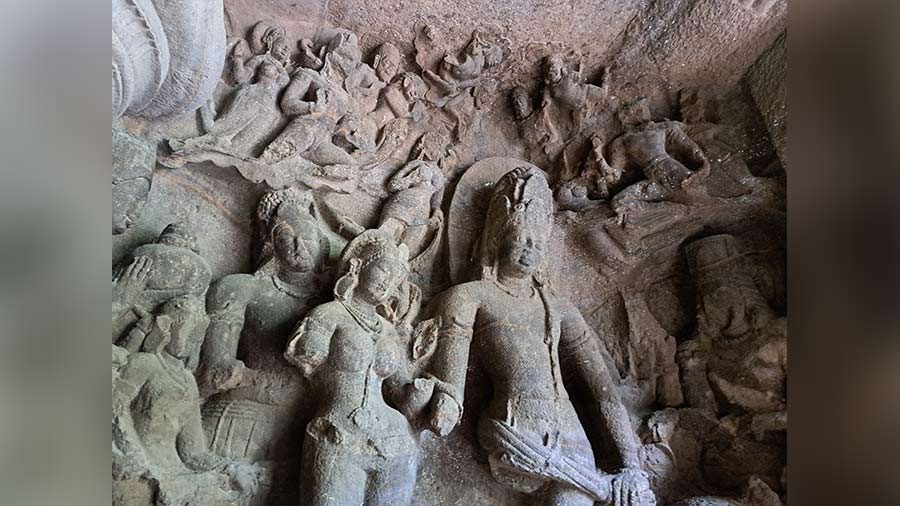 A carving shows Shiva's marriage to Parvati
According to mythology, the divine marriage was solemnised at a place named Kartikapurya, on the banks of the Gomati and Garurganga rivers, which is now a holy place in Kumaon named Baijanath.
This holy event is one of the themes of the Elephanta Cave shrine, known as Kalyana-Sundara murti, which includes a massive 3.3m-high Shiva with a soft and coy smile on his face.
Here, Shiva holds the hand of Parvati who stands on his right. Parvati's figure is smaller than Shiva's and her shy eyes are closed. Both Shiva and Parvati look elegant yet very humble. Parvati is softly touched by a male figure from her back. That is Himavat, her father, who is offering his daughter's hand to Lord Shiva. The panel includes Brahma as the priest of the marriage and also features Chandradev and Vishnu along with many celestial figures. It is also decorated with several gana, who are seen attending the royal marriage. The brutality of Portuguese ravage is seen in the broken hands and legs of both Parvati and Shiva. Still this panel is one of the best surviving ones in this cave.
The panel on the northeast corner of the main cave shows one of the little known stories of Hindu mythology. It shows an arrogant Ravana trying to lift the entire Kailash mountain, with Shiva seated on its top. It shows how Shiva, with only his touch of a toe, is disregarding Ravana's effort to tame his aggression and audacity. Here, Parvati is seen seated next to her husband and seems to be in a state of panic. This panel is also badly damaged thanks to the Portuguese.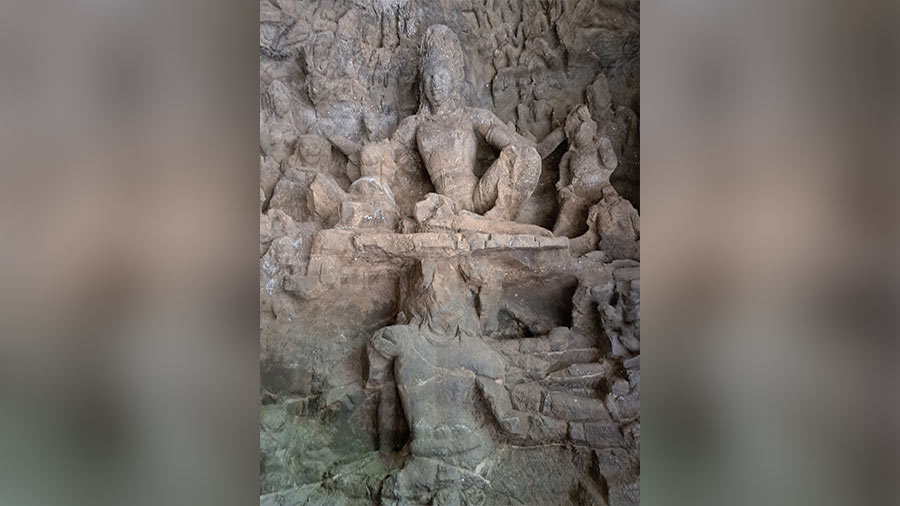 Shiva taming Ravana
Another badly damaged panel is on the south-west corner of the main hall. This panel is known as Shiva-Parvati panel, where Shiva and Parvati are seen playing dice and in that game Shiva is cheating his wife Parvati, who seems to be angry.
Shiva and Parvati are seen playing dice
The face of Shiva is totally mutilated here and all the lower figures on the panel, including Parvati's face, are destroyed. Shiva's sitting posture is relaxed.
One of the panels in Elephanta is known as Ganga-dhara Shiva, where we again find Parvati next to him.
Compared to other panels, this one suffered lesser vandalism in the hands of the Portuguese. This panel shows Shiva holding river Ganga in his jata on his head. It describes that part of mythology where Ganga, who was born out of Vishnu's sweat, was on her descent to earth as the most sacred water flow due to the invocation of Bhagiratha but was held by Shiva in his head. Here, the panel shows Shiva's gentle gesture to his wife Parvati, who stands next to him and both of them stand in thrivanga. Parvati is a little jealous by seeing her husband in the company of another woman. The panel shows the stream of Ganga releasing from the matted hair of Shiva, known as Ganga dhara. At the feet of Shiva, we find Bhagiratha praying to release Ganga.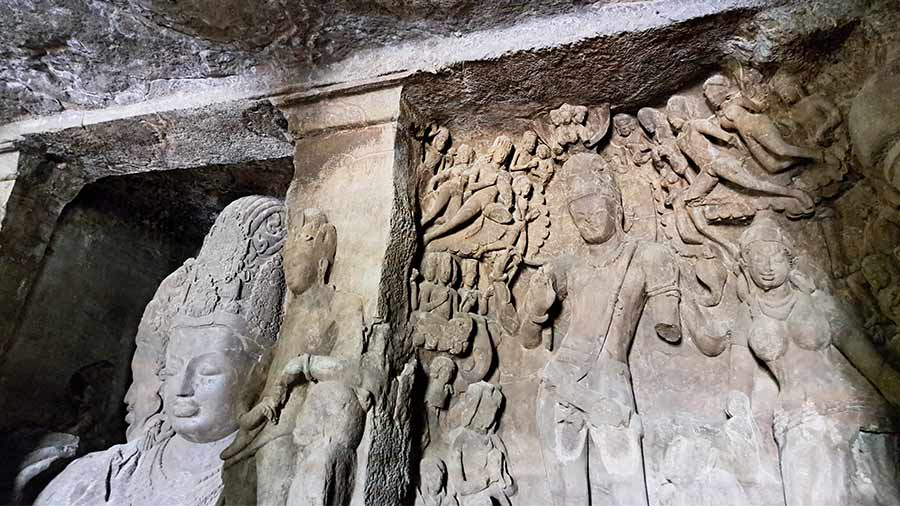 Ganga-dhara Shiva, with Parvati next to him
Ardhanarishwar, Shiva's half-male and half female form in the same embodiment, is one of the primary panels, where Parvati comes into picture again. Here, we see a massive figure that is physically parted into two. One half, with its developed breasts, curved hip and female ornaments clearly indicate a female body, while the other half, with its flat chest and straight hip shows a masculine body — is the embodiment of Shiva and Parvati.
Parvati was not the only theme that Elephanta originally had. Out of the few fragmented sculptures of Elephanta, which were removed to Prince of Wales Museum of Bombay (now called Chhatrapati Shivaji Maharaj Vastu Sangrahalaya), there is an excellent broken Mahisasurmardini.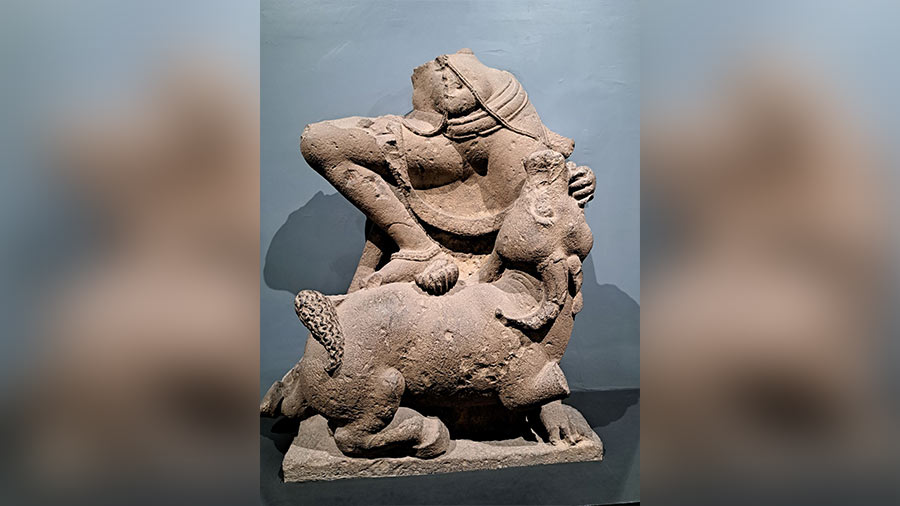 A broken sculpture of Mahisasurmardini
Now displayed in the archaeology section of the museum, the lower broken part clearly shows the Devi skillfully twisting the neck of the buffalo demon, while with one leg she is strongly suppressing its back. As the upper part of the sculpture is missing, we can only see up to the belly of the female statue and that is enough to give an idea how extraordinarily beautiful the idol was.
In a nutshell, Elephanta in its prime was an open gallery displaying both Parvati and Mahisasurmardini Durga. Though they are two different identities, according to the Hindu mythology, both have emotionally blended in Bengali imagination.