There are those trips that start off looking picture perfect after having been planned for months and then things start going wrong. Our Sikkim trip was one of those. The place had been on my to-do travel list forever but with closed borders and mandatory vaccination certificates for travel and so on, it remained undoable for a good two years.
Now, where I wanted to go was West Sikkim. I had been to north Sikkim twice and soaked in its stark breathtaking beauty and the usual Gangtok circuit had been done and dusted. So, Pelling, the old capital of Sikkim, was where I was supposed to head to on February 28, except exactly two days prior to the journey I discovered that I had bought flight tickets for March 28.
So, a month passed by and, a day before I was to set out on my solo trip, my mother "reluctantly" agreed to come along and was lucky enough to get absolutely the last ticket on the flight to Pakyong, from where we were to drive up to Pelling and spend three nights at The Elgin Pandim. But there were hurdles yet. Our flight was cancelled due to bad weather, something that hadn't happened for a good three months prior to that date.
Something that had not happened in the previous three months had to happen on that day. I was starting to believe in some sort of Sikkimese jinx but was determined to break it.
So, I immediately got tickets for the next available flight — the last one to fly that day — to Bagdogra but that was a good five hours later. And damn that flight was also half-an-hour late! Phew! However, we managed to land and get a private taxi from Bagdogra at 5 in the evening and was told by the locals it was not a great idea to travel to Pelling that day since it would take us at least seven hours in the dark. Our option hence was to stay at Kalimpong, Darjeeling or Gangtok. I was determined by now that nothing could keep me away from Sikkim, hence chose Gangtok (at least I would enter the state). With no hotels previously booked, I had to request team The Elgin to find a room at their Gangtok hotel instead of Pelling for the night and were lucky to get the last available room. Thank God!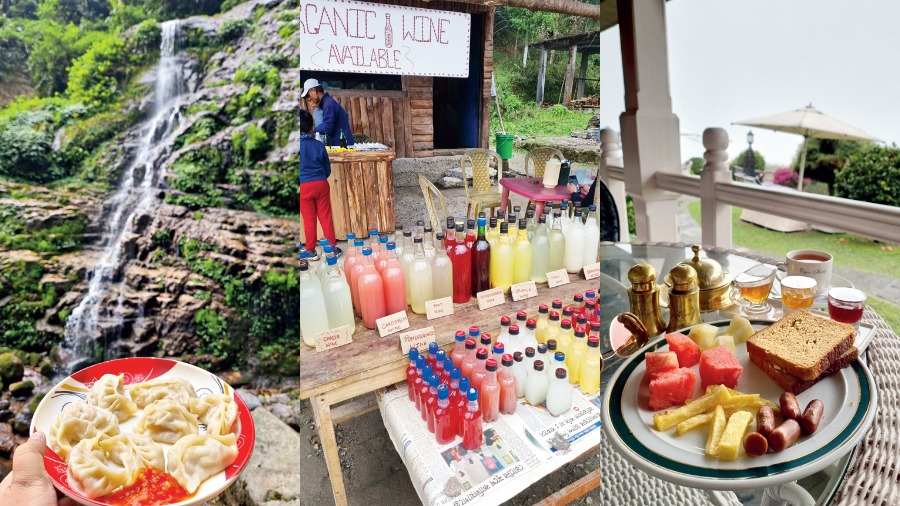 Momos at a stall at Kanchenjunga Falls; Organic wine at Khecheopalri Lake; Breakfast at The Elgin Pandim along with a hot cup of Darjeeling tea
We spent the night at the beautiful heritage hotel and left for Pelling, our actual planned destination the next morning post-breakfast. Finally things were getting back to plan.
Pelling is a quiet Sikkimese town in the west, a perfect detox into tranquillity. If you're not looking for nature walks, panoramic mountain views and a remote country village escape, then Pelling might not be for you. Far from the maddening touristy crowd, this place seems to be much untouched and in the heart of nature.
On our way from Gangtok, we first visited Temi Tea Garden on the way to Pelling in South Sikkim. Temi is the only tea garden in Sikkim. A Rs 20 ticket lets you inside the garden for some photographs. There are tea stalls around where they offer you Temi tea to try and get some packed too at Temi Bazaar. Offering Spring — first flush, Summer — second flush, Monsoon — third flush, Autumn — final flush, and white, green and oolong teas, there's quite a bit to choose from. It is also a good idea to stay at Temi and spend a relaxed day or two, if you have time in hand.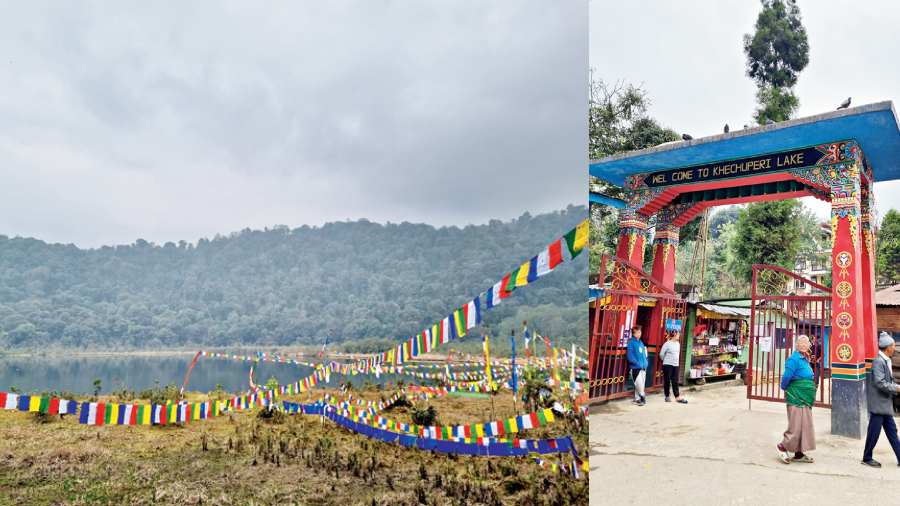 Khecheopalri Lake, the gateway to it
Our next stop was Buddha Park in Ravangla. Also known as the Tathagata Tsal, it is near Rabong in Ravangla, and has a 130ft high statue of Buddha which is visible from quite a distance as you drive uphill to reach. April to June is the ideal time to visit this place. There are quite a few steps to cross, be careful in case you have elderly people travelling along.
After the day's sightseeing in between Gangtok to Pelling, by the time we checked into The Elgin Pandim, our hotel in Pelling, it was already dark.
The Elgin Pandim is probably one of the best hotels to stay at in Pelling, an ideal nature retreat. This heritage hotel was first built by the king of Sikkim, and initially served as a royal retreat. The hotel has hosted eminent guests like Prime Minister Narendra Modi, former chief minister of Sikkim Pawan Chamling, and other celebrities. Located right opposite the Pemayangtse Monastery, the hotel offers the best view of Mt Kanchenjunga, along with peaks Pandim, Narsing, Siniolchu on the right and Kabru and Rathong on the left, if you are friends with the weather gods!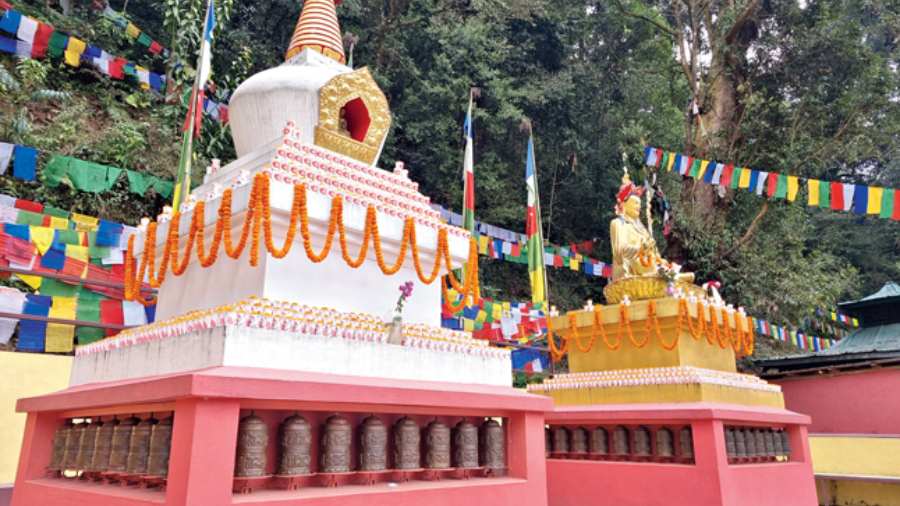 A prayer zone and wheels in front of it
We clearly weren't. The hotel staff at The Elgin had already informed us that the weather hadn't been great for a day or two, all of a sudden, yet Mt Kanchenjunga obliged with a sight in that morning and the next day they expected the weather to be clear.
That was clearly not the case! After waking up almost every 30 minutes to take a look outside the hotel window from 6am till 9am, if there was anything that was increasing it was the clouds and fog. Given up on the idea of catching a sight, I set out for a day sightseeing trip.
Our first destination for the day was Yuksom. Around 30km from Pelling, Yuksom literally meaning the meeting place of three lamas, is the ancient capital of Sikkim. This is where Phuntsog Namgyal was crowned as the first king of Sikkim and given the title Chogyal (religious king) centuries ago. Yuksom remains unexplored and laid back till date and offers mainly village home-stay options if you are planning to stay the night. A popular destination with trekkers, Yuksom is the gateway to the Kanchenjunga Biosphere Reserve, the base for some of the most fascinating treks through high mountain region.
Next on our map was Khecheopalri Lake. It is a common trek route from Yuksom too, for those who want to explore on foot. On the way downhill comes Kanchenjunga Falls, which is a frequented tourist stop for pictures, ziplining against the waterfall and some fresh bites of momos and Maggi.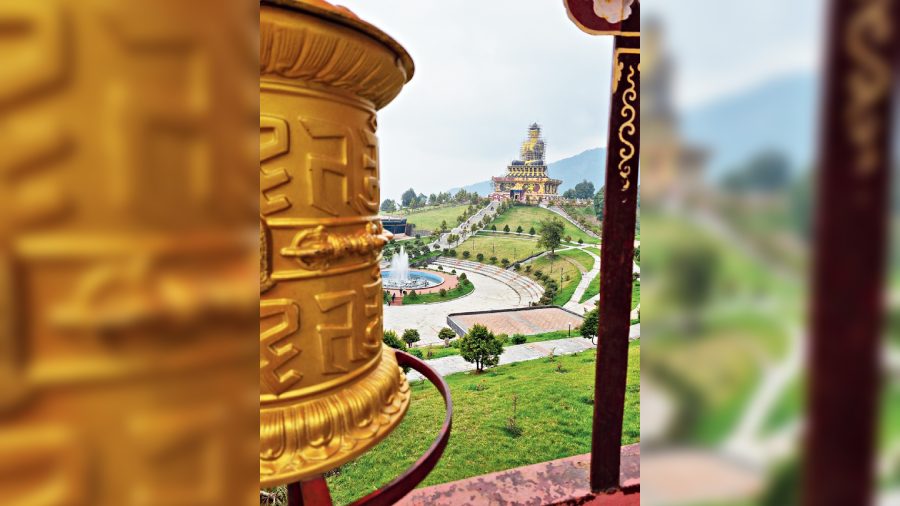 Buddha Park at Ravangla
Khecheopalri lake is estimated to be around 3,500 year old. Khecheopalri is a popular pilgrimage site, and the lake is also known as the wish fulfilment lake. The serenity of the place as one walks up to the lake, with numerous Tibetan prayer flags fluttering in the wind, feels like a grand entry inside a magical kingdom. From a higher vantage point the shape of the lake resembles that of a footprint and is believed to be the footprint of Buddha according to folklore. One can offer prayers near the lake and make a wish!
At the parking area near the lake, watch out for a stall selling "organic wine" in various flavours — ginger, cardamom, mint, orange, pomegranate, guava and banana. I settled for the rhododendron wine, which was Rs 200 for a small 200ml bottle. It was a refreshing yet potent drink after the long walk to and from the lake.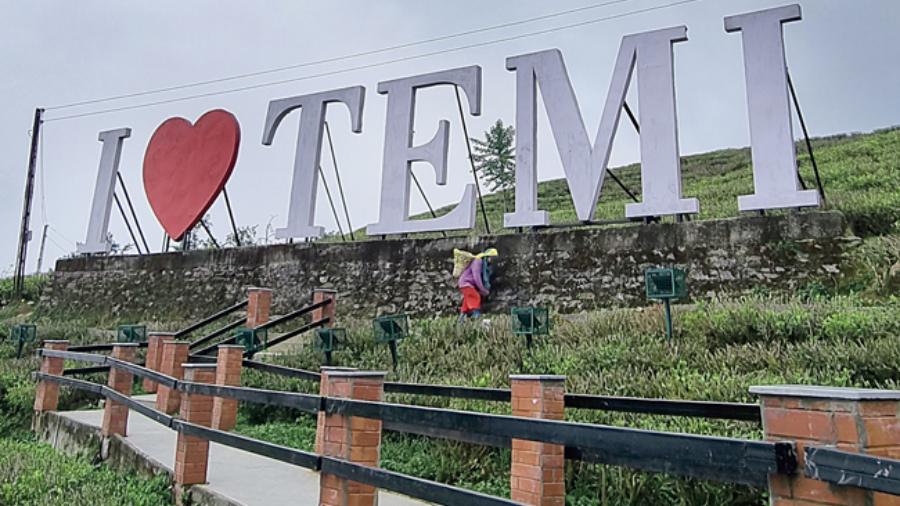 Temi Tea Garden
Next up was the Rimbi Orange Garden. Though this wasn't the season for oranges, I was lucky to spot a couple of oranges on the trees. Best season to visit the garden from November to February and they have Orange Village Homestay options available at the garden as well on prior booking.
A steep walk down the orange garden takes you near the Rimbi river, which originated from the Rimbi waterfall nearby. Organic wines are also available here and one can sit by the crystal clear lake and enjoy a drink.
Our last stop for the day was the Pemayangtse Monastery. A no-photography zone, this is one of the oldest monasteries in entire Sikkim and a frequented tourist destination. The calm environment invariably helps you relax at this spiritual site. Inside the 300-plus-year-old monastery, it's enthralling to see hand-painted Tibetan designs inside the prayer hall, along with vibrant antique idols and scriptures. The ruins of Rabdentse can also be seen from this monastery but we had kept it for the next day on our way back to Bagdogra.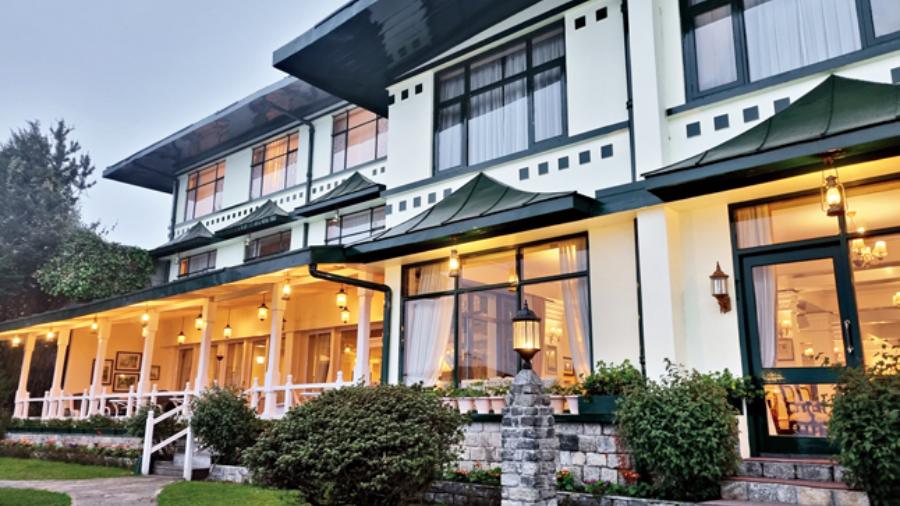 (Above and below) The Elgin Pandim exterior and interior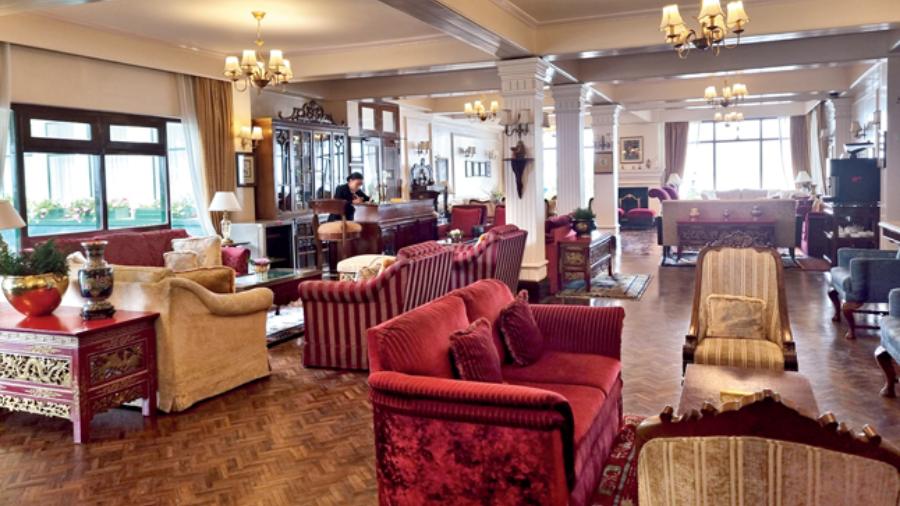 Rabdenste, the second capital of the former Kingdom of Sikkim, was destroyed and the walls that remain are the ruins of the palace and chortens. It's a 20-minute steep uphill climb to reach the ruins but it is worth the effort. First comes the stone throne called Namphogang, from where judgements were pronounced during the active years of the kings' reign. The palace ruins are at the centre of the courtyard.
Next to the ruins of the palace are three chortens, where members of the royal family offered prayers to the deities. March to June is the best time to visit the ruins as the weather is comfortable. There are no guides available here, which would have otherwise been useful to learn more about the history.
There are several more tourist spots in and around Pelling, but unfortunately due to a day wasted and time constraints I couldn't visit those. The notable ones among those are Singshore Bridge, Sangacholing Monastery, skywalk at Chenrezig statue, and Dubdi Monastery. Hopefully, there will be a next time to see those sights.
Pictures by the author
The author is a public relations professional, an inveterate traveller and foodie, not necessarily in that order