No one who has watched this film would forget that scene from Satyajit Ray's Nayak. The ridiculous sang-froid of this man. Moving train. A stylish young lady waiting for his autograph. But something's wrong. The ink seems to have dried up. Uttam Kumar dips his pen in a glass of water, then scribbles his signature. That's the mahanayak for you. Do you remember the dark suit he wore?
It's tough to say whether the fabric came from the popular JS Mohamedally in Chowringhee, but Bengali cinema's original superstar was a familiar face at this now heritage shop.
Salim Durani. Elderly cricket fans can go on and on about the way he could smash sixes at will, often tailor-made to demand — exactly where the crowd wanted him to. And they loved his dashing flamboyance. He too was a client.
So is Sharmila Tagore, another iconic figure from the celeb world and, in the context of this write-up, the lady who played the part of a young magazine editor (Aditi Sengupta) who had requested Uttam Kumar (Arindam Mukherjee) for his autograph in Nayak. She still visits the shop when she is in Kolkata.
There was a time, before ready-made garments had swept into the market, when people would step into fabric stores if they needed to bolster their wardrobe, for occasion or out of necessity. They would look up the cloth material on display, feel the fabric between their fingers and then make a choice, if the shade or print suited their taste and budget permitted. If not, there was always another fabric shop — drapers, as they once called it.
Fabric connoisseurs had their favoured shops where they bought their piece of cloth. Maybe, it was the comfort of familiarity, but it is to these shops that the connoisseurs would invariably go. Those days are nearly gone, but some of these shops still cater to such customers who believe in getting their clothes stitched. JS Mohamedally, at Kolkata's Chowringhee Square, is one such store. It's a 114-year-long story and the shop has been witness to many transitions — the city's politics and its political rallies, new buildings and malls, the ever-increasing footfall, the jostle of vehicles or the tram cars now almost trundling into oblivion.
The beginning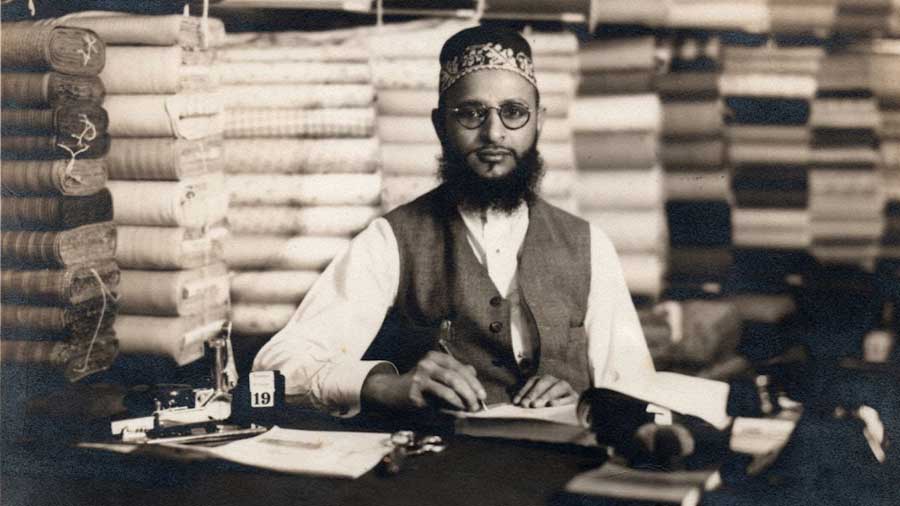 One of the founding members of the shop
Courtesy JS Mohamedally
It was in 1909 that two gentlemen — Jeewajee Sk. Mohamedally and Mullah Abdul Hussain — came to Kolkata from Gujarat as their spiritual leader had advised them to. They opened a quaint little 200-sq-ft shop on Armenian Street and called their cloth shop JS Mohamedally. But the two entrepreneurs were already advanced in years and, therefore, called in their young nephew, Sk. Abdeally Saraf Ali, to join them. The business started to flourish. Then, in 1930, the partners shifted to Radha Bazar Street to a 1,200-sq-ft shop. In 1938, JS Mohamedally shifted to its present location at Chowringhee Square, Esplanade.
"A young English gentleman got in touch with my forefathers. He brought them here to this 2,000-sq-ft shop. My forefathers were sceptical at first but the English gentleman said that one day this place would seem too small. His prophecy has come true," says Mohamed Zainuddin, one of the owners of the shop that has been selling shirting and suiting fabrics for over a century now.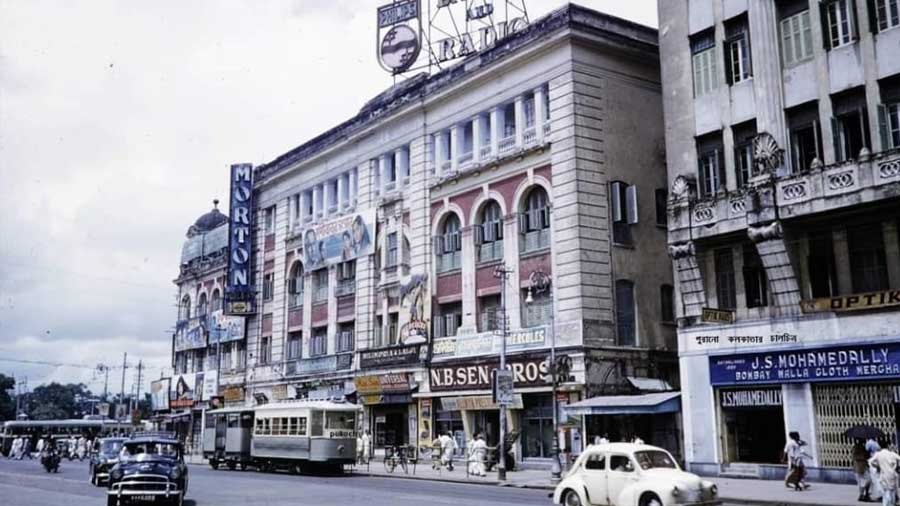 The shop in its early days on Chowringhee Square
Courtesy JS Mohamedally
For those interested in the shop's continuing tradition, Mohd. Zainuddin is a fourth-generation entrepreneur in this business. Jeewajee Sk. Mohamedally, one of the original founders, was his father's grandfather. The three other partners of Mohd. Zainuddin's generation are Hassan Sheikh Esmail bhai, Kauserali Sk. Mohamed bhai and Saifuddin Sk. Yusuf bhai.
Unlike many other old family-run businesses where the younger generation has moved on to other professions, the fifth or present-generation owners of JS Mohamedally — all in their 30s — are deeply involved in the enterprise for the "love of it", says Mohd. Zainuddin. "Fabrics and textiles intrigue them and, hence, they are into it. They have learnt the ropes of the business just like we did."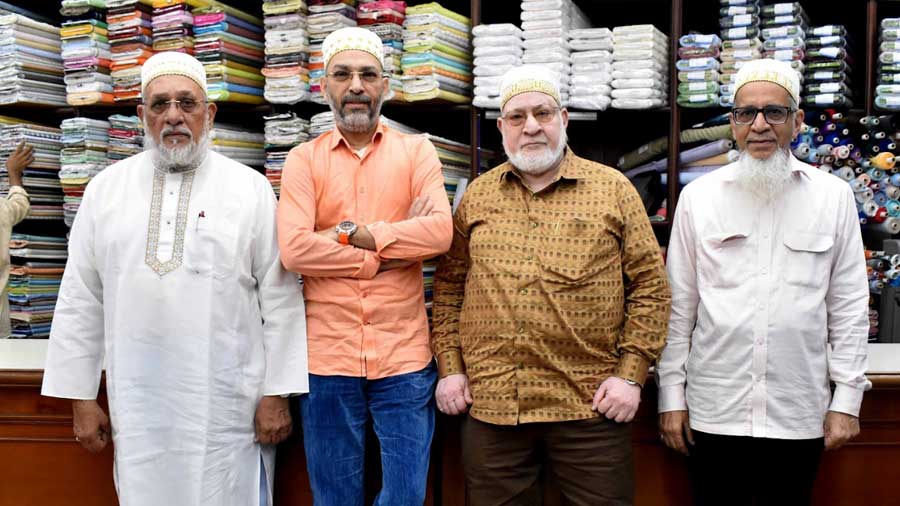 L-R: Hassan Sheik Esmail bhai, Mohd. Zainuddin, Kauserali Sk. Mohd. bhai and Saifuddin Sk. Yusuf bhai
Ashim Paul
The past is not a different country for this establishment. It has survived into the present, in a seamless and dignified blend of the old and the new. The feeling that one immediately gets on entering the shop is one of nostalgia with a touch of the modern. The ceiling fans, for instance, with their long rods, take one back in time. While some of those who manage the store are dressed in trousers and shirts, some have stuck to their traditional old attire of kurta and pyjama.
Loyal patrons
It is these old-timers who have fond memories tucked up their sleeves. "We have seen and still see celebrities in our shop. Among our patrons were Uttam Kumar, the Maharaja of Bhutan, Salim Durani and [actor] Farookh Sheikh. Sharmila Tagore often visits the store when she is in Kolkata. Artist Sunita Kumar [wife of the late tennis player, Naresh Kumar] is another of our customers," recalls Mohd. Zainuddin. "Sunita Kumarji is all for exotic fabrics and exotic prints. Sharmila Tagore likes cotton and prints. Among others, the New Zealand cricket team visited our shop on their last trip to Kolkata. They bought suit pieces and woollen cotton fabrics."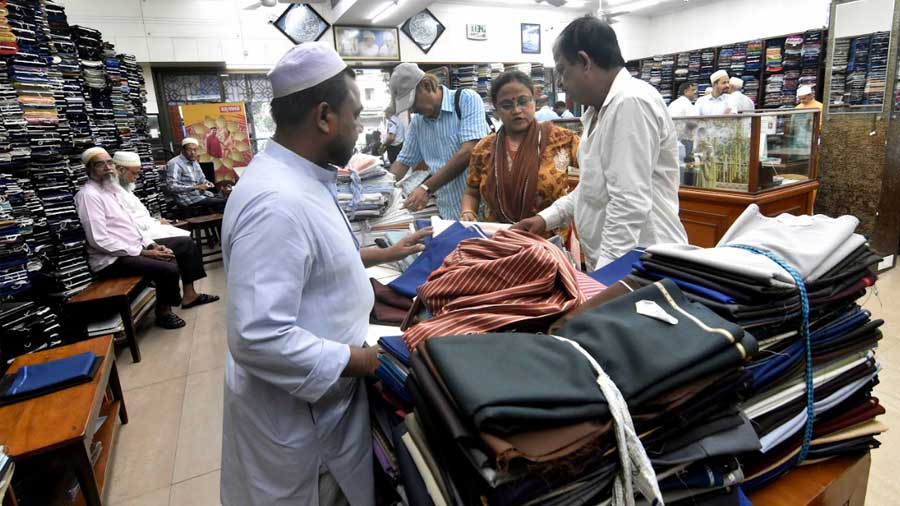 A steady footfall and loyal patrons has kept the shop going all these years
Ashim Paul
All about fabrics
Fabrics of different types have been the highlight of this shop. Initially, JS Mohamedally would sell all kinds of cloth imported from England. Then, as the spirit of the Swadeshi Movement took over, the shop started selling fabrics manufactured by Indian mills. After liberalisation in the 1990s, import of textiles took off again and from then on, the shop has always had a collection of Indian as well as international brands. "The fabrics that we keep here are all from well-known mills. Cotton, linen, wool, terry cotton and other blends are all available here. So are bamboo fabrics and Tencel — semi-synthetic textiles made from sustainably sourced wood pulp that is then chemically processed into thread. These are two of the most trending fabrics. We procure our fabrics from top Indian companies to international ones and always have an updated stock. The quality and variety of suitings and shirtings are our USP," says Mohd. Zainuddin.
A ringing endorsement of the store's range and quality comes from Justice Subroto Kamal Mukherjee, former chief justice of the High Court of Karnataka, who has been among the distinguished patrons of JS Mohamedally. "The quality and the pricing of the products keep them going. You can make a suit for Rs 25,000 to one that costs lakhs. Their range is also very competitive. Another reason why this place has been my favourite is because of its stock. Most shops that sell fabrics keep Indian brands only. At JS Mohamedally, you get a plethora of Indian as well as international brands."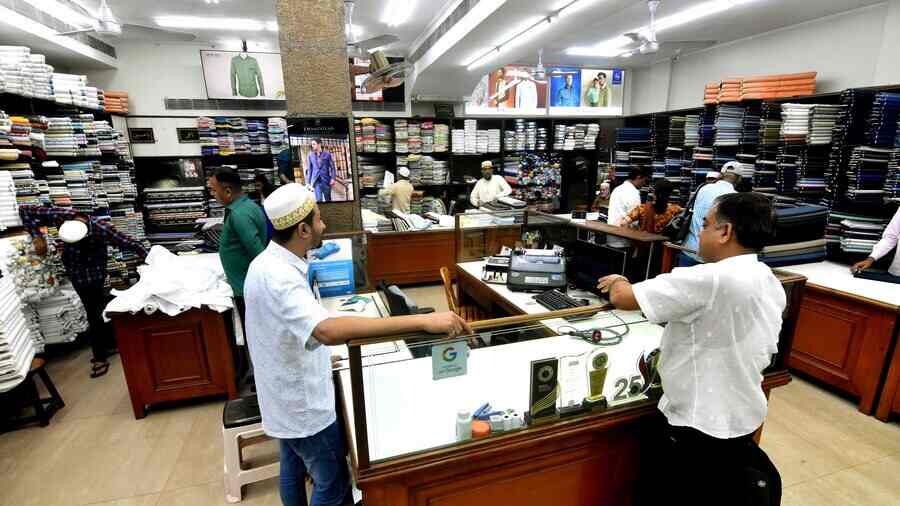 Inside the shop at Chowringhee Square
Ashim Paul
According to the website, the shop's motto is, 'Where the range is rare yet prices are fair'. With ringing endorsements like the one from Justice Mukherjee, it is quite impossible to term the motto as exaggeration in any way.
This is what Sunita Kumar has to say, quoting from the website: "Excellent quality for a reasonable price. Best stock of fabrics."
Justice Mukherjee also had a word of praise for the people who run the shop. "The people of the shop are well-mannered too," he says. "There's a kind of warmth in this shop which is hardly found nowadays."
Present scenario
The store has its loyal customers but what about the challenges posed by the ready-made trend? Only a handful still prefer to buy the fabric of their choice and get their garments stitched by tailors. The vast majority find it more convenient to pick up ready-made clothes from malls or designer shops.
Mohd. Zainuddin agrees. "A lot of people are inclined towards ready-mades, maybe due to lack of time or maybe because of their appeal. But there's a big difference. When you wear ready-mades, you don't wear your own size. You actually wear something that is predetermined. With tailor-made clothes, you can actually have the cloth cut the way you want. There's no place for ready-mades when it comes to the impeccable customised look. The connoisseurs of fabric will always prefer to get their clothes stitched. As long as they are there, fabric markets are going to be there."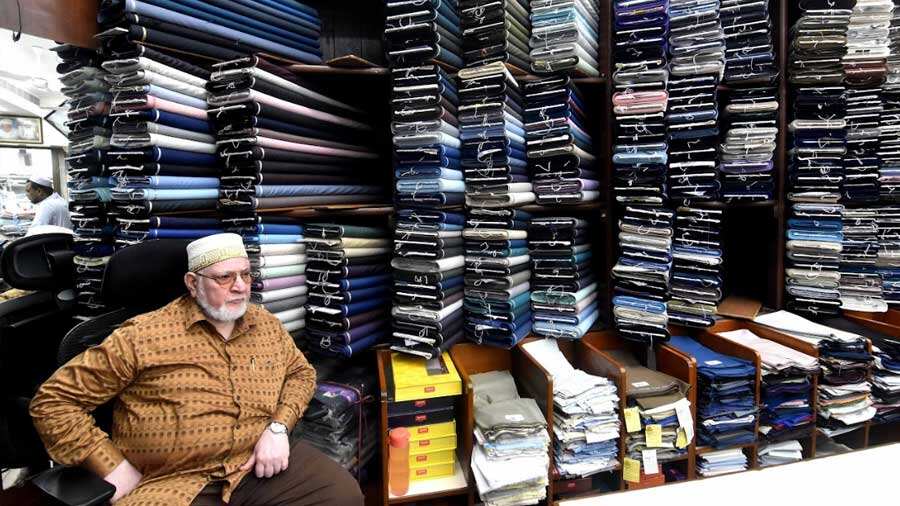 Among the ringing endorsements from patrons is the constant praise for the range of fabrics the shop sells
Ashim Paul
Another reason fabric shops like theirs will remain, Zainuddin thinks, is the price range they offer. "Our price range is very competitive," he says. "While the lowest price for a suit piece is Rs 6,000 per metre, it goes up to Rs 40,000 per metre for the finest qualities. Our shirting range starts from Rs 150 per metre and goes up to Rs 15,000 per metre."
So far, the footfall at the shop has been encouraging. "People come all through the year, with Muharram and the Pujas being the busiest time," he says. The good news for patrons is that Zainuddin and his fellow partners are planning to get into tailoring too. They have taken over the adjacent shop and have plans to open the tailoring unit soon. When that happens, the package would be complete. Fabric and customisation, all under one roof.
JS Mohamedally Cloth Merchants
Where: Tower House, 2B, Chowringhee Square, Esplanade
Timings: Monday to Saturday 10.30am - 7.30pm, with an hour's break from 12.30 - 1.30pm.