A little less than 200km north-west of Kolkata is a town named Labhpur in Birbhum district. The place houses a museum of Tarashankar Bandyopadhyay in his ancestral home. Tarashankar Bandyopadhyay was one of the most iconic figures of Bengali literature, whose writing painted a vivid picture of the vast panorama of life. His works ranged from short stories, novels, poetry and lyrics to dramas, memoirs and essays.
Tarashankar was born here in Labhpur and Birbhum always played an important role in his works. In many of his works, the mention of 'laal maati' (red soil) is quite noticeable. He received prestigious awards like the Jnanpith Award, Padma Shri, Padma Bhusan and more for his literary excellence. Some of his notable works include Ganadebata, Hashuli Banker Upokatha, Arogya Niketan, Dhatridebata and Radha, to name just a few from his huge catalogue.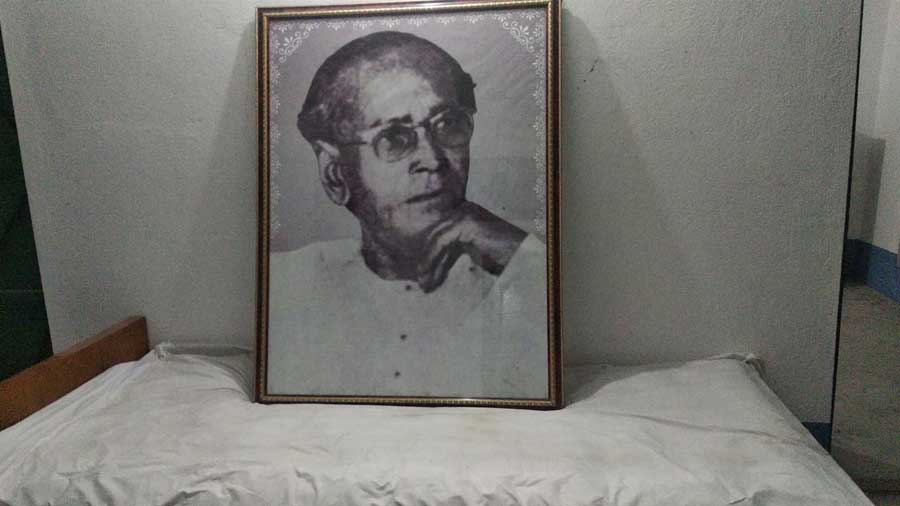 A photograph of Tarashankar Bandyopadhyay inside the museum
Though Tarashankar shifted to Kolkata with his family in around 1940, the untimely demise of his son-in-law saw him move back to his roots. After returning to Labhpur, he beautified the house and named the abode 'Dhatridebata', after one of his novels.
As time passed, and after his death in 1971, the house was abandoned. In around 1996, Tarashankar's family donated the house and its adjoining property to the Labhpur Panchayat Samiti. They wanted to build a museum and a guest house here in this property. But, Dhatridebata remained isolated and the earthen house with a hay roof slowly turned into decrepit.
It was in this house where Tarashankar carved out models from tree branches or tree root for 'katum kutum' art. He also painted a lot of here. All these works were kept in the house, but due to its dilapidated condition, these were also starting to get ruined.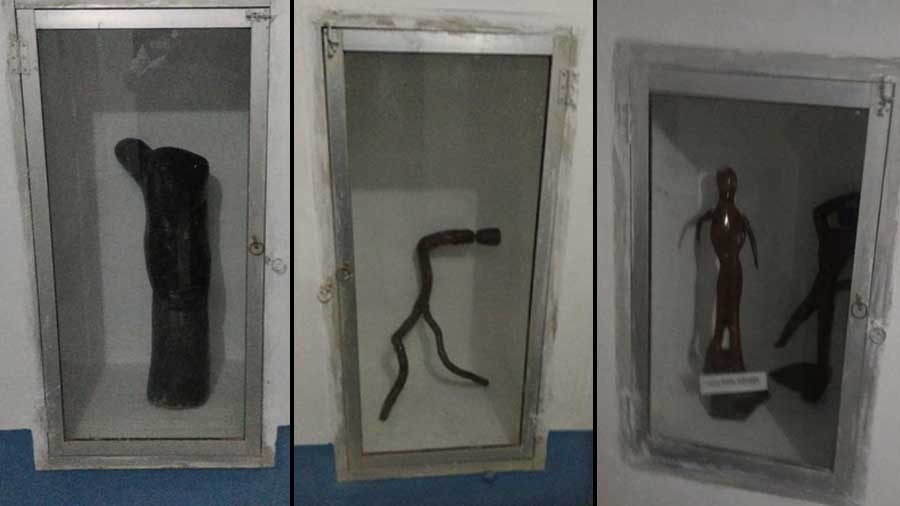 Examples of the writer's 'katum kutum' artwork
At this juncture, with the involvement of local groups like Birbhum Sanskritik Bahini, some local residents and local administration, a proposal was made for the rehabilitation of the place. Permission for supervision of the place was granted to a local group. A small amount of money was also granted by the panchayat.
The place was first cleaned and decorated with Tarashankar's photographs and pieces of his work that could be restored. A guesthouse was also made with a grant from the Zila Parishad in the adjoining area. Following this, Tarashankar's family was invited to Labhpur. They too took interest in the endeavour and donated some of Tarashankar's belongings. Finally, Dhatridebata was open to visitors and around 2016, an entry ticket was introduced.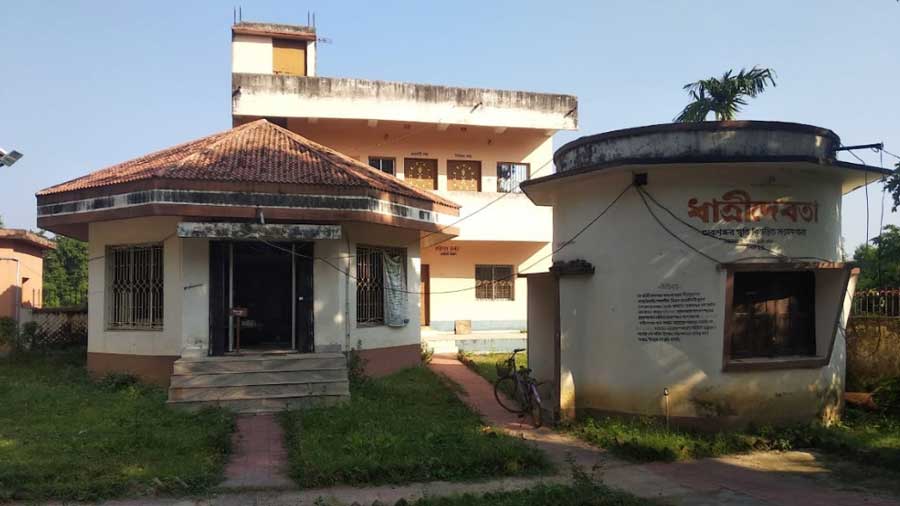 Entrance of the premises
A 93-year-old local doctor, Sukumar Chandra, decided to donate the fees he got from his first patient of the day, every day, to Dhatridebata, and continues to do so till date. Dr. Chandra is mentioned by Tarashankar in many of his writings and can be said to be the only living protagonist of Tarashankar.
His father was a childhood friend of Tarashankar. Dr. Sukumar Chandra, nicknamed Bishu, and Tarashankar had a father-son relationship. When Tarashankar was writing the novel Arogya Niketan, Bishubabu was a medical student. Bishubabu would tell him the medical terms used in the novel. The portrayal of 'Nobin doctor' is an imagery of Bishubabu. In a story named Jagannather Rath too, there is a mention of Bishubabu. In another story, Sukhshari, the character of 'Ashu doctor' is also based on Bishubabu. Tarshankar even used to call him Ashu doctor. Not just this, during his stay in Labhpur, Tarashankar was closely connected to him. So much so that he even borrowed money from his Ashu doctor during a financial crunch.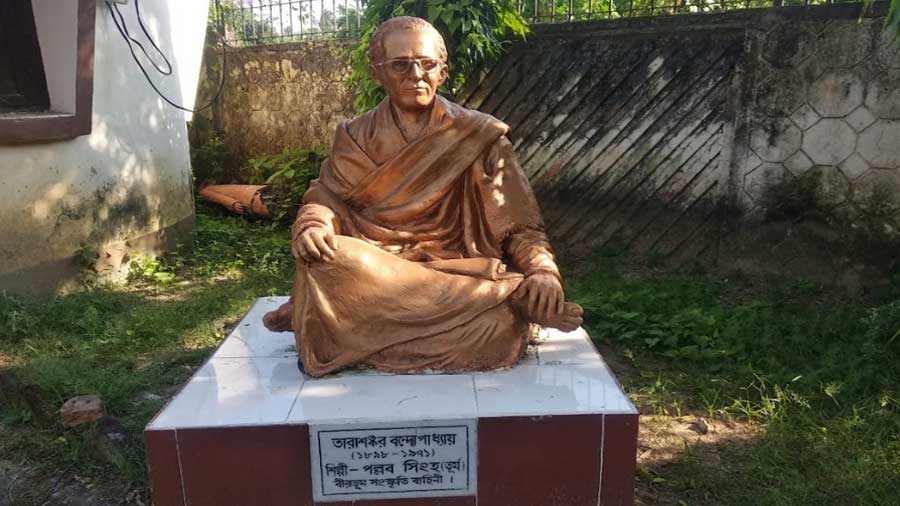 A statue of Tarashankar Bandyopadhyay installed in the premises
Things were shaping up for the place when it was found that though the local panchayat did some repair work, the condition of the house was so poor that it was impossible to fully renovate. Then, with the involvement of the local administration and the West Bengal Heritage Commission, it was decided to make an exact replica of the house.
With consent from Tarashankar's family, construction work started with the involvement of the heritage commission under the supervision of Birbhum Zila Parishad. The whole house was rebuilt with concrete.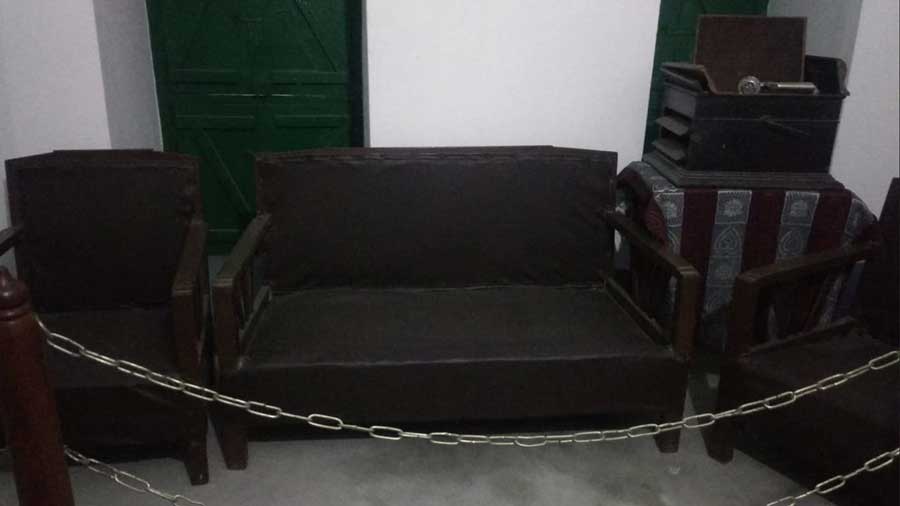 Furniture used by Tarashankar
After this, a lot of Tarashankar's belongings were procured from the Talapark house of the author, presently belonging to Bangiya Sahitya Parishad. Ujjal Mukhopadhyay, a local resident and the founder of Birbhum Sanskritk Bahini, said they received a lot of cooperation.
The museum at Labhpur now houses a lot of things. Starting from the bed used by Tarashankar, his Saraswasti idol, gifts he received from China, his pen, spectacles and wearables to his Katum kutum work and photographs of his paintings, all can be seen here. Photographs of him while receiving the Jnanpith Award and his reception in China are also displayed. His small library can also be seen here.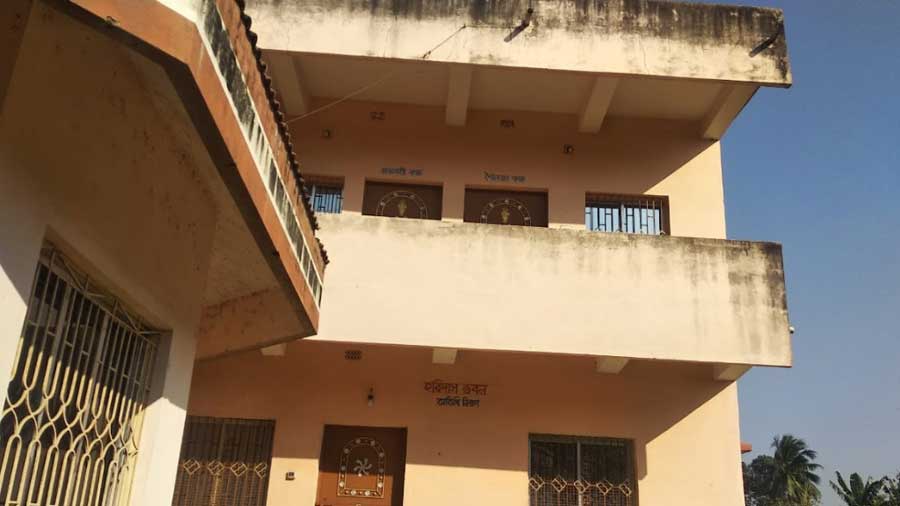 A guesthouse built with a grant from the Zila Parishad of the adjoining area
Museum details: The museum is open Tuesday to Sunday from 11am to 5om. The guest house is also open to visitors (except for days the family members of Tarashankar are staying). For bookings you can contact Kedar Nath Acharya at 8920829413.
How to reach: Take any train towards Rampurhat or North Bengal and get down at Amadpur Station. Labhpur is 12km from there. Buses, totos, autos and rental cars are available. From Bolpur, Labhpur is at a distance of 26kms. There is a also a daily bus service from Dharamtala to Labhpur.
Nearby places: Phullara Mandir, one of the 51 Satipiths, is located in Labhpur. You can also visit Hasuli Bank — the meeting point of the Kopai and Bokrashewar rivers. Tarashankar had written a novel on this place, called Hasuli Banker Upokatha, among his most popular writings. A 'natya' ashram, Gurukul Natya Ashram, is also constructed amidst nature and is worth seeing. There is also a 100-year-old Rash Mancha in Labhpur.