In a repeat of the safety precaution taken in 2020, CESC The Telegraph True Spirit Puja (TSP) 2021 embraced technology and went virtual in its assessment in both the preliminary rounds on Chaturthi and Panchami, and the final round on Sashthi.
So it was from a conference room of The Lalit Great Eastern that the judges —Melinda Pavek, Barbara Wickham, Manfred Auster, Yutaka Nakamura, Joyneel Mukherjee, Gargi Chatterjea, Rupali Basu, Lal Bhatia, Mukti Gupta and Arpit Dhandhania — took a tour of the eight finalist pujas that had been shortlisted from the initial list of close to 300 participants.
With the TSP video crew in tow, the organisers at each pandal demonstrated measures taken by them round the year and during the festival that made them emerge the best from among the rest when it comes to ensuring a safe, happy and meaningful puja.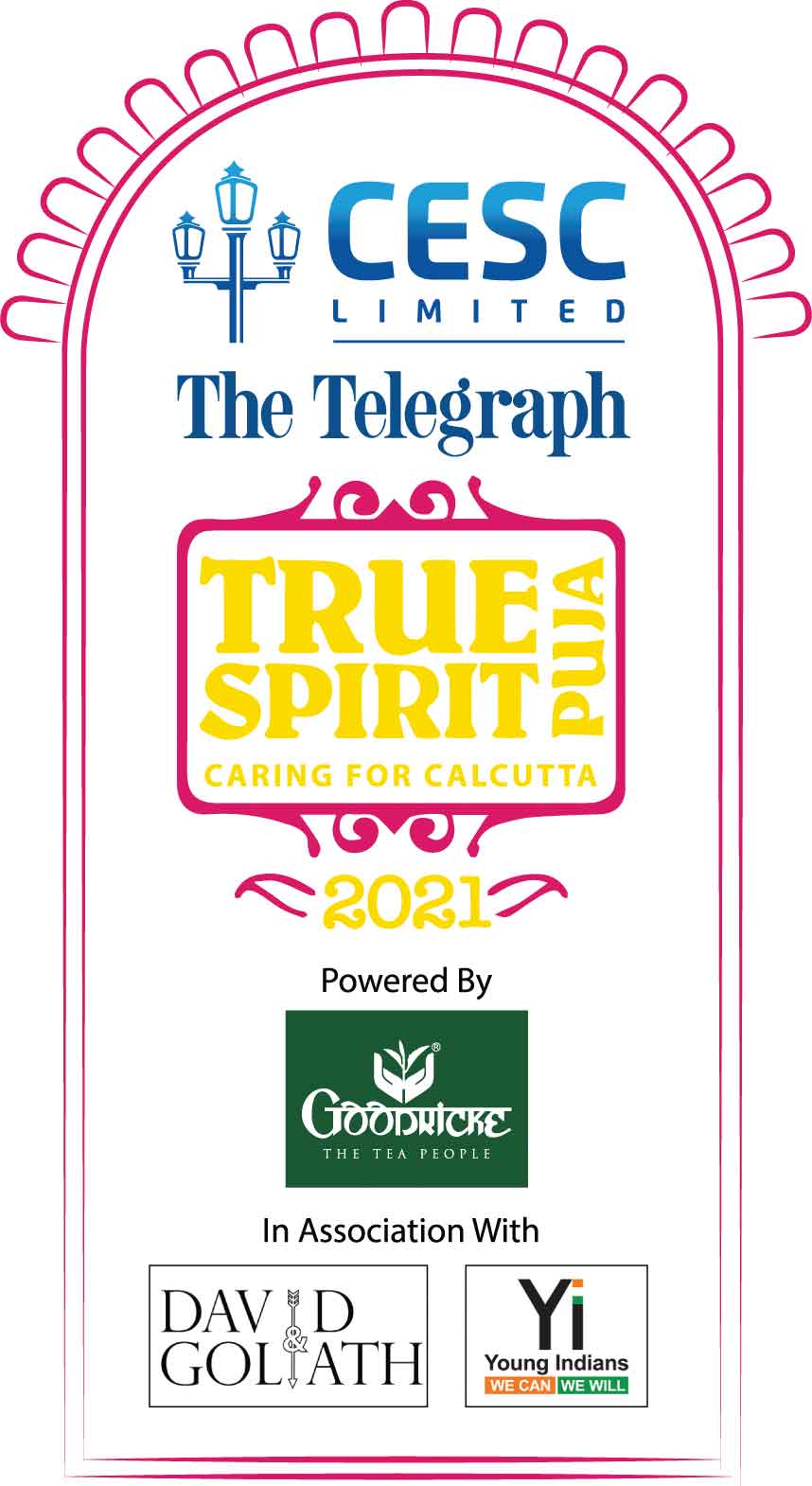 In its 68th year, Suruchi Sangha of New Alipore stood out — and was later crowned Model Puja — for two of the measures it had taken. To discourage people from coming over to the pandal for pushpanjali, they had extended an offer to residents to get their floral offerings collected from their doorstep if they made the offering from home.
"We are receiving the requests over our dedicated WhatsApp number and making out the list. We have 50 volunteers deputed for this job," said an organiser, showing some of the messages on the screen of his phone. "The requests are coming mostly from senior citizens," he added. The rituals, he pointed out, would all be livestreamed on the club's social media pages.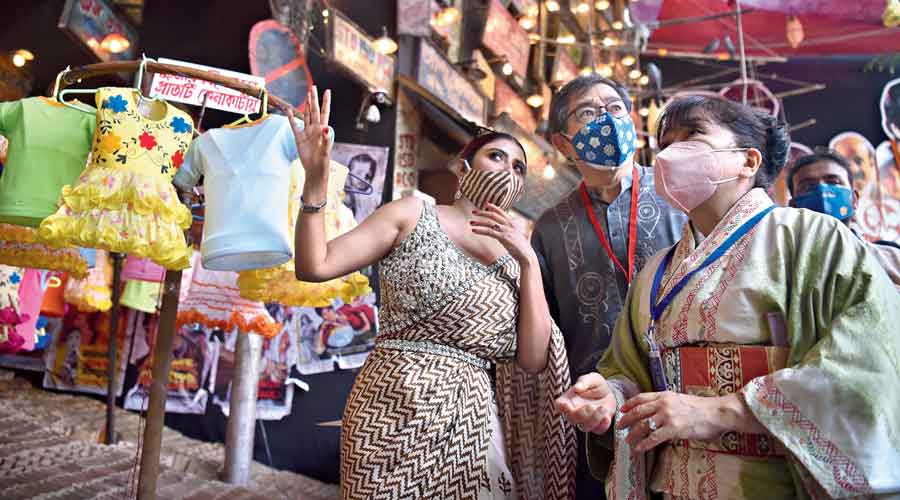 Model Puja: (From left) Actress Parno Mittra with Yutaka Nakamura, consul general of Japan, and his wife Yuko Nakamura at Suruchi Sangha in New Alipore.
Pictures by Pabitra Das, Rashbihari Das, B. Halder and Koushik Saha
The second move was the decision to decorate the pandal, dedicated to childhood, with children's dresses. The colourful clothes, the organiser said, would be distributed among the needy after the puja, thereby scoring on both waste reduction and social responsibility counts. "We have also donated 10,068 clothes already to children," he added.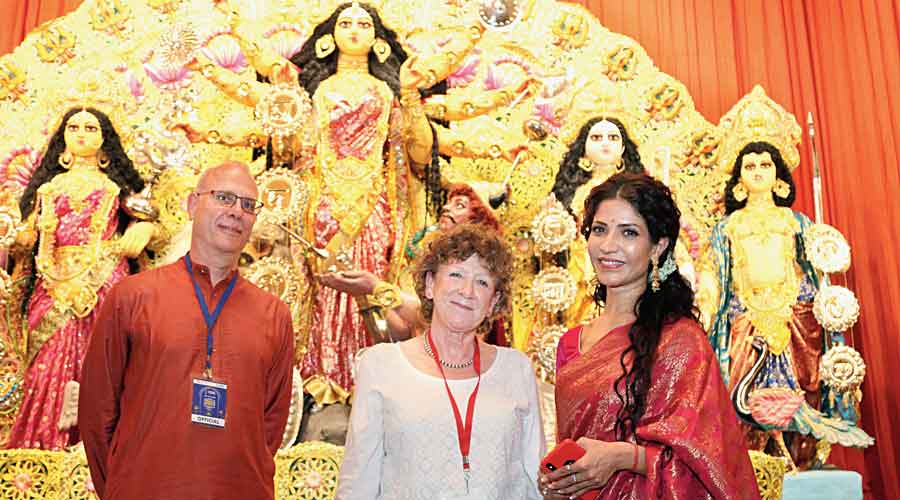 Five star puja: (From left) British Council regional director, South Asia, Adrian Chadwick; director, British Council, India, Barbara Wickham; and actress Richa Sharma at Kanai Dhar Lane Adhibasi Brinda puja.
Pictures by Pabitra Das, Rashbihari Das, B. Halder and Koushik Saha
At Kanai Dhar Lane Adhibasi Brinda, the sole puja from north Kolkata that had made it to the final, 20 wheeled kiosks had been distributed to help youths who had lost jobs in the pandemic period. "You can see them selling their ware on these mobile kiosks in the College Street area," said the representative doing the briefing.Computers had also been provided to needy and meritorius students. They were named a Five Star Puja.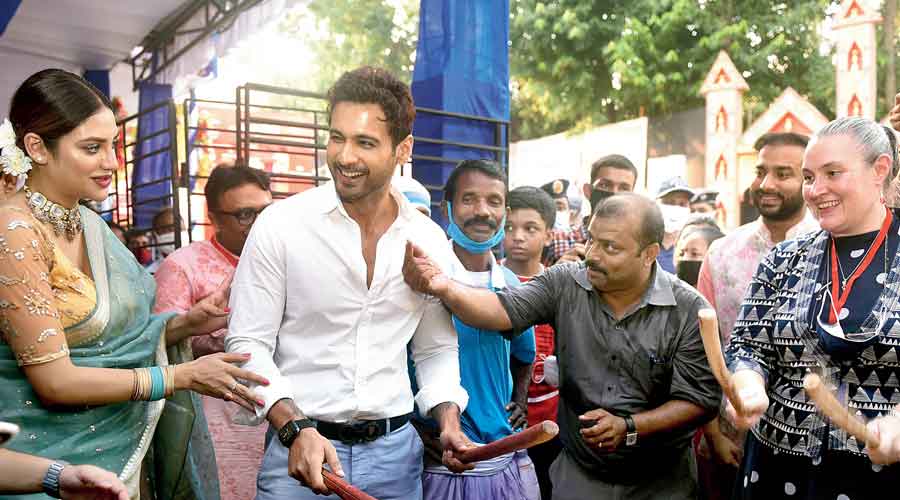 Five star puja: Actor Yash Dasgupta and Melinda Pavek, US consul general, play the dhamsa as actress Nusrat Jahan looks on at 41 Pally in Haridevpur.
Pictures by Pabitra Das, Rashbihari Das, B. Halder and Koushik Saha
Despite a drastically reduced budget this year of Rs 10 lakh, 41 Pally of Haridevpur had not cut corners in its safety measures. It had installed a 15litre reverse osmosis treatment plant to provide visitors with filtered water. They has kept an oxugen concentrator and cylinder in its medical unit. A fog machine sanitised the pandal premises five times a day. There was a generator in place to provide back-up in case of any electrical emergency. They were also awarded Five Star Puja status.
Chetla Agrani, the third Five Star Puja, which had done up its pandal with crystals symbolising the stars that the Covid departed had metaphorically become, had done its best to contain the ravages of the second wave. "We had created a pool of 50 oxygen cylinders and our volunteers had visited those needing oxygen support," said a representative.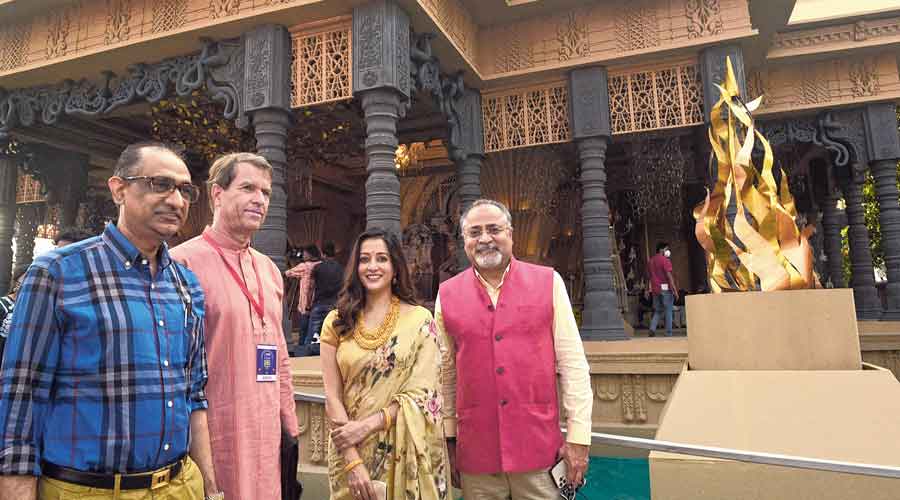 Five star puja: (From left) Imran Zaki, director, David & Goliath Films; Manfred Auster, German consul general; actress Raima Sen; and Lal Bhatia, chairman, David & Goliath Films, at the Chetla Agrani puja .
Pictures by Pabitra Das, Rashbihari Das, B. Halder and Koushik Saha
About 1000 pieces of clothing had been distributed among the underprivileged before the Puja. The club also runs a free homoeopathic treatment camp, a subsidised gymnasium and a swimming pool.
Ballygunge Cultural Association had offered food ration to dhakis in south Barasat, distributed masks and sanitisers in the market and undetaken a vaccination drive in the locality. They were named a Four Star Puja.
The other finalists given the Four Star Puja status are Tala Prattoy, Bosepukur Sitala Mandir Durgotsab Committee and Thakurpukur State Bank Park.
Last year's Model Puja Salkia Alapani was inducted into the Hall of Fame for putting up a stellar show this year too.