How do you feel if you get to stay at a place that is more like a friend's house than a fancy resort? And what if that house is surrounded by small hillocks, water bodies and tribal villages? Terrific, right? What's more, there are only three cottages and a concrete house for accommodation. There is no TV in your room nor there is any room service. Cell phone signal is weak here. There is not much scope of proper sightseeing either. Also, the pace of life is slow in this part of the world.
Cottages built by local people
The cottages are all handmade by the local people using local materials, just like they make their own houses in the village. However they are equipped with modern amenities like air conditioning and electrical kettle. High-angled thatched roofs and wooden floors on elevated platforms trap heat and retain the warmth in Purulia's harsh winters. The best part is the restroom, which is kind of a garden toilet. Even though there is an enclosure all around and there is a curtain for one half, the other half portion has an open sky above the head, from where the sunshine enters, the wind comes and the leaves of the banana tree hold a green canopy over the head.
Read a book or simply laze around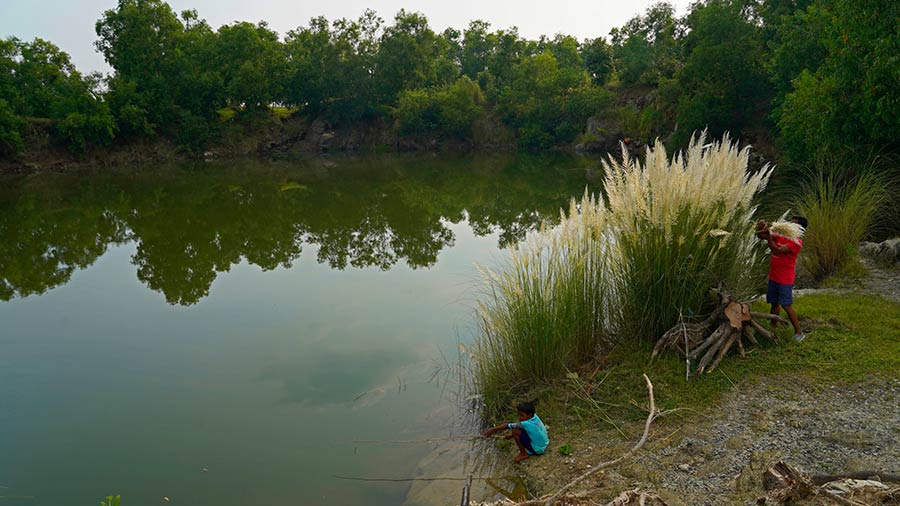 The waterbody inside the resort
Amitabha Gupta
You can laze around in the sun, take a stroll around the village nearby or observe sunset from a bridge nearby. Bottom line, if you want to relax undisturbed amid nature, try this small hamlet in Purulia district, named Paharpur Eco Resort.
This place is anything but a resort. There is not even a fancy sign board, but a very welcoming owner who will show you around with enthusiasm. There is a waterbody inside the area but no effort has been made to artificially beautify it. You can sit down with a local and catch a fish or too. Forget your kindle and take out a physical copy of your favourite book and start reading sitting in the open dining area for a change. If the owner, Arindam De, likes you, he might join you and share with you some amazing tales. Arindam was a busy Multimedia and Visual Graphics specialist, who one day simply decided to leave the rat race and create this home nestled amid Mother Nature. Paharpur Eco resort has the perfect essence of a homestay.
Visit heritage sites
If you are visiting during winter, when you wake up at dawn, fresh palm juice will be waiting for you. You can even witness the process of making molasses from palm juice in front of you and return with fresh molasses at a very reasonable price.
The local village is about 500 metres from the resort. The people there are very friendly and you can sit down and chat with them. If you are interested in heritage sites, visit the local Baruneshwar Shiva temple of Talajuri. Apart from a Shiva lingam it also houses ancient stone-built deities of Goddess Durga and Kali, as well as a Jain deity. At a distance of about 1.5 km southward from the resort is the Dwarakeshwar river bridge which is very scenic. You can get down to the banks of the river for a leisurely stroll. The sunsets are very scenic from here too.
Enjoy the sunset or go hiking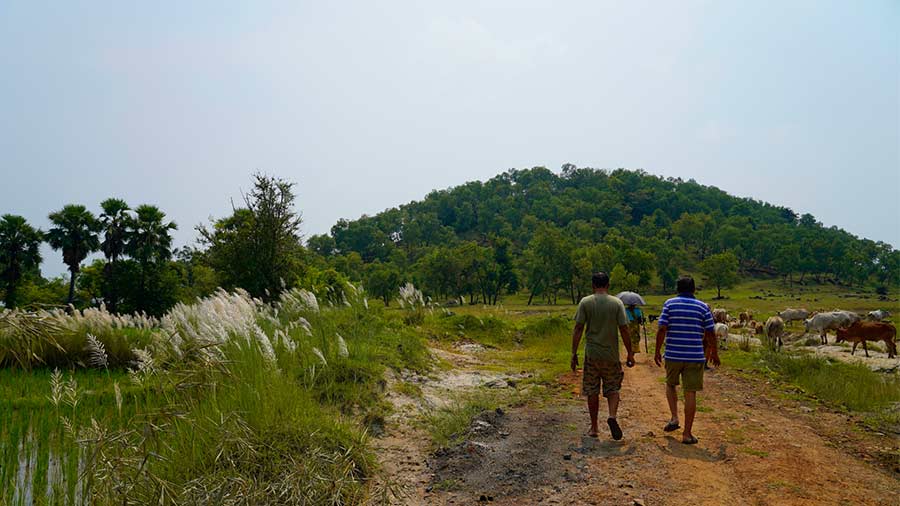 Walking towards Palsara Hill, 2.5 km north of the resort
Add a slice of hiking to your agenda and climb up the hillock of Palsara, 2.5 km north of the resort. Not only will you be rewarded with a fascinating wide angle view of the area, but you will stumble upon an old two storied tower from the British era in India, which was once a part of the optical telegraph system in India using semaphore signals, abandoned in 1828.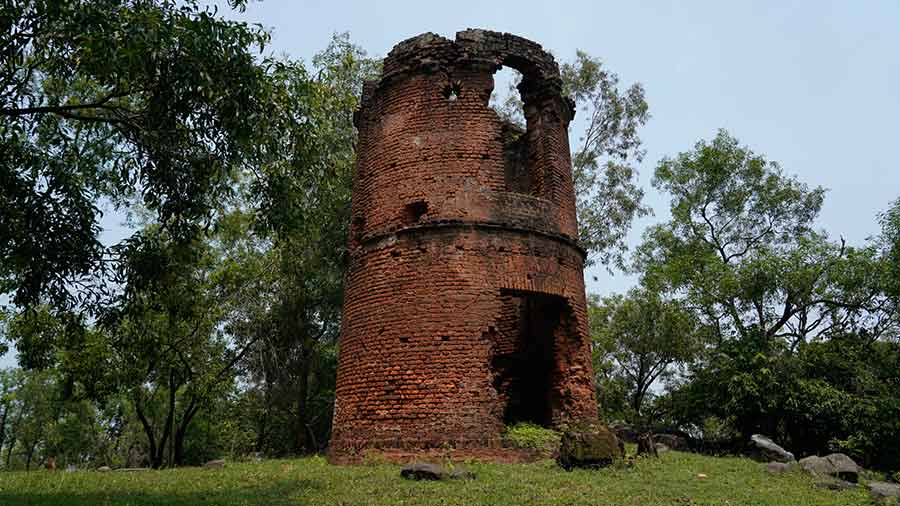 Optical Telegraph tower atop Palsara Hill
Simple, delicious food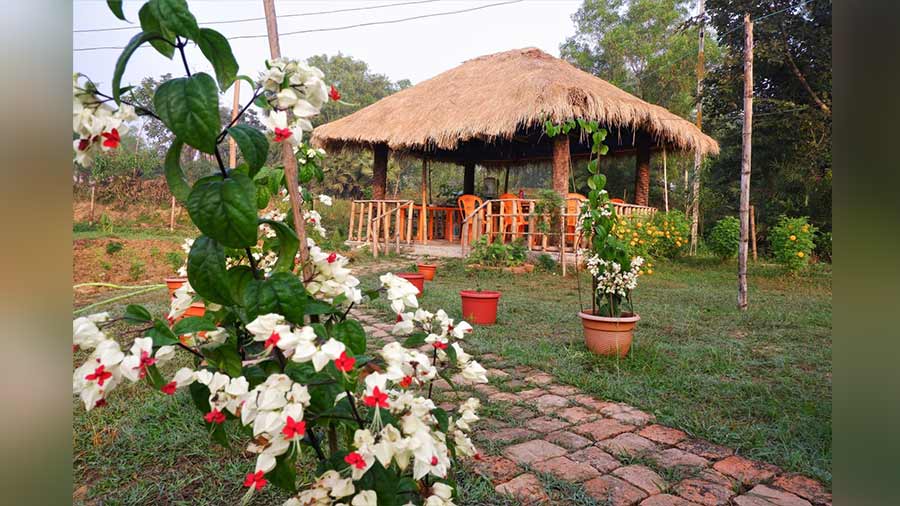 The dining area at Paharpur Eco Resort, Purulia
Sagar Sen
Back in the camp (which sounds more appropriate than resort), try the delicious food by the local cook Sumanta. From chicken stew to fish or duck curry for lunch/ dinner to chicken pakora or drumstick for evening snacks or a simple potato curry with a dash of cumin seeds for breakfast, you will love them all.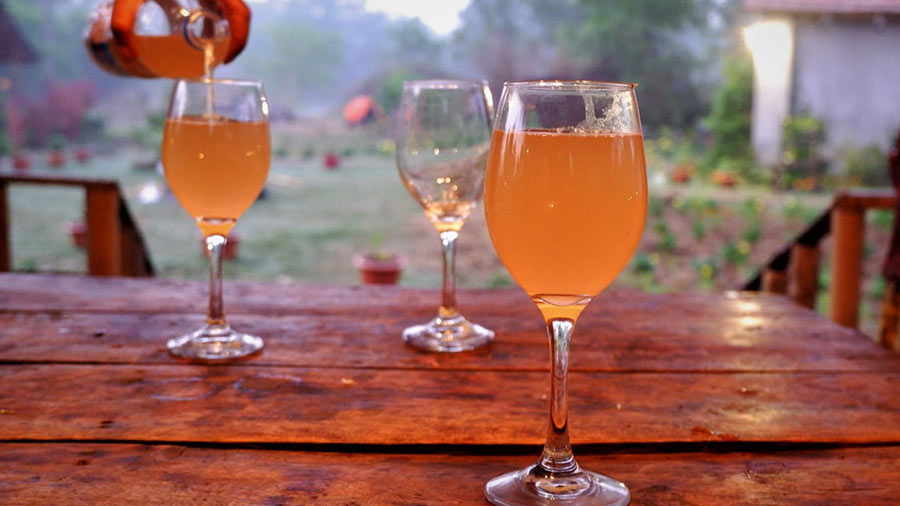 Fresh palm juice served in wine glasses during winter
Sagar Sen
The evenings here are exceptionally lovely. Sit down under the open sky with friends and family, gazing at the stars. As it grows darker, you can even spot a few fireflies around. Before you retire for the day, you are bound to have this urge to stay another day at this beautiful property.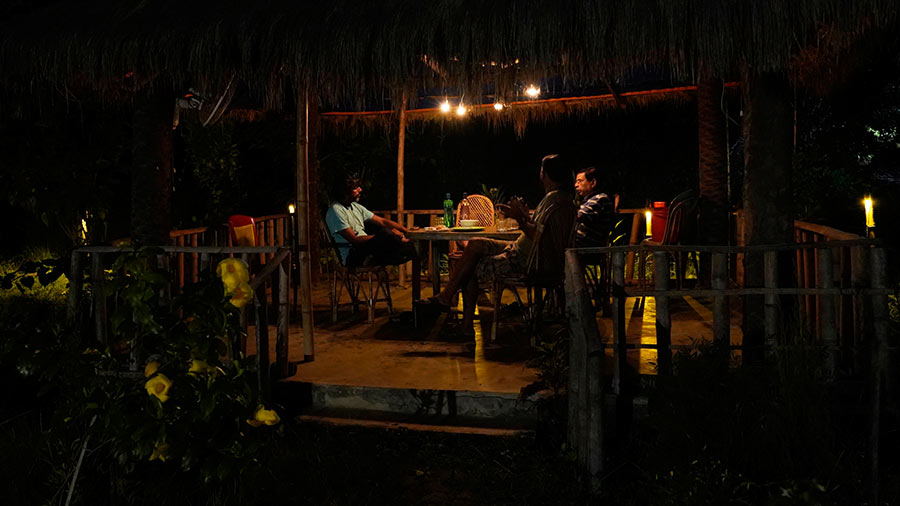 Adda session in the evening at the resort
How to Go
By Road: You may drive from Kolkata to Paharpur via Bankura. There are two best options to reach Bankura – via Durgapur or via Aramabagh and Bishnupur. From Bankura, it is a straight drive of 40 km to Talajuri from where you take a left turn and drive for about 4 km until you reach the Paharpur hill on your right. From here, a small unassuming village road on the left takes you to the resort at a distance of barely 250 mts.
By Train: You can take the Adra-Chakradharpur Express and get down at Indrabil station, which is 7 km from the resort. The other option is to reach Adra station by Rupashi Bangla Express, which is just 27 km away. The owner can arrange for transportation if informed beforehand.
For booking, contact: Arindam De: +919836131357, Paharpur Eco Resort