One of the finest colonial buildings in the country, Kolkata's St Paul's Cathedral attracts thousands of history buffs every day. Designed by William Nairn Forbes, a graduate of East India Company's Military school of Addiscombe, the Indo-gothic structure built in 1847 contains myriad historical stories under its roof. The dedicatory tablets, memorials, statues, artefacts, paintings and priceless documents chronicle many unknown or little-known chapters of our heritage.
A well-curated walk inside St Paul's Cathedral can be an interesting and meaningful experience.
A lesser-known chapter of history
Hardly anyone takes notice of a black cross made of two charred log beams placed on the wall with a very dignified display, and the small bust of a man named Canon Subir Biswas near it.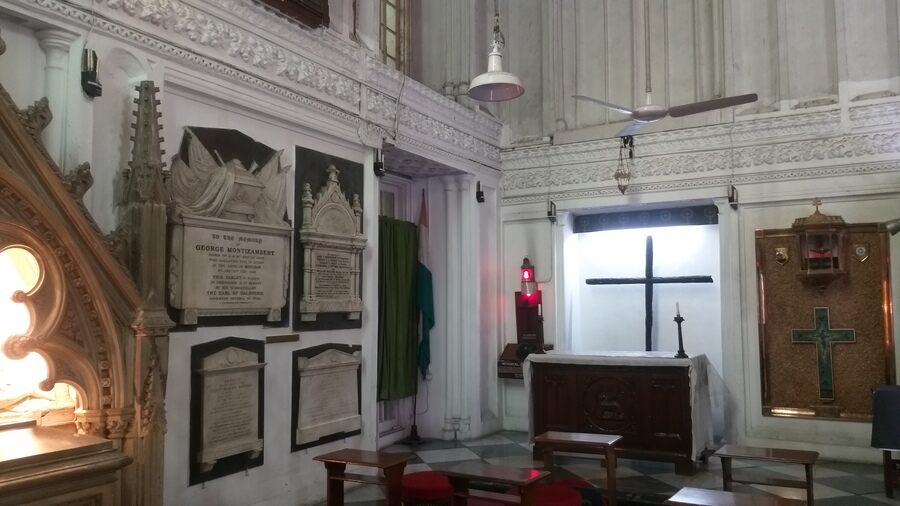 The charred cross and other relics of war honour people and stories from the Bangladesh war
Somen Sengupta (Photographs were sanctioned by St Paul's Cathedral management)
Canon Subir Biswas is not a name that many Kolkatans can recall, but he was a man who took the name of this city across the world and supported people vandalised by a brutal army from West Pakistan. The story of the charred cross of Bangladesh and Canon Subir Biswas, a Bengali priest of St Paul's Cathedral, was etched in the memory of people from West Bengal and Bangladesh for years but is fading from memory, even within St Paul's.
Subir Biswas was born on December 17, 1933, to a Bengali Christian family in Delhi. After finishing his education in Kolkata's La Martiniere for Boys school and St Xavier's College, he joined Bishop College to pursue working as an ordained priest. After a brief period at the St Thomas Church on Free School Street (Mirza Ghalib Street), he was sent to the Selwyn College in Cambridge to study Greek and Liturgy.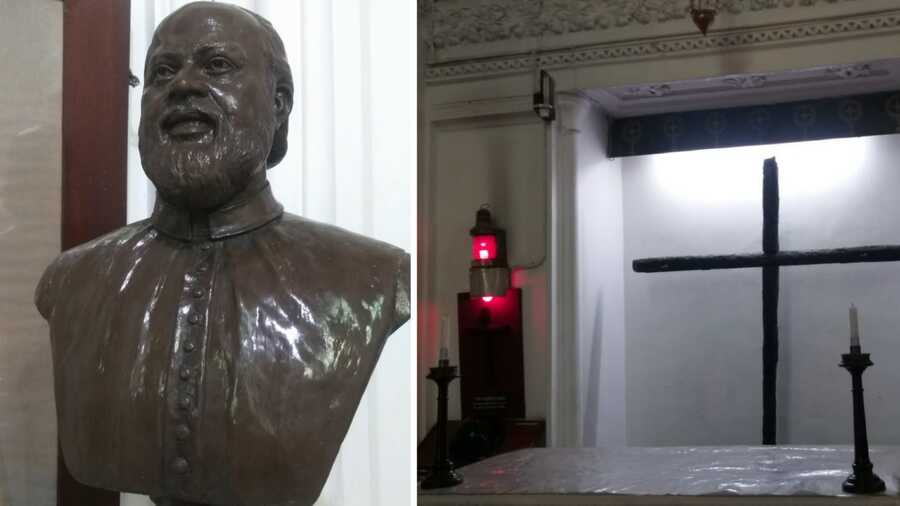 (Left) The bust of Canon Subir Biswas and (right) the cross made from charred beams of burnt homes in Bangladesh
Somen Sengupta (Photographs were sanctioned by St Paul's Cathedral management)
From 1961, he played an important role in many churches, and was finally appointed as Vicar of St Paul's Cathedral in 1970. He also became Canon of the cathedral. Biswas was involved in many social service projects but the turn of events in March 1971, changed his outlook and role as Canon of one of India's most important churches.
The battle for Bangladesh
The military oppression of people in East Bengal reached a pinnacle in March 1971 when even after winning majority seats in Parliament, Sheikh Mujibur Rahman was not allowed to take over the country as a democratically elected Prime Minister.
The brutal military operation to suppress people's war of freedom resulted in large-scale atrocities and an exodus of people, and soon Kolkata and other districts of Bengal saw an influx of refugees. Though the government did its best to provide safe and comfortable shelter, it was inadequate.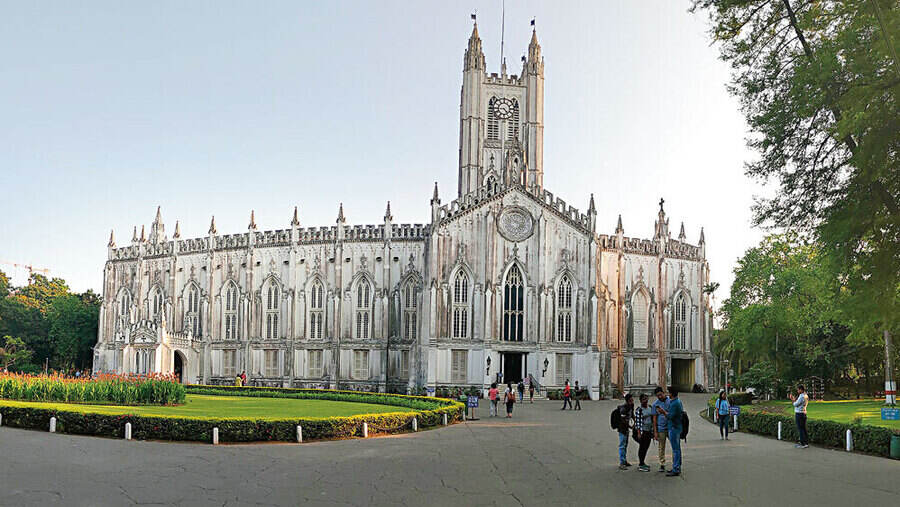 St Paul's Cathedral, Kolkata
TT Archives
Subir Biswas realised that he could offer support to these people and formed an organisation called the Cathedral Relief Service (CRS) to stand beside the refugees of Bangladesh. He applied for funds worldwide and soon consignments of food, medicine, clothing and other relief materials were supplied to various refugee camps across borders. He also opened the gates of the cathedral converting it to a warehouse for relief material. The slogan, 'Cathedral Belongs to The City' was coined around this time to establish the church's role in nation-building.
On December 11, 1971, CRS crossed the border into Bangladesh and during his travels across villages, Biswas witnessed first-hand the devastated battlegrounds.
The charred cross at St Paul's Cathedral
Biswas collected charred log beams from the burnt homes in a few villages and on returning to Kolkata made many big and small crosses, raising them as symbols of the sin of men, the forgiveness of god and the mission of the church to rebuild. He sent them to big churches across the globe appealing for aid and contributions for Bangladesh.
In Kolkata, he organised a rally, inviting all other churches and led the procession carrying a cross made of charred logs. His unique initiative attracted a huge response and the funds collected were utilised to repatriate many refugees.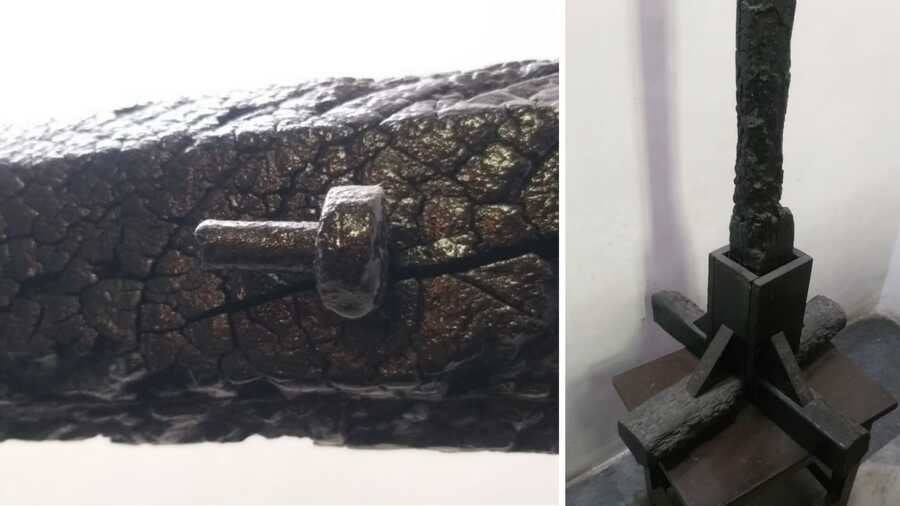 One of the arms of the cross still has a latch indicating that it was once a beam, part of a house
Somen Sengupta (Photographs sanctioned by St Paul's Cathedral management)
The cross that Canon Subir Biswas carried in Kolkata is the one displayed at St Paul's Cathedral. The cross still has a latch on one of the beams — evidence that it was once part of a house — and is placed on a simple podium within the chapel. Next to it, on a wall-mounted self is the helmet of an Indian soldier who died in a tank battle, collected from Kushtia district by Canon Biswas on December 13, 1971 — an honour for the Indian army that fought with Bangladesh. Every year on a particular day in December, the Indian army officials come to this corner of the church to pay homage to all soldiers who died in the Bangladesh war.
Above the helmet of the Indian soldier is a small cross belonging to a British soldier, and on the right of the big charred cross a small flame burns in the memory of British soldiers who died in 1914 in France.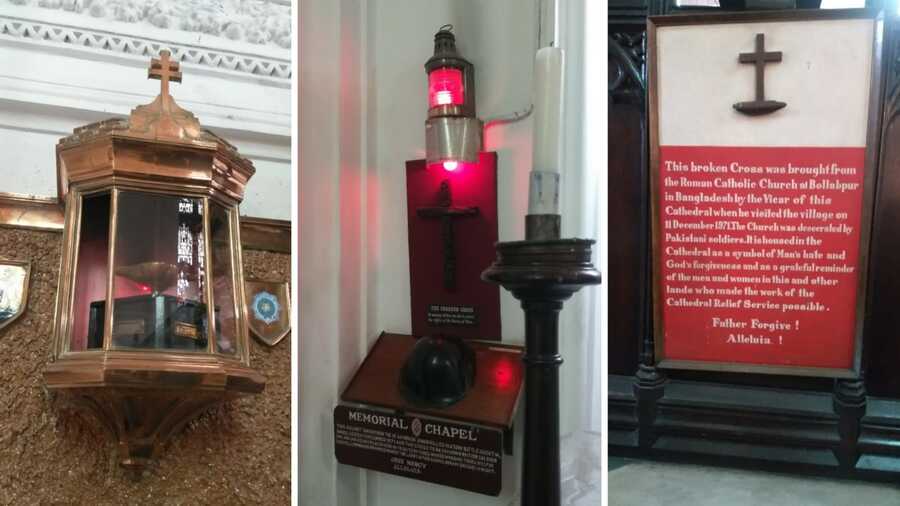 (L-R) The lamp lit in honour of a British soldier who died in 1914 in France; the helmet of an Indian soldier who fought in Bangladesh and a cross belonging to a British soldier; a small cross taken from the destroyed Roman Catholic church in Ballavpur
Somen Sengupta (Photographs sanctioned by St Paul's Cathedral management)
Another small cross, collected in December 1971 from a destroyed Roman Catholic church in Ballavpur, finds a place too and as the plaque reads, is displayed as "man's hate and God's forgiveness and as a grateful reminder of men and women in this and other lands who made the work of the Cathedral Relief Service possible."
A legacy continues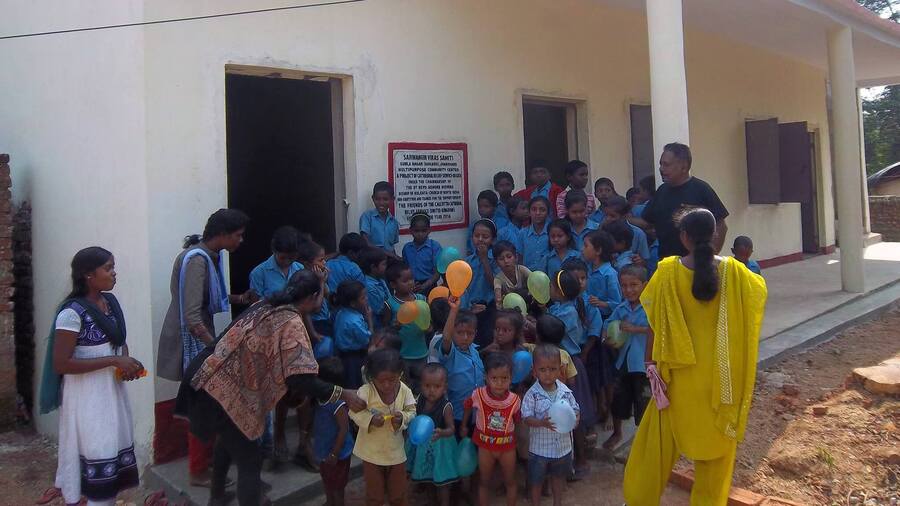 The Cathedral Relief Service started by Canon Biswas continues its aid and non-profit work today
Cathedral Relief Service/Facebook
The tireless relief work for Bangladesh refugees under Canon Biswas continued till the end of 1972. Biswas's work was acknowledged by then Prime Minister Indira Gandhi, who wrote to him on April 24, 1972, thanking him for his service. She wrote, "It was kind of you to bring the Charred Cross of Bangladesh, which I have sent on to the National YWCA… Your organisation has worked with dedication for the Bangladesh refugees."
In this year when the world is remembering 50 years of Bangladesh's liberation and India is celebrating 50 years of its biggest military victory, a corner of St Paul's Cathedral can open a new window of interest.
For this article, the author gives special thanks to Reverend Abir Adhikari of St Paul's Cathedral, Cathedral Relief Mission, Diocese of Calcutta's publication 'The Annual Canon Subir Biswas Memorial Lecture'.