The last time I had seen snow was when I was two years old, in Scotland and my sister had thrown me into the snow. I don't remember much obviously. When I was planning my trip to the icy heights of Manali in February, I grabbed every thick jacket I could lay my hands on and set out for a 17-hour road trip from Gurgaon to Manali.
Settling In
Sure the trip was long and we had a tail-wagger with us as well, but the view starting from the foothills was so worth it. Starting the journey at 5.30am from Gurgaon, we reached Manali close to 11.30pm. On the way we came across snow-capped hills on one side and a forest fire on the other. Of course, it did give us some worry as to what caused the fire, but from a distance it was a sight to behold.
Our first place of stay was Sundazed Cottages, which was close to Hidimba Devi Temple and Mall Road. Located really high up a hill, the temperature would go down to minus and then it's 'brrrr' scenes. Stay was in a wooden cottage with four rooms, two floors, a beautiful fireplace, a yard for the dog to go nuts and surrounded by mountains on all sides. We could do bonfires outside as well but sitting inside seemed cosier. The place had two young lads who helped us out with food, basic amenities and a warm fire. Thank God for fire!
On the first day I made my way to Hidimba Devi Temple, which was about a 10-minute walk uphill. Although the temple was interesting, decorated with the skulls of animals, it was the surroundings that were most beautiful. In the middle of thick forest, with yaks and bunnies, there were small stalls selling cute art, and eating places.
It was from here that we had made our way to The Lazy Dog lounge in Old Manali (after some street shopping though). Being a pet-friendly place, we took along little Camster, who had the best time of his life on this trip. The cafe was right next to river Beas where the stream flowed right beside you.
River on the side, surrounding mountains, now all we needed was some grub and, of course, we went for the trout. The fish was cooked in garlic butter, served with veggies and bread. Each bite was succulent and flavourful and the fish was flaking off easily. After spending some time here and Cam gobbling up his 'chimken', we went back to our cottage to start the next day.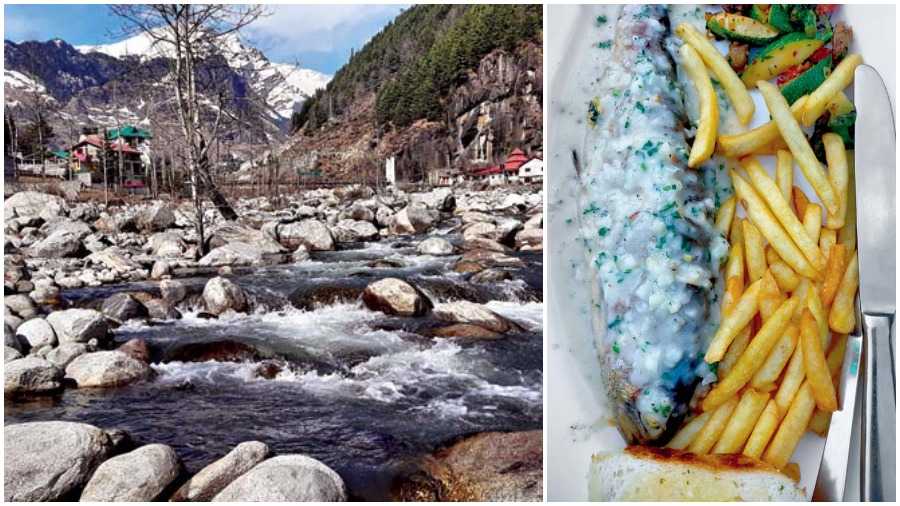 The Beas stays with you for most of the trip aound Manali as does the trout.
A for Activities
If the first day was about refuelling and resting, the second day involved some hiking. After waking up we made our way to Jogini Waterfalls, which is about 5km from Manali. The hike starts from the main road and you walk your way up a snow-capped mountain. Although the snow is not knee-deep, the frozen ice sure makes it slippery, making you go "Weeee!"
While climbing up you will find numerous tea stalls that sell food, including Maggi, as well as people from a nearby village who sell their hand-knit socks and gloves. We met Guddi, who was sitting near the waterfall knitting a pair of socks and she told us that she is from "Garampani gaon" and she comes here every day after a 1km trek.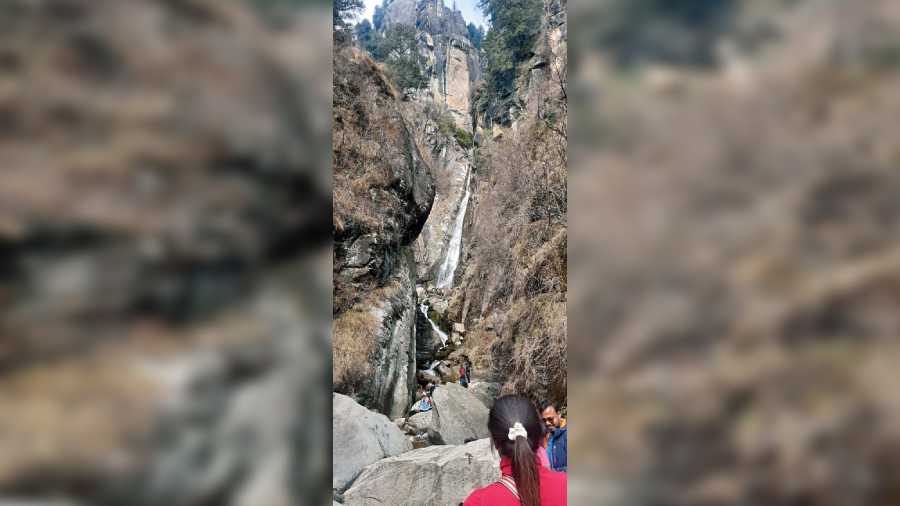 On our way down, after taking a clumsy tumble right next to the cold flowing water, we headed for another trek to Vashisht, which was another 45 minutes on foot. The trek was beautiful between apple orchards, tiny huts and step farming. As we reached closer to the village, small dilapidated houses could be seen, with kids playing around with cows and goats.
In this village, the main attractions are the Vashisht Temple and the hot springs. But the hot spring was not anything like what you would read in a geography text book. The hot spring was covered on all sides and posed as a very warm pool for people to take a bath in. A warm bath in such low temperatures is bliss! At night for dinner we made our way to a well-decorated pub called Johnson Lodge and feasted on pizza.
Comfort food with a view
The next afternoon we kept it light. Some poha and aloo paratha for breakfast at the cottage, running with Cam on the snow and numerous tea breaks. For dinner we made our way back to old Manali to check out a cute open-air cafe called Ocho Kitchen. Again river Beas was flowing right by us and the temperature was about -4°C.
There were intense shivers but some spicy chilli chicken, prawns, noodles, trout and fries helped to keep us warm. The owner let us know that her staff was mostly from Bengal and that is when our, "Kemon achho?" and "Bhalo achi!" came out. The fun part about this place is that you could purchase your alcohol from outside and seat yourselves in the eatery and enjoy your drinks. A neat drink, spicy food, a fire and a flowing river, what a way to call it a night.
We had kept the next day light as the day after we would have to travel to a new location. But this time I was in search of good food and good music.
After little research we made our way to Mount View Noodles Restaurant on Mall Road.
Local singer Binod was performing an acoustic night at the place, with Hindi and English medleys. The audience around didn't miss one note and sang all the songs. People were also celebrating birthdays, which added to the fun.
With such a good mood you would have to have some good food and yes we scored. A plate of warm chicken momos with a really spicy momo sauce and a hot pork thukpa... oh what a pair! The hot steamy momos with the sauce had an eye-watering jhaal kick and the warm thukpa took that heat inside, making it the best cold remedy.
I had probably exhausted the tissues but I kept going back for more! I believe it was Michael Jackson who said, "Don't stop till you get enough." This spicy meal had wrapped up the first leg of our trip and the next day we were headed to Burwa, which was a 19km drive.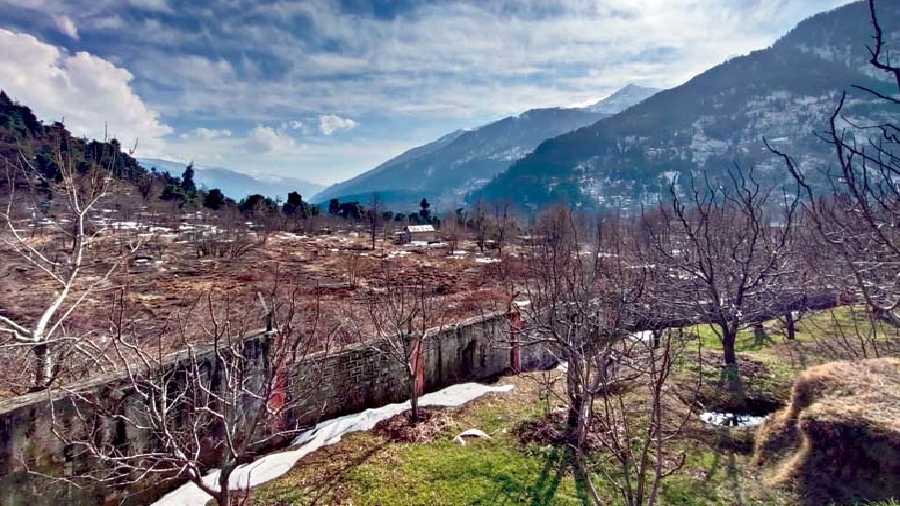 Going higher
This time we were going higher up where even during the day the temperature was about -1°C. We were staying at The Cider, where the host, Prabha, made sure we had a comfortable stay. Again, snow-capped mountains on all sides, you could see the river Beas streaming down and Cam had an even larger playground to hide his snout in the snow.
After checking in, and having some comfy roti, dal and tea, we trekked our way down to the river. Since it wasn't the rainy season, the water flow was less than usual but still flowing strong. We trekked down some meadows and then found a tiny path that helped us get down to the river bed. We seated ourselves on the rocks next to the river and saw a herd of horses enjoying the water, just like us. But it was freezing cold and my hand pretty much had the shakes after a little dip. Time to glove up!
The next day was an early start. We were headed for a drive to Lahaul Valley by car and took baby Cam along. Before we headed there it was necessary to rent boots and snow suits because of the immense amount of snow and low temperatures. While on the road we also went through the Atal Tunnel, which is a highway tunnel under the Rohtang Pass. The tunnel is about 9km long and was also recently recognised as the world's longest single tube highway at 10,000 feet by the World Book of Records, London.
As we went through the tunnel we could enjoy long clear roads, with telephones on either side and there is no network inside the tunnel. After coming out of the tunnel everything was just snow, not just snow capped. Clean and untouched! We went a little ahead and made a stop in the snow for a few clicks.
We didn't know how deep the snow was but Cam made sure to make a snow jacket for himself by rolling around in this 'white cold thing he could eat'. After going a little further we reached a location where tourists could get down and play around. Someone just entered paradise.
We slid down into the place, because walking was too mainstream, and then we were in a valley of knee-deep snow... waist for me though. Running around, we played around in the snow as if we were in a Bollywood film. Also, snowballs in the face, not a good idea. Cam, on the other hand, befriended everyone he could lay his eyes on and hydrated himself with endless snow till a point where he could not eat snow any more. With his attention span being the size of a peanut, Cam ran in six different directions at the same time with snow covering his nose all the time.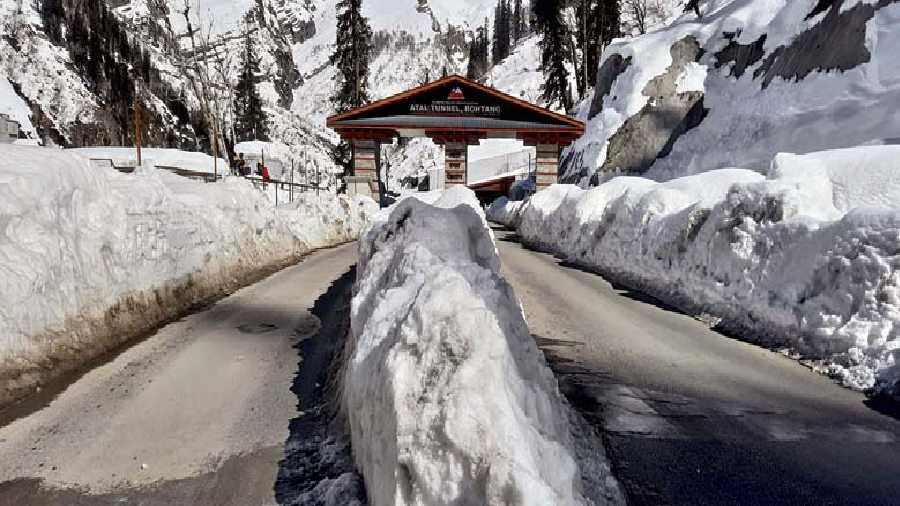 This was my first trip down the 9km Atal tunnel into a totally snowcovered region
Let it snow
After snowing around, we made our journey downhill again where we would do some sports in Solang Valley. First up, riding ATVs (all-terrain vehicles). The route wasn't long but had quite a few turns on the way. There I was vrooming in knee-deep snow, side to side, to a point where I could feel the vehicle slide off track. Uh oh! But I was able to manoeuvre it back and park next to some yaks.
Next up was skiing, which was again on a levelled ground. This was where my skating abilities came into use. People around me kept falling one after the other but not me. I did keep going though... because I didn't know how to stop but yes, I would come back eventually. There were plenty of activities to do but not enough time. Which is why we went back home, did a little bonfire with Prabha and called it a night. But we went back the next day!
It was the last day and, of course, we weren't going to let it go to waste. In the morning we made our way to Solang to check out the Ice Shiva Lingam at Anjani Mahadev Temple but there are only two ways of getting there. ATVs or horses. The ATVs seemed like a dangerous option as the trail was the same as that of the horses. So we giddied up! The trek up was for about 35 minutes with really narrow icy paths, but on reaching, it was a beautiful place.
After a point you have to get down from your ride and trek all the way up. Using a stick can come handy here because of how deep the snow is. As we worked our way up we reached the temple which was on our right but the Shiv Ling was a bit further up. A narrow icy trail led up to the Shiv Ling and, yes, falling was a part of the package.
Once we made it to the top, however, we were just a few metres away from the Shiv Ling and you could see the drops of water that was making it up. It is advisable though to not get too close as shards of ice were bouncing off the Shiv Ling and headed straight to us but being up at such a high point called for some amazing snow white pictures.
After trekking down and going for a cable car ride, we were in the mood for some more sports. That's when a man with a sledge approached us and took us up a steep slope, and pushed us all the way back down at a crazy speed. Only if we had Cam running in front of the sledge it would look like Santa's arriving with presents.
Next up was the snowmobile, which gave me major James Bond vibes. The ride up was super rapid and bumpy and if I didn't hold on to something there would definitely be a flying journalist. I was behind the handle on the way down, which was even more ecstatic. Although I had taken the speed down a few notches, I was humming the intro song of the movie Dhoom in my head.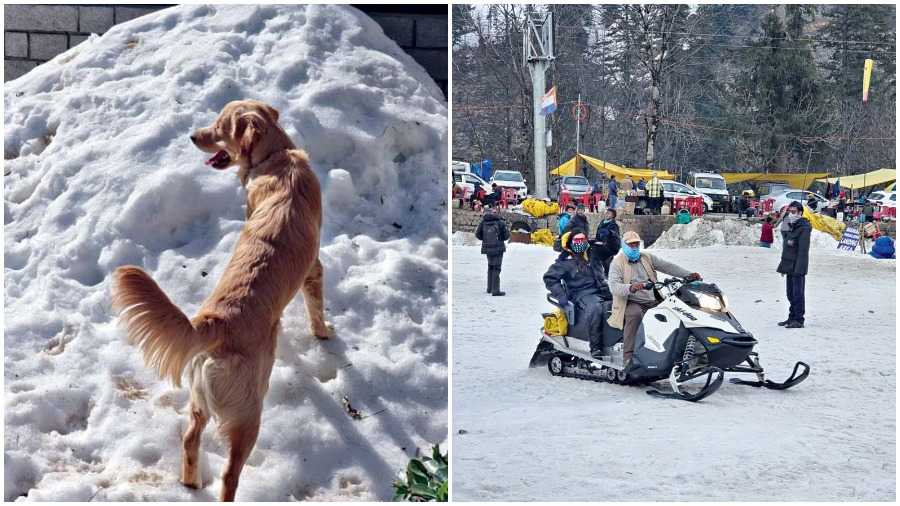 Camster had a great time in the snow... | ...while we got our kicks from the snowmobile
Coming down
All the snowing and eating had made up for a great trip but somehow I still managed to get tanned. At night we again did a bonfire and slept in to leave for our road trip the next morning. Mountains aren't always my go-to place for a holiday, but all the different activities kept me entertained. The only thing we missed was paragliding as they had put it on pause for a brief period. But I will surely be going back for more sooner or later.
Pictures by the author