I was anything but an inveterate traveller. And Covid had made me even more homebound. Most holidays would mean watching my fan whirr. So, when this trip to Singapore came up, my first international trip in two years, and one to the country after a decade, a voice inside me said: 'Think of an excuse!' That I got typhoid after my 2012 trip didn't do much for my confidence levels. And, then another voice piped in with Covid-garnered wisdom: Every experience counts. I finally listened to the other voice, finished last-minute paperwork and packed my pink suitcase for a week of a different slice of life!
I am so glad I did it. Every experience on the trip was a first for me. What stood out was Singapore's stress on creating meaningful opportunities for families to hang together. I came back with new friends and tons of earrings! Now, that's a separate 'journey' altogether. Here's a glimpse of my Singapore sojourn.
Unique experiences
Floatation therapy @ Palm Ave Float Club: This was a one-of-a-kind experience, "Singapore's first floatation therapy experience", launched in 2014, where I got into an egg-shaped pod filled with warm water and approximately 600kg of Epsom salts, and tried to float. I had showered before I got into the pod, switched off the lights and lowered the lid of the pod and put on my earplugs to soak in the experience. Though there was no chance of getting locked in, the apprehensive me kept the lid ajar, but as the float crew had predicted, the cold air from the AC soon added to my misery of trying to float and I had to quickly lower the lid completely.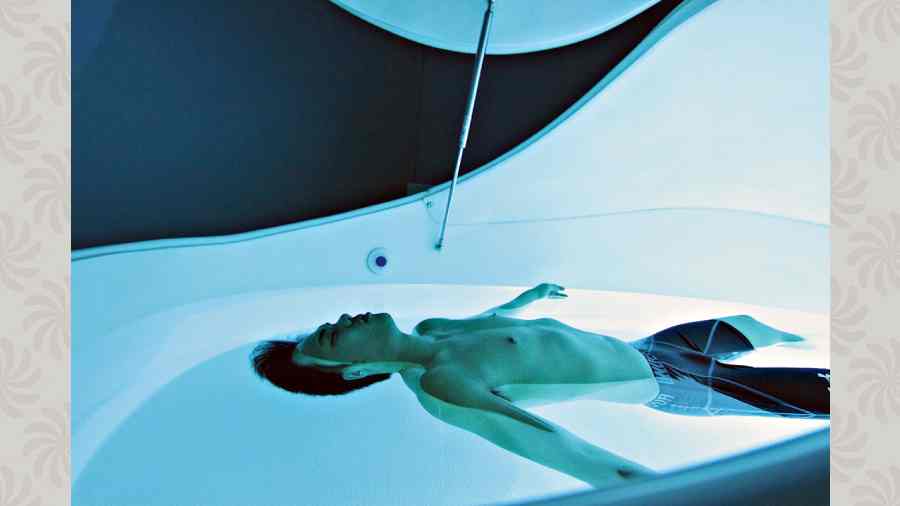 The pod used for floatation therapy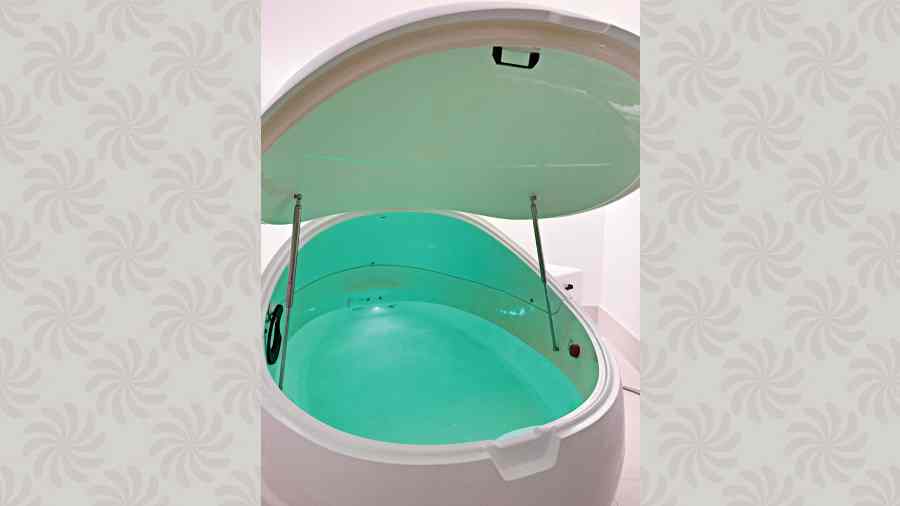 The soothing music played for the first 10 minutes. And, I still struggled to just float. "The first float is always very tricky because it is a new environment and sensation and you also lose your sense of gravity," the float crew assured me later. It was suggested that we carry a small towel inside the pod so that if water got into our eyes, we could squirt it off with a small bottle of water hung inside the pod, and wipe it off. The clumsy me tried so hard to float that I was left wiping my sweat with that towel, even as the bottle floated without a sweat! The key was to let go and trust the process. And, the tricky part was to do exactly that. Like everything else in life. I couldn't balance or sit. The more I tried to balance, the more I struggled. I, however, did manage to float for a quite bit and lasted almost the whole hour. The trick was to not try too hard. "You will naturally float," the crew had said. The headrest was my saviour. I plonked my head on it and floated.
Post-session, I showered off the salts, as the soothing music came back to indicate the end of it. "The athletes use it for muscle recovery. We have pregnant ladies who come and float too. It helps with water retention and back pain and there are people who come to meditate. We do have regulars and we also get people who come to try it out. It's quite niche," said the crew.
Where: 66 Kampong Bugis, Level 5
Things to remember:
• Don't float after a heavy meal.
• Unless you float with your face down, you won't drown!
• You don't need lessons in swimming to float.
• You can float in your swimsuit or naked.
• Hydrogen peroxide is used to clean the pods. And, they're squeaky clean!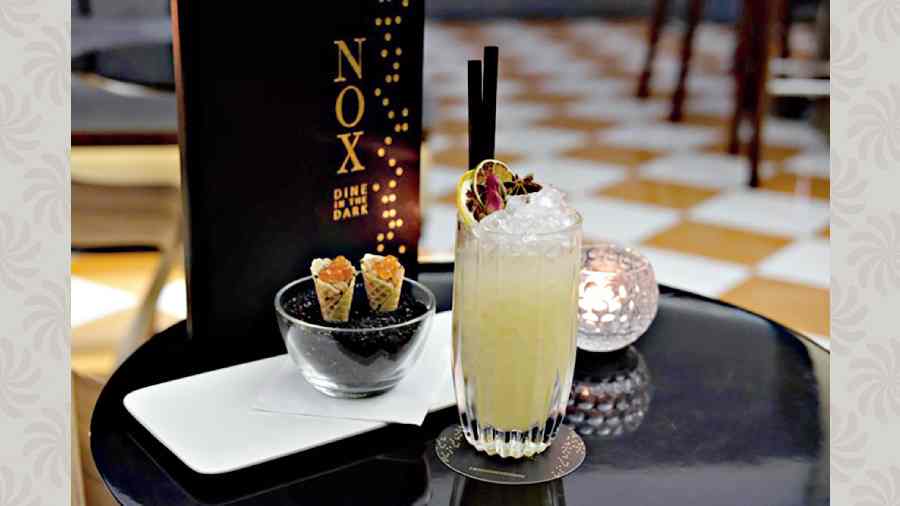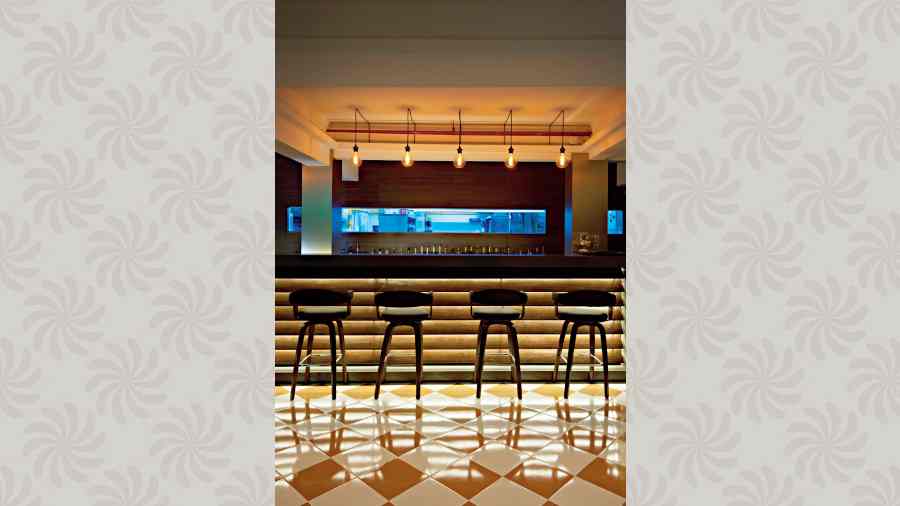 A glimpse of the Nox sip and bite options, which we had no idea what they looked like till we saw this picture!
Nox Dine in the Dark: This was a cracker of an experience and a great way to end our Singapore sojourn. When we reached the dimly-lit Nox, we were ushered into the waiting lounge. As we tucked into amuse-bouche (beetroot and sea salt), little did we know that it would be the only item that would be made visible to us that evening. We kid you not!
We were told to stow away our belongings in a locker and hang our keys around the neck, lest we lose them. We then formed a human train to go upstairs, a major childhood throwback. Once on level one, the door shut behind us and we were plunged into pitch darkness. Our guide for the evening was Bernard (52), a visually impaired gentleman, who had lost his eyesight overnight and eventually turned out to be our best find of the trip. He deftly made us sit one by one, his instructions crisp and clear. Once we were seated, he sprayed our hands with sanitiser. He then asked us to spread the napkin on our laps and started serving us one by one, the sound of our voices being his cue.
Here's where the guessing game began, as we dined in pitch darkness, with only infrared cameras glowing red in the dark. I had no idea what I was served and how. My guess was, the food came on wooden or papier mache platters with small ceramic bowls. All courses came in pairings of four. I think beef, cherry tomatoes, fresh salad, mushroom, rice, chocolate cake and mousse were among the things that we tasted. Of course, the mystery menu wasn't revealed to us!
I ate mindfully after a very long time. With no distraction whatsoever, I immersed myself in the food and flavours. The experience also left me grateful for everything I was blessed with.
Bernard kept us entertained with his easy wit. His story was so moving, it brought tears to my eyes. We were led out exactly the way we had made it into Nox. I left Singapore drawing more strength from the likes of Bernard who never gave up.
Where: 83 Club Street
Things to remember:
• Hang the key to your locker around your neck as suggested. If you drop it, there's no way you'll find it.
• If you feel uncomfortable in the darkness, just shut your eyes.
• If your kids are seven and above, you can take them along.
• Follow instructions to a T. Don't try your own tricks. The staff talks from experience and are extremely well-trained. Listen to them and trust them.
Feel-good memories
Boat ride across the South China Sea: Day Three started with a boat ride across the South China Sea. We sailed from the Sentosa Cove on the speedboat Tara K that can seat 12, and for an hour took in the sights and scenes like St. John's Island, Eagle Bay, Batam Island, Kusu Island, W Hotels and W Residences and Lazarus Island. The water, the sun, the surf… the magic. The entire experience had a James Bond-meets-Zindagi Na Milegi Dobara feel for me. An hour passed in no time and we so badly wanted to go back again.
Our captain for the day was S Kogu, a Singaporean of Indian origin, who was the founder and director of Lé Tara Yacht, and also a trained pilot.
Feel-good memories
Boat ride across the South China Sea: Day Three started with a boat ride across the South China Sea. We sailed from the Sentosa Cove on the speedboat Tara K that can seat 12, and for an hour took in the sights and scenes like St. John's Island, Eagle Bay, Batam Island, Kusu Island, W Hotels and W Residences and Lazarus Island. The water, the sun, the surf… the magic. The entire experience had a James Bond-meets-Zindagi Na Milegi Dobara feel for me. An hour passed in no time and we so badly wanted to go back again.
Our captain for the day was S Kogu, a Singaporean of Indian origin, who was the founder and director of Lé Tara Yacht, and also a trained pilot.
Unwinding at the Zentosa Fest @Sentosa: We rounded off our Sentosa experience with a trip to the Zentosa Fest (which was on till June 30) on the Palawan Green. Colourful tents perched on the lush greens with huge bean bags making visitors relax in comfort, Zentosa Fest was one where time really stood still.
"There is just a bit of everything for everyone. The idea is to spread the message that wellness is for everyone. This is Sentosa's golden jubilee. We are celebrating our 50th year and we have tons of new experiences coming up," said our Sentosa expert.
The Zentosa Fest seemed a perfect place to spend quality time with your family or by yourself. I was also, of course, drawn to the market which had a variety of things on display — from calligraphy pens to earrings, clothes, paintings and much more.
I took down notes to sleep better from sleep expert Zoe Chu and stretched myself on the grass, the cool breeze blowing in from the South China Sea caressing my feet and the lovely view of the Palawan beach making me wonder what it would be like to live there forever.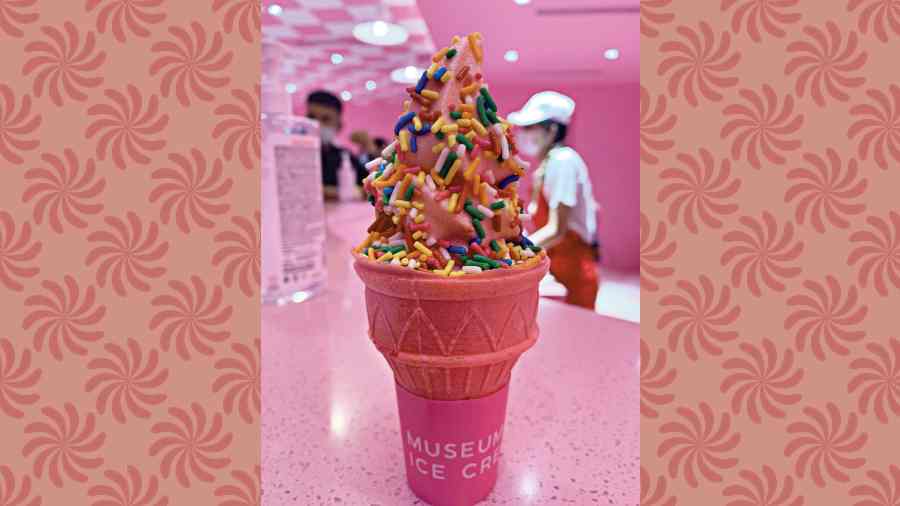 The Museum of Ice Cream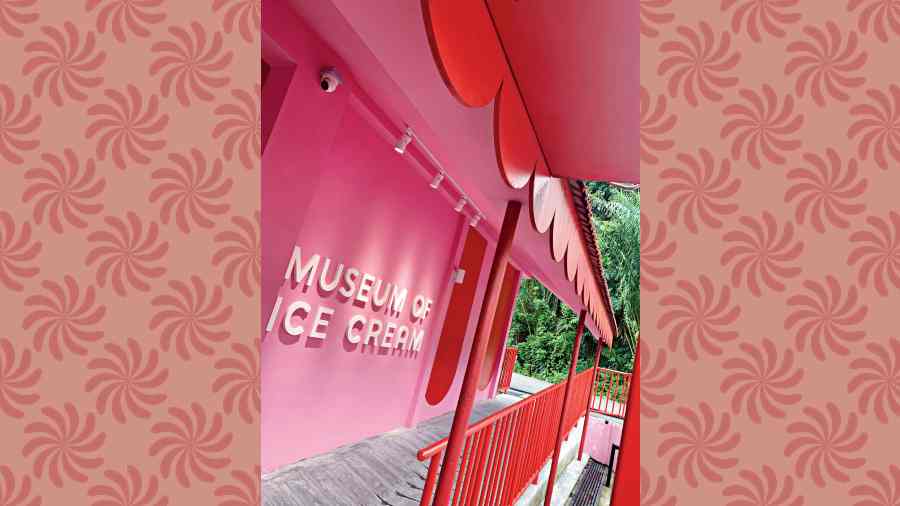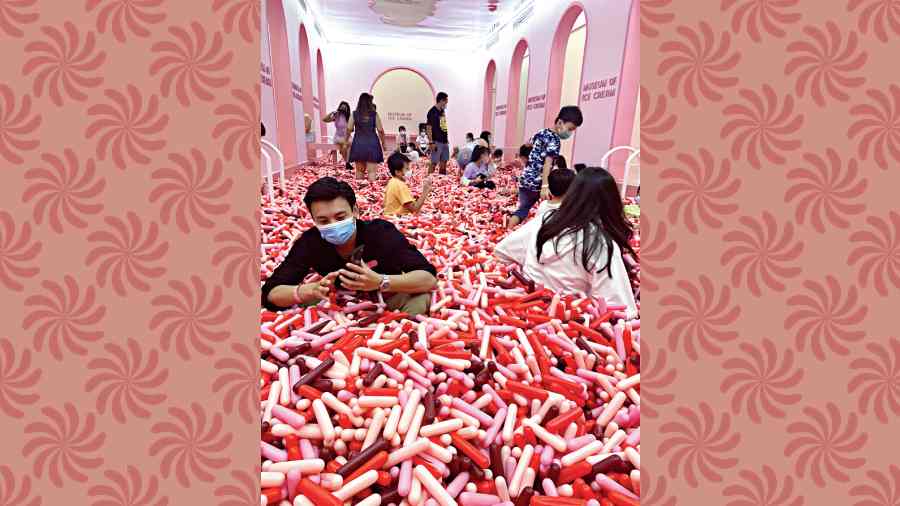 The sprinkle pool
Museum of Ice Cream @Dempsey Hill: I tasted ice cream after four years. That itself made this experience a memorable one. Located at Dempsey Hill, the red-and-pink facade was an instant pick-me-up! A ticketed experience that opened in August 2021, the time spent there took me back to my childhood of innocent fun.
Done up in various shades of pink, I relished my ice cream as I went around the museum. We started with some strawberry ice cream followed by apple pie and pandan. I swung on the banana swing and navigated the dragon ride. And finally, dunked into the "world's largest rainbow sprinkle pool".
Where: 100 Loewen Road, Dempsey
Fact file: "This (Dempsey Hill) used to be army barracks," said Wee Toon Hee, our tour guide. The museum is five minutes from Orchard Road.
Top tips: Dress in white and pink for the best pictures!
Scentopia @ Sentosa: We started Day Four at a new attraction at Sentosa, Scentopia, where we made our own perfumes! Mine was a floral one which perfumed pretty much everything in my suitcase. From prawn chips to chocolates to my notes. Here's how I made my perfume: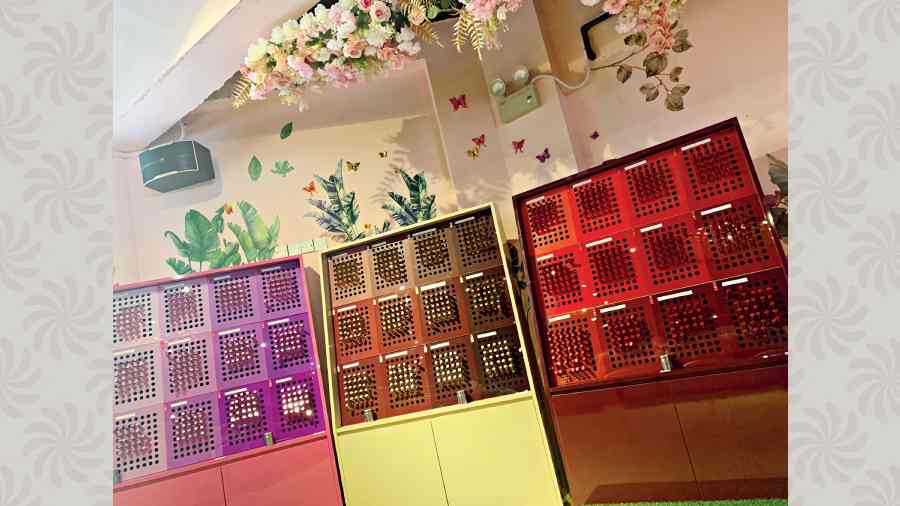 A glimpse of Scentopia.
Step 1: I filled up a fun quiz which gave me my notes and 'perfume personality' — citrus, fresh, floral, woody and oriental were the categories. At five, my floral score was the highest among all the categories. The note read: 'Kind, caring and sensitive introverts! They are agony aunts, a role they play well! No one really knows them and are always amazed by their true potential'. Bang on, but I wondered how!
Step 2: Then I went about choosing the scent wands. Each category came with tons of scent wands to choose from.
Step 3: Once I was done with that, I squirted a bit of it all into a cup from touchless 'aroma release machines' and handed it over to the perfumer and in no time, I was given a big bottle of my very own perfume!
"This place is just three months old and is one of the newest attractions at Sentosa and for the family. We have the kids' workshop and augmented reality too. Singapore-inspired scents are the highlight," said Niki, general manager, Scentopia.
Where: 36 Siloso Beach Walk, Sentosa
Fun fact: 'Nutmeg was the first alien product which came to Singapore'.
Did you know? An Indian is the founder of Scentopia. Prachi Saini Garg, well done!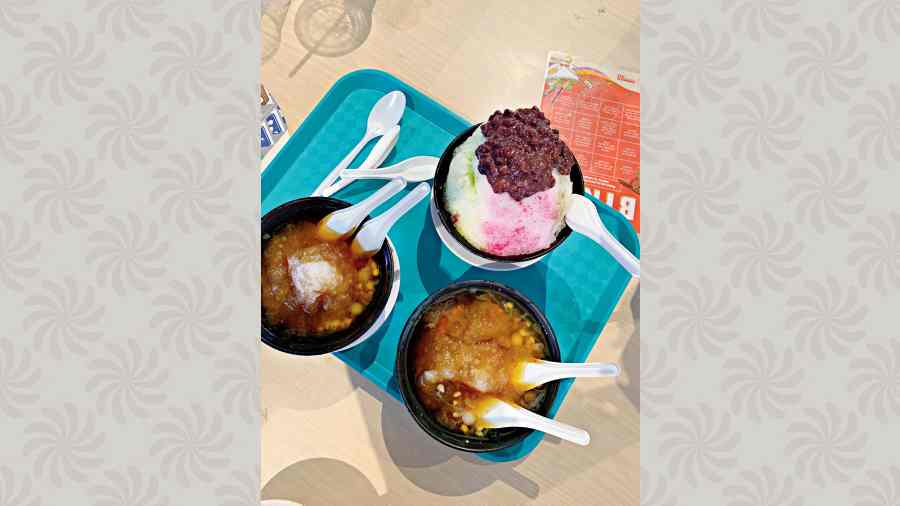 Ice Kachang at the Lau Pa Sat Hawker Centre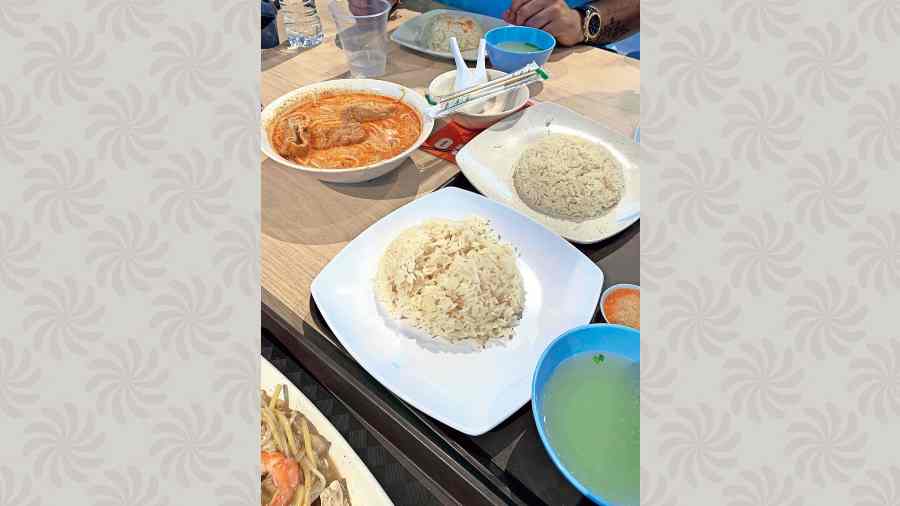 Chicken and Rice at the Lau Pa Sat Hawker Centre
Food: What I loved
I am someone who always played it safe when it came to food. Prior to the trip, I was asked to mention my preferences and I had promptly opted for chicken and fish. On the trip, I ended up tasting everything! And, my gut instinct said, all will be well! Here's a pick of what I sampled.
Chicken and Rice and Ice Kachang @ Lau Pa Sat Hawker Centre: Buzzing and busy. That's Lau Pa Sat Hawker, 'housed in a Victorian-era wrought-iron market structure' in the Central Business District. The vibe is that of community dining. What we sampled was authentic Malay cuisine and fell in love with Chicken and Rice. "No matter what your dietary requirements are, everyone at the table can get a dish or two. The Chicken and Rice is literally chicken on rice, but it's a lot more complex than that," said Renjie Wong, area director, India, Middle East & South Asia, Singapore Tourism Board. We absolutely licked the ginger-garlic chilli sauce bowl clean. Fresh and dried chillies, fresh ginger and sometimes a little bit of vinegar in it and garlic and shallots was the magic recipe that Renjie shared.
Before I left, my friend who had been in Singapore for over a decade had suggested Ice Kachang as a must-try. And, how colourful did it look, served with kidney beans!
Where: 18 Raffles Quay Telok Ayer Festival Market
Jackfruit Rendang with local curry with Kaffir lime and toasted taco shells @Analogue: Tall, dark and handsome, 'award-winning mixologist' Vijay Mudaliar, born and brought up in Singapore with an Indian heritage, met us at his new cocktail bar and restaurant Analogue located at the food hub CHIJMES and served us plant-based delights. I enjoyed my non-alcoholic beverage El Mariachi — smoked Mexican chillies, distilled with a water base, with strawberries with a bit of basil and thyme for garnish — with Jackfruit Rendang.
Where: 30 Victoria Street
#01-31 CHIJMES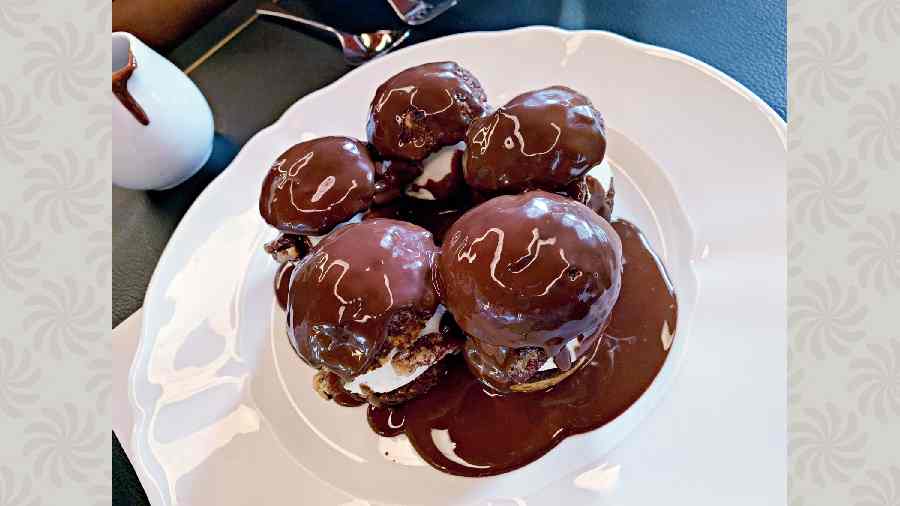 Pariterole
Pariterole @Claudine: The menu was customised for my dietary preferences and came with my name on it. As I sat admiring the beauty of this former chapel that was now Claudine, which opened in November 2021, dishes with a "lighter approach to French quintessential recipes" started flooding the table. And, with lovely music playing in the background, we dug into French cuisine, with gusto!
We were told chef patron Julien Royer was the boss, in partnership with The Lo & Behold Group.
The Pariterole had me asking for more. The glistening orbs were made up of pecan praline, vanilla and dark chocolate. We called for second helpings of the dark chocolate and almost licked it off our plates.
Where: Dempsey Hill Lifestyle Enclave, 39C Harding Road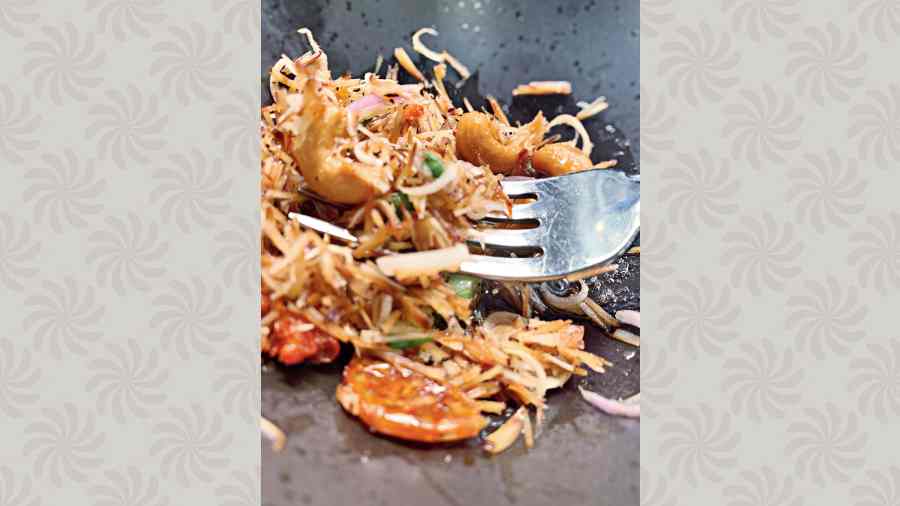 Toasted coconut salad shavings + lemongrass + sakura ebi (shrimp) that is dried + shallots + Thai-inspired citrusy sauce at Southside Interim Market, Sentosa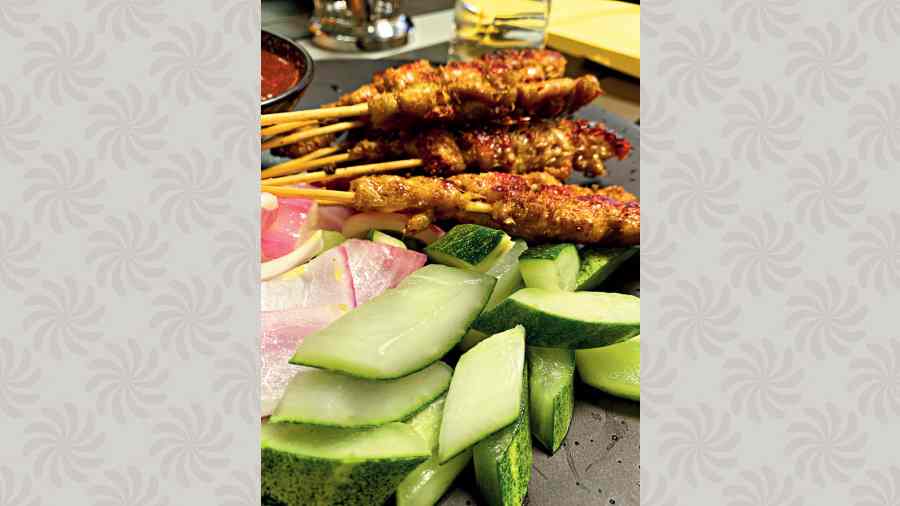 Kampong Satay at Southside Interim Market, Sentosa
Garam Masala Hummus with pomegranate and Chapati, Indian Fried Chicken Burger and Pappadum & Trio Chutney @The Elephant Room: When we dropped by this Tanjong Pagar ('one of Singapore's buzziest dining and nightlife districts') bar, it was around 988 days old and had opened pre-pandemic. Co-founded by the third-generation Singaporean-Indian mixologist Yugnes Susela, this had a grungy-rustic vibe with dim lighting and red as the mood board. India was at the heart. Every table came with a small display of spices. We absolutely loved the Chickpea Hummus with Garam Masala Spices and pomegranate, the burger and the pineapple chutney that came with the papad. It reminded me of Bengali weddings! Yum!
"We are a cocktail bar inspired by our very own Little India. We've got Indian spices, the people, the culture. Only Indian spirits are available here. The tropical jungle represents the elephant in the room," said Yugnes.
We spotted Jackie Shroff on an inspirational wall made during the pandemic depicting the bar's "global collaborations across the world" and their new menu launch will feature a bit of Bengal! Rum and spices served in a diya-shaped container was Yugnes's parting 'shot'! Did you know that pineapples represent hospitality?
Where: 20A Teck Lim Road
Chocolate Banana Cake @ Chye Seng Huat Hardware Coffee Bar: The name means "capability, successful and prosperity", a Hokkien name, Wee Toon Hee, told us. At the humble-looking place, we relished the most amazing Chocolate Banana Cake, a recommendation by the staff. Topped with loads of chocolate, this was moist and absolutely yummy, with slivers of banana at every bite.
Where: 150 Tyrwhitt Road
Lunch @SouthSide Interim Market, Sentosa: Our lunch at the Southside Interim Market, a "multipurpose venue", launched in September, on the penultimate day, was our best during our trip. The tangy starter, the warm oatmeal hot chocolate, the juicy satay, the luscious pizza, the soft chicken, the heavenly pasta and the incredible dessert, made me burp happy.
I started with toasted coconut salad shavings + lemongrass + sakura ebi (shrimp) that is dried + shallots + Thai-inspired citrusy sauce, a spicy and sour mix, that I enjoyed with a Korean wrap called ssam. Kampong Satay, grilled marinated chicken skewers + peanut sauce, typically served with a satay when you eat in Singapore, followed next. Chuu Chee Crab Curry had an interesting story behind its name. "This curry is from the northern part of Thailand. Thai red curry cooked in a wok. The name 'chuu chee' comes from the scraping sound against the wok. We have the Chuu Chee curry at the base, blue swimmer crab and Kaffir lime leaves," said Lucas, from 4AM Pizza, one of the outlets.
I was full by the time I finished Chicken Ballotine with a truffle potato brick, salted seasonal vegetables and lined with pesto, but the sight of Truffle Mushroom Carbonara with Onsen egg, softer than a poached egg, made me devour this slice of pizza! Of course! The dessert was a Black Rice cake with a vegan coconut sorbet on top. "The coconut milk is from Sri Lanka and dairy free," said Lucas.
Where: 80 Siloso Road
Pictures by the author and courtesy Singapore Tourism Board
Did you know?
• Singapore is 203 years old, has 64 islands and a population of about 5.5 million
• Of them, about 77 per cent are Chinese, 14 per cent are the native Malays, 7 per cent are Indians and 1 per cent are Eurasians
• The working language, English, is spoken by perhaps 80 per cent of the people. Mandarin is used by the Chinese community. Malay is the ceremonial language
Learning curve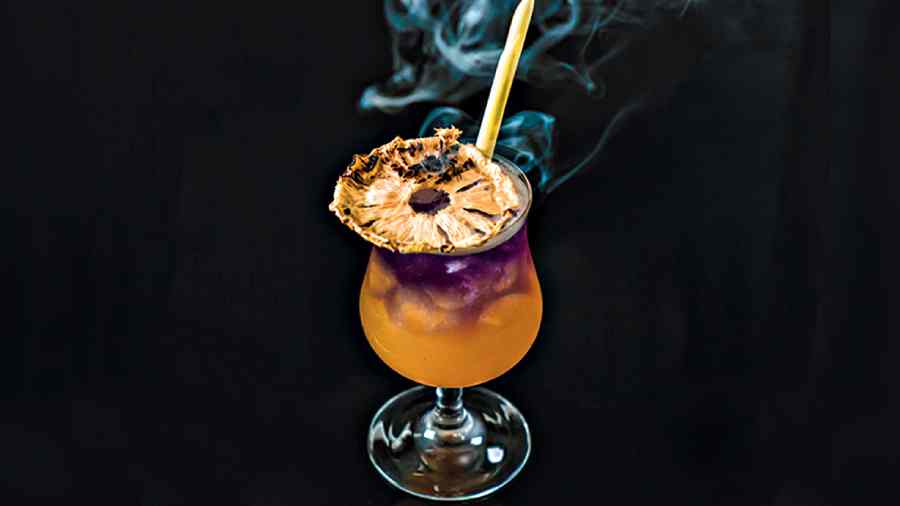 the BLD-Sling drink
A trip to Brass Lion Distillery: The trip to the Museum of Ice Cream was followed by fun and informative trip to the Brass Lion Distillery, opened in 2018, located near the west of Singapore, where the incredible Satish Vaswani met us to take us through his passion project. Born in Singapore, the witty Satish, a Singaporean of Indian descent, explained how gin was made. The idea was to serve local spirits and Satish had a business partner in Jamie to do so.
I sipped on my incredible Calamansi lime juice as Satish looked back at how their first gin — Singapore Dry Gin — was made. "This is everything Singapore that we use in our daily lives. This is a milestone for us because this created the way for others. This is our base. The Singapore Dry Gin has 22 botanicals. The most important botanical in any gin in the world is juniper berry. Orris root helps bind the flavours together. Angelica root, coriander, cardamom, lemon grass, pepper, ginger, chrysanthemum, lavender, Sri Lankan cinnamon, dried mandarin peel, rosemary, mint, Kaffir lime leaf (tear it for the flavour), peels of lemon, lime, pomelo, tamarind, blue ginger, torch ginger flower...," Satish listed. The result? "A citrusy, warm, smooth and refreshing and easy-to-drink gin".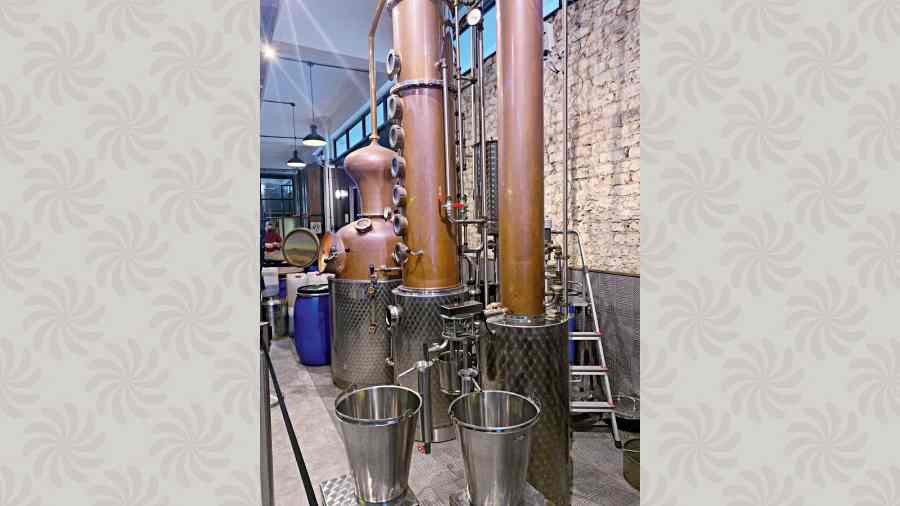 The Brass Lion Distillery
I took lots of videos of their Butterfly Pea Gin as it changed colours when tonic water was added and the aroma of Pahit Pink Gin reminded me of Nahoum and Sons' cake! "The whole process takes eight hours. We can produce 180 half-a-litre bottles at 40 per cent alcohol strength," said Satish. Nala, a handcrafted copper beauty from Germany, was obviously the most prized possession at Brass Lion Distillery.
Did you know? Gin originated in the Netherlands.
We learned: Sanitisers are made of tails, 'the last portion of alcohol that is produced from most stills'. We also learned that one should always sip water between tasting two flavours, and oysters and satay are good accompaniments with gin.
Important tip: Peeling fruits lightly by hand made all the difference. The rest of the fruit was used at Brass Lion Distillery bar to make cocktails or garnishes.
Don't miss: You too can make your own gin during the trip!
Where: 40 Alexandra Terrace