Kolkata-based pizza cloud kitchen Home Slice is now open at Wood Street. This is their second outlet after their first one in New Alipore six years back. They are gradually expanding their chain with a range of other vegetarian Italian delicacies and have opened two other outlets in Gurgaon and Mumbai last year, before the pandemic. Along with their signature DIY kits, that is inspired from the concept of Japanese bento box, Home Slice serves baked and cooked Italian dishes, too, for home delivery and takeaway.
"We wanted visibility so we chose Wood Street as the location," say Rohit Goenka and Anubhab Goenka, the brother duo behind Home Slice. The idea is to make the all-time favourite as healthy as possible. "Pizzas are categorised as junk, and rightly so, because it is mostly made using ingredients that is not always healthy. There are tons of chemicals and processed stuff. As health-conscious people, our idea was to come up with non-junk pizza options," they say.
The process starts right from the base and fermentation. "It is a 48-60 hour process to get the base right, so that it tastes great and is easy to digest. Usually to get the sides puffed up, 00 flour is used which is superfine but is not good for health. We started with a coarser grain and try to use organic vegetables as much as possible. All our ingredients, including the cheese, is selectively sourced. In Kolkata, we have a very good customer base who values the quality that we bring to the table," they say.
Home Slice hopes to offer keto and vegan items too. 
More about it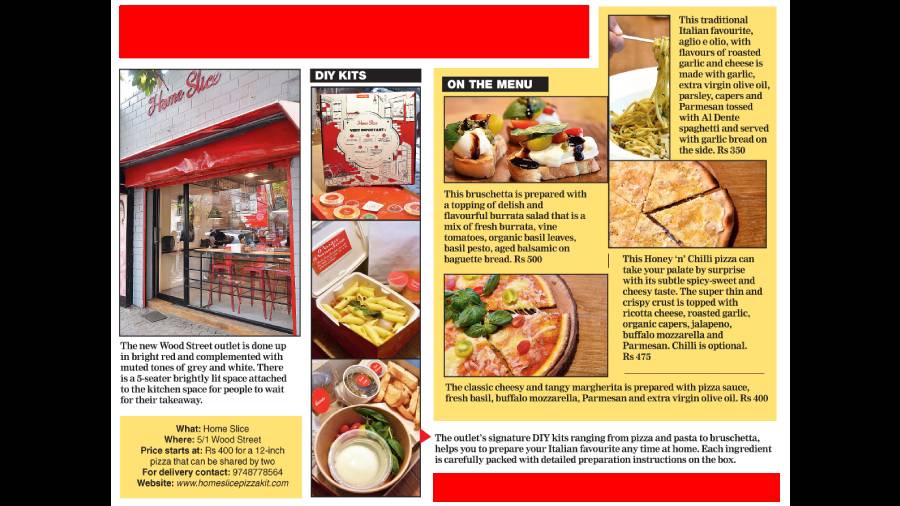 What: Home Slice
Where: 5/1 Wood Street
Price starts at: Rs 400 for a 12-inch pizza that can be shared by two
For delivery contact: 9748778564
Website: www.homeslicepizzakit.com
Pictures: B. Halder