MOOD AND MUSIC
It was all about spreading joy, celebrating carefully and responsibly at Seagram's 100 Pipers Music CDs presents The Telegraph Saturday Club X-Mas Eve. The club on Wood Street not only boasted of a fabulous crowd, they also offered a balanced bouquet of artistes performing, right from Blue Mist, Bhaven Dhanek, and concluded the night with DJ Jazzleen who amped up the energy and mood of the party with their performances. With a sit-down format with socially-distanced tables, fairy lights, sanitisers on every table, guests felt secure and soaked in the Yuletide spirit. Snapshots.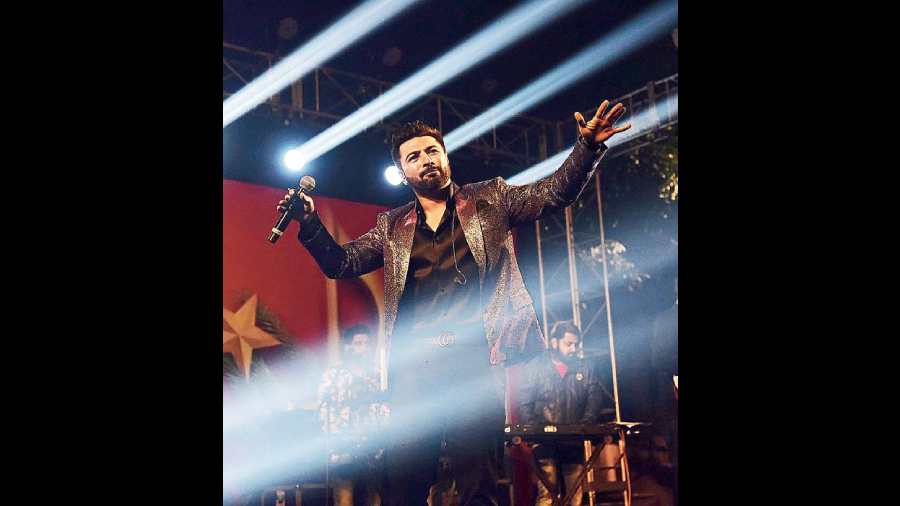 If music band Blue Mist warmed up the crowd with hits like Staying Alive, I Will Survive, Gimme Hope Joanna and Despacito, Bhaven Dhanak (picture above) of Indian Idol fame got everyone charged up with Mann bhareya, Raatan lambiyan, Suit suit, Levitating, Shape of You and Brown munde. "I have performed here before but tonight was something else! It was too good and one of my fave gigs," said Bhaven as he signed off.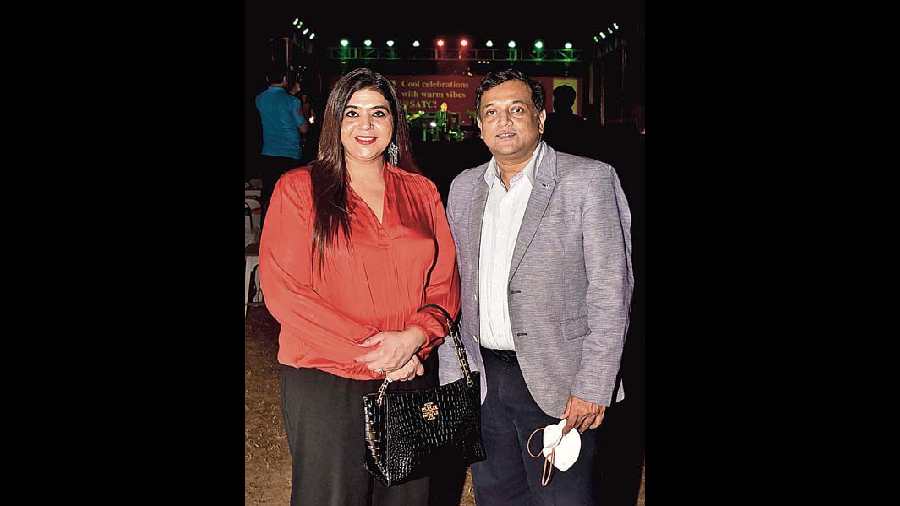 club speak
"Getting the right mix of entertainment and our reputation for being one of the best places to spend Christmas Eve got the crowd in! Given the pandemic, not having had anything at this scale for a while also is a factor since most people were also waiting for something like this for two years now. Keeping the crowd count restricted to a level that members and guests could enjoy with no apprehension. At the same time, the artiste line-up catered to all sections of the crowd, from nostalgic Western melodies from Blue Mist to foot-tapping Bollywood tracks from Bhaven Dhanak until DJ Jazzleen took over till the close. Wide range of food and well-stocked bar ensured everyone had a great time," said Harjyoti Bindra, club president, seen with Shayak Gupta, entertainment convener.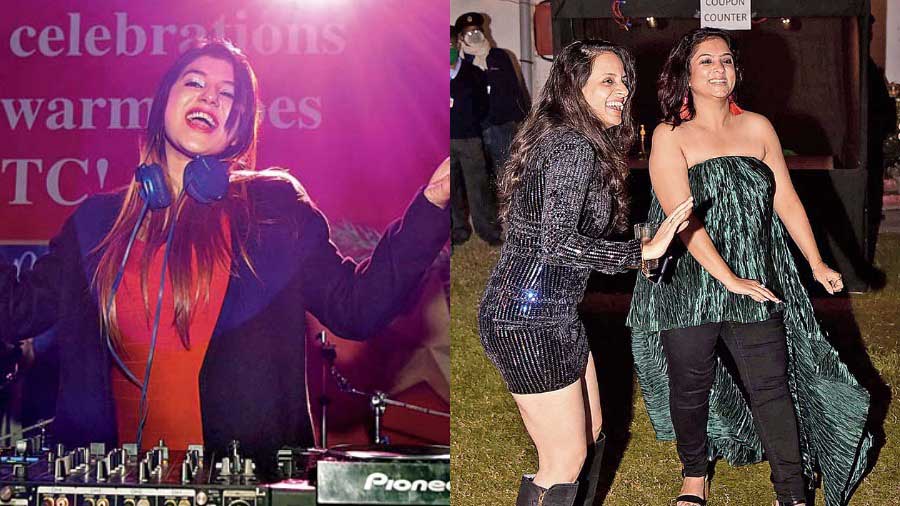 The final act was reserved for the deejay where city girl DJ Jazzleen belted out party hits like Bijlee bijlee, Jugnu, Lover, Ranjha and Summer of '69 that made everyone get up and dance! We spotted these beautiful people dancing (top).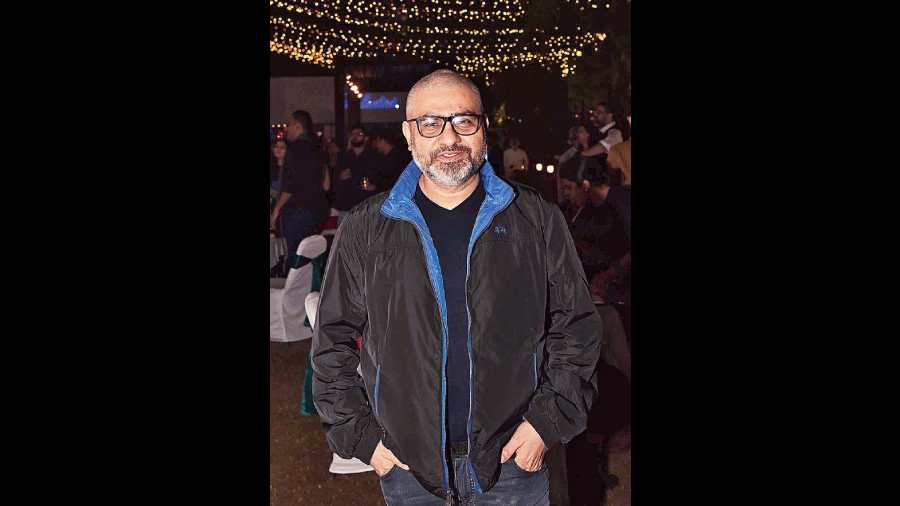 They loved...
"Tonight was all about festivity, friendship, food and fantastic music. Despite all the troubles we have had in the last two years we  celebrated the indomitable spirit of humanity and enthusiasm," said Amit Bhatia.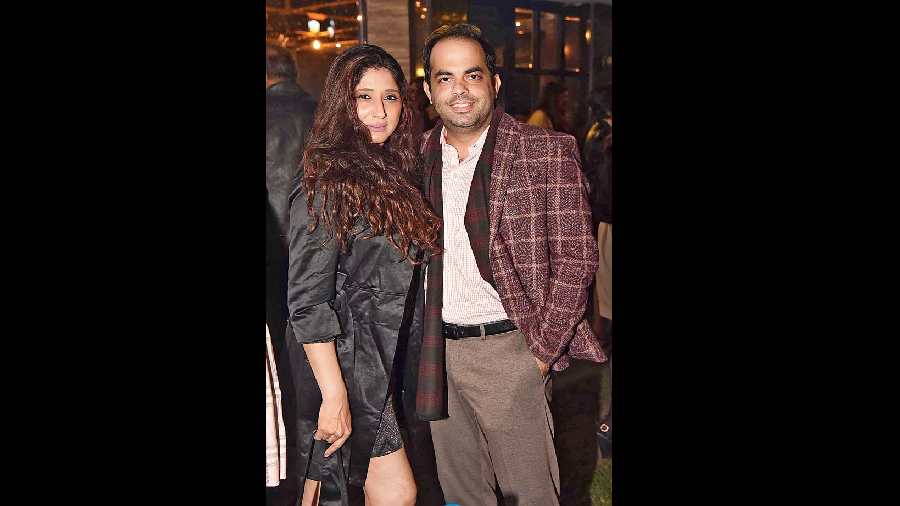 We spotted Abhishek Sachdev, manager, Fairfield by Marriott, in the crowd. "The mood here at Saturday club was so festive and lively with great food and performances. Perfect way to bring in Christmas with friends," he said.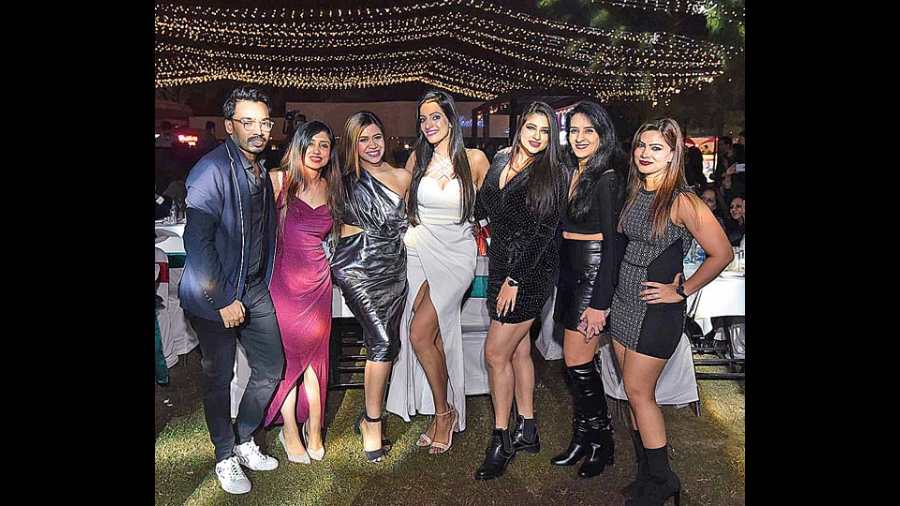 Priyadarshini Hakim 3rd from left
"It was a well-organised event with great music, I was with my friends and had a great time," said Priyadarshini Hakim.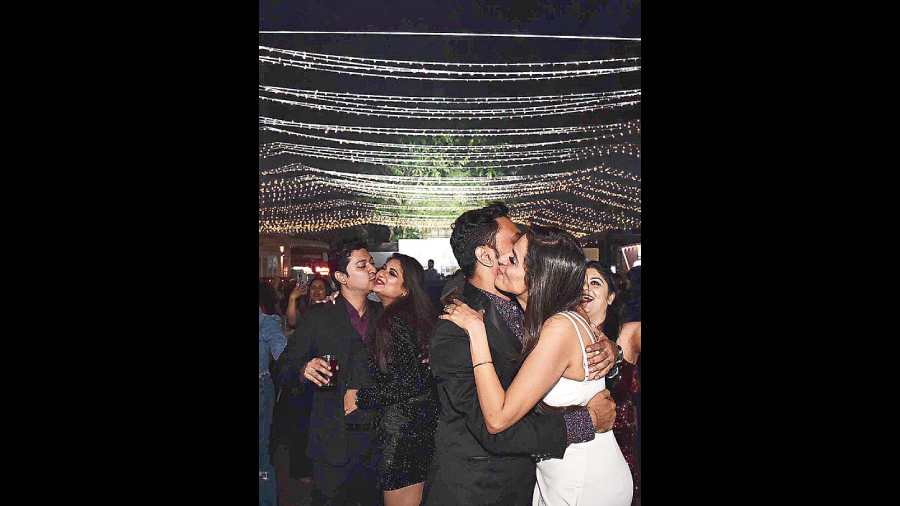 Mood
X-Mas Eve is extra special when you have your family with you. At the stroke of midnight, couples hugged, kissed and wished everyone 'Merry Christmas'!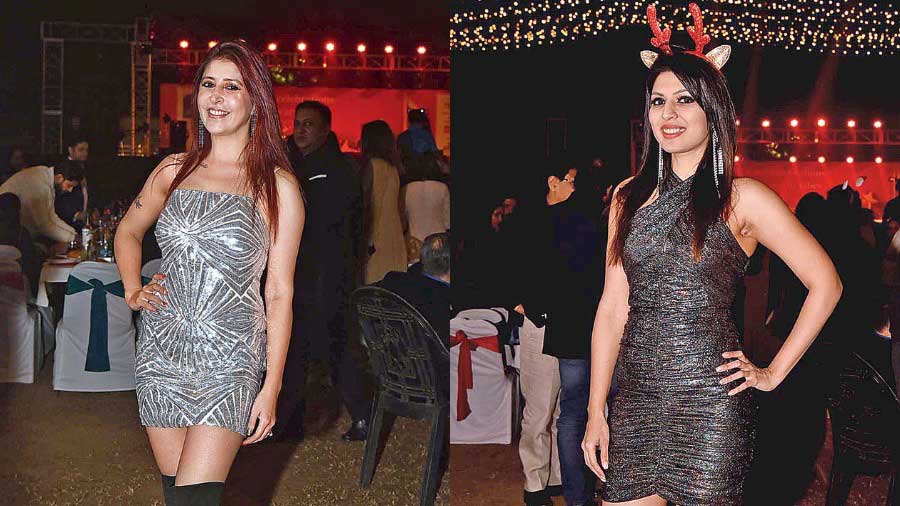 style check
Sisters Nidhi and Ankita Malik (below) showed their love for bling. "Bling is forever trending and a festive time like this is incomplete without a sequinned outfit! We both love boots, hence the choice," said Ankita, co-owner of Iraj Tea.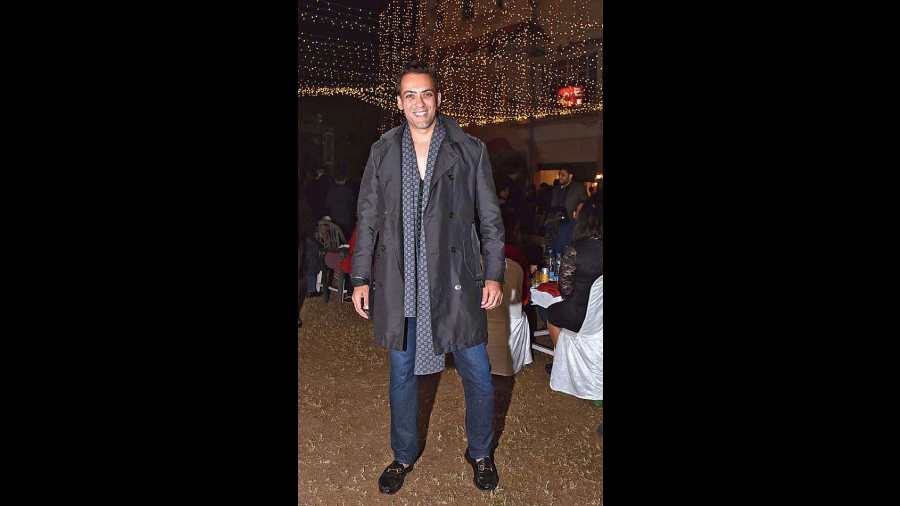 Chintu Vij showed how to work the "smart casual" theme. Blue denims paired with a black shirt and trench jacket and accessorised with a stole, he had his fashion game strong.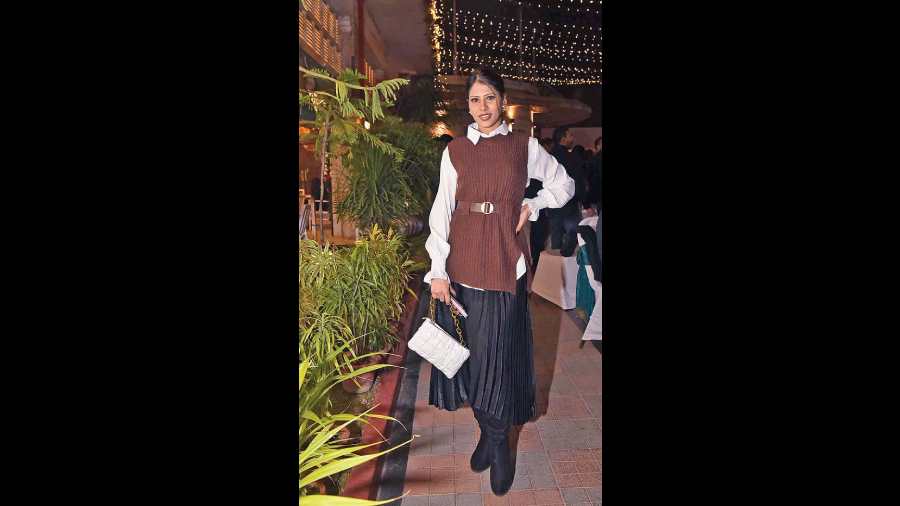 Pleated black skirt, white Victorian shirt teamed with an on-trend woollen vest —Tanusree Jaiswal's OOTN was all about blending style with comfort.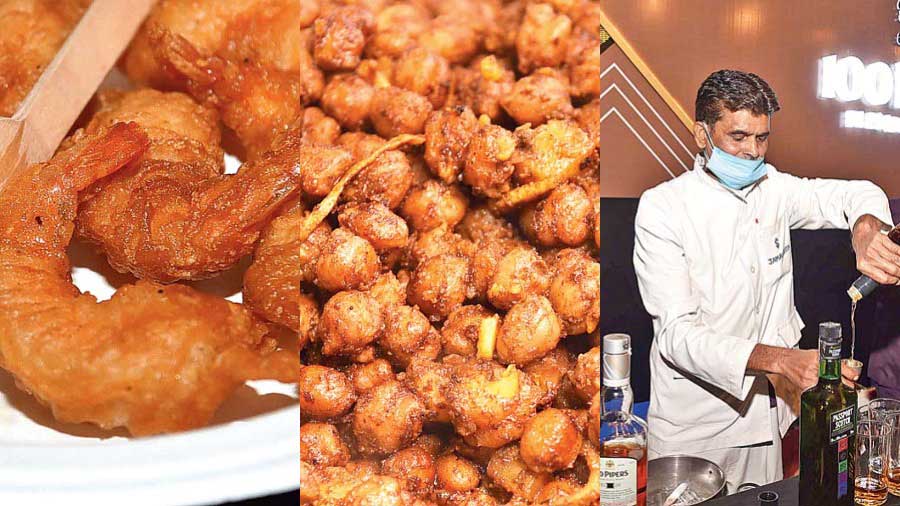 sip & bite
Amber, Red Hot Chilli Pepper and the club kitchen ensured the food was a huge hit as usual and provided enough fuel to the party peeps because who dances on an empty stomach? We loved piping hot delicacies like Chicken Bharta, Chana Masala, Gajar Halwa, Cheese & Spinach Rolls, Golden Fried Prawns, Chicken Shashlik. The bar had steady takers for wine, whisky and beer!
 
Pictures: B. Halder