My stomach had finally given way. After 30 hours of non-stop indulgence in the most sinfully rich Orange Caramel Upside Down and butter-soft Banana Walnut Slice, I had become Bob Biswas. 'Ek minute!' And off I disappeared, returning to peals of laughter and relentless jokes (read bullying!) even as I smiled. Feebly. Gallons of warm water and kilos of ajwain later, I was back to fantasising about the most gorgeous and glistening Orange Caramel Upside Down and just the rightly sweet Banana Walnut Slice. And, the quiche, the keema-stuffed bun, the egg salad, the garlic spiced chicken, the herb rice, the rosemary chicken.... Just a bit more wouldn't hurt, right, because yeh dil maange more!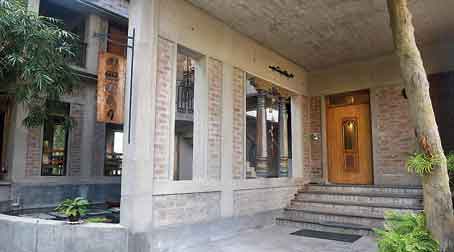 Pabitra Das
Amoli at a glance:
⚫ Where: Amoli, Ratan Pally, near Mud House
⚫ Reach them on: Instagram @amoli_shantiniketan
⚫ Number of rooms: Four. One queen bed, one king bed and two twin beds
⚫ Room rates: Rs 6,000-Rs 6,500 (inclusive of breakfast)
⚫ There is also a performance space, a great spot for your morning workout
⚫ Meal for two at the cafe: Rs 1,200-plus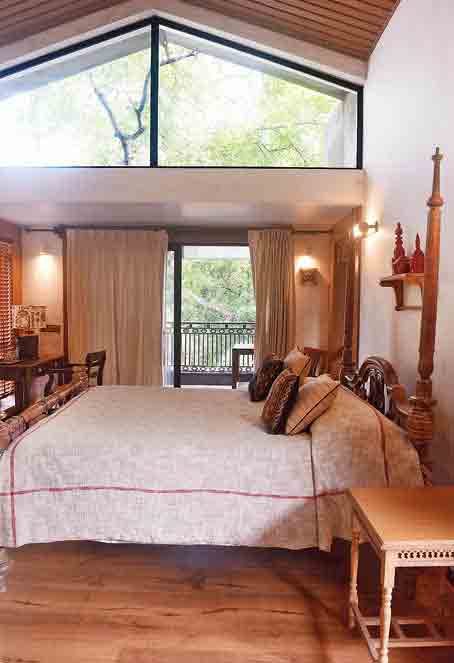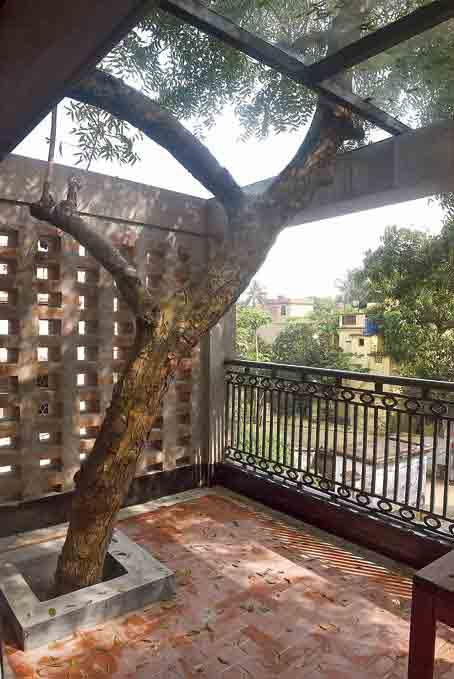 The rooms came with a touch of luxury. "My rooms are expensive. I had to give them that comfort. My towels are made of recycled bamboo. The toiletries are from khadi. I have tried not to use stones too much," said Minkudi. Every room came with a big verandah for you to laze around with your morning cup of tea or to just sit and soak in the stillness of the night, surrounded by nature. "I have a lot of wild plants because they don't die," she smiled. This room gave us tree house vibes!
Pabitra Das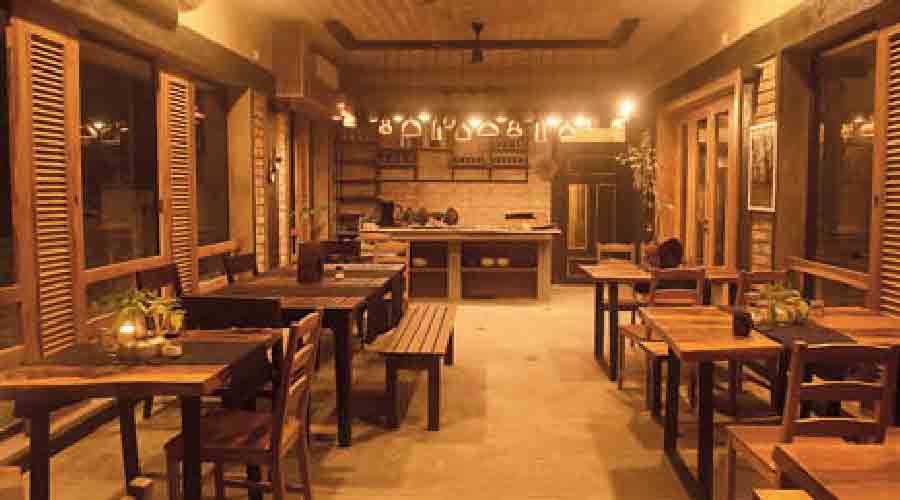 The cafe was the sunshine zone by day and the Zen zone after sunset. The terracotta lights added to the positive energy
Pabitra Das
That was the magic of interior designer Bidisha Tagore's kitchen. That was the magic of Amoli which housed it. Warm, welcoming and comfortable, this hidden gem in Santiniketan's Ratan Pally was home for us on a short trip recently. And, Bidisha, endearingly addressed as 'Minkudi', was truly an elder sister. Having worked with children for a large part of her life, that tenderness was unmissable. She felt like a bear hug, much like Amoli. Precious. Which is what the name means. 
Minkudi's attention to detail could be found in these brass touches on the cafe floor
Pabitra Das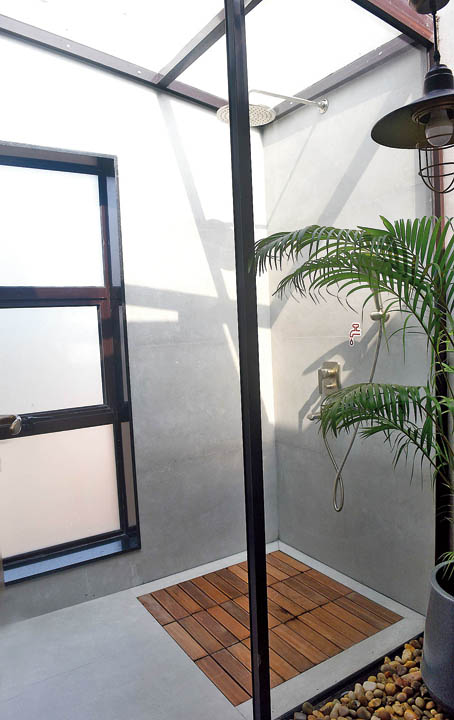 An open-to-sky shower was a highlight in one of the rooms
Pabitra Das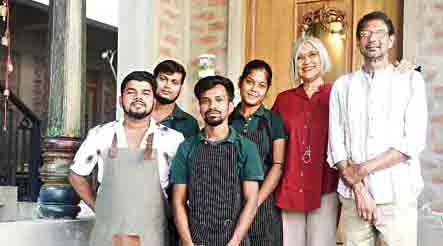 Team Amoli led by Minkudi and Alokeda. "Amoli could be anywhere. Comfort is key and that is something my son taught me. There was a time when everything in my house was white and I would constantly tell him not to put his legs up. One day he told me, this is my home and if I want, I should be able to sleep on the couch and put my feet up and read a book. Aami chai bhalobeshe lok ashuk. Word of mouth is always better. I love people," smiled Minkudi.
Pabitra Das
"This was meant to be," Minkudi said, as we chatted over glasses of warm water infused with ginger. She came to Santiniketan to study design at Kala Bhavana and specialised in ceramics and pottery. Her mother, the adorable Krishna Tagore, had been living here since 1979. Blessed with a creative bent, interior designing happened to her quite by chance when she injured her spine and had to quit her teaching job.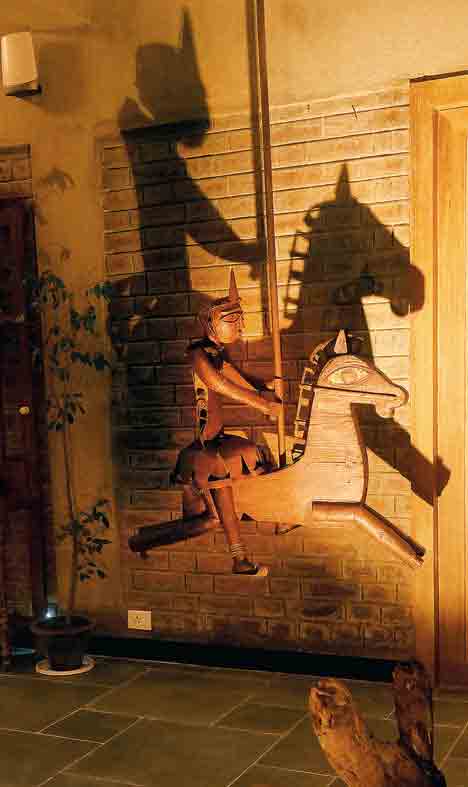 Minkudi said she enjoyed doing up personal spaces more. "They are much more fun because everyone is different. Tar shotta alada aar chintadhara alada. Home is an extension of yourself and journey, your dreams," she said. This Narayan Sinha sculpture exemplified just that. "When I went to Narayan's (like a brother to her) house for the first time, dhukei dekhi eta jhulchhe. I told him this is my Birpurush. My favourite... aamake prothom shopno dekhte shekhai ei kobita ta," she smiled
Pabitra Das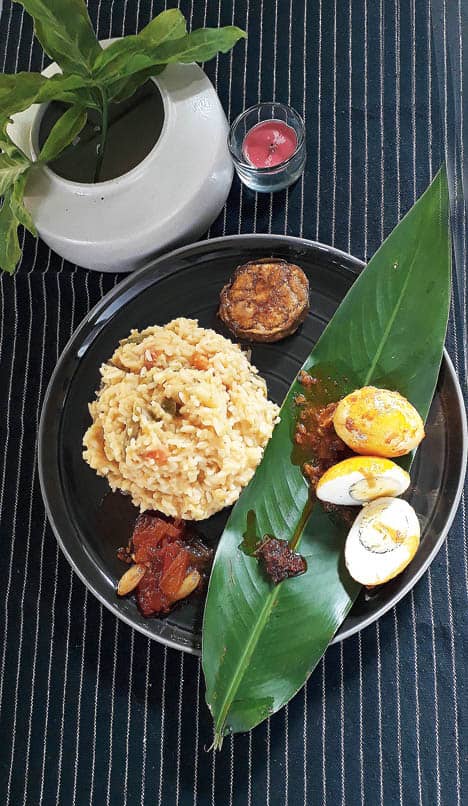 Bhuni Khichuri with Phoolkopi-Aloo + Dimer Kosha + Tomato Chutney
Pabitra Das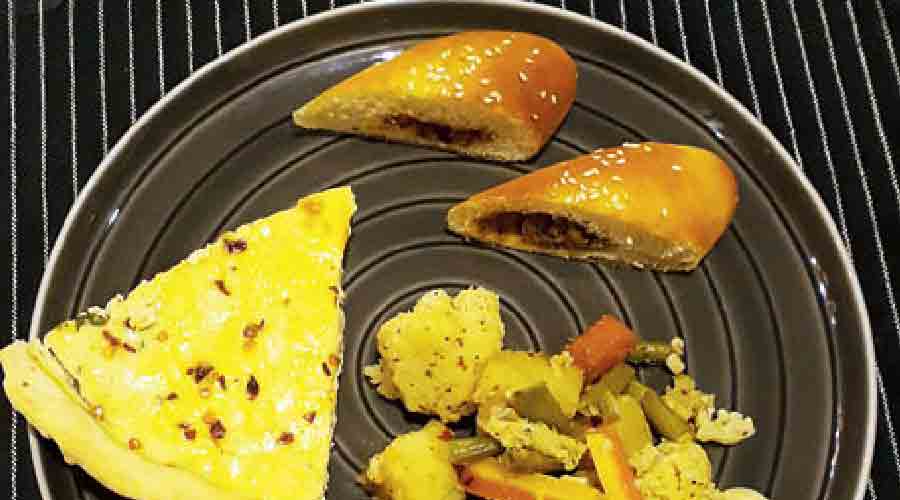 Quiche + Boiled Vegetables + Keema Stuffed Bun
Pabitra Das
"One day friends came visiting and really liked my house and wanted to shoot. Then one of Aloke's (Ghosh, husband) friends said that he needed architects to set up corporate guest houses. That was my beginning. Then I did a friend's house and that was my first project," she reminisced. With no formal training, she learned everything on the job, now with 13 years of experience under her belt.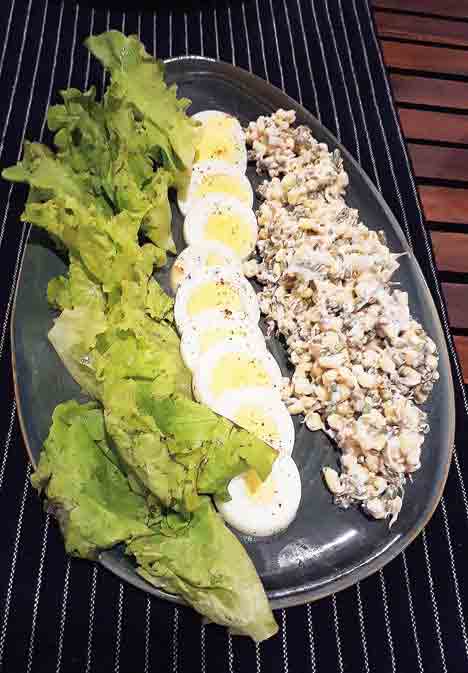 Egg Salad + Garlic Spiced Chicken
Pabitra Das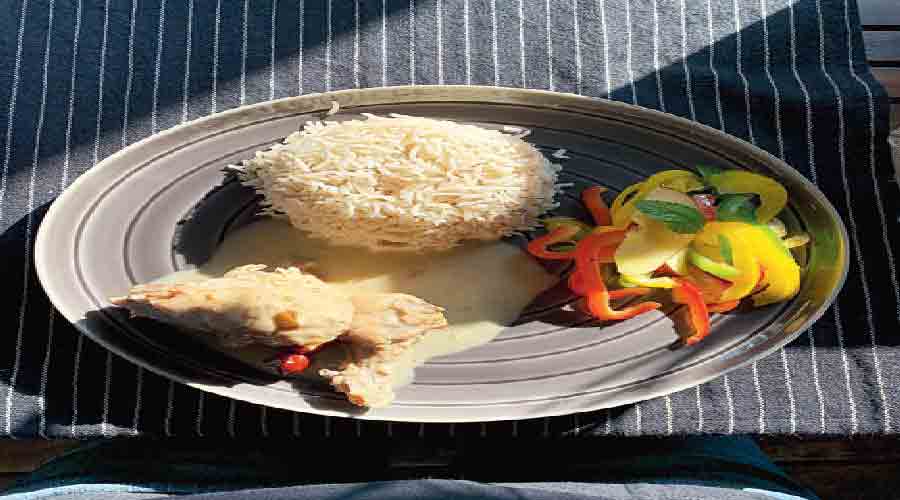 Rosemary Chicken with Herb Rice and Salad
Pabitra Das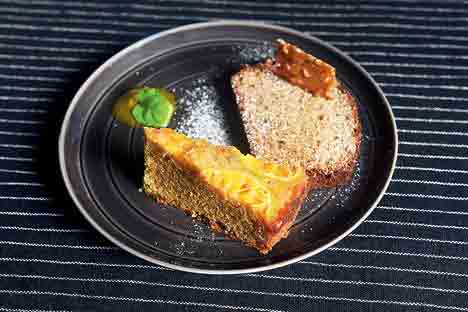 Banana Walnut Slice + Orange Caramel Upside Down
Pabitra Das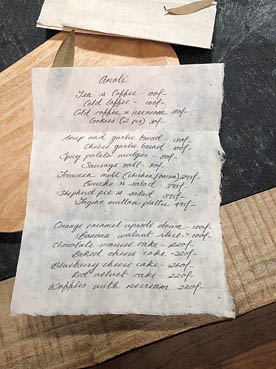 Handwritten menus at the cafe
Pabitra Das
Minkudi and Alokeda decided to shift back to Santiniketan from Bangalore in February 2019. "Both of us studied here and we met here. Ma is also here," she said. And she had Amoli sketched in her mind to a T.
"I wanted a cafe and a courtyard. It was very clear in my head," she said. The two highlights of Amoli. The cafe was the soul. The courtyard with the open sky above wove many a dream. A total mood-maker. July 5, 2021, is when they moved in, on Minkudi's birthday.
As our car drove into Amoli, we had noticed Krishna Tagore sitting by her window, adjacent to Amoli, watching us. Yes, we had come home and we were here to stay.