Since opening doors, both Kolkata Centre for Creativity and Emami Art have satiated the city art-lover's appetite with their robust, extensive and inclusive programming. From exhibitions to art fairs, interactive sessions to performances and more, both the spaces have kept their promise of engaging with the arts in a manner that often opens doors and leads us to the unexpected. The pandemic has not been able to deter them and has only made them more resolute in their endeavour of making art more accessible. And leading the two from the front is Richa Agarwal, chairperson, Kolkata Centre for Creativity & CEO, Emami Art. In person, Richa is as warm and gracious as she is earnest in her objective of bringing good art to the city. "If you ever come across good artists and think they should come to Calcutta but are lacking opportunity to do so, you have to let me know and I will do my best," she has always told me. Her excitement about having good artists and art at both KCC and Emami Art are easy to see and the programming at both the spaces over the last three years has paved the way for more exciting things to come. In a candid chat, Richa looks back, and also ahead. Excerpts:
Three years down, more to go. How do you feel?
When I look back in time, it feels like it was yesterday. On November 21, 2018 the Emami Art gallery opened its door first with a survey show of Dashrath Patel and ever since, there has been no looking back. With several significant exhibitions of talented emerging artists working with new concepts and experimental mediums as well as modern masters like Jogen Chowdhury, Ravinder Reddy, Bose Krishnamachari and, most recently, Kartick Chandra Pyne, in the last three years, Emami Art has evolved as one of India's most active, multi-faceted modern and contemporary art galleries. It is a proud moment for me.
What overwhelms me the most is that we have a fantastic young and dynamic team who work together to bring out the best of what we have. November 21, 2021 marked the third anniversary of both KCC and Emami Art. The organisation celebrated the occasion as much as a moment of joy and accomplishment as one of determination and responsibility that it has many miles to go and lots to achieve soon.
How did you navigate the pandemic? What were the biggest challenges and how did you overcome them?
The pandemic has been a difficult phase for us all and art institutions worldwide, as well. However, we at Emami Art and KCC continued to put up shows, events, and exhibitions online despite the pandemic. Instead of looking at the new digital activities as an alternative to the onsite, physical ones, we explored it as an independent and unique medium of aesthetic experience, entertainment and communication. Going beyond the regional and the national, we have constantly tried to deepen our ties to the international art world, interrupted by the pandemic.
Despite the pandemic restrictions, I am tremendously grateful for the overwhelming response from the city's art lovers and outside. Emami Art wishes to grow stronger in the upcoming years, with more substantial programming and activities: exhibitions, publications, seminars, live talks, etc. We sincerely cherish the love and support we have received and recognise the responsibility bestowed upon us. We hope our initiatives will create a domino effect in this post-pandemic world — shaping a better future with art, culture and creativity.
What areas make you proud of KCC and what do you want to work on more?
Kolkata Centre for Creativity evolved around the same time, three years back and within a short period, it has turned into a vast, multi-disciplinary, dynamic cultural space to promote culture and art. An organisation with an open and inclusive cultural outlook, KCC moves forward with one vision and mission in mind — to build a culture that addresses glocal (global + local) concerns through art and creativity with a network of people-public-partnerships.
We have a broad array of new ideas and programmes in the near future, incorporating both digital and onsite platforms. We hope to involve more creative people and organisations as partners through art practices, research, documentation, conservation, display and public engagement. We wish to act as a catalyst to facilitate capacity building, which will help artistic professionals and emerging artists to create more innovative work informed by the more balanced worldview and help them work towards fulfilling the goal that KCC has in mind.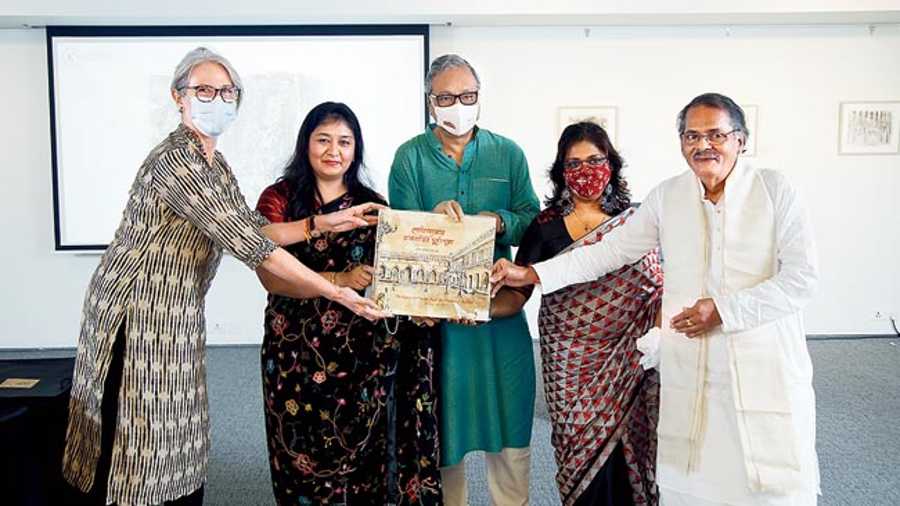 (L-R) Rowan Ainsworth, consul general, Australia; Richa Agarwal, chairperson, Kolkata Centre for Creativity; Jawhar Sircar, member of parliament, Rajya Sabha; Sushmita Basu Singh, member of RRitobak and artist Prabir Krishna Deb, releasing the book on Deb's illustrations during the inauguration of the exhibition on 'Durga Puja at Shobhabazar Rajbari: A Tryst with History and Heritage' held from September 25 to October 5 at Kolkata Centre for Creativity.
What can we look forward to from KCC in the foreseeable future?
Kolkata Centre for Creativity has been flourishing as a creative platform over the last three years. KCC promotes research and experimentation and champions inclusivity and accessibility in the interface between the arts and society. With more than 110 onsite and 120 online programmes, KCC has successfully become a unique inclusive space for diverse audiences to mingle and exchange thoughts, ideas, and aspirations in a very short time. All these and more have contributed to the KCC's emergence as one of the most relevant cultural institutions in the country.
It is inspiring to see the wide variety of significant international, national and regional institutions and organisations who have shown deep interest and came on board either as collaborators or sponsors to support our projects. We have also recently received the support of Nazrul Tirtha and Biswa Bangla for KCC's Annual Cultural Festival, the AMI arts festival, also supported by Emami's CSR initiative. There will be a delightful art and craft bazaar, music concerts, workshops, a virtual conversation series, and film screenings at the festival. There are many other projects and initiatives lined up for the future.
Pictures: Courtesy of KCC