Dressed in a hoodie and a pair of black pants, we catch Raihan R Vadra returning from the food court at The India Story presented by Neotia Arts Trust (TIS), in association with The Telegraph, at Swabhumi,when we stop him for pictures. In his 20s, Raihan was at TIS to showcase his photography. Unassuming and humble, Priyanka Gandhi Vadra and Robert Vadra's son doesn't think the Gandhi legacy weighs him down. In fact, he talks about it only when you bring it up during the conversation. We loved how fuss-free it was to reach him at TIS, just like any other participant. In fact, we sat down on the steps for this chat.
Tell us a bit about yourself...
I am a photographer...
And, a football lover...
Yes... big. (Smiles) I don't know which one comes first! I work on those two things both in my work time and free time.
And, you've had this passion for photography for a decade now. How did it begin?
Yeah, close to 13-14 years. I used to spend a lot of time in the jungles and would go on night trips to Ranthambore (Rajasthan) and to Corbett (Jim Corbett National Park, Uttarakhand). So, I picked up my mom's (Priyanka Gandhi Vadra) old cameras. She used to do a lot of photography. As a kid, I had a vivid imagination and a creative mind. That translated well into photography.
When did you start taking it seriously?
Well, I have always wanted to be a wildlife photographer as a kid, but then I injured my eye. I got hit by a cricket ball and I didn't do photography for two years and when I picked it up again, that passion came back. So, in the middle, there was a period when I didn't know this is what I wanted to do. So, you can say maybe 2019.
What did you start with?
So, I started with a point-and-shoot Canon and then when I started doing it properly, I took my mom's old equipment. So, Canon 5d mark i is the one I used for a long, long time. Then I switched to a Sony NEX-7 and now I use a Nikon when I am doing wildlife and the Sony for street. For street, I mostly use the phone. Eight out of the 10 pictures are taken on my phone.
So, wildlife still remains a passion?
Not anymore. I love being in Ranthambore and taking photos of tigers. But I now like documenting life, in whatever form that may be. It's just that I haven't photographed people so much, so that is something I want to do.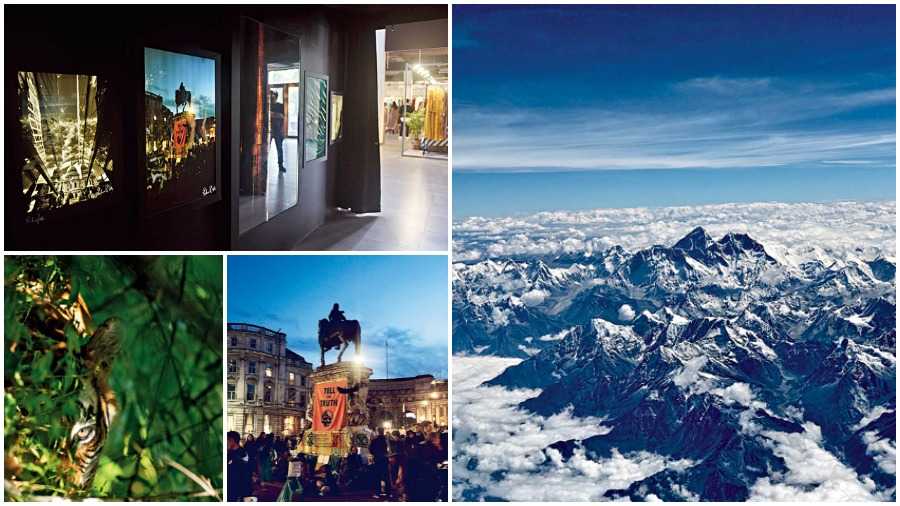 (Clockwise from top left) Raihan's work at TIS, Everest, Democracy, Eye Spy
Who are the gurus you look up to?
There aren't any gurus per se, but for example I look up to a lot of portrait photographers even though I don't do it. There's Platon, Steve McCurry and out of the Indian ones, there's Raghu Rai and some people of my age. Sujat Roy's (artist) camerawork is great. Sarah van Rij is a photographer from New York Times, and a vast variety. Nowadays instead of buying books, it's all on Instagram. So, there are many who inspire me.
You have brought your first exhibition to Calcutta, after Delhi...
This is the first one outside Delhi. I did my first big exhibition in July (Dark Perception) and then this is a smaller version of that. The Delhi one was more of an experiential thing.
You have said you don't like conformity...
It was about control and even here there are no captions. I am not telling anyone that this is a bench and this is what it means. You look at it and decipher what this piece of art means to you and how you interpret. It's not my place to lecture anybody even about what my photos mean.
Does this stem from your regimented life? Do you want to break free sometimes?
Obviously, I'd be lying if I said that has no influence. It probably does, but it's not exactly where it comes from. I have been living in London for the last three years, studying (politics). I have been lucky to be free, in my own space. Even in Delhi, I try to be in my own space as much as I can. My parents are completely chill and let me do what I want. It's not as big as people would think, but there's definitely an influence of that.
Does your legacy weigh you down? Is it pressure to be a Gandhi and a Vadra?
Not at all. And the credit goes to my parents. First of all, being in Doon (The Doon School, Dehradun)... I don't think I ever had it, but even if I did, Doon knocked it out of me. Especially if you are someone known, it's a bad thing (in Doon). I was in Shri Ram (The Shri Ram School) before Doon. So, I have been with the same kids. My life is pretty normal. I watch a lot of football and take a lot of photographs. I get stressed out by my university and the same things that people my age feel.
Do you see yourself in politics?
No... I think everyone at some level has to be interested because it's your life, but there's that and then there's being in politics. I can answer it from my perspective right now... no.
Lionel Messi or Cristiano Ronaldo?
My Messi-Ronaldo stance is that these are the last couple of years to enjoy them and we've got to enjoy both of them. There is no point in arguing. I am a Tottenham Hotspur fan. So, I love Son (Heung-min). I run a podcast about football (The Eighteen Yards Podcast) and we are trying to be as regular as we can. We are four students living in four different parts of the world.
Who do you see as the next big thing in world football?
I really like Pedri from Barcelona, from Tottenham, there's Oliver Skipp and most Indian football fans will say this... Dilan Markanday, who is a British-Indian player and is breaking into the team (Tottenham), hopefully he can do big things for the South Asian community. Good to see a South Asian player in the Premier League.
Where do you see yourself in the next few years?
I am planning to take similar concepts (like his July show in Delhi) to other cities... like I have come here in Calcutta and maybe, I'll try Mumbai as well. I am trying to bridge the gap between photography and art and trying to learn something new every day. Like on the flight here, I was trying to learn how to produce music. Still learning Photoshop....
BLURB
My life is pretty normal. I watch a lot of football and take a lot of photographs. I get stressed out by my university and the same things that people my age feel — Raihan R Vadra