On the morning of February 3, 1943, a solitary tram with a handful of passengers unceremoniously trundled across from Kolkata to Howrah over a gargantuan engineering wonder named Howrah Bridge.
It all began with an editorial in The Statesman on June 25, 1914, hailing the government's initiative to "replace the existing Howrah Bridge" with a "noble and impressive entrance", which would give visitors a feel that "he is at the portal of the second city of the empire".
The approval for the grand bridge came after three years, when (then) Calcutta had already lost much of its glory to Delhi.  
The outbreak of World War I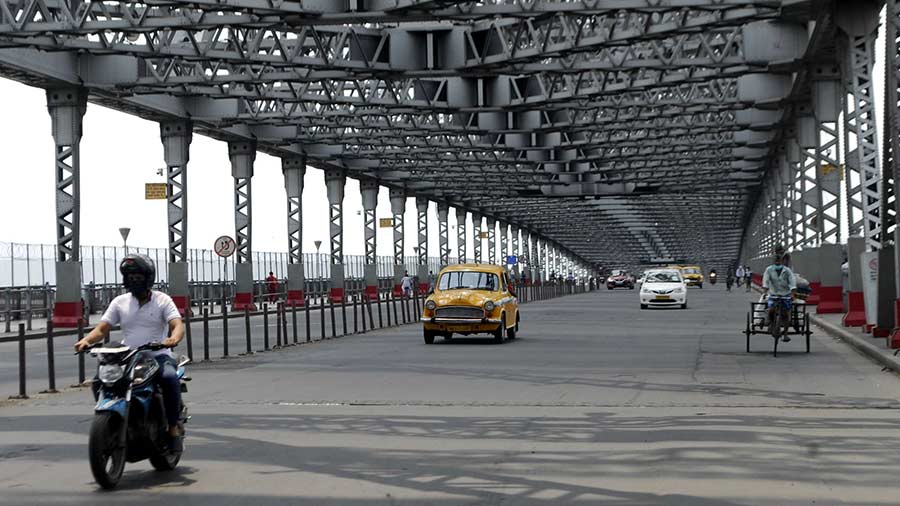 A glimpse of Howrah Bridge when traffic is light
Amit Datta
The outbreak of World War I in Europe further jeopardised Calcutta's fortune of getting an engineering wonder of its time and the city had to wait for more than a decade to get another proposal of a bridge over the Hooghly.
There was earlier a floating bridge over the Hooghly, called a pontoon bridge, that connected Calcutta and Howrah, from where the rest of India was connected through a giant railway station.
Opened on October 17, 1874, the pontoon bridge was also an engineering wonder. The floating bridge had an unique technical system of opening up in the middle to allow water vessels to pass. The bridge designed by Bradford Leslie was actually meant for only 25 years or so. Thus, from the beginning of the 20th century, a huge project was taken to build a new bridge over the river to handle vehicles and passenger traffic between two industrially rich cities.
The completion of Howrah station in 1911 as India's biggest railway station and the booming of Howrah and Hooghly districts as one of the biggest industrial zones of Asia increased the importance of a bridge with greater capacity and 24-hour operational flexibility. So, the burning need of Calcutta's commercial importance actually accelerated to execute the plan to erect a new bridge from 1910.
At the end of the war, with much brainstorming among engineers and city planners, the Howrah Bridge Act was passed in 1926 and again amended in 1935. Soon, the government sanctioned a significant budget.
Based on the Mukherjee Committee report, it was decided to build a suspension-type balanced cantilever bridge with truss arch, which was second to none in India and even in Asia. The idea was initially rejected by many noted engineers who thought the soil condition and wind speed of Calcutta is just not appropriate to take load of such a huge structure in hanging position.
Decision to make a cantilever bridge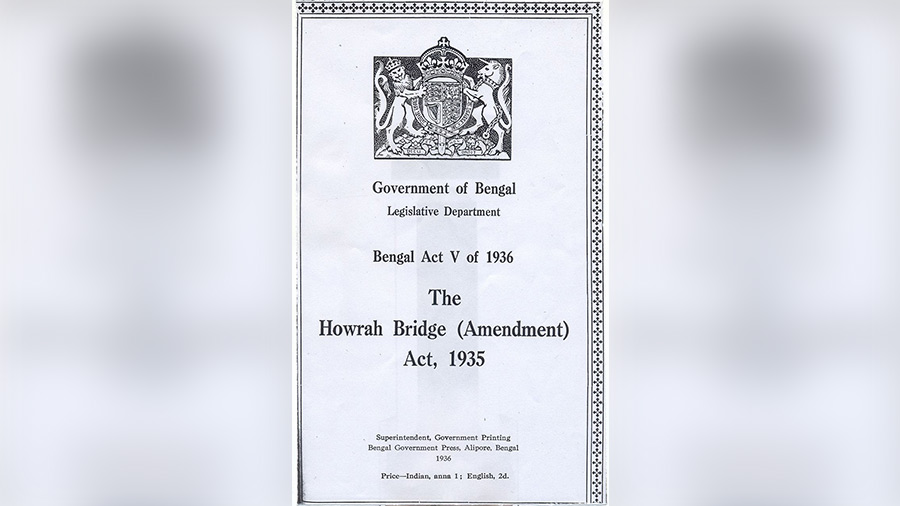 The Howrah Bridge Amendment Act, 1935
Wikipedia
However, the committee stuck to its decision of making a cantilever bridge and soon a global tender was floated in the mid-1930s. In 1935, the Government of India Act was passed to hand over many administrative powers to Indians to run provinces and it was partially clear that British rule in India was slowly approaching its end.
The new bridge was designed by Mr Walton of Rendel Palmer & Tritton, a company that won the design award, and finally the global tender was floated to build the bridge.
A German company named Krupps quote was found most economical and technically sound but thanks to the Anglo-German relation of that tensed time the order was finally given to a London based British company named Cleveland Bridge & Engineering Company who sub-contracted Calcutta based European run company Braithwaite Burn & Jessop Construction Company for fabrication and final erection.
Finally, in 1937, work started for a dream bridge which would be the last major infrastructure investment of the British in India in its 190 years of colonisation. The initial plan was to make it a grand structure 705 metres long, 31 metres wide with two giant towers each 80 metres high — all made of pure steel with no nut and bolt used anywhere in its whole structure.
One of the earliest landmark projects by Tata Steel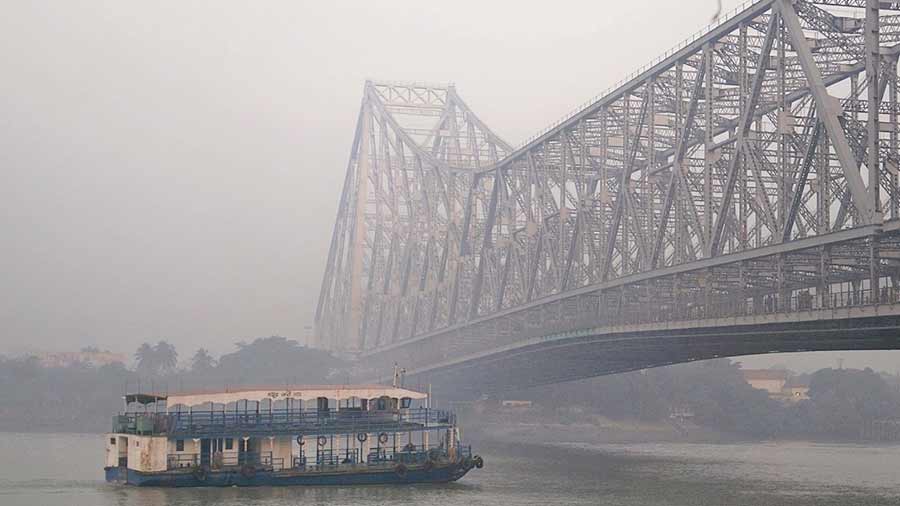 A view of the bridge from the Hooghly
Amit Datta
The project was in need of a total of 26,500 tonnes of steel and the initial plan was to import entire steel from England but the war forced the plan scuttle only after getting 3000 tonnes of steel from England. All of a sudden supply halted. Almost overnight it was decided that Indian steel will be used and who else but Tata Steel was awarded the contract. Tata developed a world-class high tensile alloy steel named Tiscrom. Finally, it was Tata Steel that supplied 23,500 tonnes of metal to make the iconic bridge. This was one of the earliest landmark projects in the history of any Indian steel maker.
Though the work started in 1937 it had many interruptions from the beginning.
Local earthquake in the Kidderpore area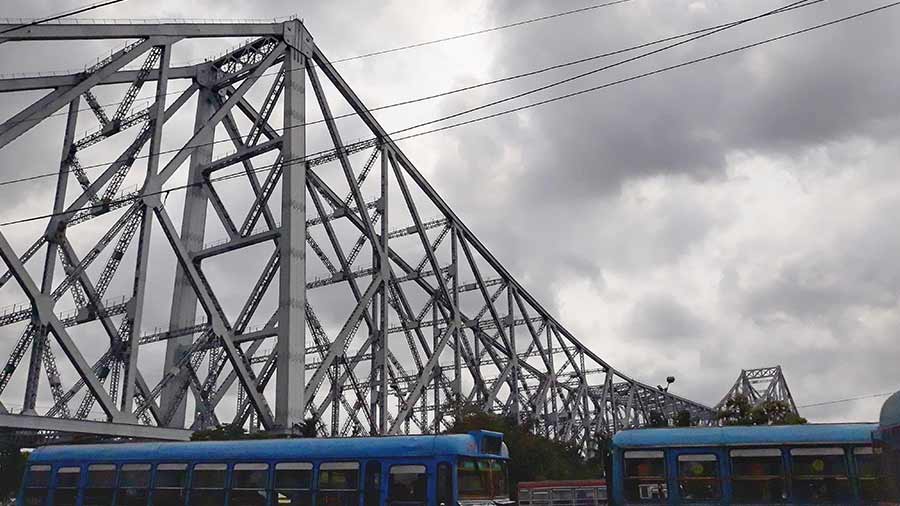 The bridge was one of the earliest landmark projects in the history of any Indian steel maker
Amit Datta
Apart from the shadow of World War II, the bridge construction was moving slowly for many supply issues and also a near-fatal calamity in erection, which caused a local earthquake in the Kidderpore area.
The situation became even worse when Japan captured Singapore and its probable attack on India was palpable. From the beginning of 1942, Japan started occasional bombing in Calcutta and around. It was clear that one of the targets of Japan was to destroy the under-construction Howrah bridge which was a key in logistics support to keep allied forces' supply line on from Bengal to Dimapur.
There came a time when the British army started keeping provision of a plethora of gas balloons near Howrah bridge site and every time there was an air raid by Japanese bomber planes these balloons were released in air to confuse bombers in the sky to locate the exact location of the construction site. Finally, by the end of November 1942, the construction work for India's first and world's third biggest cantilever bridge was over with a cost of £2,463,887.
Its completion was such a satisfaction of its construction company Braithwaite Burn & Jessop Construction company that they avowed it by saying "with the completion of this bridge India came of age in bridge construction and bridge building".
However it is the poor luck of Calcutta that there was no bare minimum celebration to open it.
A gargantuan engineering wonder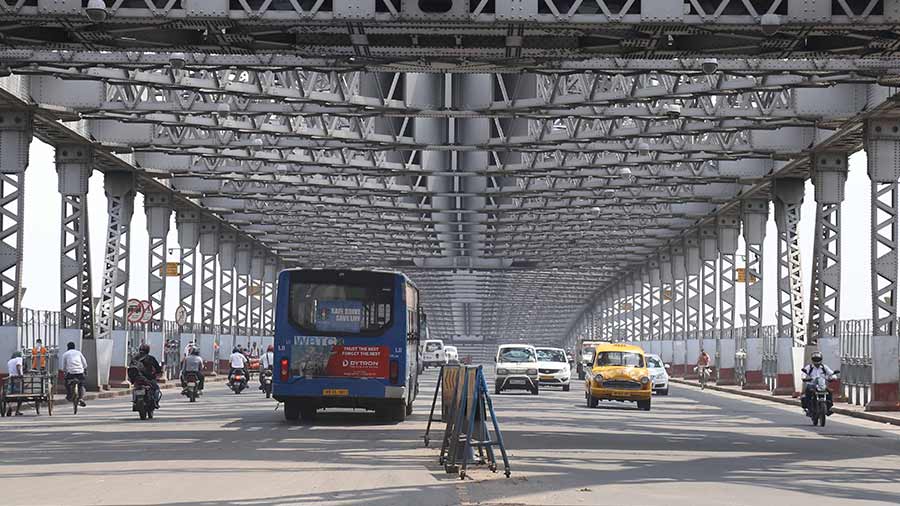 The bridge remains a lifeline for commuters going to Howrah or coming to Kolkata
Amit Datta
When it was expected that such a huge project completion will be celebrated with the presence of the viceroy and other big shots of British Government the bridge kept unused for more than four months and then suddenly one fine foggy Wednesday morning, on February 3, 1943, a solitary tram with handful of passenger unceremoniously rolled from the Calcutta side to Howrah. This was all to open a gargantuan engineering wonder.
David Lockwood in his book Calcutta Under Fire — The Second World War Years described the bridge as "a project so huge, so dominating and so important" that it was a "parsimonious affair". This is exactly the reverse of what The Statesman editorial writer in 1914 thought by saying "Future kings and queens may enter Calcutta by the route daily used by thousands of their subjects".
Within a few weeks the new 2323 ft long, 71 ft wide, 15 ft of pavement on both sides and 269 ft high Howrah bridge became lifeline for commuters going to Howrah station and coming to Calcutta for work.
Japan bombing Calcutta
View from the Howrah Station area
Amit Datta
Then came December 5, 1943. For the first time Japan bombed Calcutta in daylight and along with massive destruction in Calcutta port and civil line it killed nearly 400 plus people.
Surprisingly, on that nightmarish day, not a single bomb was dropped on Howrah Bridge, which was then operative and clearly visible from sky. This was a near miracle for a huge newly born bridge, which will later become the most common icon of Calcutta's landmark and will dominate popular culture in cinema, music, literature and photography.
Appearance of Howrah Bridge in documentaries, commercials and in films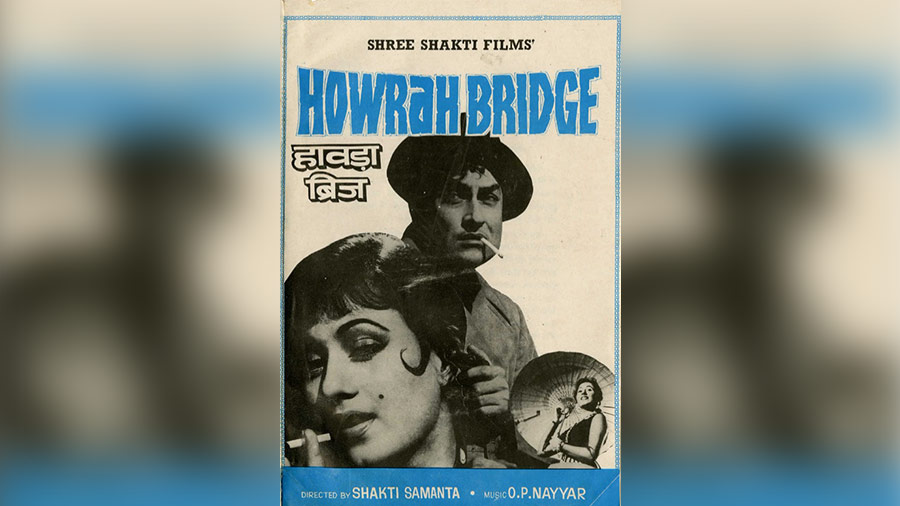 Poster of the film, Howrah Bridge, starring Ashok Kumar and Madhubala
Wikipedia
Such was the iconic status of Howrah bridge that in 1958 Shakti Samanta made a movie titled Howrah Bridge, starring Madhubala and Ashok Kumar. Although none of them had any shot on the bridge, Omprakash the famous actor was seen crossing the bridge singing a superb song composed by OP Nayyar and sung by Md Rafi. The bridge was so wonderfully cinematographed in the film that it became a tourist attraction to the rest of India. Soon, Howrah bridge, which was providing service to more than 10 lakh people every day became the Gateway of Calcutta. It flooded in postcards, documentaries, commercial advertisements and in films.
From Satyajit Ray, Ritwik Ghatak to Raj Kapoor, Bimal Roy, Dev Anand, Mani Ratnam and many foreign directors featured Howrah Bridge in their movies to make people believe that the background of the film is Calcutta and nothing else. Howrah bridge got its immortality in Indian cinema when Hemant Kumar shot a song of his film Khamoshi sung by Kishore Kumar, written by Gulzar and picturised on Rajesh Khanna and Wahida Rahaman in 1970. The song was Woh Sham Kuch Ajeeb Thi.
The Bridge had its long overdue celebration in December 2006 when Calcutta Port Trust, the present owner of the bridge, decided to illuminated it in the most modern way.
Dr Anup Chanda, then chairman of CPT, involved Tapas Sen the iconic stage lighting designer as consultant .This was an exceptional decision to illuminate a bridge.
Lighting up the bridge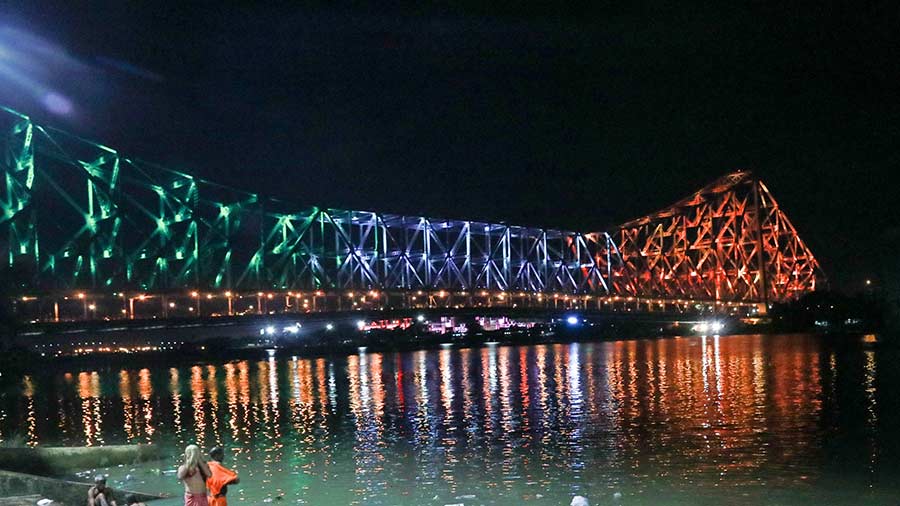 Howrah Bridge at night
Amit Datta
Sudeshna Mukhpadhay, then heading Lighting Design & Application Centre of Philips, headed the project and she still recalls how challenging and delightful her experience was. "For us Howrah Bridge is a soul mate and not a mere iron structure. It welcomes us when we come home and says goodbye when we leave it," she had said. The illumination team used high intensity discharge lamps to do this static facade lighting. "We used metal halide lamps with purple, white, blue and warm daylight colours and the biggest obstacle to overcome was wind speed and non stop vibration of the structure. The safety of installers was also a big challenge. LED lamps then a very new technology was used in both aviation security and beautification." she added.
After 80 years, Howrah Bridge's technical health is not well though KPT has done a wonderful job to retain it workable and strong to shoulder a huge pressure of men and machine.The bridge, which was once a monumental engineering achievement, is still a wonder and busiest among all cantilever bridge across the world. The bridge had no damage when cyclone Amphan hit Calcutta with 100 km/hour plus wind speed in May 2020.
In the film Howrah Bridge Qamar Jalalabadi described it's tumult, din and bustle by saying, "Yeh basti hain aaag ka dariya, isme howrah pool hain/ apni jaan bachalo babu, varna dabba gul hai/ sar par paaon rakhkar bhago – katnewala patta hain."
Even after 65 years, these lines are apt for an aging bridge on the river Hoogly.
Happy Birthday to the Grand Old Lady of Calcutta.