Have you ever told yourself that you want to lose yourself in the ocean? Well, that is quite close to how it felt staying at OBLU Select Lobigili by COLOURS OF OBLU (a brand owned by Atmosphere Hotels and Resorts) at Male in the Maldives, without meeting Jack's fate in the Titanic of course. The resort, which opened on March 24, is a classic example of the blue water-white sand combo and comes with nature-inspired designs as well. Those apart, there are coral reefs and happy marine life.
En Route
The OBLU Select Lobigili experience starts from the time you land at Male's Velana International Airport. We were greeted with the warm smiles and 'hello's by Simran and Aswathy, both Indians who have been working in the Maldives. They guided us to the speedboat that, after we got in and put on our safety vests, went zooming across the blue water. It took just 15 minutes to get to our destination.
The entry to the resort was even more elaborate here, with a saxophonist providing the music and really giving us the vacation feels. The welcome champagne was at The Swing Bar that had an indoor part with an island bar and an outdoor part with an infinity pool that looked into the unending ocean. It was here where we met Rifaa-Ath Saeed, the cluster director of sales and marketing of COLOURS OF OBLU and OBLU Xperience Ailafushi (the upcoming property under Atmosphere). Afterwards, buggies dropped us off to our water villas. We were on the Lobi Plan TM where the package included fine dining, unlimited beverages, a spa session, trips and sports in the ocean, and a mini bar that would be stocked up daily.
Beauty all around
The resort is adults-only. 'Lobi' means love and 'gili' means island in the local language. So the name itself means 'love island'. Situated in Male Atoll and taking up an entire island, it is the latest of the COLOURS OF OBLU properties by Atmosphere Hotels and Resorts. We were literally surrounded by white sand, tall coconut palms and marine life.
The place is strewn with swings with shades shaped like hearts and deck chairs to lie down on after a swim or to take in the sun. Our buggies got onto a wooden bridge that goes to the 22 Nest Water Villas and another 22 SunNest Water Villas. The difference is that the latter have swimming pools. So much water and romance all at once!
I fell in love with my Nest Water Villa at first sight. Wooden flooring was complemented by nature-inspired designs on the walls, the king-size bed was as soft and comfy as a marshmallow, the fan was made of wood and the bathroom was designed in a semi-outdoor manner with the shower in the centre.
But even more than that it was the verandah that took my breath away. It opened to the Indian ocean and all you could see was blue. This had to be my favourite spot of the resort no matter how #ForeverAlone I was. After freshening up, we then made our way to Ylang-Ylang, the all-day-dining restaurant.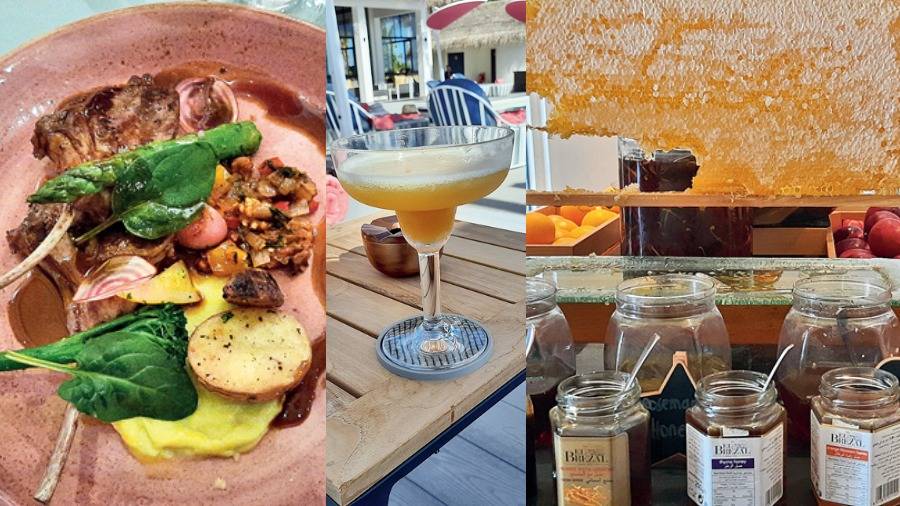 Lamb chops at Ylang-Ylang; One of Sally's specials; The honey comb sleeve at the buffet
Sumptuous spreads
This place too had indoor air-conditioned seating, outdoor seating near the water and an open area near the buffet and live stations. The variety of food on display left me awestruck. Sushi, sashimi, pizza, salads, live grills... And although everything looked familiar, it felt like a new experience. The best part about the buffet was that they didn't serve honey, they served an entire honeycomb sleeve and I could not have enough of it! After wrapping up with some fresh sashimi and ham it was time for a swim.
So I made my way to The Swing Bar and got comfortable on a lounger. It was here that we met Sally from the bar, who could whip up the tastiest cocktails ever. We named them the Sally Specials. "Don't worry, I'll make you something you'll like," she would say and she always did, be it a margarita or daiquiri.
Sally would never disappoint. And sipping on them next to an infinity pool with beachy views? Match made in heaven! After a few sips we entered the ocean water, which was not only clear but felt beautiful to be in. It would be impossible to find a scrap of plastic latching on to your leg making you jump out in a panic, unlike in some beaches that I have seen.
This went on for a few hours till it was time to head back for dinner to Ylang Ylang hosted by the general manager George Amato, Vignesh Mohan, the director of sales India at Atmosphere and Rifaa-Ath. Our table by the beach was decorated with small lights. The resort had set a menu for us and I was looking forward to a night of good conversation and great food. First up was an Avocado Quinoa Salad. Confession time! I am not a fan of quinoa one bit but the dressing that this salad came with and the moist avocado made me changed my mind. I cleaned the bowl out. This was followed by Cucumber Salad, Dahi Kabab, some spicy Amritsar Fish, Chicken Satay and delicious Lamb Seekh Kebab. A small person like me would probably have to roll back to their room after so much food. But then there was a "Wait, there's more!" moment happening. A Chinese Thali. Yes, you read that right. On one platter they served us Udon Noodles, Burnt Garlic Fried Rice, Crispy Vegetables in Chili Basil, Singapore Style Prawns and Steamed Fish in Soya & Ginger. Literal meat sweats!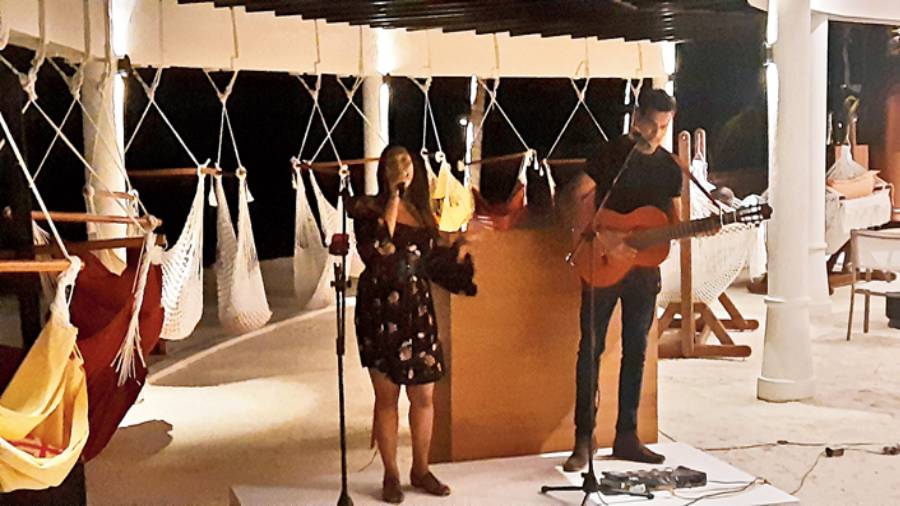 Safoora and Sheriff had her acoustic gigs on days the DJ wasn't playing
New adventures
The next day I got ready pretty fast because a 'floating breakfast' awaited me at the Sunset Beach Pool Villa. The resort prepares meals which you get to enjoy from a heart-shaped tray that floats in the pool. A for romance!
Lucky for me I had.... Moving on. Needless to say, you had the breakfast while in the pool. So I promptly jumped in to start my self-love session. Avocado and Salmon Bagel? Yum! Cheese Plate? Yum! Juice and tea? Yum! Champagne? Double Yum! I was busy doing laps inside the pool and biting into my breakfast as a reward. This had to be one of the best ways to start a day!
After a few hours in the pool, I dried up, had a light lunch and made my way to ELE NA The Spa... you know, for the stress. So, I went for the Stress Buster, a 45-minute therapy for the whole body. They started us off with a tangy drink. The next 45 minutes were pure bliss where the therapist used an oil which had a beautiful lavender smell. A few more minutes and I would have been asleep like a baby. After such a relaxing session followed by some green tea it was only normal to sit next to the infinity pool and do nothing. My body and mind were both at rest.
Then at about 5.30pm I was ready to go for a sunset cruise. Around 6pm or so the sun sets and you can see the rays bursting out from behind the clouds. When it dipped below the horizon, the sky had hues of pink and orange. It was breathtaking and accompanying it with canapes and mocktails made it more fun.
Dinner started with some Minestrone Soup, which tasted homely, after which we were given choices. In the Western menu there was some Sea Food Pasta, Asparagus Risotto, Grilled Prawns and Lamb Chops. Being a red meat girl I went for the Lamb Chops, cooked rare. The presentation was spectacular, the taste was on point and the lamb was cooked to perfection. I had finished my meal off with a bite of their in-house coconut ice cream and went back to my room with a happy cool tummy.
But not before some live music at The Swing Bar. On certain days they have a DJ performing and on other nights Safoora and Sheriff take the stage for an acoustic night. Not only did they sing songs from the Maldives, but also Bollywood numbers and English hits. The Indian in me was mentally dancing!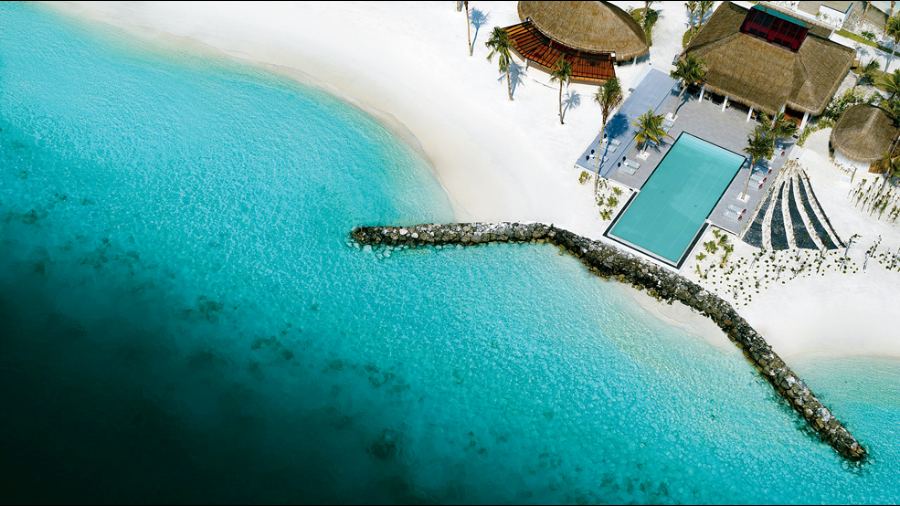 The infinity pool looks into the ocean
Shades of blue
This was supposed to be the last day of the stay, so I had to make the most of it. I had already jumped into the ocean from my villa and the swim was divine but today we were about to go farther and snorkel and I wouldn't mind being a fishie for a few hours. We started our venture at 10.30am after renting our gear (goggles, swimfins and life jackets) from the sports centre and that was when we got lucky.
While zooming on the boat we had a pack of 11 dolphins swimming right next to us. I have this soft corner for whales and dolphins so this was kind of a big deal for me. All of us on the boat started clapping loudly and screaming to get the attention of the dolphins. Luckily one of them did hear us, came close to our boat and did a jumpy jump. The dolphins did stick around for a bit when they jumped out of the water and then went their own way. I was looking forward to snorkelling but I was already content at that point.
But now it was time to get into the water and I got into my gear looking like a semi Robocop with fins and breathing like Darth Vader. Cold, blue water with such a beautiful view! On looking down all you can see are coral reefs and little fish making their way around. We saw a lobster, sea cucumber, and shoals of different fishes. Some of them were hiding in the crevices of rocks and some of them were eating the weeds off them. We even spotted quite a few Dorys but not a single Nemo. Coincidence?
The underwater life is breathtaking, ironically. So, on my last day I decided to only be in water. We snorkelled for about an hour and made our way back to the hotel where we were about to go all-out with the sports we had at our disposal. So, after a swim in the pool and lunch we went for cruise fishing in a boat.
We anchored the boat at around 5pm. I threw the line into the ocean and waited. In a while I got my first pull and I really tried with all my might to pull up the fish but it was smarter and took its treat and bounced. The second time I felt a pull I realised that this second "fish" had to be massive because the line would just not budge! "Your hook is stuck to a coral," said the instructor. But, the third time's the charm, they say, and on my third try I caught a beautiful fish which was white and had spots. Don't mean to stereotype but I guess sometimes a Bengali does need their fish. I rounded off the day with a bit of lazy kayaking followed by a farewell BBQ dinner.
Sustainable plan
Other than providing a comfortable travel destination, OBLU Select Lobigili tries to create a sustainable lifestyle with zero wastage. It uses green energy, cuts CO2 emissions, and optimises energy efficiency. Potable water is made at an on-site desalination unit and served in reusable glass bottles. It supports local communities too. Atmosphere's properties ensure that they do not interfere with the wildlife around.
Saying goodbye
Saying goodbye to such a welcoming place was tough. So just for kicks, before checking out I again made my way to the water from the villas to snorkel. This time although the waters weren't that deep, the view still remained beautiful. And I'm not sure if luck was on our side or not but this time two stingrays had also come to bid us goodbye. I won't lie, I did have a lump in my throat at that point but maintaining a distance sure helped. After checking out, the staff of the resort gathered at the jetty to say goodbye to us. One of the staff-turned-friends Luh Tya Nick gave us the biggest hugs and all of them waved us goodbye till the beautiful island of Lobigili could not be seen anymore.
Lobigili plans to open the ONLY BLU Underwater Restaurant, which would be the largest in the Maldives. They are also set to launch their Gaadiya 17 Food Truck which will whip up meat grills you can have on the go. Since the dive centre on Lobigili is not open yet the guests are taken to Varu by Atmosphere for that. All the more reason to be back.
Pictures by the author and OBLU Select Lobigili