Nitin Bahl is the new hotel manager of ITC Sonar and when you meet the alumnus of IHM Pusa with a specialisation in F&B management from Switzerland, you will find out what a fun guy he is. An ardent pet lover and proud parent of three furballs, Nitin loves talking about food and why not? He has an experience of 15 years in the F&B industry, and has been a part of pre-opening operations across various ITC Hotels and has assisted in the opening of ITC Grand Chola, ITC Grand Bharat, ITC Grand Goa, ITC Kohenur, WelcomHotel Jodhpur, WelcomHotel Pahelgam.
In 2019, he was appointed a resident manager of ITC Sonar, so it made sense that we took a special tour of the F&B outlets in the star property to find out his faves.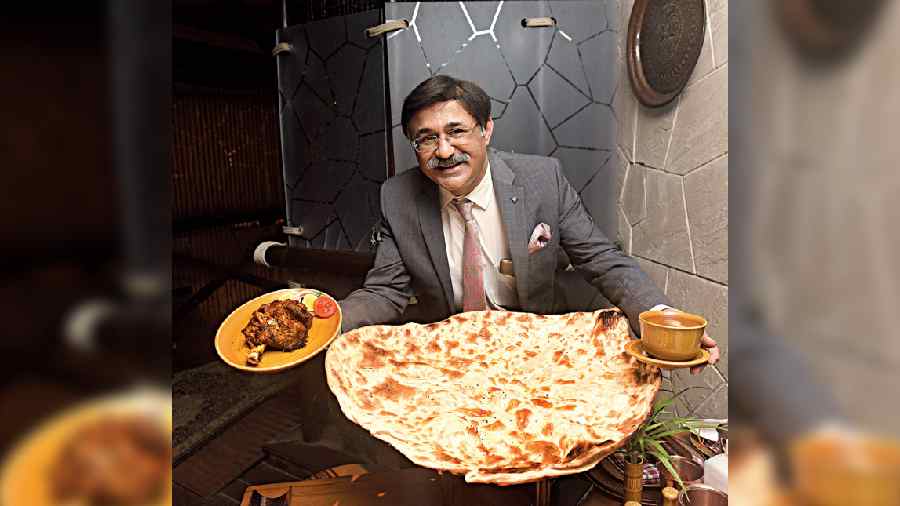 First stop — Peshawri: Talking about his memories and faves at the restaurant that serves a cuisine inspired by the essence of North-West Frontier traditions, Nitin fondly recollected, "My first memory of Peshawri is when I came here, the place was packed. My favourite is the Bukhara Naan primarily because of the size because it is not available anywhere else. This is unique! The whole point of this family naan is everyone in the family takes bites from it, thus you are participating, you bring in love as a family together and that is something I love. Sikandari Raan has been forever popular. I love the Tandoori Prawns and would die for them! And then finally it would be Dal Bukhara because a meal here is incomplete without it, the dish is cooked for 18 hours so the flavours are unbelievable," he said.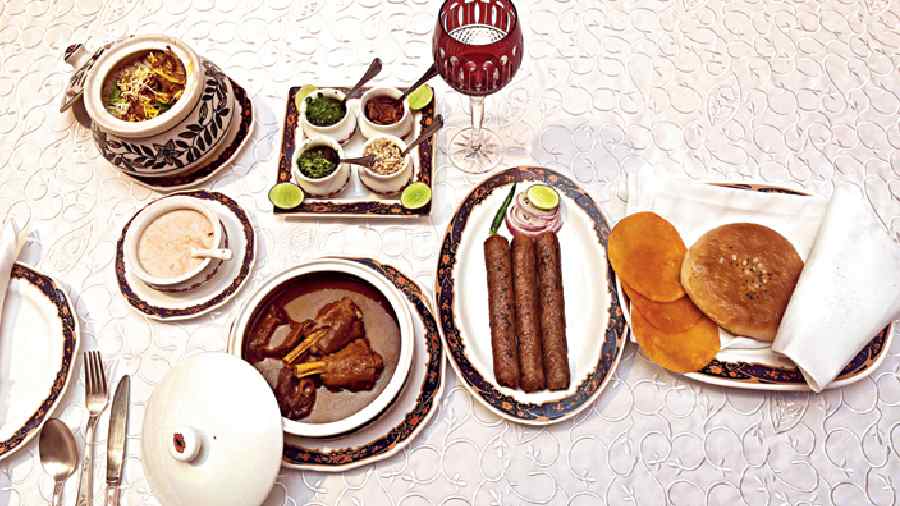 Second stop — Dum Pukht: The moment you walk into Dum Pukht, your olfactory senses are mesmerised by the aroma of spices... a bit of saffron, cardamom, cinnamon.... "I love the regality of this outlet. It's an experience here with age-old recipes, then the linen they use, the glassware, the onyx as a part of the decor... the language they use like "noush farmayiye"... the nazakat is outstanding," said Nitin. So what are his go-to dishes from the menu here? "Kakori Kebab with Sheermal, the iconic Dum Pukht Gosht Biryani and Nihari. Nihari is unique because of the secret spices used by the chefs (Lazzat-e-Taam)."
Did you know there are red and green glasses that are used in Dum Pukht, symbolising vegetarian and non-vegetarian guests on the table. It's like an internal way of communicating and knowing the food preferences of the guests. #SoCool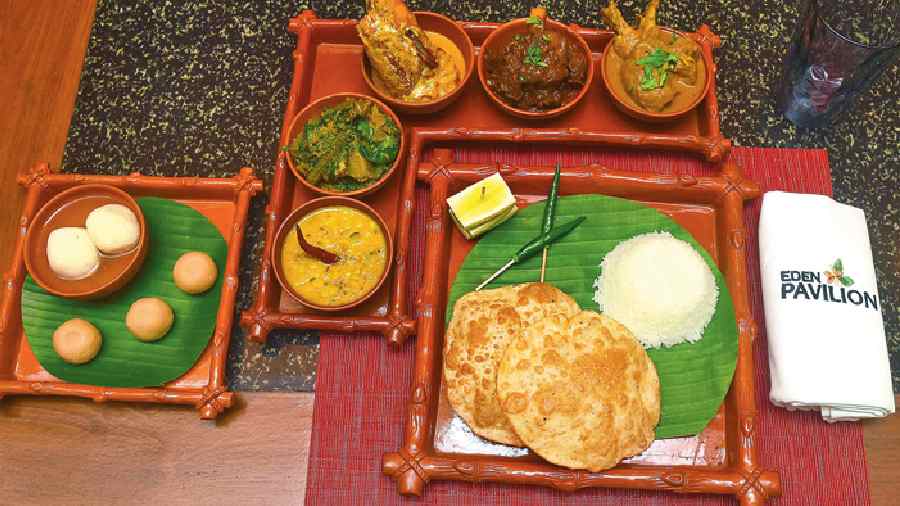 Third stop — Eden Pavilion: "Kolkata is a melting pot of cultures. This quality is best accentuated in its rich culinary traditions, which have been culled through the ages and inspired by several migrations and communities. Eden Pavilion celebrates this unique amalgamation of flavours with a range of delicacies that covers the entire taste spectrum, paying tribute to the myriad cuisines brought to Kolkata by the communities that have made it their home. The menu showcases culinary pastry of the city from the bylanes to age-old traditional fare from royal households, the legendary Kolkata Chinese and much more, all spiced with tales, legacies and little-known secrets. A traditional Bengali spread is a must-have," said Nitin while taking us around.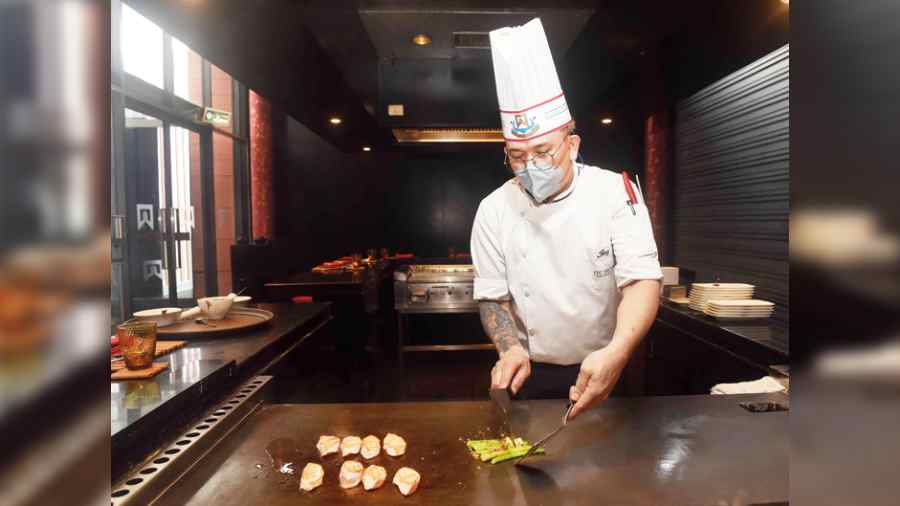 Fourth stop — Pan Asian: Going to Pan Asian to eat means satiating our taste buds and also watching chef Jerry for the umpteenth time showing off cool skills on the teppanyaki.
"Master Chef Jerry Bernasol is famed for his dexterity of spatulas, tossing eggs into his toque and the amazing flambé delights while he works at the grill! Renowned for sushi, Chef Jerry has become a byword in Calcutta for his Teppanyaki Theatre. Enjoy dishes such as Prawn Hibachi, Salmon Teriyaki Steak, Teppan Scallops, Lobster Tail, Tuna Steak, Yaki Udon and lots more," said Nitin.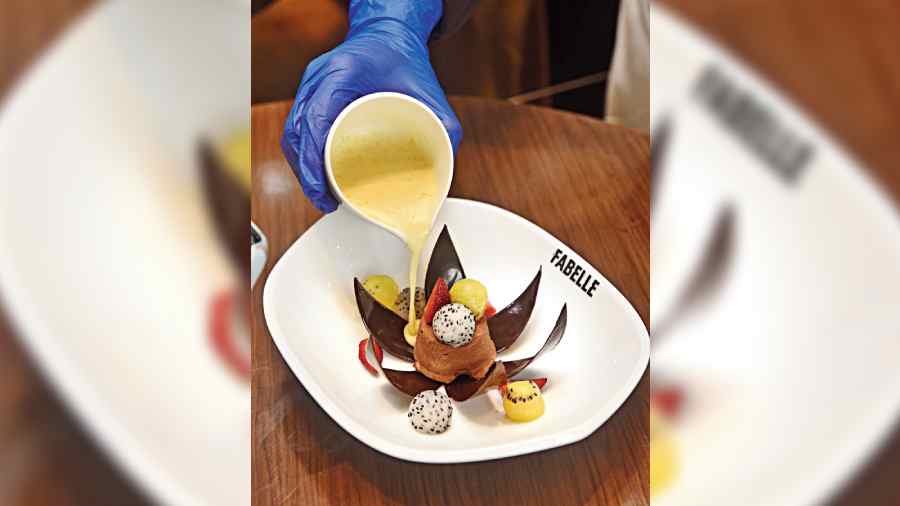 Fifth stop — Fabelle: No meal at ITC Sonar is complete without quickly paying a visit to our fave Fabelle. We tried this stunning dessert, that was art on a plate. "Summers we have seen a huge popularity and demand for our cold chocolate beverages! There are a five variants to choose from," he added.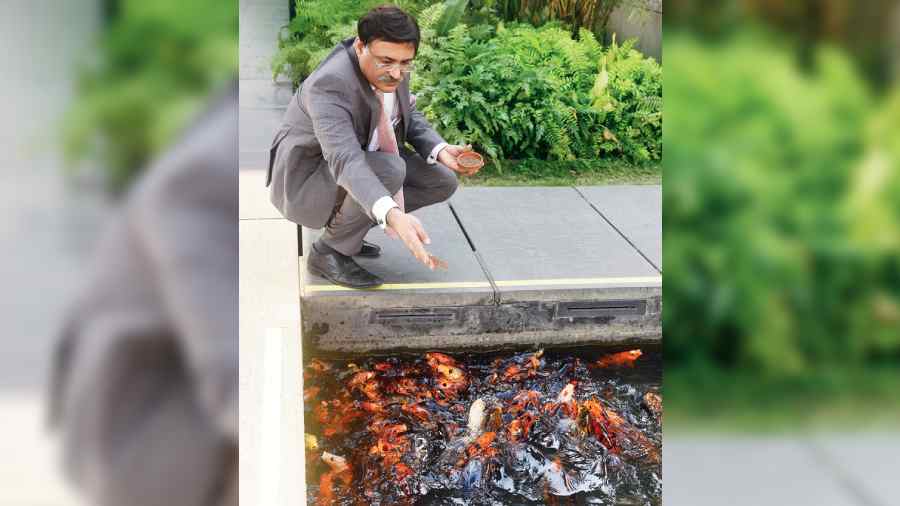 Sixth stop — Tea Pavilions: After hopping in at the food outlets at ITC Sonar and ending up with a full tummy, a leisurely stroll in one of the floating Tea Pavilions on the beautiful lily-filled water gardens was a must. We love how the space reflects the timeless spirit of ITC Sonar. Crafted from wood and glass, these pavilions offer a leisurely experience blending romance with heritage. While we took a break, Nitin, a true Pisces, fed the fish, much to their delight. "There is something very calming in being in this part of the property," he chirped. We agreed!
Coming soon — Highland Nectar: "We are soon launching the 45-seater Highland Nectar with rich wooden interiors located at the lobby, which will envelop guests in luxury, offering a comprehensive whisky menu with rare labels, aged single malts, finest luxury blends and iconic whisky cocktails apart from an array of other spirits, wines, liqueur, beer and cocktails made with fresh ingredients paired with delectable eats from the interactive kitchen. Retro-style music will make you nostalgic," shared the hotel manager of ITC Sonar.
Pictures: Pabitra Das