Artists from Bengal enjoy pride of place at the National Gallery of Modern Art (NGMA) in Delhi, where Nazrulgeeti wafts in the air.
Inaugurated in 1954 by the-then vice-president S. Radhakrishnan, the NGMA has been a pioneer in preserving art. The beautifully curated museum displays the works of the Nine Gems, nine artists recognised by the Government of India as National Treasures (Navratna) — Rabindranath Tagore, Abanindranath Tagore, Gaganendranath Tagore, Nandalal Bose, Jamini Roy, Sailoz Mookherjea, Amrita Shergill, Raja Ravi Varma and Nicholas Roerich.
Six of these Nine Gems are celebrated artists from Bengal. Besides them, two other artists from Bengal — Ramkinkar Baij and Benode Behari Mukherjee — have been paid tribute at NGMA.
My Kolkata takes a look at the artists from Bengal at NGMA…
Rabindranath Tagore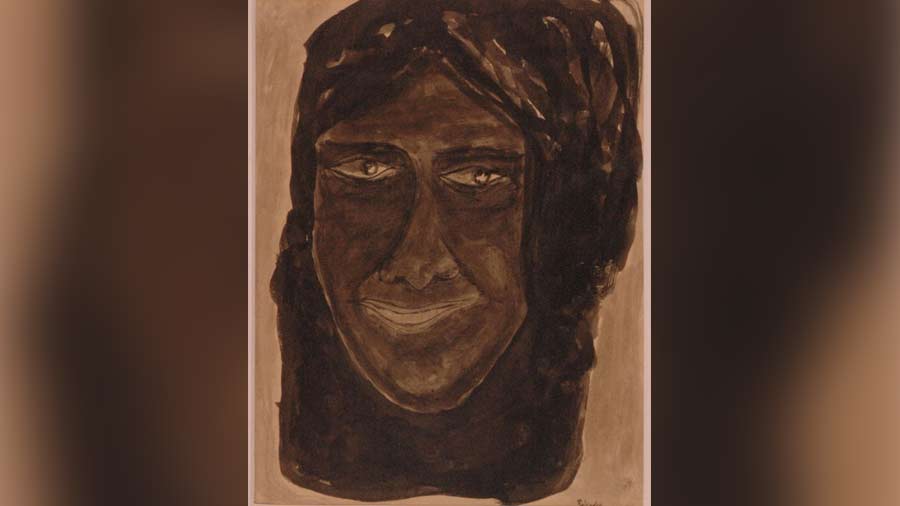 A work done with pen and ink on paper from the 'Portraits, Heads and Dramatic Figures-Rabindranath Tagore' collection
The Nobel Laureate began painting much later in his life, around the age of 70. He was inspired by images of strange beasts, human faces, and elements of nature, both sacred and profane. His ink drawings and paintings are executed freely with brush, rag, cotton-wool, and even his fingers.
Abanindranath Tagore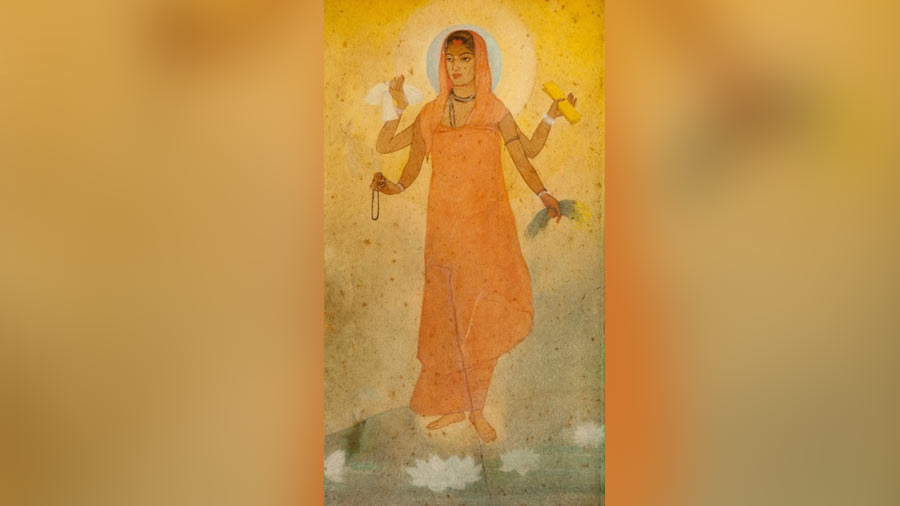 'Bharat Mata' by Abanindranath Tagore
The works of Rabindranath's nephew, Abanindranath — credited with founding the Bengal School of Art — is housed in the room next to him. NGMA houses 99 creations of the artist, including the famous 'Bharat Mata,' painted during the Swadeshi Movement.
Gaganendranath Tagore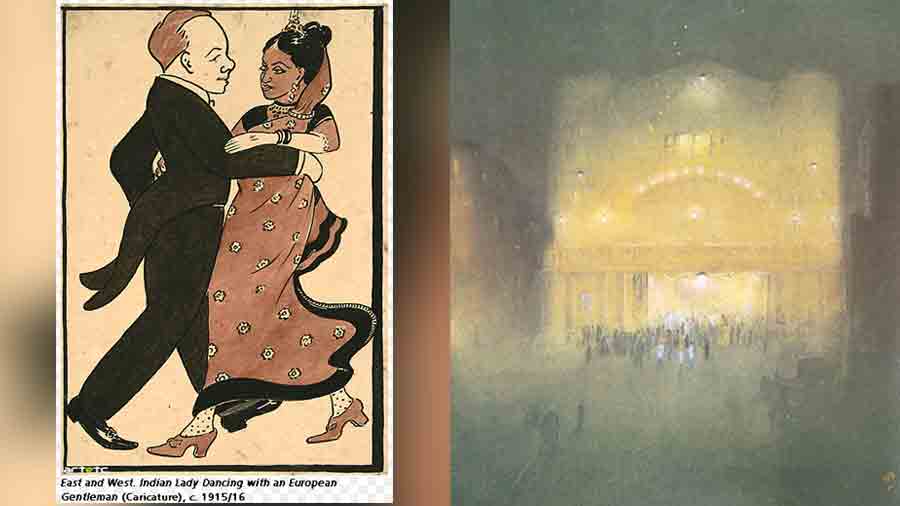 'East meets West' and 'Madan Theatre' by Gaganendranath Tagore
Abanindranath's older brother, Gaganendranath Tagore, though part of and influential in the Bengal School, was also inspired by the Japanese wash technique (diluted ink or colour brushed across canvas without visible marks from the brush), and used satire as a form of expression in his artwork. The Tagore artists' influence on each other was indelible, but their aesthetic and style were equally individualistic.
Nandalal Bose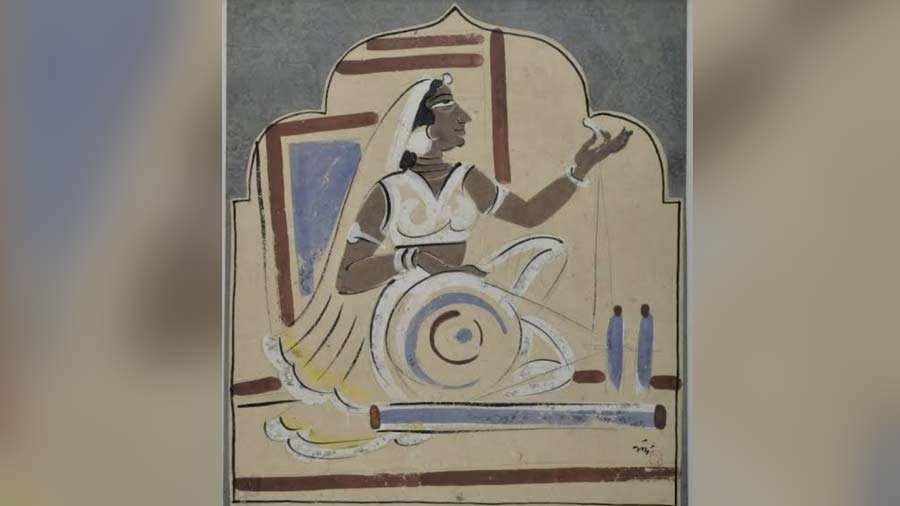 'Wool spinning' by Nandalal Bose
A student of Abanindranath Tagore, Nandalal Bose's work had diverse stylistic conventions, with heavy spiritual inclination. NGMA documents his journey in murals, lithographs and panel paintings done for the Haripura session of the Congress. The paintings was commissioned by Mahatma Gandhi himself, and includes painted scenes from the everyday life of common people.
Sailoz Mookherjea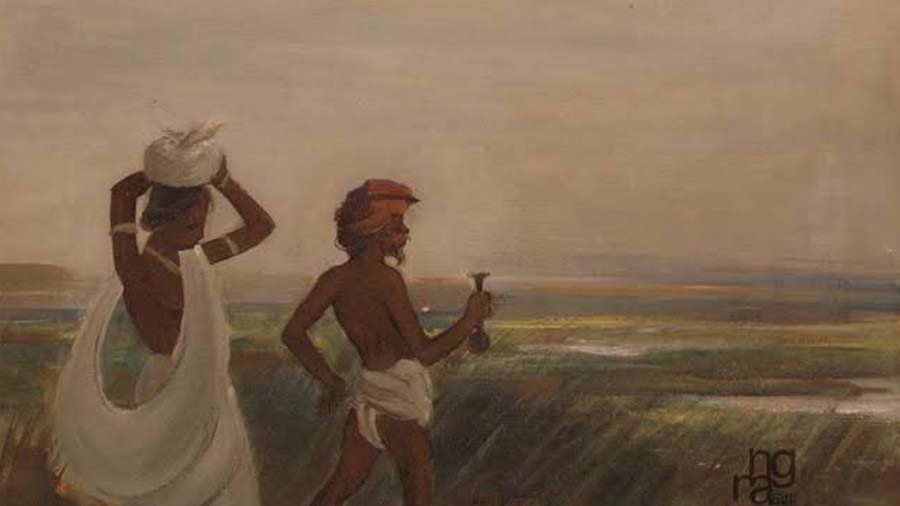 An untitled work by Sailoz Mookherjea
Not much has been researched about Sailoz Mookherjea's contribution to the art world. His paintings depict realism that make him one of the foremost modernist artists. Mookherjea worked with oil in a fluid, expressionist manner, a rare thing at that time.
Jamini Roy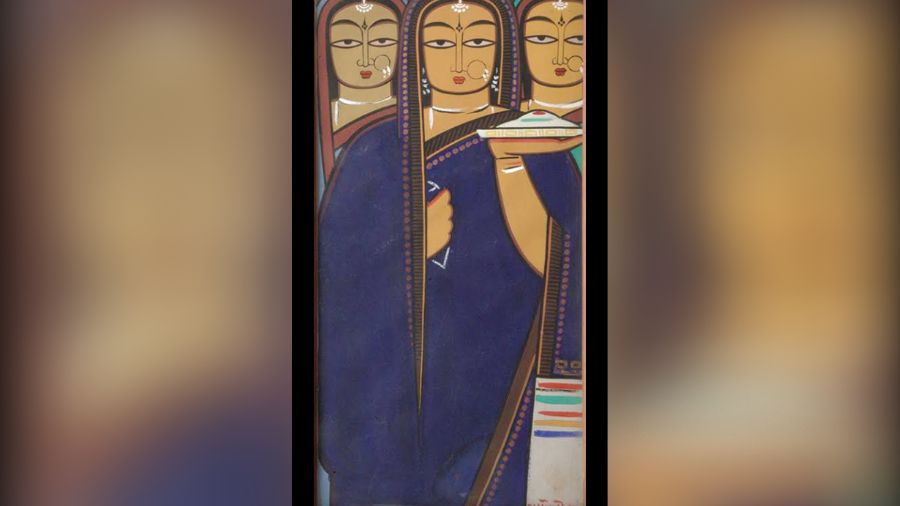 'Three Pujarins' by Jamini Roy
Jamini Roy's works incorporated traditional culture, which served as an alternative to the colonial hangover. The powerful lines of Roy's paintings were likened to contemporary European artists, leading to an expansion of Indian art's vision in the worldwide realm during the late 1930s. Roy's work also traversed beyond the Bengal School.
Ramkinkar Baij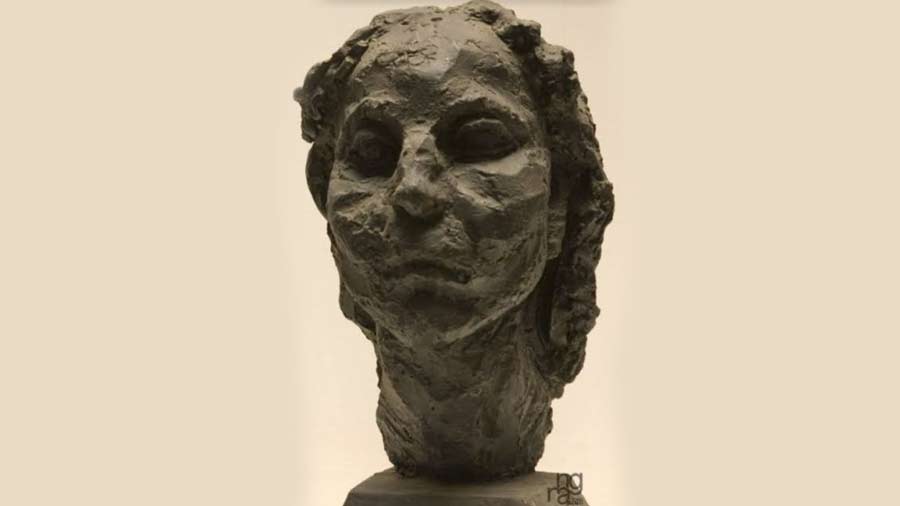 'Daniy Dalani' by Ramkinkar Baij
Ramkinkar Baij defied the 'bhadralok' status quo of Santiniketan vis-a-vis Bengal through his life and art. NGMA has an installation in honour of the artist, who through his perspective of modernity, inspired generations of young artists and sculptors. His work found its basis in the common people, always reflecting a social significance. One of his more famous works — Yaksha and Yakshini statues — are at the entrance of the Reserve Bank of India, New Delhi.
Benodebehari Mukherjee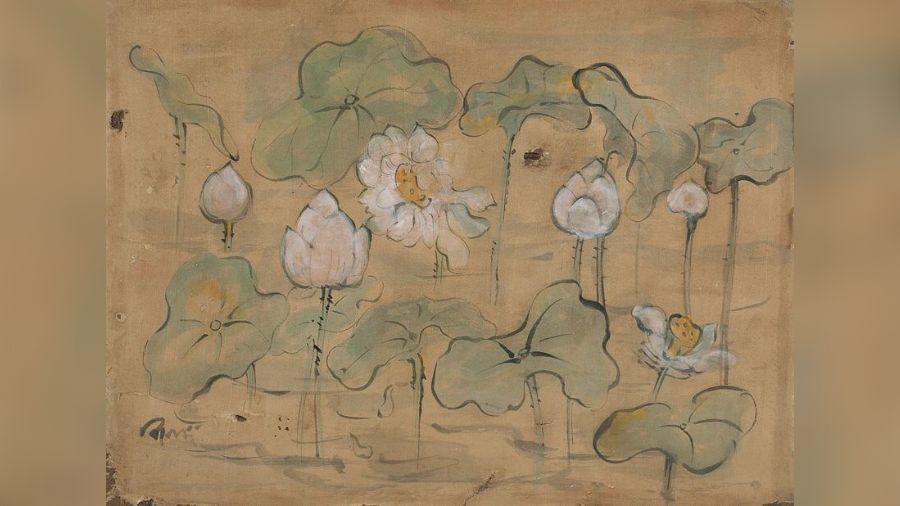 'Lotus' by Benodebehari Mukherjee
Earning the alias 'father of Indian murals,' his contribution in developing Indian art is immense and impactful. A student of Nandalal Bose, and a colleague of Ramkinkar Baij at Kala Bhavan, Santiniketan (also his alma mater), Benode Behari Mukherjee influenced many prominent artists, including Satyajit Ray who made the famed documentary 'Inner Eye' on the life, art and artistic vision of the maestro.
NGMA frequently hosts exhibitions and dedicated events. To check them out, visit the NGMA website.