Between the mid- and late Eighties, I poached on the conversations of my Sportsworld colleagues when they analysed Dalhousie Institute politics, Knight of the Nights, sex lives of members, nascent romances, club bills, extra-marital affairs, double faults and team compositions.  
This was the 70mm-isation of my conservative Mission Row Muslim existence. The conversations provided me with a world view; they introduced me to names beyond my cultural landscape. I never got to know most whose lives came up for scrutiny at Sportsworld, but by the virtue of logging their names into respective folders I had created in my mind, I was able to build repositories. In later years, I was able to 'assemble' memory fragments and respond with a long-known air that would go something like 'Ahhh, Christiaan! Heard a lot about your swimming. How are you faring on the 220th?' Expat Christiaan probably staggered away with a suspicion that I freelanced for the KGB on the weekends. 
Much of the credit for this rich body of information goes to my colleagues — Barry O'Brien, Pradeep Paul, Derek O'Brien, David McMahon, Andy O'Brien and Rohit Brijnath — at the magazine who painted 'pictures', emphasised verbs and rose mid-sentence ('Wait, you have to hear this guys!') to interrupt conversations. More than 30 years after, the piece is not as much a credit to my memory as much as it is to the intensity invested into conversations that continue to live even after most of the actors have passed on.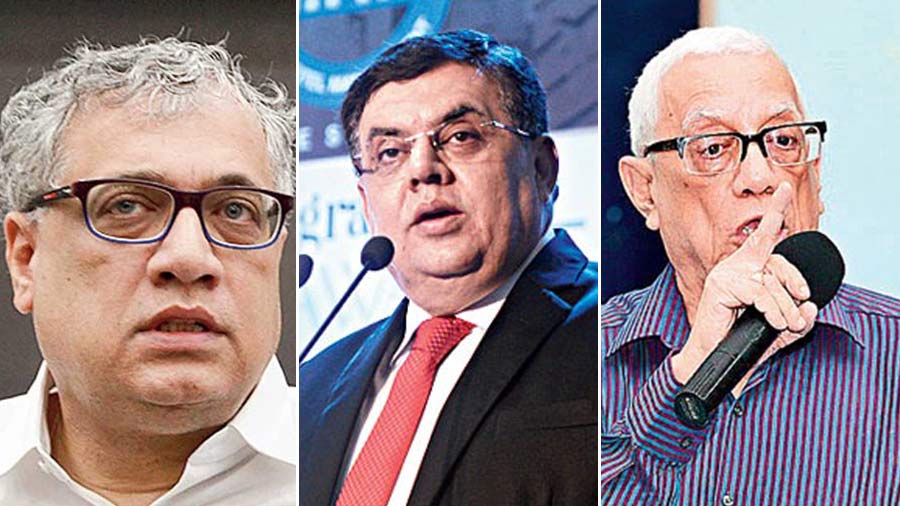 (L-R) Derek O'Brien, Barry O'Brien and the late Neil O'Brien — mainstays of the club
TT archives
I knew of him to the point that I 'knew' him
There was bawaji Jimmy Kotwal who I never spoke to. I knew of him to the point that I 'knew' him. If there was a competition at DI for the lightest adult, Jimmy would have won. Jimmy wasn't thin, he was puny; he wasn't just puny, he was a 46kg cadaver. His swimming trunks were two handkerchiefs stitched together. No one in the club saw him eat (except peanuts with beer), which explains why his physique resembled that of the central character in those Bullworker ads before he develops the 'V'.  
The constant in a location where the members were variables
Jimmy never 'visited' the club; he 'lived' there. He was the constant in a location where the members were variables. He never went home, or so I think; if you walked in at 7am, bachelor Jimmy would be there; if you left at 9.45pm following your last drink, Jimmy would be halfway through his evening regimen. I presume there was no one really to go home to; no one to cook for him, so what the bearer brought in for him was possibly his standard dinner menu; he possibly went home only to retain his neighbourhood familiarity. He had his DI corner; that corner was really his 'drawing room'; if anyone descended there and ordered a drink, the bearer would respectfully present the lemon barley with a request 'Aap thoda yahaan aakar baithiye; Jimmy saab aate hi hongay.'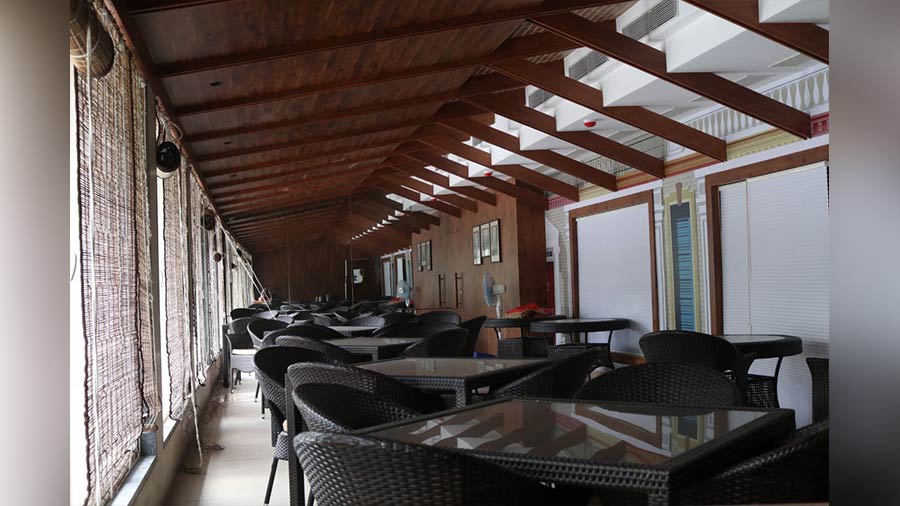 'There was bawaji Jimmy Kotwal who I never spoke to… He had his DI corner; that corner was really his 'drawing room'
Dalhousie Institute
Jimmy would have been prime turn-to person if someone ever needed to nail evidence about who started an argument because he would have been in the corner picking up the strain ('And then, you know, he said this…'); if there was a great billiards game that had been played some evenings ago, Jimmy could be expected to decode it minute by minute ('And then, that fellow curved the red around his black and netted it…').  
Curiously, diminutive Jimmy, who was so thin that he probably never cast a shadow, did something better than anyone at the club. He dived. No glutes tightened; no hamstrings stretched; no calves propelled. He dived like a dead man. Just toppled over from the platform. In one piece. Like a pencil stub imbalancing and going in, pointed-end first. When you saw him do it, you half-marvelled and half-laughed; even as it looked unusual to the point of being comical, there was a conceding element of respect because no one else could do it. It was rigor-mortised diving art. The result: most questioned the logic of even competing for the Paagal Pani competition on a summer Sunday. 'Jimmy uncle wins that, so let's see what other event is left for us.'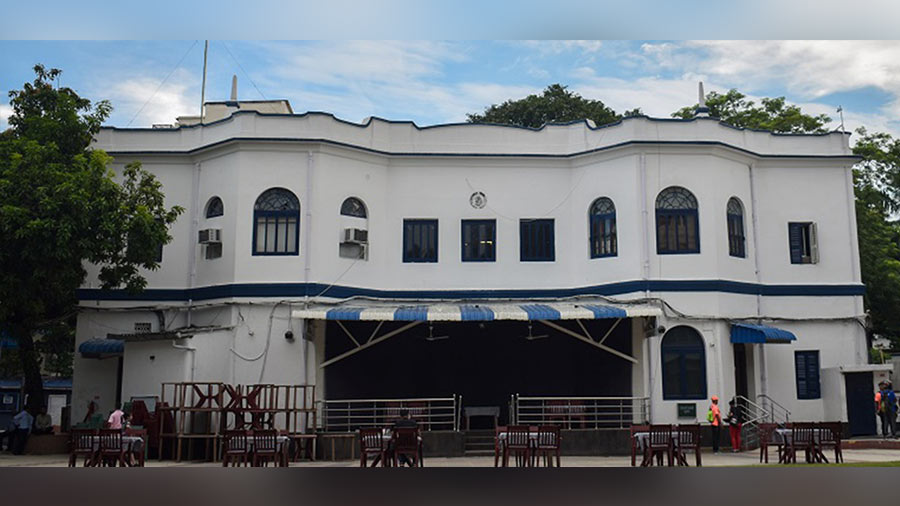 DI by day
Dalhousie Institute
A cavalcade of interesting characters
There was the portly millionaire (so I would hear) Sammy Sadka, who was the ever-smiling uncle who could have stepped out of a black-and-white war film as the friendly neighbour who usually greets the heroine on her way down the stairs and better known as the member with the membership number 001; there was the attractive lady who stayed on the top floor of the white building adjoining DI whose verandah was nicknamed 'Royal Box' after the Duke of Kent's enclosure at Wimbledon, especially when she happened to stand there and survey the terra firma proceedings seven storeys below; there was cricketer Edmonds who for some strange reason carried a nickname called 'Chilly'; there was Ms Wilde who swung an angry tennis racket well into her Seventies; there was Christiaan Minderhood who swam 280 laps 'just for fun'; there was Ms Phyllis McMahon who I once teamed with at a DI quiz when she was in her Seventies and could decode Latin names the way we decode slang; there was Olly Tennant who couldn't pass someone he knew without a mischievous pat on the head; there was a Mr Sweeney who was referred to as 'Oldman Sweeney' so often that I presumed that it was how he had been christened; there was Chiki Martin who could be counted upon to seamlessly relocate the drinking to an alternate venue after the bar shut so that there would be no interruption in life's grand exercise of merry-making; there was Neil O'Brien who surveyed humankind at DI with an arched eyebrow and furrowed forehead and it was only years later that I realised that it was a facial response system that had nothing to do with arrogance; there was Chhotu the bearer who never outgrew his appellation even after he had spent 15 years on the premises and had become a father of two in his 'mulook'; there was Randy the steward who responded with a straight face to ungrammatical women members who would walk into the porch and ask 'How, Randy, have you been these days?'; there was a member called Wong who was only referred to by his initials 'PC'; there was a David Biswas whose cassette of Western songs (Elvis kind) I inherited through a somebody who had borrowed from a somebody who had borrowed from him (his name was on the cassette); there was an obese Manuel D'Gama (who ran a bread and cakes outlet at the New Market after his surname) who fancied himself as the next Lendl before the damn bakery got in the way; UC Parekh ('You see' to all) incentivised his doubles tennis partners with a trip to Bangkok if they won the set; bespectacled and urbane Errol Zachhariah (name abbreviated to a functional 'Errolzack' in one breath) was like a wizened professor who had just stepped out of a college lecture to meet a concerned parent; there was an architect called Mr Jordan who could have traded places with a Roman senator in the court of the great Caesar; there was a young man namesake from an Archie comic book who was rumoured to be perpetually putting his fist through faces even if someone barely glanced at his lady friend; there was the salt-and-pepper hairdo of Ms Crizzle who bought a stateliness to wherever she sat; there were the Captains (Fali and Irene) whose son is still called 'Chi' by those devils at Sportsworld after the sound that vultures make when… (forget it); Percy Jones peppered each sentence with three references to the 'Lord'; Joyce O'Brien fought for every point that she felt that DI was owed at the Inter-Club Carnival when she wasn't even playing.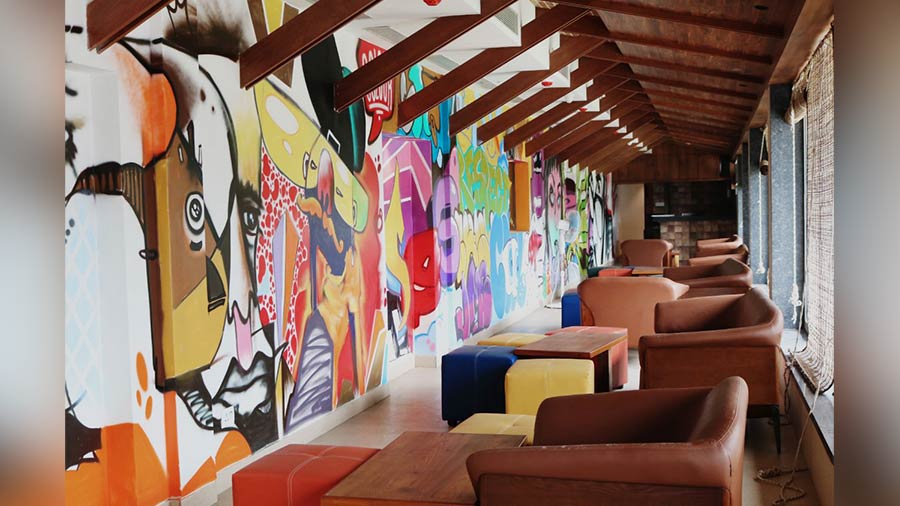 The club has been shut since March 23
Dalhousie Institute
There is a whisper that the club may be reopening after a year and a half. It rewound memories to those days at Sportsworld when I would push a WIP copy aside, swivel the chair, put my feet up on another and carve every word from the air with a fork.  
The world hasn't become poorer; it is just that the storytellers have moved on to other things and other places.