Sometimes you come across a hotel that is so perfect that it doesn't need to shout from the rooftops. Aman Venice is one of them. It is no surprise then that George and Amal Clooney chose this
16th-century palace on the Grand Canal (over other glamorous hotels in Venice) for their nuptials a few years ago. I had the privilege of spending some time there recently and quizzed the very affable assistant general manager Bartolomeo Fusco about what the most famous couple in the world wanted for their wedding. I expected to hear 'over-the-top everything', from the champagne to the flowers to the food. The Palazzo Papadopoli does the rest.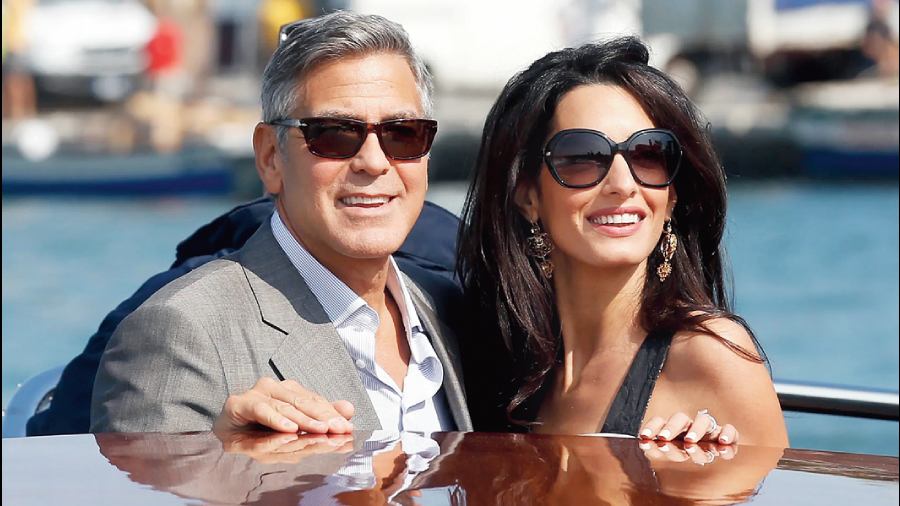 File picture of George and Amal Clooney during their 2014 wedding in Venice
Unfortunately, much of the information on the wedding is hidden under an official non-disclosure agreement. "Privacy is the main thing they wanted," he says. For example, instead of the more obvious Grand Canal suite, they chose the more romantic, classic Alcove Tiepolo Suite discreetly tucked away from the Grand Canal and paparazzi, with 18th-century frescoes by the famous painter Tiepolo, described as "the greatest decorative painter of 18th century Europe". The frescoes are theatrical and Rococo in style with gilded ceilings and long sash windows which overlook the garden terrace. Food? Champagne? Mountains of caviar? No, no, they chose simple Italian menus made with local ingredients, and apart from George Clooney's Casamigos tequila (sold to Diageo in 2017 for a reported one billion-dollar deal), all the drinks were pretty standard. No unnecessary fuss or frills. So what was it about the Aman Venice that made that day so special for the Clooneys?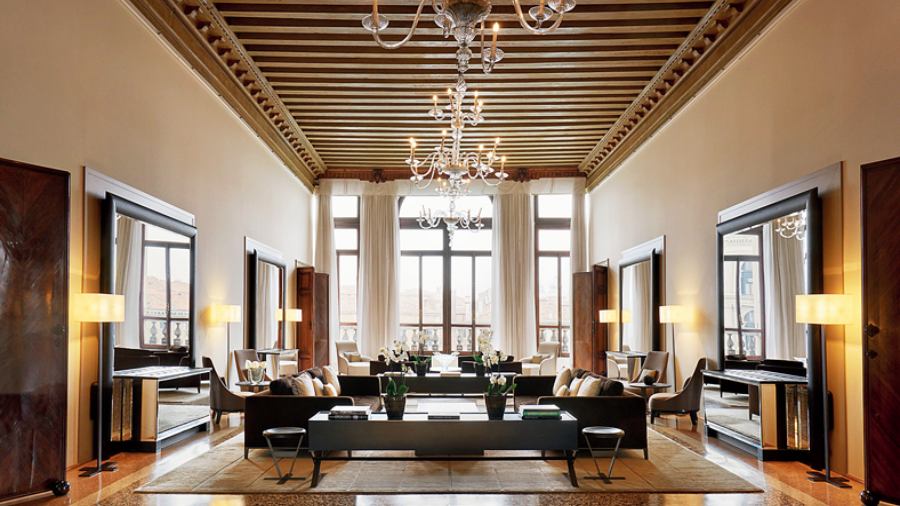 The drawing room at Aman Venice
Opulence of Venetian design
Let's start with the Palazzo Papdopoli, one of the city's eight great monumental palazzos on the Grand Canal. It embodies all that is sumptuous and sensuous about La Serenissima — but while its frescoed interiors spell grandeur, they invoke balance and harmony too.
Rococo works of art are offset by the contemporary restraint of Jean-Michel Gathy interiors and cool private gardens, which are rare in Venice. There are only 24 rooms and suites that feature works by a number of Italy's greatest artists — including 16th-century architect Sansovino and Tiepolo. If you want to treat yourself to the full nine yards, the new Coccina's Apartment on the fourth floor breaks all your previous ideas about luxury. Accessed by a private elevator, it features three free-standing bedrooms covering over 3,000sqft, all with en-suite bathrooms, king-size beds, a private living room and unparalleled views over the Grand Canal and the Canal Garden.
The timeless design and decor of the apartment includes works by several of Italy's greatest artists including frescoes and reliefs. Contemporary furnishings complement authentic silk wall coverings, chandeliers, wood panelling, chinoiserie and painted ceilings, allowing you to fall further into the opulence of Venetian design
Doges Palace, basilica and Piazza San Marco, which Napoleon had once referred to as "the drawing room of Europe"
Touching the soul
In contrast to the decor, the food at Aman is relatively simple and I'm certain that's what the Clooneys also found refreshing. Steering away from complicated 'trophy' cuisine, their restaurant Arva is a tribute to Italy's rich culinary heritage — an inventive and sustainable approach to cooking using seasonal ingredients.
The English word 'harvest' originates from the Latin word 'arva', meaning 'arable' or 'cultivated'.
In the Italian cucina del raccolto tradition, ingredients are grown in gardens or on farms, foraged from forests or fresh from the oceans, then transformed by the simple alchemy of the kitchen into uncomplicated, heart-warming dishes, made for sharing with family and friends. Arva finds its inspiration in this tradition, drawing on the farmers and fishermen around to source the local ingredients and freshest seafood. It celebrates the conviviality and warmth of traditional Italian family dining, seasonal and sustainably sourced. Sitting in the Rococo blue or yellow room (or actually anywhere in the hotel you choose), you can eat a simple Venetian carpaccio with a mayonnaise dressing, a filet steak with Amarone wine sauce or a tiramisu… of course, all with twists and turns and flair but the recipes are basic and understandable. And they touch the soul.
What I really love about the food offering in this hotel is that alongside the fine dining is a casual approach too. The ingredients and skill are by no means casual but the service approach is soft and not "hard sell". After many nights of reckless eating and drinking, it was gratifying to have a well-made cocktail and some delicious cichetti (little Venetian snacks like tapas); thinly sliced Parma ham, veal tonnata, Venetian creamed cod and local baby artichokes from a nearby island on a traditional green parsley sauce. And there is something very charming, almost decadent about sitting alone in a bar with a barman who pampers you with a delicious Negroni and a flirtatious smile.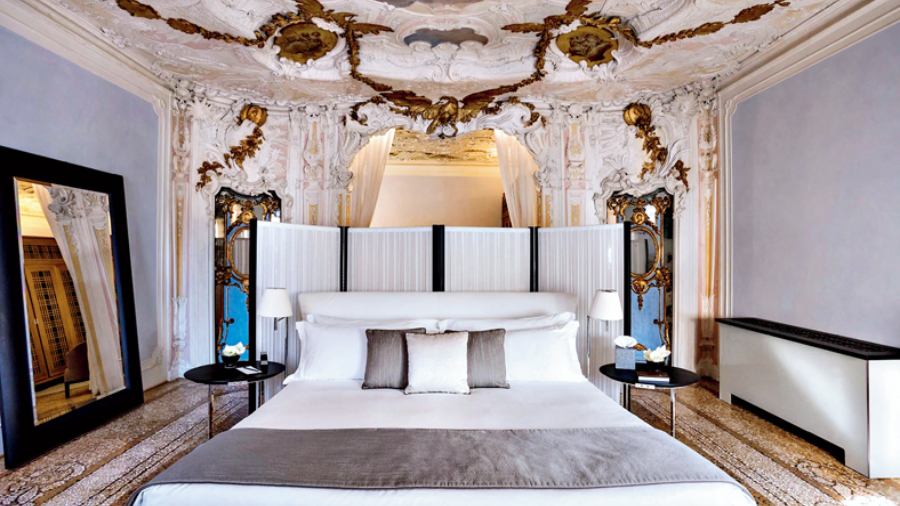 Alcova Tiepolo suite
New this year at the Aman Venice is The Cook the Lagoon special menu, which I happened to experience one evening, created by the acclaimed Michelin chef Norbert Niederkofler who invented the culinary philosophy Cook the Mountain, in his restaurant St Hubertus at Rosa Alpina Hotel and Spa in the nearby Dolomites. It was a restrained four-course menu with wines to pair. I particularly liked the plin ravioli with a chicory, leek and potato cream and baby squid.
Clearly, the definition of luxury has seen a paradigm shift. It is no longer whistles and bells and Great Gatsby-style excess. Today luxury is all about stunning surroundings, privacy, close family and friends (the Clooney's reportedly had just over a 100 people at their wedding in the hotel, small by any standard) and superlative but discreet service. Aman Venice seems to understand that.
Karen Anand is a culinary consultant, food writer and entrepreneur. In recent times her name has been synonymous with farmers' markets. Follow her on www.facebook.com/karenanand and on Instagram @karen_anand