Though names of streets in the city have changed over the years, old names are still referred to by senior residents and even not-so-senior residents of Kolkata. Take the example of Cornwallis Street. Renamed long back as Bidhan Sarani, after the second Chief Minister of West Bengal, this name is hardly seen in any signage on the street. It was part of the great arterial road built by the British in 1837, which included Wood Street, Wellesley Street, Wellington Street, College Street and Cornwallis Street. It formed a big throughway from south to north of Kolkata. These names have changed long back except for College Street.
Cornwallis Street was named after Charles Cornwallis aka 1st Marquess Cornwallis, who was the Governor General of India between 1786 –1793. He was reappointed in 1805. He was also referred to as Earl Cornwallis between 1762 and 1792. Marquess Cornwallis had tasted victory against Tipu Sultan in the Mysore war and is remembered for an important land taxation reform known in India as the Permanent Settlement. He also established a mint in Calcutta.
Cornwallis Street originates besides the Bata showroom. The shop is the first mansion of this 3.4 km long road, which stretches as far as the five point crossing of Shyambazar. This single stretch of the road perhaps has the maximum number of historical spots in the city. I will try to describe them in two parts.
The Laha family mansions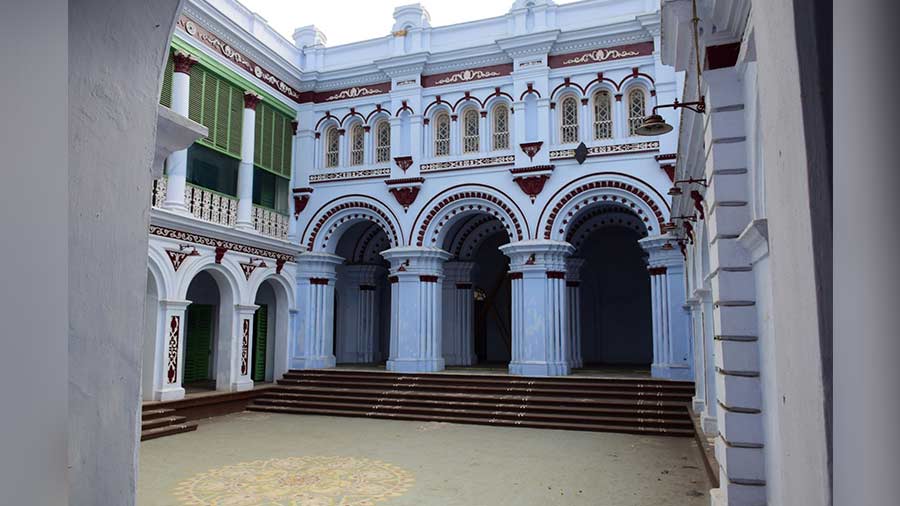 Thakur Dalan of Shibcharan Law's house at Bechu Chatterjee Street
Amitabha Gupta
The Laha or Law family has two mansions on this road. The family's pioneer businessman Prankrishna Law had three sons – Durgacharan, Shyamacharan and JoyGobinda. Initially, they bought the property jointly on 2, Cornwallis Street. Later, Durgacharan allocated this property to his son Krishnadas Laha – an honorary magistrate. Presently the descendant of the family stays at 2A, Bidhan Sarani, which houses the Pasteur Laboratory, while 2B houses the National Insurance Company Limited.
Just opposite to this house is another Lahabari of address 233, Cornwallis Street, which belonged to Shyamacharan Law. It was eventually acquired by his son Chandicharan Law and bequeathed to his descendants.
Thanthania Chandras' family mansion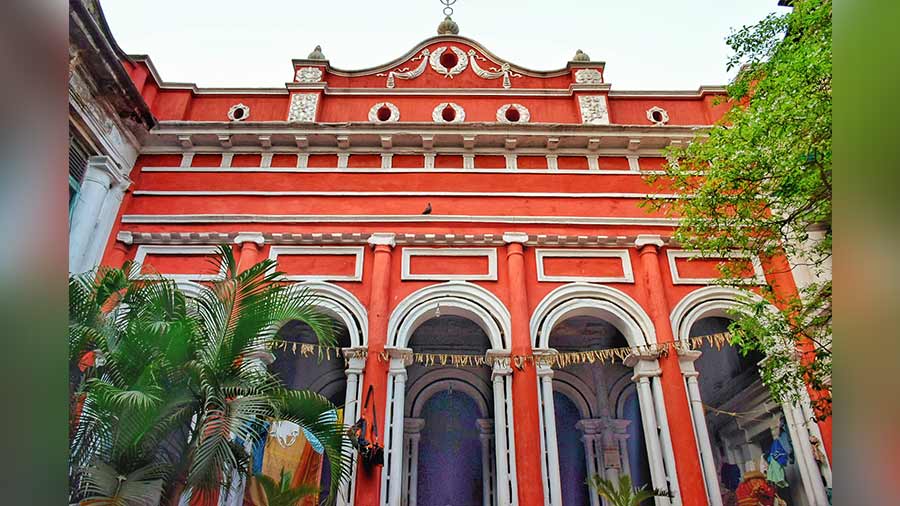 Thakur Dalan of the Thanthania Chandra family
Amitabha Gupta
Nested inside the lane, besides Shyamacharan Law's house, is the huge Thakur Dalan of the Thanthania Chandra family, whose other branch stays at Bechu Chatterjee Street. The Chandras originated from Saptagram and were originally gold merchants. This house was established by Srinath Chandra, who was a barrister. The house has a collection of rare birds.
Thanthania Dutta Bari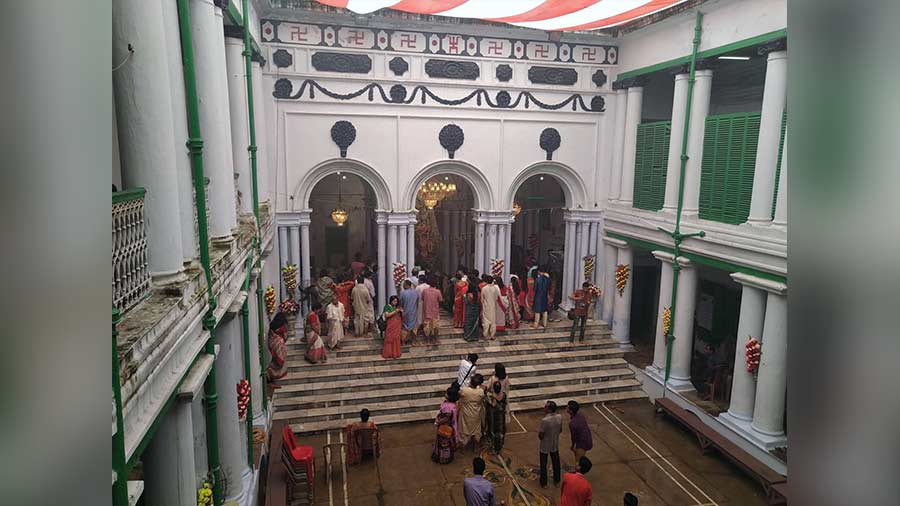 Interiors of Dwarika Bhawan alias Thanthania Dutta Bari during Durga Puja
Amitabha Gupta
Crossing the Pasteur Laboratory stands Dwarika Bhawan alias Thanthania Dutta Bari on 3 and 4, Cornwallis Street. The family came into limelight during the time of Dwarikanath Dutta, who rose to fame with his business of imported clothes. His first office was located at 6, Lyons Range.
The Dutta house borders Bechu Chatterjee Street.There is no dearth of Laha residences in the area, as we find Shibcharan Laha's family residence at 1, Bechu Chatterjee Street. The house has been the shooting venue of many films, including Shoojit Sircar's Piku, starring Amitabh Bachchan. On the other side is the famous Thanthania Siddeshwari Kali Bari. Though the temple proudly displays 1703 as its foundation year, many believe this to be the year when people started worshipping the deity. Later, a well-off local named Shankar Ghosh constructed the temple.
Jhamapukur Ramkrishna Sangha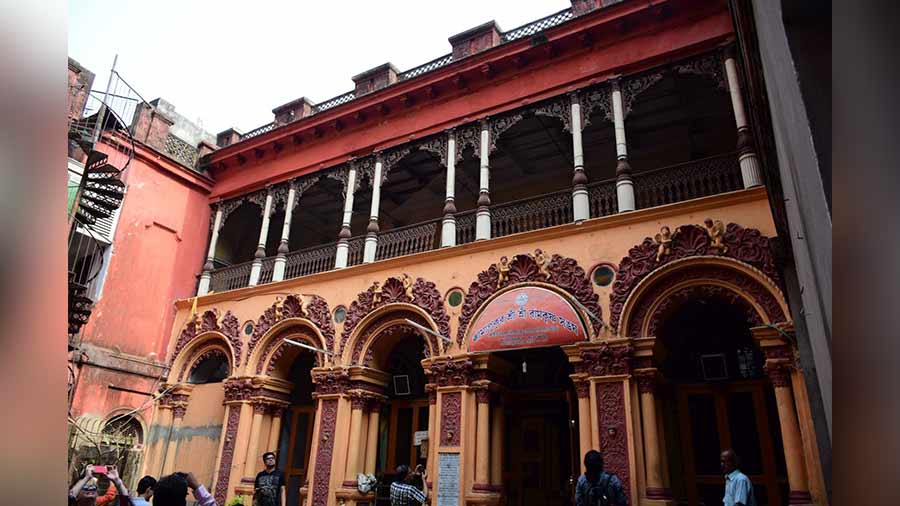 Raja Digambar Mitra's house, where Shri Shri Ramakrishna Sangha was founded
Amitabha Gupta
The vicinity also has several spots connected to the famous mystic Sri Ramakrishna Paramhansa. As a young boy Gadadhar, he visited Bechu Chatterjee Street, where his elder brother, Ramkumar, had established a Sanskrit "tol" (Gurukul styled primary school) in the year 1852.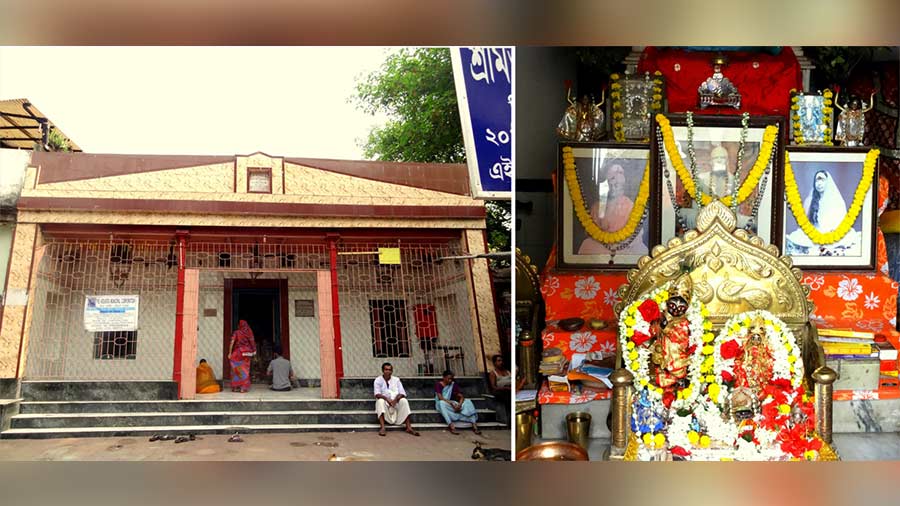 This temple on Bechu Chatterjee Street stands at the place, where once stood the Sanskrit 'tol' of Ramkumar, elder brother of Sri Ramakrishna Paramhansa
Subrata Ghosh
Gadadhar frequented many houses as a priest in that area. Now, a temple has come up in place of the tol. Among the many houses Gadadhar visited, Digambar Mitra's house at 1, Jhamapukur Lane, is mentionable. Later, Jhamapukur Ramkrishna Sangha was established here. Close to it on Guruprasad Chowdhury Lane, there is Kathamrita Bhawan located at no 13/2. This is the residence of Mahendranath Gupta who was the author of Sri Sri Ramakrishna Kathamrita (5 vols).
Kadambini Ganguly's house
On Cornwallis Street stands a crumbling mansion at 13 A Bidhan Sarani that has been in the news for some time for being Kadambini Ganguly's house — the first South Asian female physician, trained in western medicine, to graduate in South Asia. This was actually her in-laws' house, from where she shifted to her personal property at 6, Guruprasad Chowdhury Lane after the death of her husband, Dwarakanath Ganguly. The address, 13A, is also known for the temporary residence of Upendrakishore Roychowdhury, where poet Sukumar Roy – father of Satyajit Roy was born. The mansion once housed Calcutta Training Academy, where poet Rabindrnath Tagore studied for some time.
Sadharan Brahmo Samaj building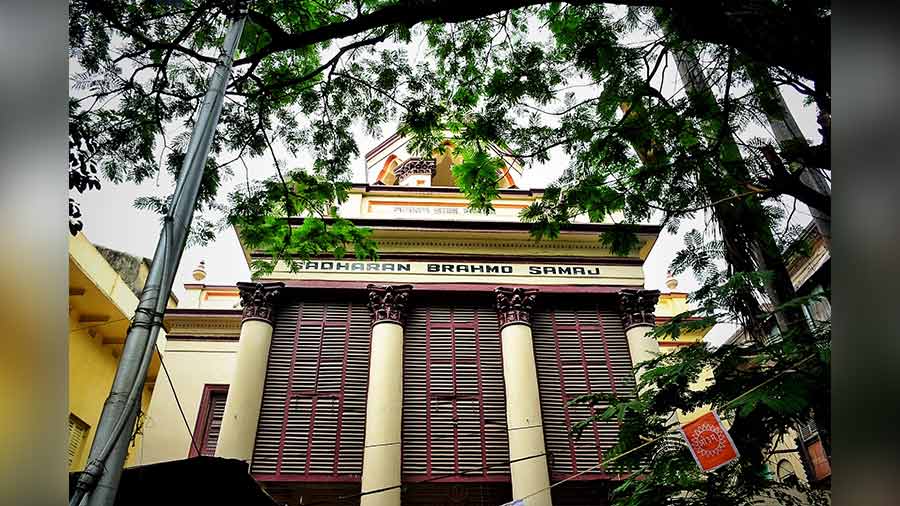 Sadharan Brahmo Samaj Temple on Cornwallis Street
Amitabha Gupta
Opposite to this building at 211, Bidhan Sarani, stands Sadharan Brahmo Samaj building. This society came out of the Brahmo Samaj institution and was founded by Ananda Mohan Bose, Umesh Chandra Dutta and Sivnath Sastri. In the lane beside it, the building with no 210/3/1 was once the office of reputed magazines like Prabasi and Modern Review, edited by Ramananda Chatterjee between 1908 and 1924.
Arya Samaj Mandir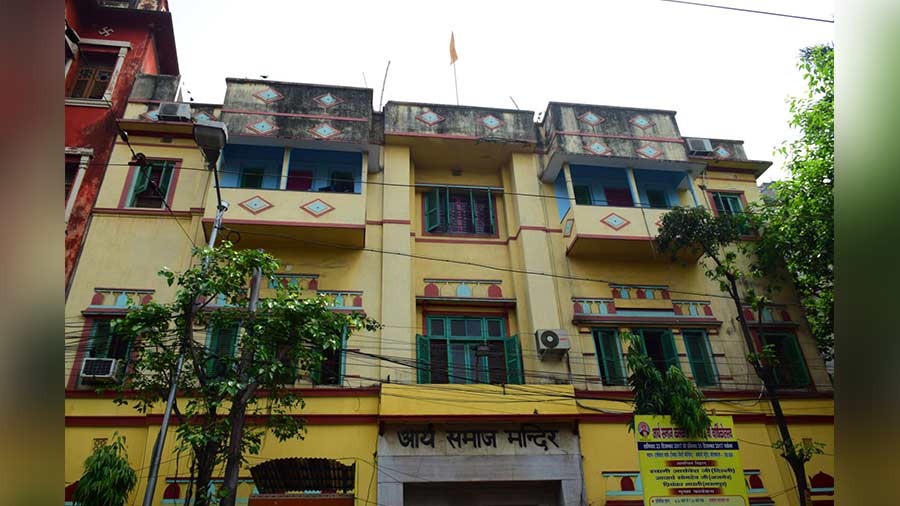 Arya Samaj Mandir which was once hideout of Bhagat Singh at Kolkata
Amitabha Gupta
Further down the street, just besides Vidyasagar College's new building which was earlier their hostel, there's Arya Samaj Mandir and Arya Kanya Mahavidyalaya at no 19 and 20 respectively. Bhagat Singh visited the Arya Samaj Mandir in 1928, after shooting John Saunders in Lahore.The premise where the school stands once housed the editorial office of the new version of Bangadarshan Magazine with Rabindranath Tagore as its editor. His famous novel Chokher Bali came out in series in this magazine.
Cornwallis Street continues till Shyambazar after meeting Vivekananda Road. The other part can be explored in a separate article.
Break Free Trails conducts Cornwallis Street Heritage Walks.Click for details here