Crossing the Major Arterial Road from Hidco Bhavan to Smart Plaza will get easier, safer and more pleasing. That leg of the pedestrian subway network at Biswa Bangla Gate will be the first to open, in early September.
The 240ft-long underground passage is looking vibrant thanks to a mural covering the wall up to a height of eight feet. Sayan Mukherjee, a Kankurgachhi resident, was commissioned by Hidco for the work and his team of 10 finished by Wednesday night's deadline.
"I was always impressed by the aesthetic side to the development of New Town and had written to Hidco chief Debashis Sen offering my services. He asked me to submit a plan for this stretch. I came up with a digital layout on the theme of old and new Kolkata monuments," said Mukherjee.
The 35-year-old graduate of the Indian College of Arts and Draughtsmanship has already done up the walls of Eden Gardens with murals on the emergence of a cricketer, passing through each stage of life from gully cricket to playing in India jersey through sequences of his bowling run-up and another of his taking guard to stepping out for a shot. "Both were approved by Sourav Ganguly, who had just been named the BCCI president," he said. The Google doodle on the recent Independence Day was also drawn by him. "Search on Google for Indian independence day and it will come up."
For the subway mural, he had included only Biswa Bangla Gate among the New Town monuments but was advised to include Coffee House and Convention Centre. "The authorities also wanted Belur Math and Dakshineswar."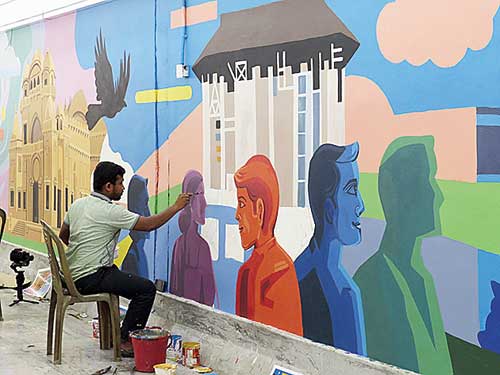 Finishing touches being given to the Convention Centre painting
The final work goes beyond monuments to include familiar Kolkata motifs like the yellow taxi and tram as also culinary icons hilsa and prawn.
The other side of the wall is left bare as Hidco plans to set up 10 stalls there, interspersed with public information panels. The stalls can sell books, tea or junk jewellery. "According to our survey, most pedestrian crossovers take place from Rabindra Tirtha towards the Balaka-bound side. But those subways will take time to complete," said a Hidco official.