Kevin Missal was a published author at the age of 14 and the book was called Damien Black: The Battle of Lost Ages. That was a decade ago and since then he has published multiple national bestsellers focusing largely on Indian mythology. His The Narsimha trilogy and The Kalki trilogy are hitting the shelves at a pace quicker than before, thanks to the lockdown. Missal has recently released another book called Karna: The King of Anga (Simon and Schuster; Rs 350). Replete with love, intrigue, chaos, war and deception, this is a book made up of everything his fans love. In town for a few live sessions, Missal spoke to The Telegraph from the Storyteller bookstore about the book and beyond. Excerpts…
How do you arrive at a particular character from mythology to write about?
My readers led me to Karna. They wanted me to write about it. Generally, it is a theme that I want to write about that takes me to a character. Kalki was about Dharma and what it means to have a choice between the right path and the wrong path. Narsimha was about religion and the freedom to choose your own faith. And for Karna, it was a never-giving-up attitude. He fights with all the discrimination placed on him and refuses to lose his ethics and morals till his last breath.
Tell us about your reading of mythology as research as well as for pleasure.
I first try to understand the character that I am writing about. Obviously it's not possible to write about the character's entire history. I read a lot of literature that is available on Hindu mythological characters; I read the Puranas and the epics as well. I won't say I read the original versions of it because they are in Sanskrit! I find translations, reiterations and reimaginings of those stories. I also like to read most of my competitors and they have already done most of my research. Connections find their way. I found out about timber production in modern-day Bengal that was known as Anga and Banga, through a YouTube video.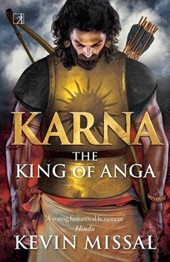 What is your writing process like?
I sit down and bleed. I used to be a night owl but now it's more of a discipline, because now, it's a job. I wake up, I have my coffee and I sit down to write. I would often get bored in the middle and give up and then come back at night. However, now I have given myself timelines and basic stipulations of 5,000 words a day. I can only rest once I have finished the quota of the day. Once you have the discipline, you finish the book so much faster.
Are there any conscious choices you make as a writer when you are writing for kids as opposed to writing for adults?
Of course one needs to be. I am very careful about not adding violent or graphic content when I wrote about kids. Things that might scare them. My stories are very PG!
What do you like most about writing?
I love that I can play god when I am writing. That you are writing and creating a world where you know what will transpire and that you will connect all the loose ends at the end but the reader doesn't know anything. Also the connection you have with the readers is pretty cool.
What are your thoughts on movies being made on your books and how involved would you be in that process?
I have already had two books signed off for movies. I don't like to be involved in the process because I don't want to face the brunt of it, if it tanks! I can always say I didn't like it if it doesn't do well. I am not too excited about entering the production industry. I am very happy with my book industry. There are people more equipped to handle your story in the best possible way for the screens. I don't want to do it.
You have the genre of mythology down pat. What next?
I want to write a business book. I have been building a startup for the last one year. I know what it feels like to have no money in the bank as well as a lot of money in the bank to again having nothing. So I want to write about how to survive with your startup for the first year. For someone who is a first-generation entrepreneur in the family with no help whatsoever, I want to tell people how to do it.