Continued from here.
Dhurjati Dham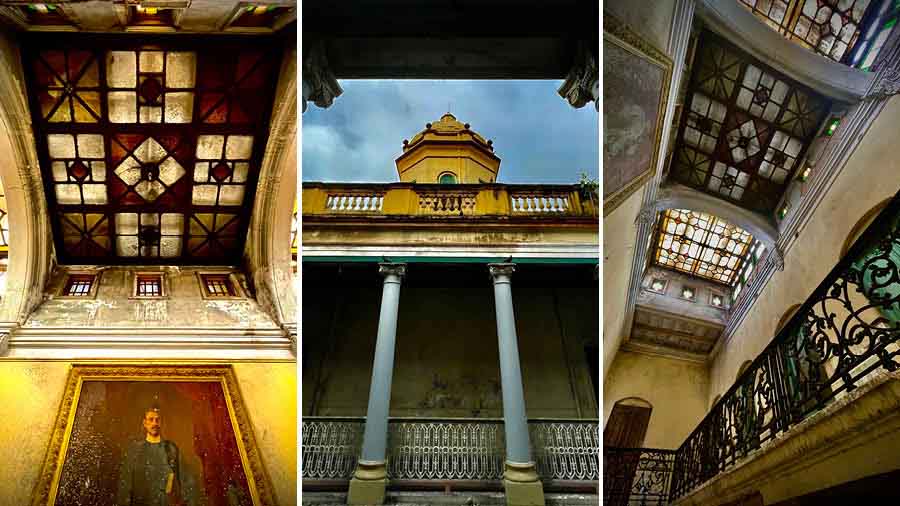 The thousands of people who exit Belgachia Metro Station to take the autos lined at the exit gate for their onward commute to Lake Town will scarcely turn 30 feet to the left to decode one of the most remarkable properties of the city. The underground network keeps figuring in a conversation with those managing the property today (words prudently used since the property is owned by thakur) — "We had a rose garden in front but that was taken away during the construction of the Metro Rail".
Dhurjati Dham is not a property; it is an experience. Dhurjati Dham is not just a Great House; it is an estate with a pond and ample green space at the back. The estate comprises a drive-in, 17 rooms (including a naach ghor), central courtyard, terrace, dome and gallery. The jewel of the property comprises a stairway under a towering atrium. It gives you the feel of a film scene where the patriarch is descending, smoking a pipe and looking down at the world (literally).
I am not surprised that the great Satyajit Ray shot a couple of films here. It is the kind of house to build a dream on, and I have a lurking suspicion that if I had eff-you money I would have restored this property at a whim and then wondered what to do with it. Maybe invited all the betrotheds to come and shoot their pre-nup pics in this splendid architectural showcase and then shamelessly asked to be invited to their big day.
Temple on Govind Sen Lane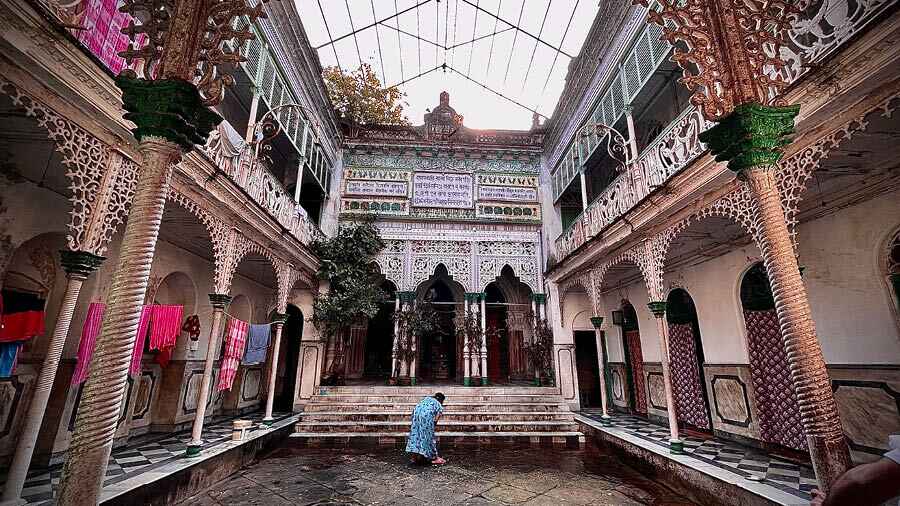 In the back alleys of Bowbazar, where you may need the support of Google Maps to get around, stands a temple. To elicit intelligible responses on antiquity can be a labyrinthine exercise with every second person indicating only two words, "bohoo purono". With this lucid lead as a guide, I realise that the best alternative would be to stand and stare. This is what I noticed: the remarkable grills that may have been imported from Glasgow at a time when Tata Steel was not even a concept in the mind of its founder.
I have a dream: to engage one of the best light designers to simulate understated illumination, highlighting grill intricacies, turning down all extraneous artificial lighting, shooting a 'before' and 'after' Instagram post and hoping that this creates the next viral. Someone may actually venture to send me a message, 'Please introduce to someone who can give us similar lights. We wish to do a permanent installation.'
Nakhoda Masjid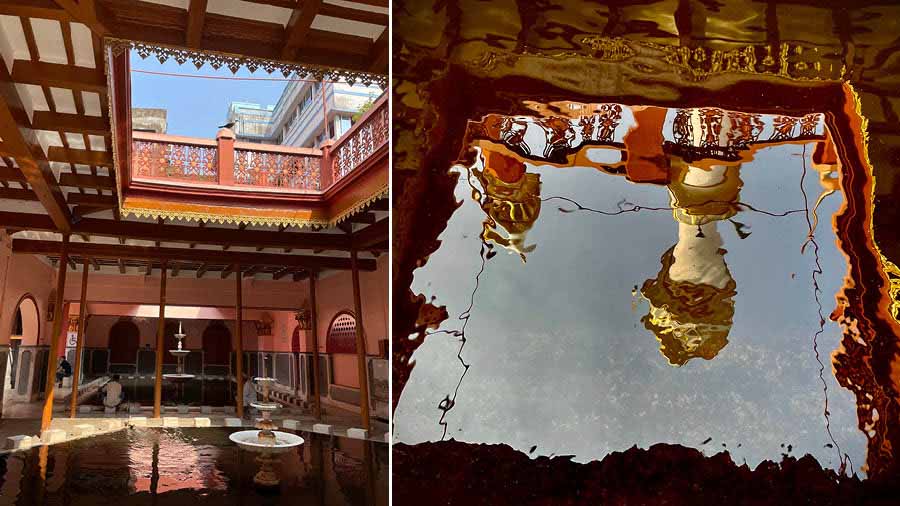 Four things strike me when I approach the Nakhoda Masjid off Chitpur Road. One, the striped bulbous dome that defines every picture along 300m of either side of the structure on Chitpur Road. Two, the arched entrance inspired by Akbar's tomb at Sikandra (wonder why the architect did not turn to the more predictable Sikri Buland Darwaza). Three, the magic lies in the hauz (well) which is used for the wuzu. The trick lies in standing behind and facing the masjid around noon, so that the strong light generates a striking reflection on the water so that I may shoot by creating a ripple with my fingers; it is a photographic orgasm to see the robust masjid pillars quiver under the noon sun. Four, the masjid (under construction a century ago) was petitioned by the illustrious neighbour Gauhar Jan with a donation towards the work-in-progress. The promoting family not only declined, but to articulate their contempt for her profession designed the toilets (baitul khalaa in polite Urdu) in a sequence adjoining her wall in the direction of her residence. Gauhar has long passed into taareekh; the toilets remain.
House on Avedananda Road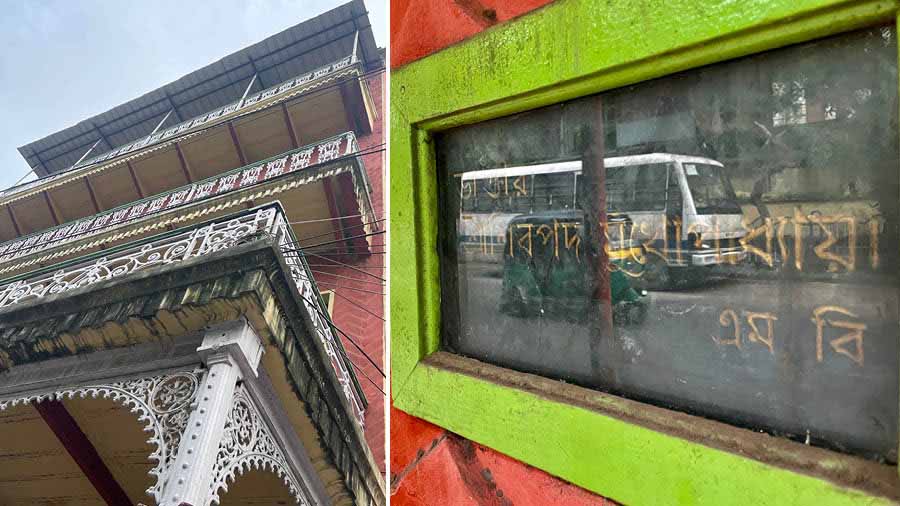 This road in North Kolkata has a remarkable property on the right, if one is driving from APC Road towards Chittaranjan Avenue. It is two-layered; it is brick red; it has extensive grills (verandah and supporting brackets). It also has a name plaque that stands out — it is not the usual marble-inscribed but gently calligraphed in gold on a black background and encased in glass. Across the dozens of plaques tracked in the city, I cannot think of an equivalent.
If you have to go and shoot this property, my suggestion would be to graduate from the default mode (my jargon for 'standing across the road and shooting a vanilla frame') and explore an angle that captures grills across all three storeys. Or, capture the reflection of a yellow-green auto-rickshaw off the name plaque. I hope the owners read this piece and send me an invite to view the world from their extensive first floor balcony. I promise to come with south Kolkata confectionaries, and we can all sit down and have tea in that cemented 'garden' and talk about life in 1905
House off BK Paul Avenue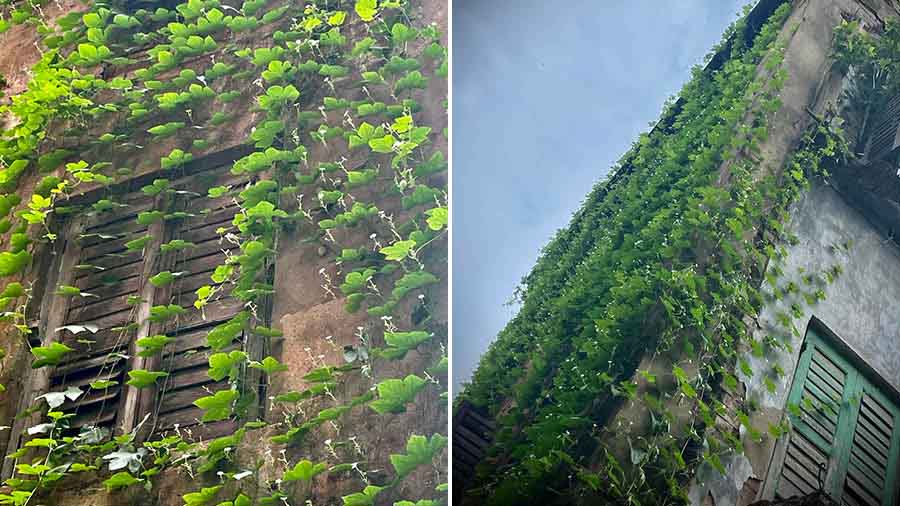 There is nothing heritage about this building tucked away in a lane off BK Paul Avenue (closer to CR Avenue). There is just one thing that makes it unusual – the extensive telakucha (ivy gourd) creeper that has virtually monopolised the side facade. I cannot see it on the front facade, I cannot see it on any adjoining building, so presumably this is a one-off thing — a kind of urban aberration that makes it possible to say wow, to explore frames off difficult angles (remember, it grows only between two buildings).
I intend going down one morning and engaging with the owners (whose windows seem to be perpetually shut). Who planted it? Why didn't they cut? Do they consider this a nuisance? How do they propagate? Are they proud? Why is it not on the front facade? Does it create moisture issues for the facade? Why don't I see it on neighbouring buildings? How can I grow this on my building? This may not even figure on the subject of built heritage, but it is an aberration alright and metaphorically faithful to the maverick spirit of this incredible city that stands out for what it is without an apology or explanation.