Walking through the narrow lanes of the artistically inclined Kumartuli, I have never been surprised to catch a glimpse of clay models, idols or paintings. But finding an antique radio repair shop was rather astonishing! How many hidden gems does the old-world charm of this city hide within itself?
At the store which bears no name, I was intrigued to find radio models ranging from as early as 1944 to the late 1990s. However, I could not find a shopkeeper. Not right away, at least. On asking around, I got to know that the owner had gone to drink tea. Waiting for him became an excuse to keep staring at the antique radio models. I was mesmerised.
An impeccable vintage setup with a magnificent collection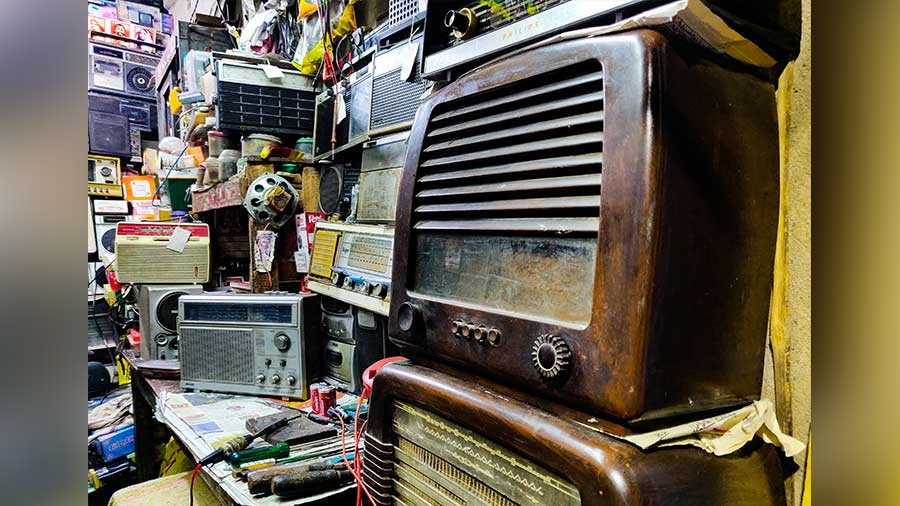 Radios as old as 1944 can be found in Karmakar's shop
Avidha Raha
The owner of the shop and perhaps Kolkata's last surviving radio man, Amit Ranjan Karmakar, 63, finally returned to his store after a while. He was not surprised to see me capturing photographs while a woman passing by remarked: "Uncle, you have become famous". Even though the location of this shop with over 150 vintage radio sets is in a remote corner of Kumartuli, people often come to witness this unique contribution of a common man to his hometown's cultural fabric. The shop was opened by Karmakar's father in 1967 and Karmakar has been managing it regularly since November 1976. To me, it was his patience that stood out, even more than the huge collection he possesses, worthy enough for a mini-museum.
The small shop with an impeccable vintage setup shelters a magnificent collection, including Bush, Telefunken, Philips and Murphy radios, making it a treasure trove for music lovers. From where I stood, I could spot the long body of a 1944 Philips Maestro, the Philips Holland and Novosonic model from 1952, a 1954 National Ekco radio model made in England, a dilapidated model of 1962 Murphy Melody radio, to name a few.
Pandemic and Pujo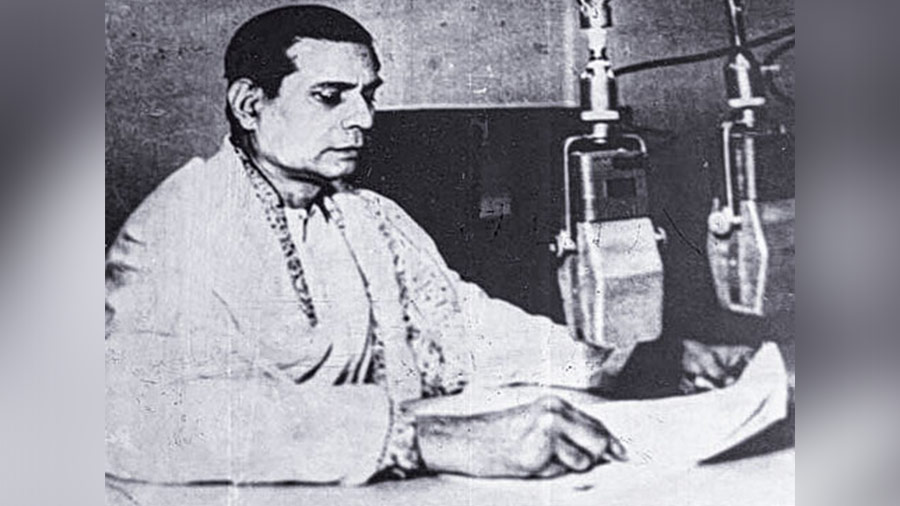 Birendra Krishna Bhadra's voice on the radio is still a must for Bengalis come Mahalaya
TT Archives
"No matter how obsolete radios have become, I still get loads of work right before Mahalaya," said Karmakar. According to him, 2020 was the year with the lowest amount of work since the pandemic had caused a sharp decline in festivities. But last year's Durga Puja brought a new tide of revival. Given the all-encompassing impact of the pandemic, it is no surprise that Karmakar, too, has had to face the brunt of Covid-19. But he has chosen to be remarkably calm about it, to the point of not engaging at all with my pandemic-related queries. It was as if the pandemic had been just another blip in the ever-turbulent market of supply and demand.
In these technologically advanced times, Karmakar does not usually repair a vast number of radios every day, except for the month before Mahalaya commences and the countdown to Pujo begins. He is looking forward to the month before this year's Mahalaya, too, and has faith that there will be a huge chunk of work again, just like every year. After all, even today's generation of Spotify users in Kolkata go back to their family radios once a year just to listen to Mahishasura Mardini at the break of dawn.
Keeping up with football fever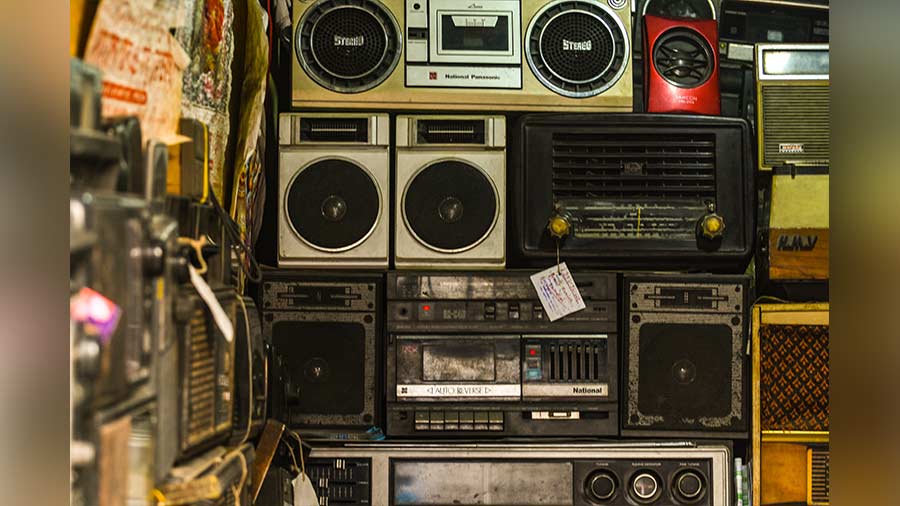 Many of the radios in Karmakar's shop were collected during the 1970s and '80s, when football had a large following on radio
Avidha Raha
Reminiscing about the days when radio was affordable only for the upper class, and hence a luxury of sorts, Karmakar spoke about the demand for radios and football in the late 1970s, during the time of the Calcutta Football League: "I used to be extremely busy all year long because radios were always in demand. Apart from football in the city, tournaments were happening in different states such as the Durand Cup in Delhi, the Rovers Cup in Bombay, the Bordoloi Trophy in Guwahati, the Kalinga Cup in Odisha and so on. I always kept some spare radios in case I couldn't manage to repair all those that came my way before the matches."
In the first few years of Karmakar's time at the shop, most houses in Kolkata had DC current instead of AC current, which was required for radios. As a result, most people relied on batteries such as Novino, Venus, Pelican and so on. "Radio was also an important part of socialisation since people would flock into tea shops and grocery stores simply to catch the radio broadcast," said Karmakar.
Karmakar's fondest moments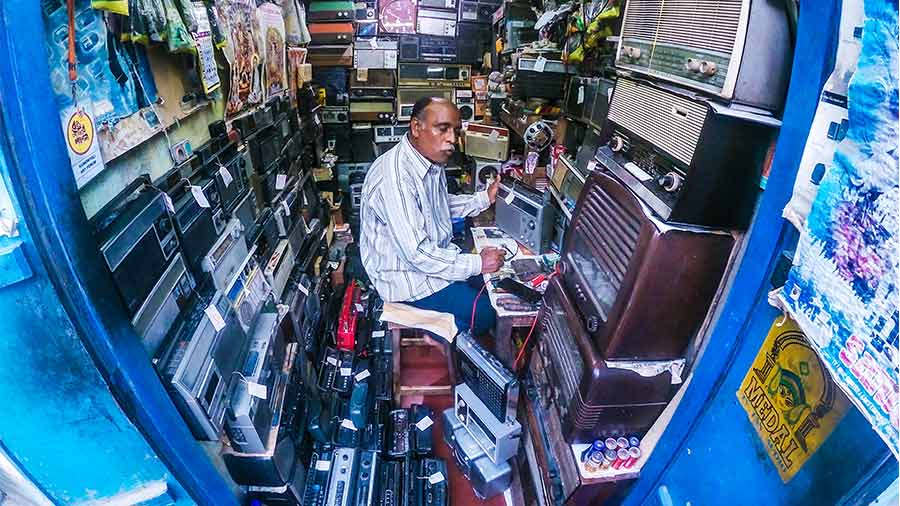 Karmakar's shop and his profession has led him to meet several notable personalities, many of whom have left a mark
Avidha Raha
Over the years, Karmakar's shop has also become a vehicle for emotions. Among the fondest moments he recollected was his meeting with veteran thespian Swapan Kumar, who had paid Rs 100 to Karmakar for fixing his radio, offered him coffee and some Britannia biscuits and not asked for any change. Then there was the occasion in the 1980s when Karmakar visited a huge colonial residence to repair a piano set, only to realise the place belonged to composer and singer Dwijen Mukhopadhyay.
On a spring morning in 1985, Karmakrar had an opportunity to fix a Murphy radio belonging to actor Basanta Choudhury, someone he deeply admired. Then came the chance to attend to a radio that had been received as a gift by the cricketer Pankaj Roy, who served Karmakar a large cup of tea, before paying him the precise amount of Rs. 25 for his services.
The lasting legacy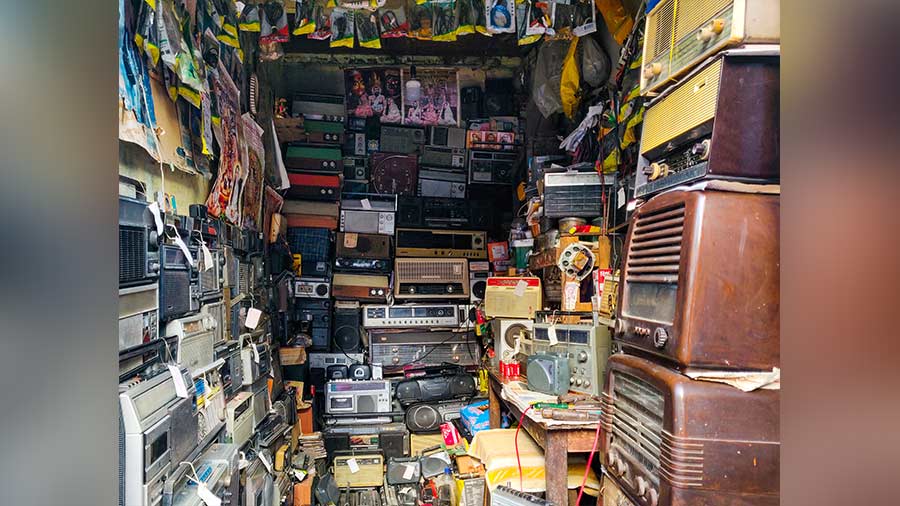 From repair shop to a reservoir of antique radios, the identity of Karmakar's shop has evolved over time
Avidha Raha
Since the introduction of colour television in the 1990s, Karmakar's work has decreased considerably. Standing in 2022, his shop is gradually slipping into oblivion, with the exception of the Mahalaya period when work starts to bloom before wilting again. And yet, Karmakar carries on, his love for radios and fixing them unaffected. His dexterity and diligence, which had once made him the go-to person in North Kolkata to fix radios, have been responsible for creating a collection that has its own following among the locals. That collection, it seems, will remain his lasting legacy.