Sapling distributions the township has seen many, but a group of nature lovers also arranged to exchange saplings amongst themselves.
The event was organised by a group called Go Green Initiative that started out as a Facebook group and 50 members met up at BA-CA Park for the gathering.
"There was no money involved, but we brought plants that we had and took home plants that we wanted. This is more effective than distributing saplings to random people as they may not know how to nurture the plants," said Sumita Saha, a Karunamoyee resident who was one of the organisers of the meet. "Everyone receiving plants today knows about gardening and the saplings have a high chance of survival."
Alina Mazumdar of CB Block had brought varieties like Mother of Thousands, Forever Rich, Spider Plant and took home Chinese Banyan, Ball Lilly and Coin Plant. "I'm very excited about nurturing the new plants. I shall plant them immediately," she said.
"Plants are expensive and not everyone can afford to buy them all the time. So this exchange is a win-win," added Chhanda Bhattacharya of Karunamoyee who was exchanging varieties like Snake Plant and Roheo for Mother of Million and Aparajit seeds.
Other common plants included Rangan, Song of India and Hibiscus. To smoothen the process, the organisers had sorted the demand and supply of plants beforehand.
This was not the only initiative by the group. "Before monsoon, we had asked our members as well as friends and relatives to store seeds of all the fruits they ate. We finally got a store of over 200 seeds of trees like Mangoes and Litchies which we planted," said Arpan Sanyal, an organiser.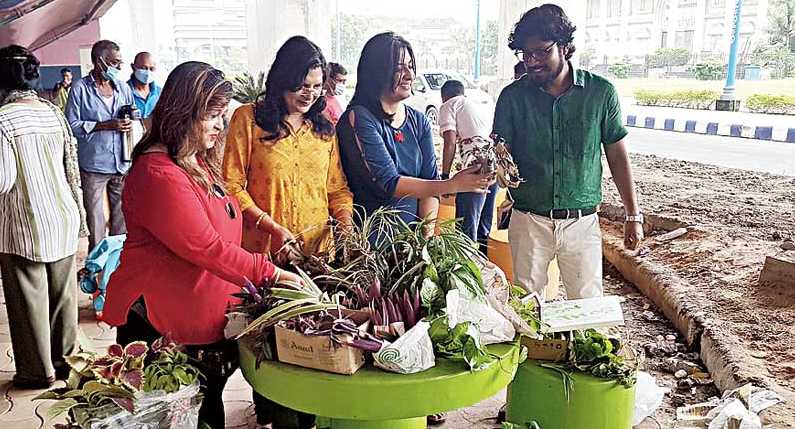 Green thumbs take their pick of plants under the Axis Mall flyover.
Brinda Sarkar
More than 150 gardening enthusiasts met under the Axis Mall flyover on a recent Sunday to exchange plants. The event was organised by NTFN's Home Greenery wing.
Convenor Chaitali Srivastava said that while the group was also active in outdoor plantations and green verge development, this plant exchange was a popular event among members. "This is the third exchange we are holding in a year," she said.
While a basic list of plant gifters and receivers had been drawn up from a Google Form floated beforehand, at the event it was more of a first-come, first-serve basis. The plants had been segregated and kept on tables meant for fruits (like Mango, Sheem, Lemon), creepers (like Coleus, Tangled Heart, wandering jew) etc. Takers were free to choose four plants per person.
"I'm gifting two Nilmoni plants and am keen to take home vegetables like Cauliflower, Cabbage and French beans to grow and eat in winter," smiled Siddhartha Banerjee of BC Block.
Anand Seth felt their forum's Facebook and WhatsApp groups had the power to engage the youth. "New Town has a lot of youth who are aware of the importance of greenery but lack practical knowledge. We can help them hands on."
Another organiser, Kavita Bhanuka added that many had begun the habit of gardening after receiving plants from the previous editions of this event.
Suhrid Chandra of Hari Mitti Foundation had been invited to address the audience. He answered questions on plant health, composting, pest control etc. "Many people think plants grow on their own but that amounts to neglect. Plants need nutrients. Like in the case of people, strong immunity comes from a healthy diet," he said.