Winters in Delhi might not be a good time for a few reasons, but it is a great time to explore some of the city's large swathes of green. Many of these green spaces are public parks with landscaped gardens and walkways, and some even house the capital's large number of historic monuments. So, these landscaped parks not only provide a much-needed breath of fresh air, but also offer an interesting mix of nature and history for both locals and tourists. Lodi Gardens (or Lodhi Gardens), located in the heart of Delhi, is one such green space dotted with more than a half a dozen historic structures from the Tughlaq, Sayyid, Lodi and Mughal eras.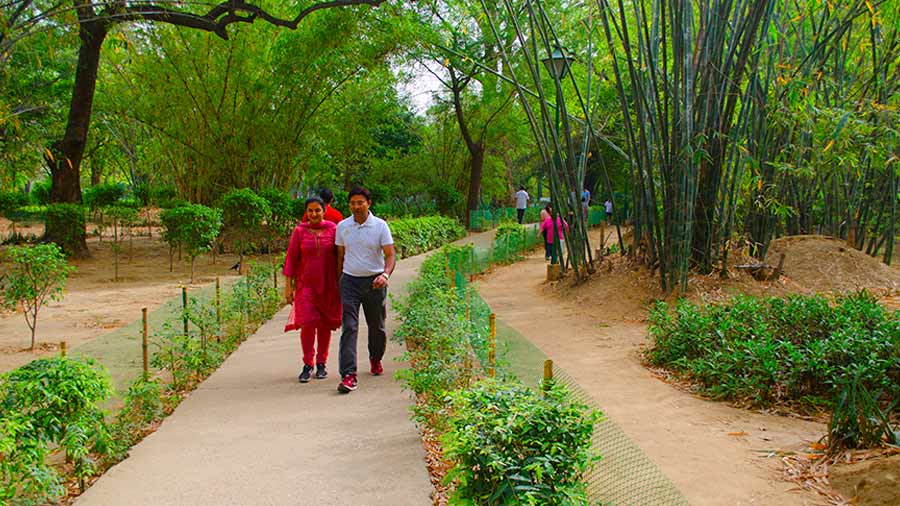 People enjoying a morning walk at Lodi Gardens
Rangan Datta
Previously known as Lady Willingdon Park, after the wife of Viceroy of India, Lord Willingdon (1931-36), the 90-acre landscaped park, which now has separate jogging and walking trails, is a favourite with morning and evening walkers.
History lessons in the park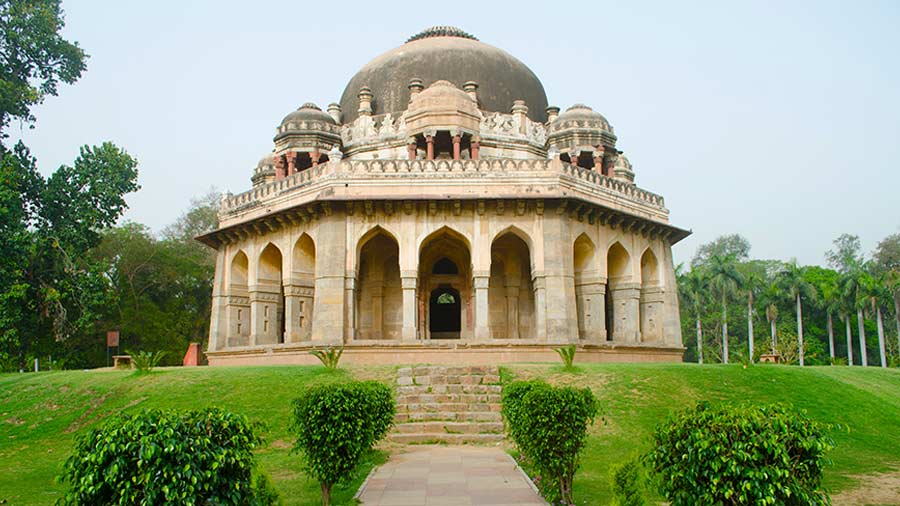 Tomb of Muhammad Shah Sayyid
Rangan Datta
Visitors approaching the garden from the southern side will first stumble upon the gigantic Tomb of Muhammad Shah Sayyid. Muhammad Shah Sayyid (1434-44) was a ruler of the Sayyid Dynasty whose mortal remains are housed in an octagonal tomb crowned with a gigantic dome.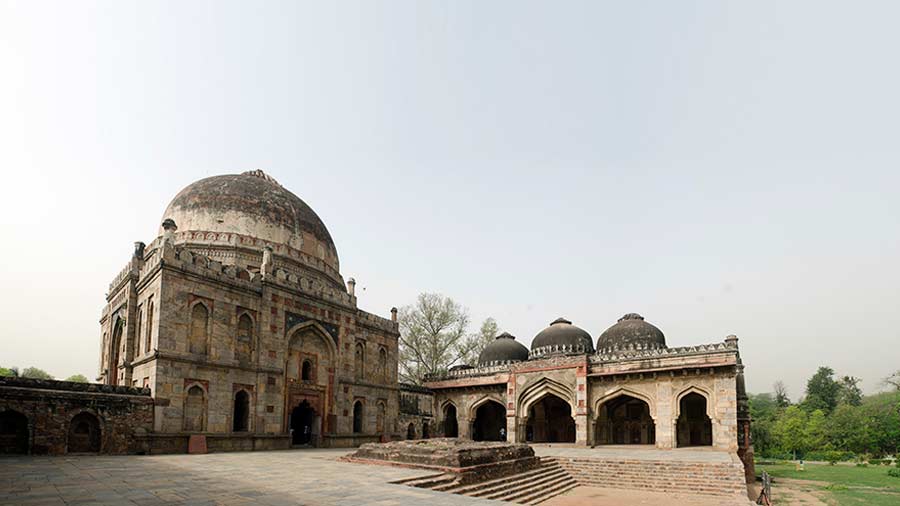 Bada Gumbad and the mosque beside it
Rangan Datta
Next is the largest and most ornate structure of Lodi Gardens, the Bada Gumbad, which literally translates to 'big dome'. The external facade of the single-storeyed square tomb resembles a double-storeyed structure. Built of grey sandstone, the exterior has relief work in red and black stones. Not much is known about Bada Gumbad. Some believe it to be a tomb while others opine it to be a gateway to a mosque, which stands to this day.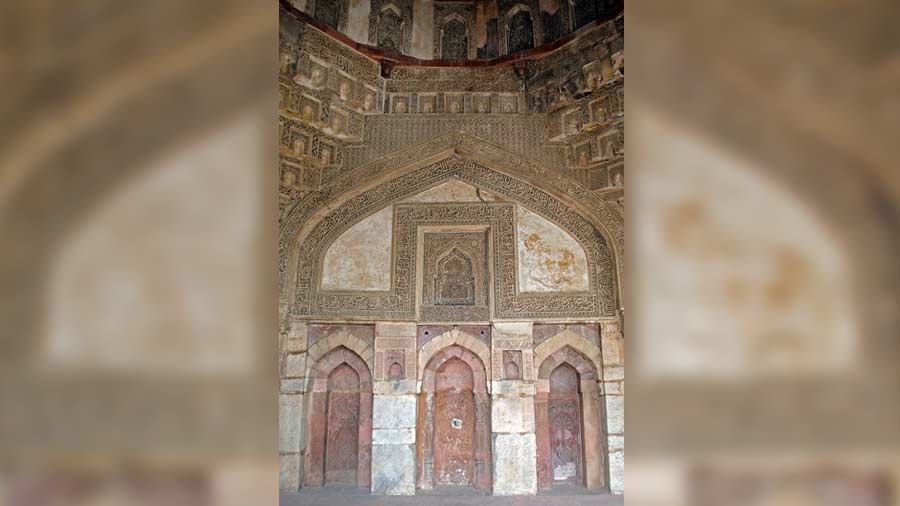 Carvings inside the mosque beside Bada Gumbad
The mosque, richly decorated with carvings and frescoes consisting of floral and geometric designs along with Quranic inscriptions is on the northwest side Bada Gumbad. It has three domes and five arches, and unique features like tapering minarets on the back corners and jharokha (oriel) windows.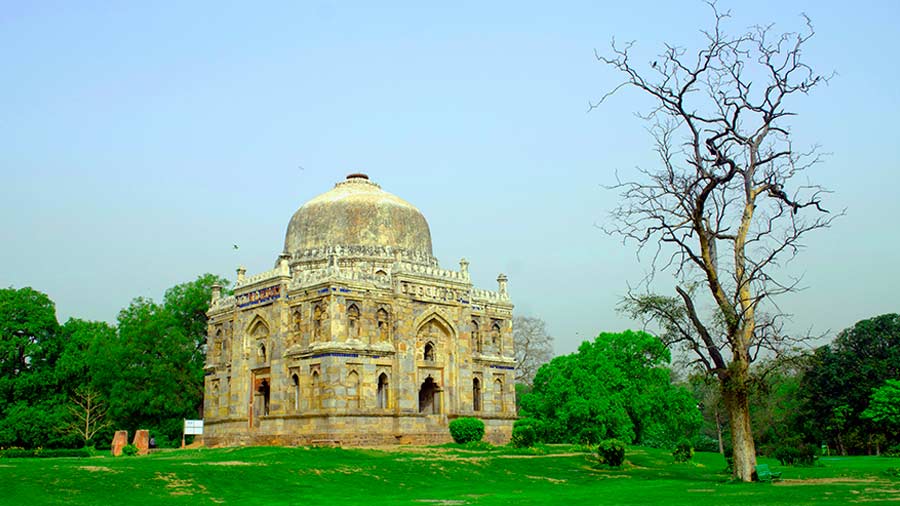 Shish Gumbad or Shisha Gumbad
Rangan Datta
Just north of the Bada Gumbad is the Shish or Shisha Gumbad, literally meaning the mirrored or glazed dome. The Shish Gumbad was presumably built during the reign of Sikandar Lodi and has an architectural style similar to the Bada Gumbad, but its outer glazed tiles have long gone. The interior of the western wall houses a mihrab, thus doubling the building as a mosque. The other three sides have central entrances set up in arched projected frames. There are several graves inside but their occupants can no longer be identified.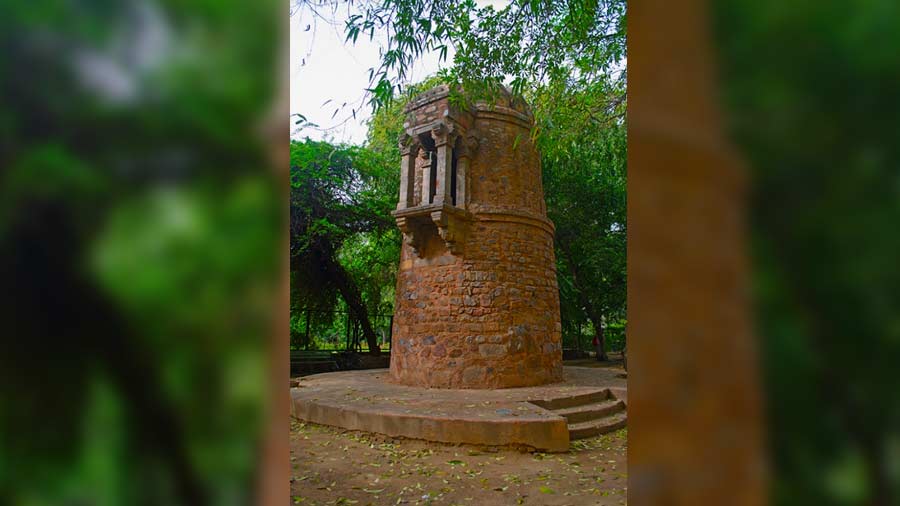 A turret dating back to Lodi times
Rangan Datta
To the southeast of Bada Gumbad lies a small turret that dates back to the Lodi period The 27-foot turret probably served as a corner tower of an enclosure, whose walls have long vanished. Southwest of the Bada Gumbad is a small mosque with a triple arched entrance and vaulted roof that also dates to the Lodi period.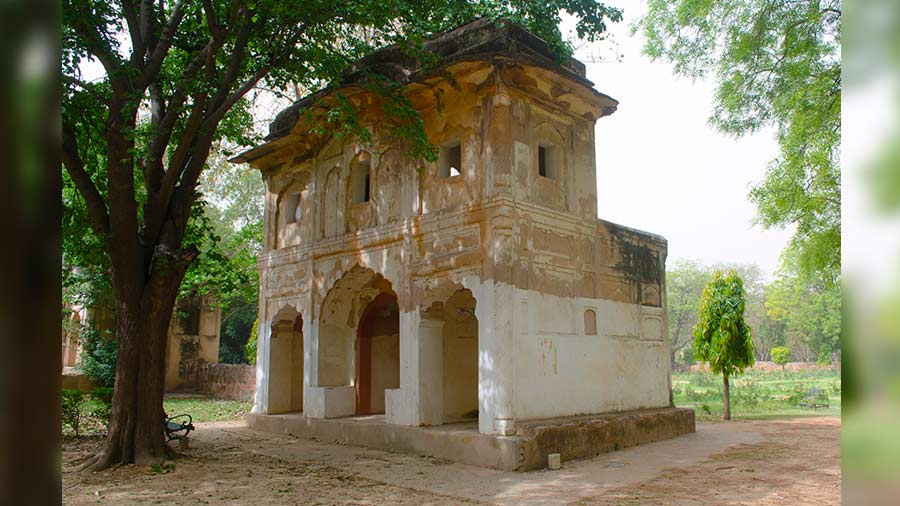 A Mughal-era gateway
Rangan Datta
On the opposite side, to the northeast of Shisha Gumbad is another small mosque and a gateway, both dating to the Mughal period. Presumably, the gateway led to a walled garden, the walls of which have not survived the test of time.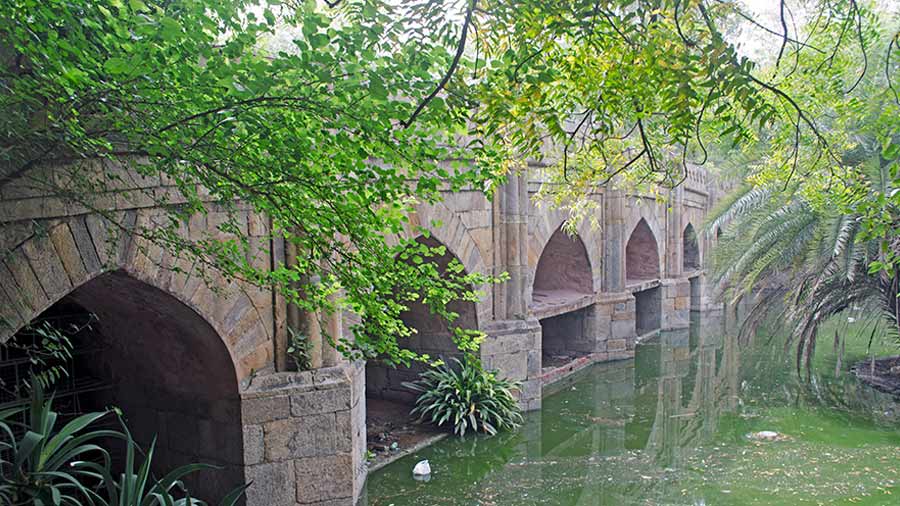 The curved Athpula bridge
Rangan Datta
Walking ahead further north, the road leads to Athpula, a Mughal-era bridge spanning over a small stream. The beautiful curved seven-arched bridge was constructed during the reign of Akbar (1556-1605) and probably gets its name from its eight pillars.
West of the Athpula is the Tomb of Sikandar Lodi (1489-1517). Built in a similar octagonal plan like the Tomb of Muhammad Shah Sayyid, it is housed inside a walled complex and approached through a gateway.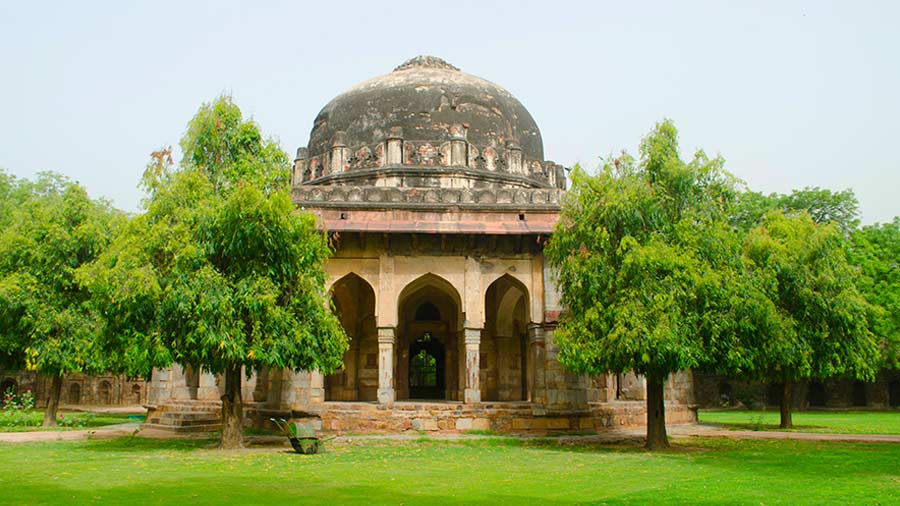 Tomb of Sikandar Lodi
Rangan Datta
While the historical monuments are a star attraction of the garden, the green cover is also a micro environmental zone in the heart of Delhi supporting unique biodiversity, and attracts many animals and birds making it a haven for nature lovers and birdwatchers.
Travel details:
Lodi Gardens is open from 6am to 7.30pm daily
Entry is free for all
Jorbagh (yellow line on the metro) in the south and Khan Market (violet line) in the north provides easy access to the garden
Rangan Datta is a mathematics and management teacher by profession and a travel writer and photographer by passion. He has been addicted to discovering off-beat places since his undergraduate days at St. Xavier's College. Blogging and contributing to Wikipedia are his other passions.