Tired of endless meetings, Zoom calls and household chores? Planning to get away from the festive frenzy to unwind and relax? If your idea of a vacation well spent is some quiet time amid nature, My Kolkata has the perfect list for you — breathe in the greenery, take leisurely walks, give yourself some royal treatment and get a feel of countryside pujas.
Sundar Gram Homestay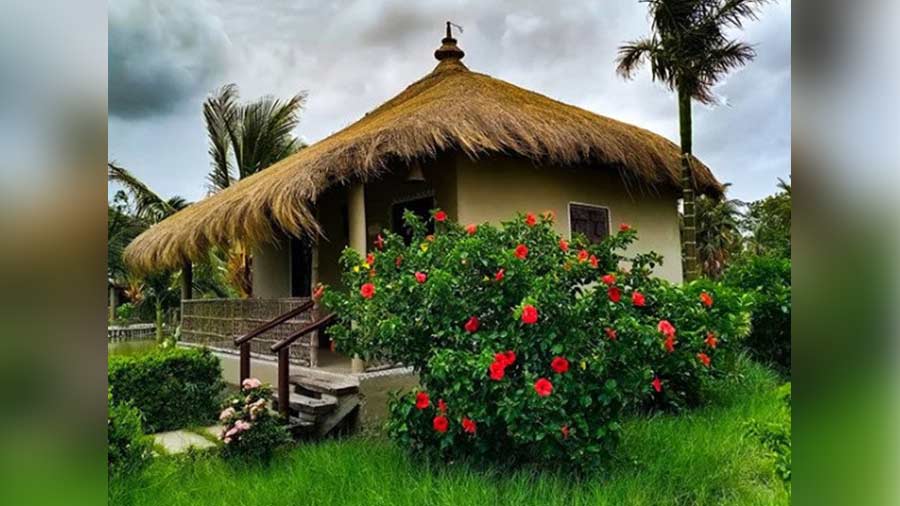 Wake up to the music of the birds or the call of the rooster at this beautiful village resort located just 30km from Science City, Kolkata. Established in 2014, it is owned by Paromita Paul and takes around 2.5 hours to reach by car. 
Tariff: The room tariffs start from Rs 2,200 on a per night basis. Sundar Gram also offers day visits and picnic packages from Rs 3,000 onwards for up to 10 guests. Food is available at additional cost. 
Amenities: The homestay has all modern facilities like 24-hour electricity, attached western bathrooms, hot-water supply and mini refrigerators. It is also pet friendly. 
Activities: Thought rural Bengal would be boring? Catch and release some Rohu, Mrigel, Mourala, Katla or Chingri grown in the pond. Opt for a leisurely walk across the lush paddy fields. If you are a bird lover, try and spot some of the many birds — local or migratory — who visit Sundar Gram, like woodpeckers, bee catchers or barn owls. The homestay can also arrange a cultural programme of Baul sangeet if you inform them a week in advance. 
Festive special: Sundar Gram is giving its guests the unique opportunity to witness the 'Gramer Barir Pujo' within its premises on a per-day basis. One must pre-book the visit at Rs 777 per head, inclusive of food. It is complimentary for those below 5 years. This package is available only from September 30 to October 5, 2022.
Book here.
Jhore Jole Jongole, Eco Heritage Resort, Jharkhali, Sunderbans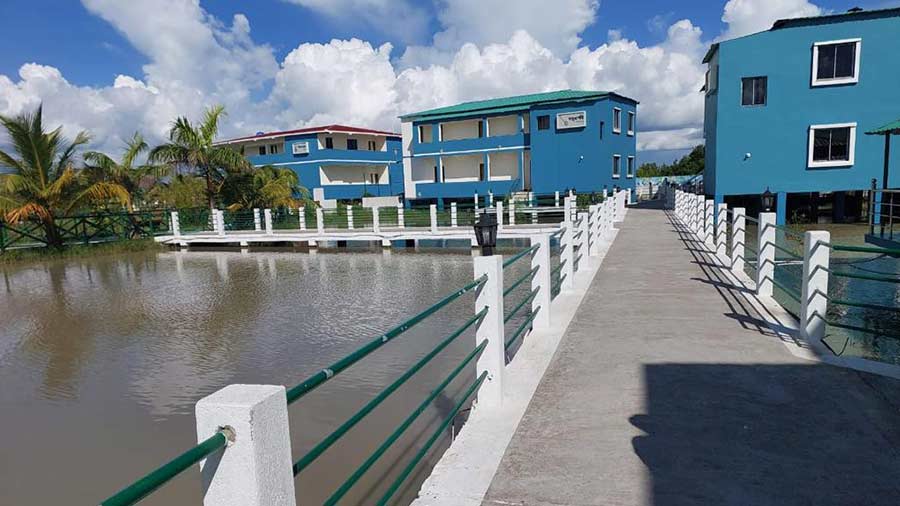 Established in 2021 by INC Projects Pvt Ltd, Jhore Jole Jongole is around 125 km away from Kolkata. It is the only resort in the Sunderbans, which is directly accessible by a motorable road through the Basanti Highway. What's more, contact the resort and they can arrange a car for you right from Kolkata. With 30 spacious rooms, around 75 guests can be accommodated at a time. 
Tariff: The eco-heritage resorts offer rooms at Rs 2,999 + taxes per night, and customisable day packages with food upon request. 
Amenities: Enjoy the scenic beauty of nature or awaken your inner adventurer and indulge in paddle boating, angling, cycling, or play indoor and outdoor games. It also has an air-conditioned multi-cuisine restaurant with Wi-Fi service. And, you can get your furry friends along! 
Activities: They arrange for guided safaris to the mangrove forests at Dobanki, Sudhanyakhali and Shojnekhali. You can also visit the Tiger Rescue Centre, which is a walking distance away. 
Book here.
Heritage Homestays, Amadpur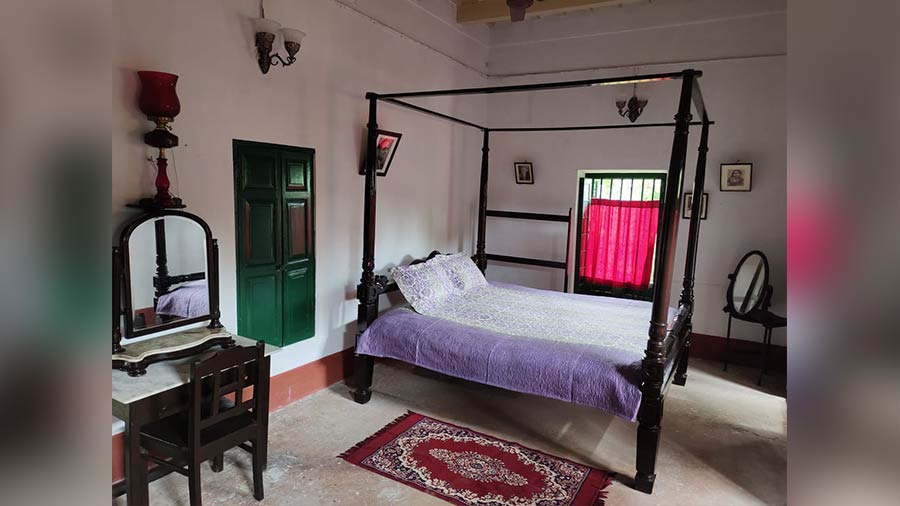 Want to experience life in a majestic ancestral home? Shiladitya Chaudhuri, owner of Heritage Homestays, Amadpur, has opened doors to his ancestral home for visitors to experience the grandeur of yesteryears. The location is 90 km away from Kolkata and is easily accessible by trains from Howrah, via road through the Durgapur Expressway and Delhi Road. Some buses also ply the route. 
Tariff: Rates start from Rs 3,500, which include breakfast. 
Amenities: Facilities are basic, with fresh farm foods. Pick-ups from Kolkata can be arranged on request, but it is suggested to avoid the same as cars take two-way charges. It is also pet-friendly, except during the festive season. 
Activities: Local activities include visiting the Amadpur village with ancient temples, lakes, ponds, orchards as well as Ambika Kalna, Burdwan town, Sat Deul, Rakhal Raj Tolla, Bahabpur, Bonogram Ashram and other spots with local guides. 
Festive Special: "Amadpur has a 361-year-old traditional family pujo. We do not make packages or programmes for visitors. Those who wish to experience a traditional Durgotsav are welcome. During these days, guests have to adjust and adhere to our family traditions and norms. Musical soirees, small skits and plays are performed by family members. Guests are welcome to participate," Chaudhuri informed.
Book here. 
Jhargram Palace Heritage, Jhargram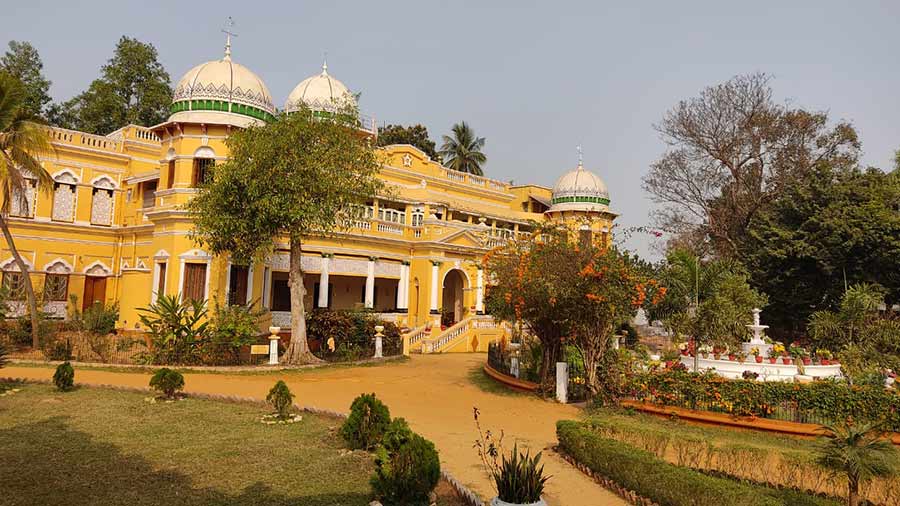 Watched how Sona da, Abir and Jhinuk uncovered Durgeshgorer guptodhon through the clues hidden in Bengal Culture? If you are up to uncovering your share of treasure, then make a quick trip to Jhargram Palace Heritage. Established in 1922, it is run by the descendants of the royal family of Jhargram. It is 180 km from Kolkata. You can avail any express train on the Howrah-Tatanagar route or drive down NH6 via Kharagpur to reach Jhargram. 
Tariff: Overnight stays start from Rs 4,000 per night. There are no day-trip provisions. 
Amenities: Dining, library, cycle and bike on hire, fishing, cricket, volleyball, and badminton (during winters)
Activities: Visit the Belpahari forest range, Ghatshila, Gopiballavpur, Chilkigarh and the Kanak Durga Temple. Guided tours can be arranged on request. 
Festive special: It is suggested that Durga Puja be witnessed at the Kuldevi temple, which is about 15 minutes by foot from the palace. 
Email here.
The Peerless Resort, Mukutmanipur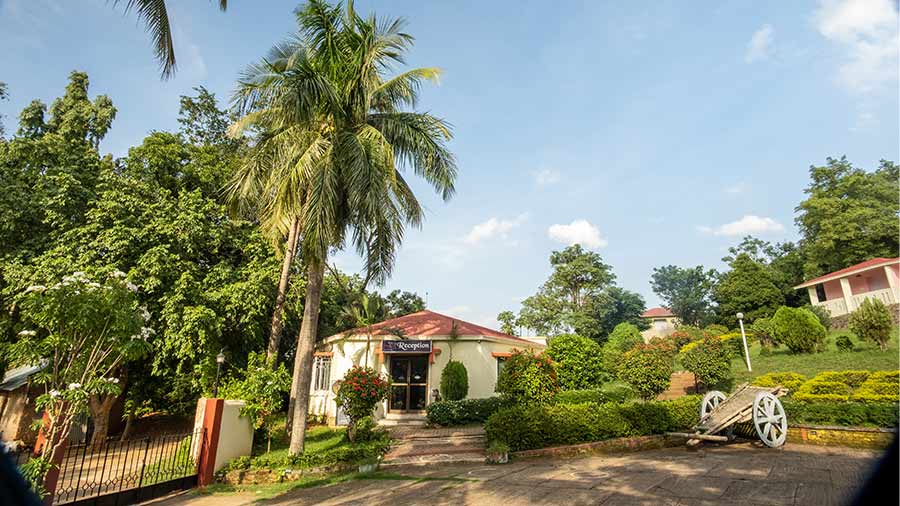 The Peerless Resort in Mukutmanipur was established in 1984 by Kaizen Hotels and Resorts. It is around 240 kms from Kolkata and can be reached by car, bus or train. Trains from Santragachi/Howrah ply regularly to Bankura, from where a local transport will take you to the resort.
Tariff: Rooms start at Rs 4,500 + taxes, while day trips with food cost Rs 2,000 + taxes per person.
Amenities: With 25 rooms, the resort can accommodate almost 60 guests. Should you prefer a pick-up and drop from Bankura, it can be arranged on request. You get to use all the amenities of the resort while staying, which include an activity room, indoor and outdoor sports facilities, and children's park. On advance booking, tribal dance, bonfire and trekking to the Baraghutu or Sonajhuri hills can be organised. 
Activities: Boating on the Kangsabati dam (chargeable separately) is popular. You can visit the Ambika temple, Sutan Forest, Talberia Dam and Jhilimili Forest nearby. If arts and culture interest you, then Panchmura village, famous for its terracotta works; and Bikna, which is 45 kms away and famous for Dokra crafts, should be on your list. You can also visit Bishnupur, which is 82 km away and requires a full-day trip. 
Festive Specials: The Peerless Resort is offering a two-night-three-day festive package at Rs 11,999 on a twin-sharing basis. The package includes accommodation in a deluxe cottage; breakfast, lunch, snacks and dinner; local sightseeing, access to in-house activities and cultural programmes. Bookings are on for this package till October 9. 
Book here.
Bari Kothi Heritage Hotel, Azimganj, Murshidabad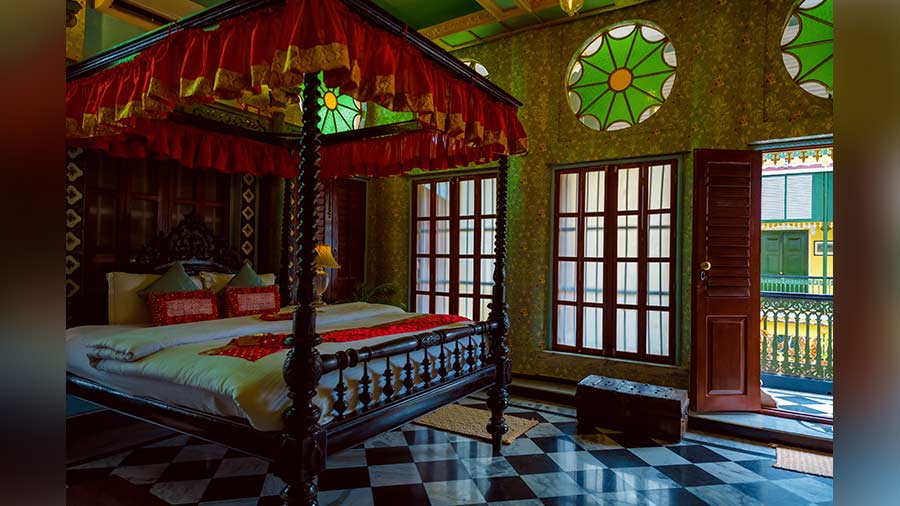 Located 230 km from Kolkata, it takes four hours by train and five hours by car to reach this historic venue. Built in the late 1700s, it was restored in 2017 and is now owned by the brother-sister duo Darshan and Lipika Dudhoria. Should you prefer car arrangements to be made, it can be done. 
Tariff: Three types of day packages are offered by the hotel, which start from Rs 2,500 per person and include a five-course lunch, tour of nearby places or a Baul performance. For night stay, the heritage suites are priced at Rs 15,730 + tax per night per room. It includes all meals, tours and cultural experiences. 
Amenities: Bari Kothi takes great pride in its motto – 'We don't sell rooms, we create experiences'. Here, you get to experience heritage luxury fused with modern amenities. Each guest is welcomed with the sound of a shankh. There are four specially curated tours — textile, heritage, culture and a master tour combining all — that can be availed. There are 15 royal suites in the hotel, which can accommodate around 35 guests. 
Activities: Local sightseeing includes visiting the Jain terracotta temples, Hazarduari Palace, Imambara, Kathgola Palace, and nearby mosques. 
Festive Specials: Bari Kothi will organise a curated experience from Sashthi to Dashami. Guests can choose to stay all five days or on select days. Events like Sankha Dhwani, Pradip Prajwalan, Dhunuchi Naach and a dress competition will be organised. Cultural experiences like aalta ceremony, Baul performance, Fakiri performance with cocktails, Chhau Naach, Santhali dance and pottery classes will be arranged. Specially curated fusion meals will be served, including a Rajasthani fusion dinner and a Gujarati fusion dinner. 
Book here.
The Belgadia Palace, Mayurbhanj, Odisha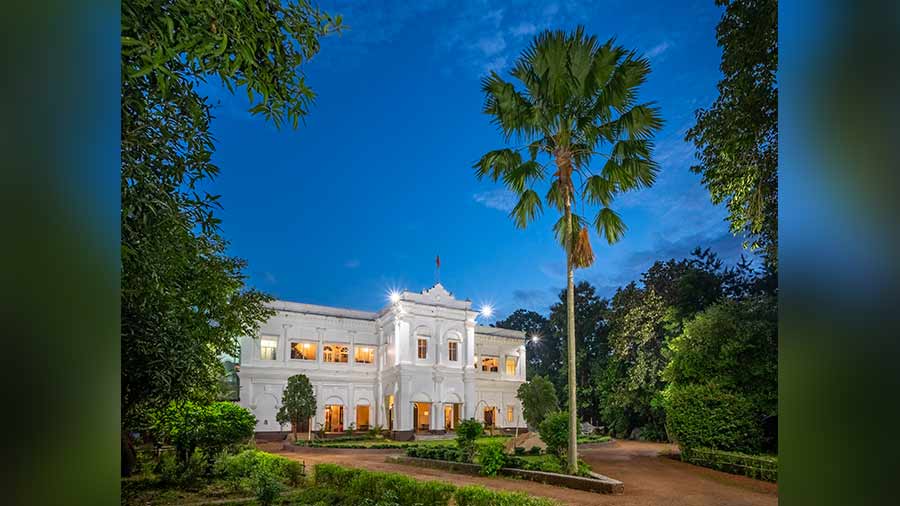 The Belgadia Palace was built in 1804. The heritage hotel today is owned by the erstwhile royal family of Mayurbhanj. It is easily accessible by road, bus or train. From Kolkata, it is about four hours away. Once you reach Balasore in Odisha, you can hail a cab.
Tariff:  Starts at Rs 15,000
Amenities: The Belgadia Palace has a subsidised pick-up and drop facility to the palace. The Palace is equipped with 11 rooms, which accommodates around 27 guests, it has high-speed internet, a spa, library, games, an in-house boutique store, swimming pool, orchards and more. The heritage cottage suites are pet friendly. 
Activities: The Belgadia Palace offers several local tours. You can visit a tribal village and get to know the art of dokra, tussar weaving, sabia and chhau more closely. Arts-based tourism involves a visit to the artisans' homes and temples. Wildlife and nature tours include famous attractions like Barehipani Falls, Simlipal National Park and Joranda Falls. Finally, heritage tours involve sightseeing of the original palace and more. 
Festive Special: On Bijoya Dashami, when Ram triumphed over Ravana, the local people worship the instruments of their profession. A display of sword fighting and martial arts, a tradition kept alive by many communities, especially by Kusupur Dussehra Sabha, can be witnessed. In Odisha, Durga Puja festivities in temples continue for 16 days, known as Shodasa Upachara. 
Every year, the festive season features curated meals and experiences for visitors. The food includes khichuri, pitha, gaja and kakara, to name a few. 
Book here.