College Street — Kolkata's book haven, and nostalgic street housing some food gems of the city like Paramount and Indian Coffee House. It's been a little more than a year that a new address has opened its doors in boi para. A unique book cafe that combines the best of College Street — books and adda! Abhijan Book Cafe from the owner of Abhijan Publishers is an addakhana for bibliophiles in and around the neighbourhood.
My Kolkata discovered this gem and went in for a visit. Here's the lowdown…
Celebrating Bangla
The book cafe is divided into two sections. On entering, the floor-to-ceiling bookshelves in the room catch your eye. Through a corridor, is the second section at the back — a small cafe with a seating area, a pantry and more books!
Abhijan celebrates Bangla with its theme. Besides a huge collection of Bengali books, the wall art and merchandise also pay tribute to the language and the region?. The walls are painted with the Bengali alphabet, and portraits of legendary Bengalis like Swami Vivekananda, Rabindranath Tagore, Michael Madhusudhan Dutt, Upendrakishore Roy Chowdhury and Kazi Nazrul Islam are present all around the cafe.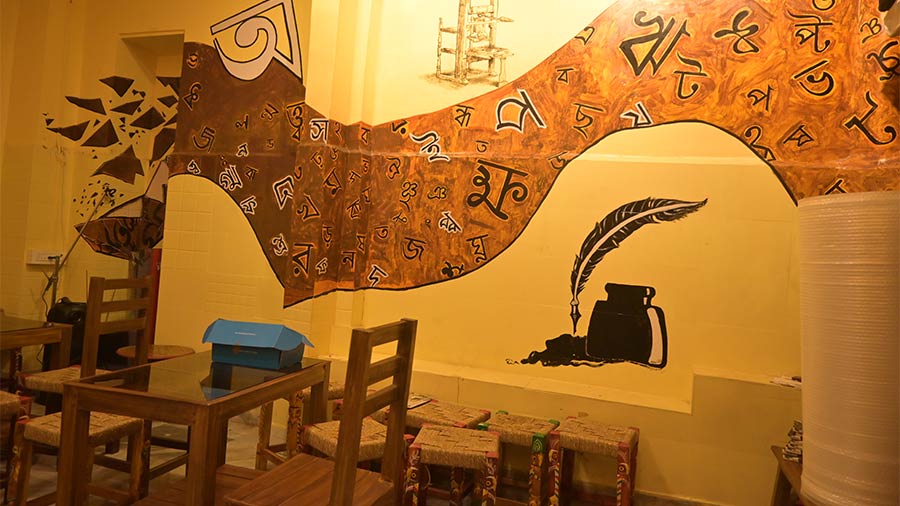 The cafe has a great collection of old and new books by popular authors. Published books from Bangladeshi authors under the Abhijan Publishers banner are also available here. We found books of several Bengali authors like Procheta Gupta, Bibhutibhushan Sarkar, Suddhasattwa Ghosh, and more.
Student-friendly menu
The menu offers a modest option of food and drinks with shakes, tea, coffee, sandwiches and variations of Maggi. You can enjoy nine different shakes like Oreo Shake, KitKat shake, Banana Shake, Chocolate Shake or opt for one of the four types of lassi. If you are parched and looking for a simple and quick refreshment, then go for the plain lebu jol.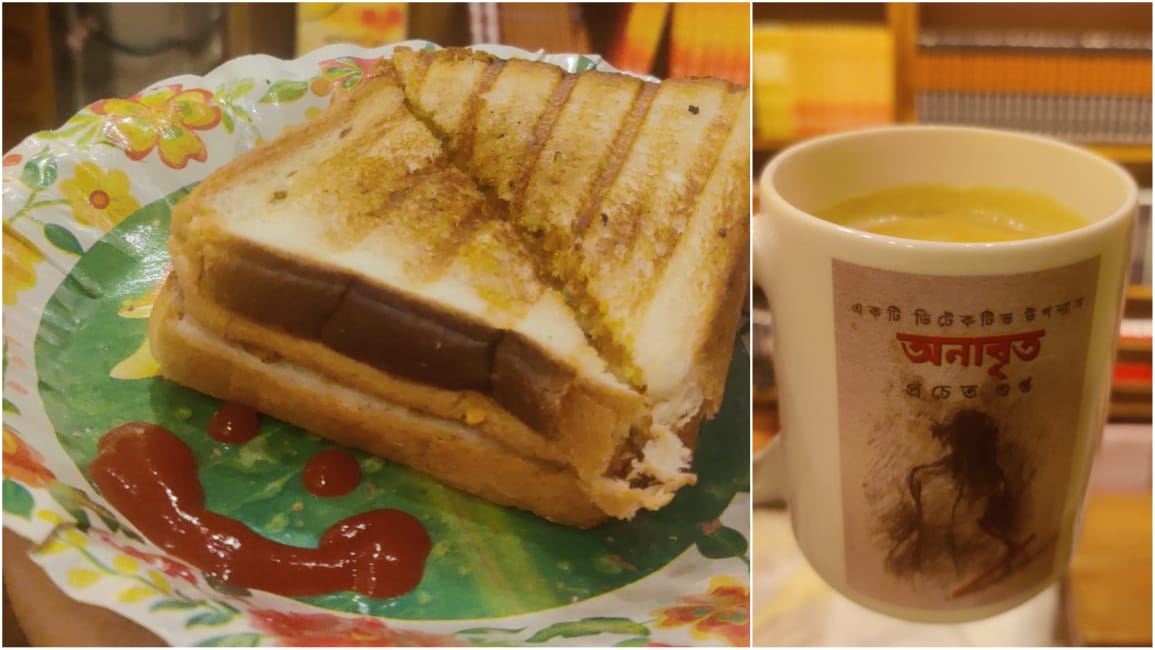 The small menu has snacking options like sandwiches along with hot and cold drinks, perfect for the regular student crowd
For the caffeine addicts there is coffee in cold, black and milk variants. While you sit with your book or engage in a soulful adda, you can also enjoy a first flush Darjeeling, Oolong or Colonel tea, or go for the OG chaa with milk. For the ta with your chaa, there are sandwiches in both veg and chicken along with a preparations of Maggi — plain veg, chicken, cheese — served steaming hot.
The pocket pinch is extremely budget friendly which makes it a good deal for the regular visitors, who are mostly students from nearby colleges and universities.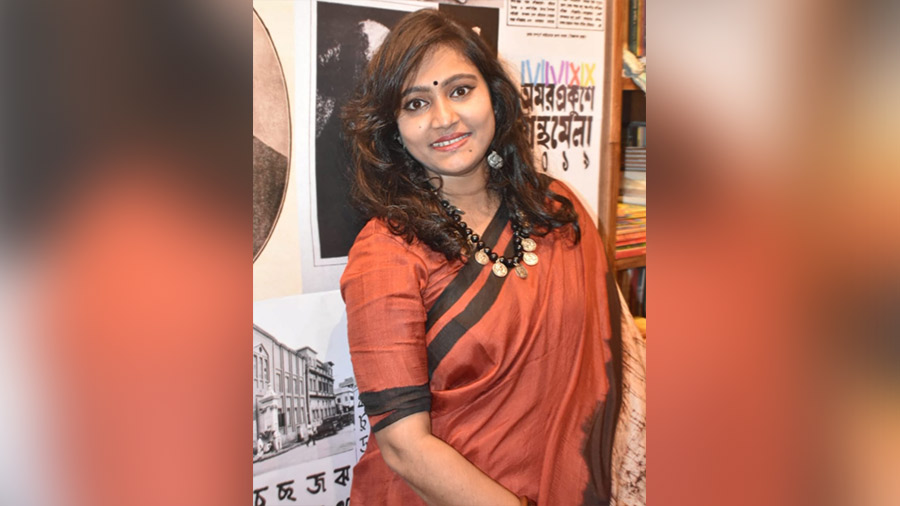 Abhijan Book Cafe owner Swati Talapatra
The menu was set with the student crowd in College Street in mind, said owner Swati Talapatra. "Students come here and spend time with their friends and sometimes alone with books. They like light nibbles with cups of tea, coffee or other drinks. We don't have a kitchen here but there is a pantry that is well equipped to serve sandwiches, maggi and other beverages. The items are all pocket-friendly and we don't wish to extend the menu either."
Charming extras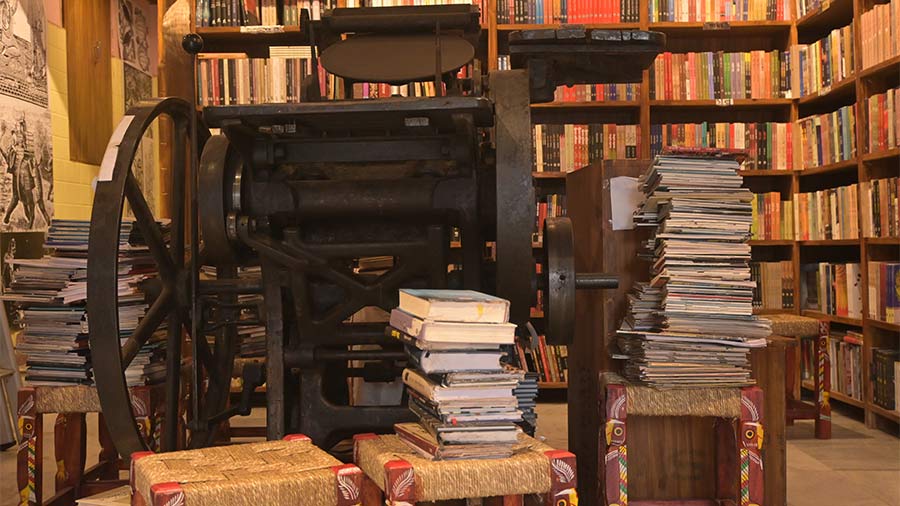 A vintage hand-operated printing machine on display at the cafe
In the midst of the chai and chats, what might also catch your eye is the vintage printing machine on display, which was collected by the Talapatra from an antique shop. "The printing machine adds to the charm of the shop. With technology advancing in the publishing and printing sector, soon these machines will be out of sight. Students who come here appreciate it as they haven't seen a vintage printing machine before," she said.
Abhijan also has a nook for merchandise like t-shirts and mugs with prints of popular Bengali quotes. A wall of fame behind the billing counter showcases Abhijan Publishers' and the book cafe's important milestones over the years.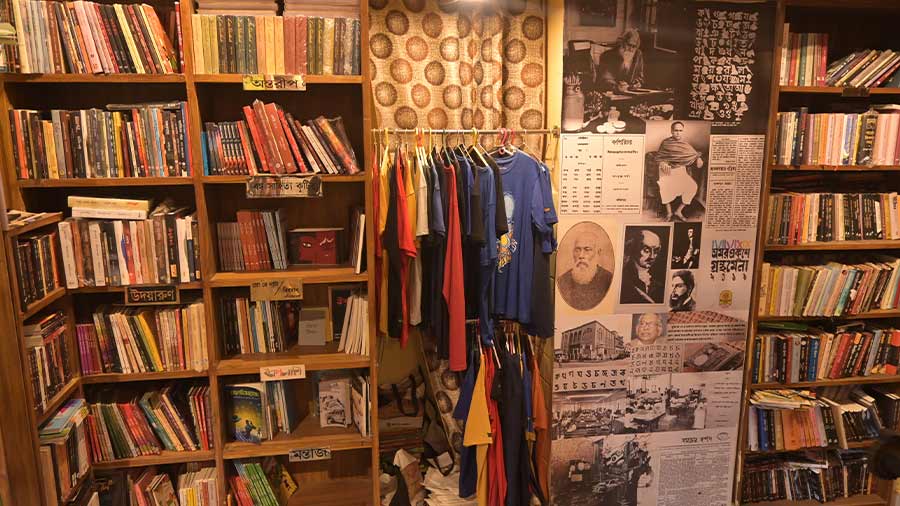 Along with books and a cosy adda spot, the cafe also has Bangla-themed merchandise like t-shirts and cups
Patronspeak
Opened on August 11, 2022, Abhijan Book Cafe has gained popularity among people who like to spend some time among books. We bumped into Bula da aka Pradip Chatterjee, one of the founding members of Moheener Ghoraguli. Commenting on the book cafe he said, "It is a nice place to catch up with friends. The staff is very friendly and you can sit here for hours with some tea and sandwiches."
Sumana Dhar, a student of University of Calcutta is a regular at Abhijan. Talking about it, she said, "Most of the time Coffee House is crowded and noisy. Other places around here are not very pocket friendly for us students. So ,it is a great option for us. I come here often with my best friend or when she is absent I come alone after classes. I read for a while and grab some quick snacks before leaving for home."