I am a bylane historian. I walk the entrails of Calcutta. I walk four hours each weekend. I take pictures of facades, people and animals. I ask neighbourhood residents about the history of their homes, how long the KMC paani ka nal operates (dependable conversation starter), since when they have been operating their istree ke dukaan and how often the lady feeds the stray dogs.
The one reality I have found common across European Asylum Lane, Shyampukur Street, Galiff Street, Mehdi Bagan Lane, Nalin Sarkar Street, Duff Lane and other sub-sub-arteries is that if you pause to take an interest in their life, the person is willing to dictate her autobiography.  
The one departure from the high-brow conversations that I made in the week leading to Durga Puja was when I began to engage with children. On account of my shyness, the engagement did not begin with conversations. It started with photographs instead. As a part of my endeavour to record street scenes, I chanced upon children sitting or playing in the streets. I would discreetly shoot their pictures and move on. 
Interestingly, what was intended to be just a photographic engagement with the subject — body language, lighting, exposure and decisive moment — evolved into something interestingly different. In some instances, I may have missed nuances of a child's expression while engaged in shooting but which became evident only in my post-shoot dissection. 
From that moment, my journey would fork: what would have started out by romancing the aesthetic would now extend to the emotional. I would ask questions like, 'Wonder what school the child goes to' or 'What would the child's family be like?' The question I began to ask myself a couple of weeks ago was, 'How can we make it a different Puja for this child?'
Aidul and the need for speed
Aidul was my first 'discovery' while I waited to be collected from CR Avenue following a two-hour walk through the hinterland of Durgacharan Mitra Lane in north Kolkata. The five-year-old was furiously 'driving' the road roller when I chanced upon him. 'Ki korchhish,' I asked. 'Boro gaadi chalachhi,' he replied. There was no blinding flash on the road to Damascus; I clicked a few pictures of this wannabe Schumacher (which were scrutinised by him for approval) and drove home.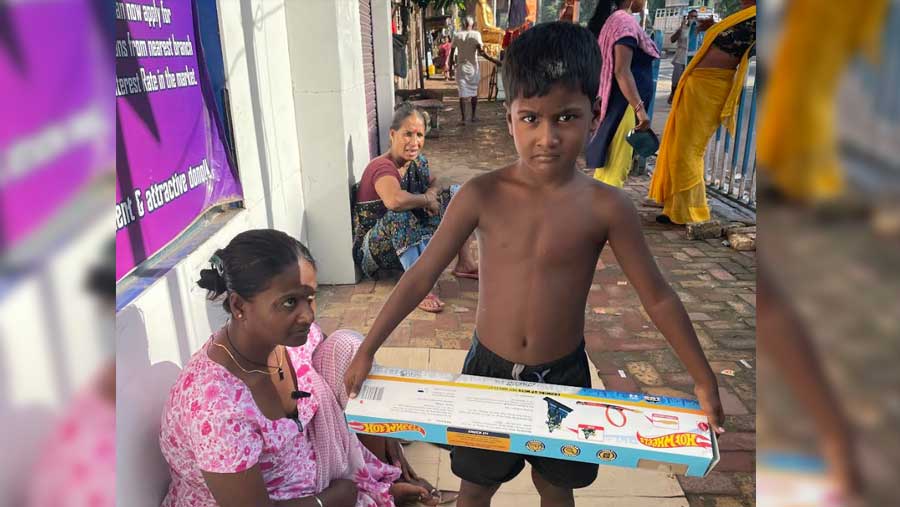 Aidul with his speed car
Mudar Patherya
Aidul began to play on my mind only when I was cropping his pictures. His face. His shirtless chest. The elastic of his linen trousers. The way he climbed down from the road roller. His bare feet. And the recall of a soft voice introducing his name. The following morning, I asked my colleague Samir to track him down. Within three hours, Aidul's parents had been tracked to a pavement; within a week, Aidul had been delivered his Puja gift (which came courtesy nine-year-old Arisht Chopra from Lovelock Place, resident of a different world): A speed car and an expressway that Pawan Jha, my chauffeur, helped assemble on-site. We adults chipped in with a bonus: the promise of Aidul's admission into an English-medium school, all expenses paid, and an introduction to the principal.
Puja and the gift of perseverance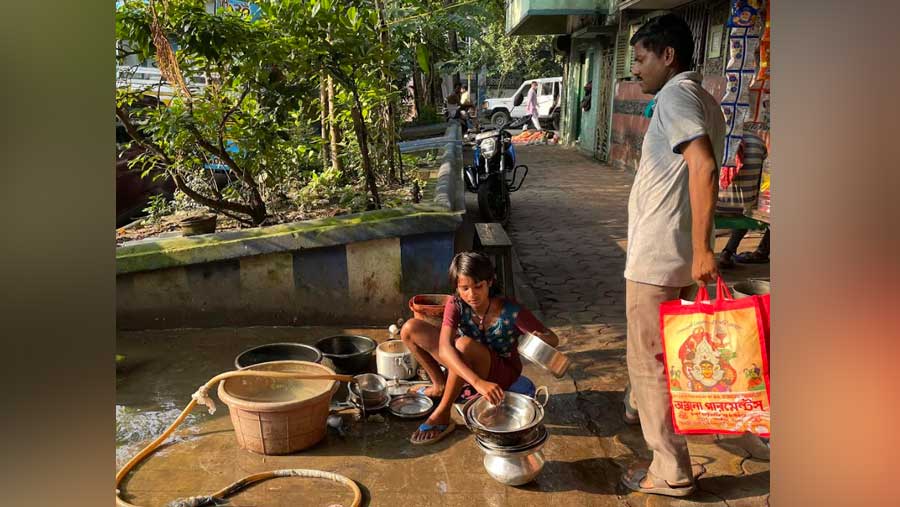 Puja at work washing utensils
Mudar Patherya
One chanced upon Puja in Bagbazar in quite similar circumstances: while returning from the morning tarpan shoot. She was washing utensils for her family (or employer, who knows). I clicked two pictures. The first response was 'unusual shot' due to the effect of the morning light. The second response was less mechanical; this picture showed Puja turn left to place the just-washed utensil into a larger utensil. That picture did it. The picture 'spoke': of her commitment, discipline and perseverance.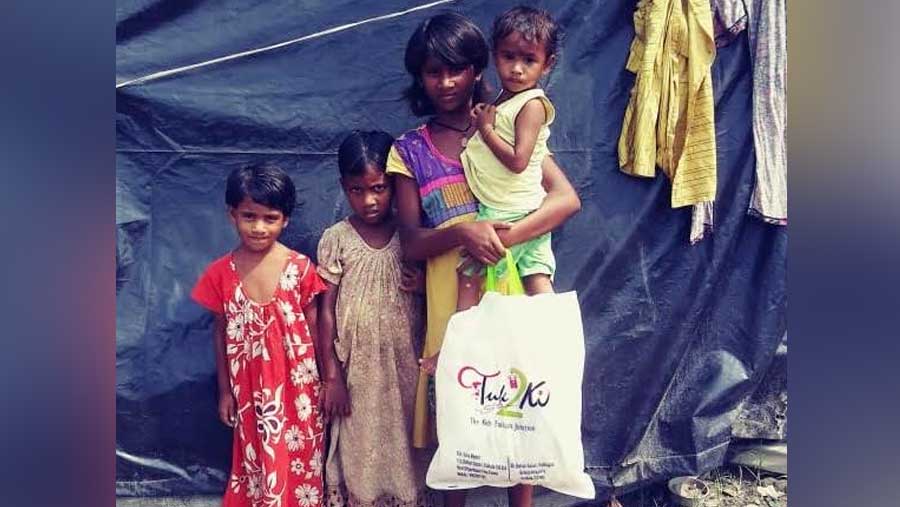 Puja with her new clothes
Mudar Patherya
The next morning, a Watson-like Samir was dispatched with a similar objective: track her down. Within a day, Puja and her siblings had been escorted to the local apparel store with an invitation: 'Buy whatever you wish for Puja' (funded by Ali Asgar Moochala, a Singapore reader of this column).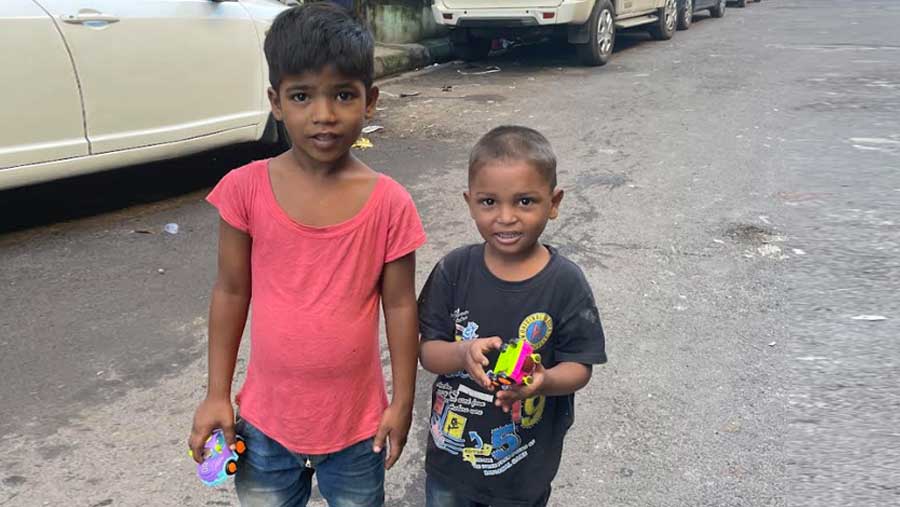 Badka with his brother and their toy cars
Mudar Patherya
'Badka' (literally meaning 'elder') on Rajmohan Street was surprised with a Puja gift of car toys that came from Sia (7) and Shayan (11) Bhatnagar. A child vendor selling incense sticks at the crossing of Lake Road and Sarat Bose Road was surprised to receive a bear hug (not the stock market kind). Rubina's children on Bentinck Street were pleasantly surprised when Samir turned up with school stationery and a placement offer in a boarding school.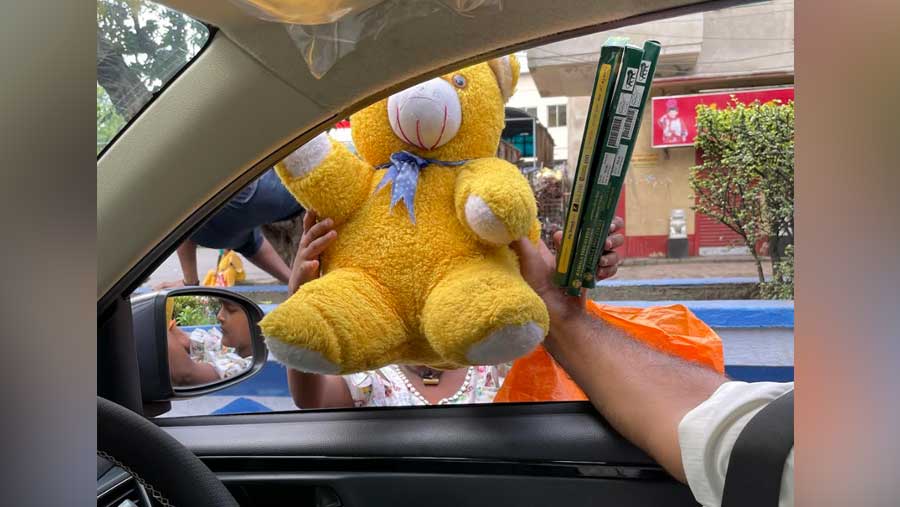 A child vendor selling incense sticks receives a teddy bear
Mudar Patherya
It's not about the festival either
Durga Puja has started me on a fascinating journey. It's not about the picture stupid, I keep telling myself; it's not about the festival either. This list will progressively widen because Durga Puja is not an event; it is a mindset. Because Durga Puja is not only about buying for the self; it is about sharing with others. 
The ones who can make this journey a living, vibrant reality are the most powerful community in Kolkata — here's a shout out to the ones walking its bylanes with their smartphones, entering remote neighborhoods, initiating conversations, taking pictures, analysing them, seeing opportunities, returning to re-engage and doing their bit to make the world a better place.
Mudar Patherya is a romantic who revels in Kolkata anecdotes, pictures, bylanes, characters and memorabilia. He is responsible for having kick-started the Rabindra Sarobar turnaround and the painted electricity boxes.