Nothing beats the simple indulgence of a golden, hop-forward lager, but there's a lot that goes behind perfecting a crafted blend. Luckily, the major players in the city aren't taking the burgeoning craft beer scene for granted. Even till a few years ago, Kolkatans only had mass-market options and a narrow selection of beers. Today, Kolkata houses many microbreweries that are pushing the envelope when it comes to signature blends.
Mumbai's popular new-wave brewery, Effingut, opened its doors in Kolkata last month — though their microbrewery is still being set up. Microbreweries like The GRID or Scrapyard are serving some approachable, balanced craft blends on tap.
My Kolkata took a good, long peek inside the city's popular microbreweries to explore their craft brews. Here are six brewpubs you need to have on your post-lockdown radar:
Motorworks and Brewing Company
The Sector V microbrewery opened in 2019. Their brews are aged between 14 to 21 days and are served right from the tap. Brewmaster Sayantan Mukherjee explains that brewing is a lot like cooking. It is personalised to an extent where using the same ingredients might produce very different flavours based on who has brewed it. 
Motorworks and Brewing Company is known for their seasonal brews like Watermelon beer. You'll spot nine other flavours on their extensive line-up such as Load N Up, After Burner, Tool Shed Brew etc.
"At the moment, the crowds prefer fresher brews. More and more youngsters are opting for freshly brewed craft blends, ditching the age-old bottles and cans. Customers in Kolkata, especially the young ones, have developed a new palate. The crowd is now more aware — thanks to all the travelling and social media. They understand what craft beer is all about, they want to experience new things," shares Harjot Singh, F&B Manager.
Location: EN 1, Sector 5, Salt Lake City
The GRID
Gaurav Karnani started The GRID in 2017 with the aim to create fresh flavour profiles anchored by ingredients, fermentation, maturation periods, carbonation profiles and serving temperatures.
"As craft brewers, we design the recipe the way a fashion designer conceives the outcome of an apparel or how an architect designs a building. All our craft beers are unique and inspired by different blends around the world coupled with brewers' imagination," reveals Koushika Viswanath, Head Brewer, The GRID. The GRID brews primarily light and easy-drinking craft beers that do not need aging. Viswanath tells us that climate, altitude and humidity play a vital role when it comes to ageing techniques. 
"We mostly mature them in stainless steel vessels and not in traditional oak wood barrels as what you see on the internet or how they age whisky in Scotland. Our focus is on the continuous production of consistent, fresh, flavourful and smooth craft beers," adds Vishwanath.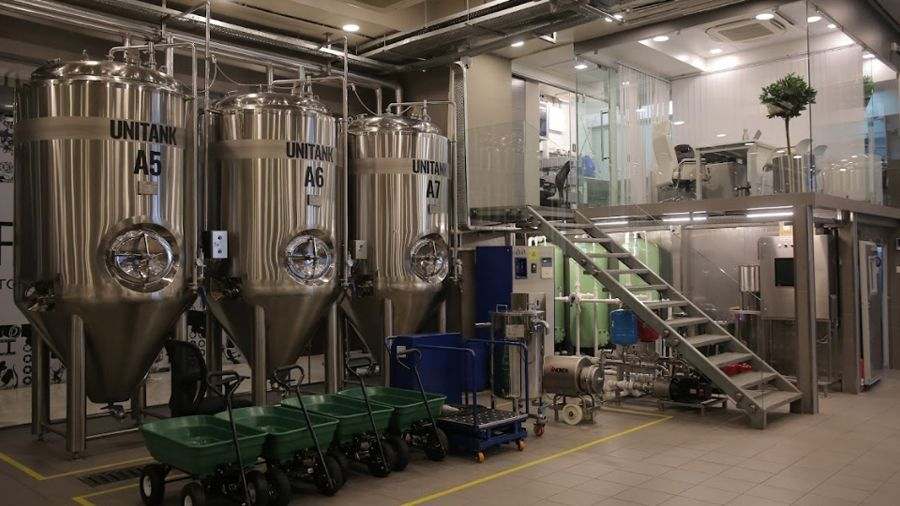 The GRID matures their brews in stainless steel vessels
The GRID is known for the four signature brews, Hefeweizen, Cider, Stout and seasonals. One of their most popular seasonal beers boasts complex tropical notes of pineapple, mango, fresh-cut grass and peach.
Location: 86A Topsia Road, Haute Street Building
Capella by AltAir Boutique Hotel
Capella is one of the highest brewpubs in the city (located on the 20th floor) and has been crafting beers since 2020. The menu offers four unique brews that are all distinct in flavour.
"The brewmasters have their own secret recipe for each blend. The world of craft beer has endless recipes, which are created through passion, innovation and improvisation. They use ingredients that help in supporting the local economy," said Ayan Mitra, General Manager. 
They brew their beers for up to 25 days to ensure a rich taste. Their most popular brews are the Belgium wheat called Cygnus and the German Draco (a blend of wheat and banana with a hint of cloves) which is their hefeweizen. 
Location: Ambuja Neotia EcoCentre, 20th Floor, EM-4, Sector V
Scrapyard
The Camac Street brewery has created more than 10 different craft varieties since 2019. Post the pandemic, however, they have pared down their manufacturing and currently offer four beers on tap. 
Owners, Ankit Madhogaria and Rohit Ojha think Kolkatans are now steering away from mass-produced, bottled options and are more aware of how craft beer is brewed.
"In the world of whiskeys, for instance, blends are everything. A master blender selects casks to draw liquor from and blends them to manage the flavour profile of the release. Beer blends are less obvious and in Scrapyard, we have come up with sour beer, Belgian wheat, Belgian Strong Ale and Marzen. We try to retain a sense of tradition while adding a modern spin," said Rohit Ojha, owner. 
Their most popular varieties are the Victorian (Belgian strong ale) and Taxi's Dubbel (Belgian Dubbel). 
Location: 12, Camac Street, Elgin
Beer Republic
Gursimran Singh's Beer Republic opened in 2015 and was the first microbrewery in eastern India. Their beers play between light and dark profiles which adds body, sweetness and fruitiness to the beer. 
"Beer drinkers are looking for new and unique approaches to the flavours. So factors like ingredients, alcohol content, variety, bold taste and food pairings really matter along with constant innovation," says Singh.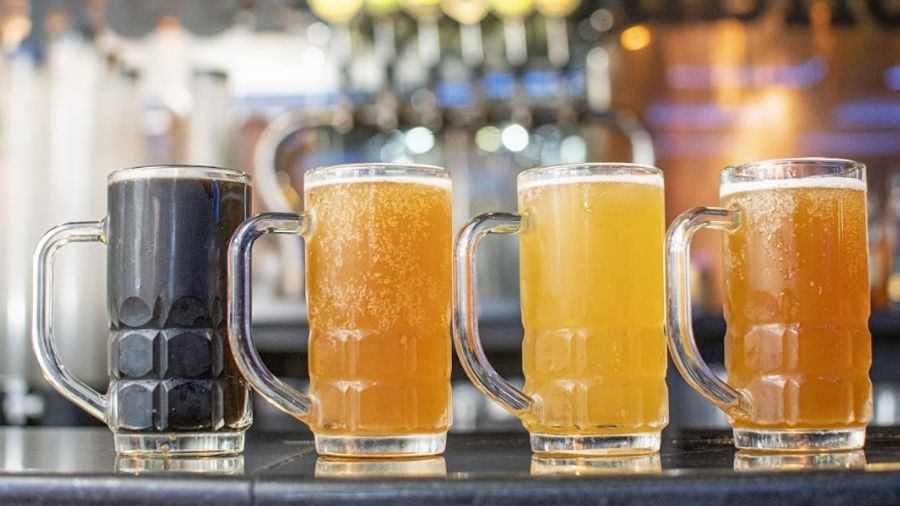 Beer Republic's signature brews vary greatly in colour and are named after their hues — Brunette, Republic, Blondee and Lemonale
The brewery creates brews in large steel vats that help in creating a clean flavour. Beer Republic houses four craft brews — Amber, Blondee, Brunette and their most popular Republic. 
Location: 89C, Maulana Abul Kalam Azad Sarani, Near Swabhumi, Kankurgachi 
Refinery091
Refinery091 has managed to incorporate an unmistakable crispness into their brews and their experimental approach is a big draw for their customers.
"The quality of ingredients is crucial when it comes to brewing a fresh craft blend. Experimental brews can also be prepared by incorporating flavouring ingredients like tropical fruits, dried dates, and typical spices. This eventually results in several variants out of a single brewing process," shares Sk Samim, general manager of Refinery091.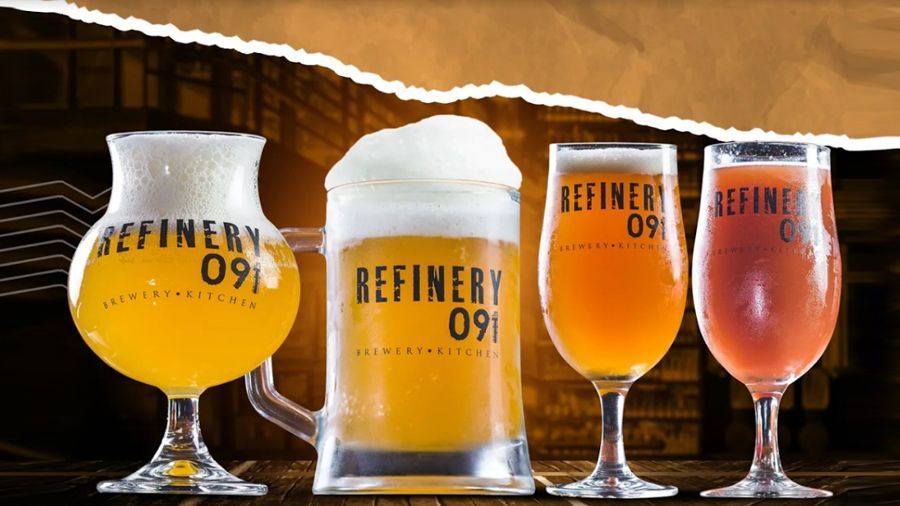 Refinery091's brews lined up — Meuse, Helles, Bamberg and Rosado
A lot depends, of course, on what their patrons are looking for. But Refinery091 prioritises brews that have a clean-cut flavour along with a freshness that's hard to find in bottled beer. Their signature brews include Bamberg, Meuse, Helles and Rosado, each having a distinctive taste and colour.
Location: 11 - 12, Globsyn Crystal, EP Block, Sector 5