Popular holiday destinations like Puri, Digha or Mandarmani are on everyone's list. For a sun-soaked day on the beach, you can try out Gopalpur-on-Sea, which is closer to home, less crowded and a pocket-friendly option.
This salubrious beach town in Ganjam district of Odisha is about 15 km from Berhampore, the district headquarters. The road to Gopalpur from Berhampur is dotted with coconut plantations and casuarina groves, giving a scenic view to tourists during the entire journey.  
Despite its serene beachfront and the splashing of massive waves, Gopalpur-on-Sea, which has derived its name from the local Venugopalaswamy temple, sees only a handful of tourists even in peak season. 
In the last few years, the Odisha government has developed sitting areas in front of the sea. Some temporary stalls on the beach now sell fried fish and souvenirs made from seashells. An adventure park opened near the beach in April 2022 has also been attracting locals of late.
Despite all these added arrangements, Gopalpur-on-Sea wears a look often found in Western seaside paintings. If you take a walk down the beach, you will come across solitary fishermen in their boats.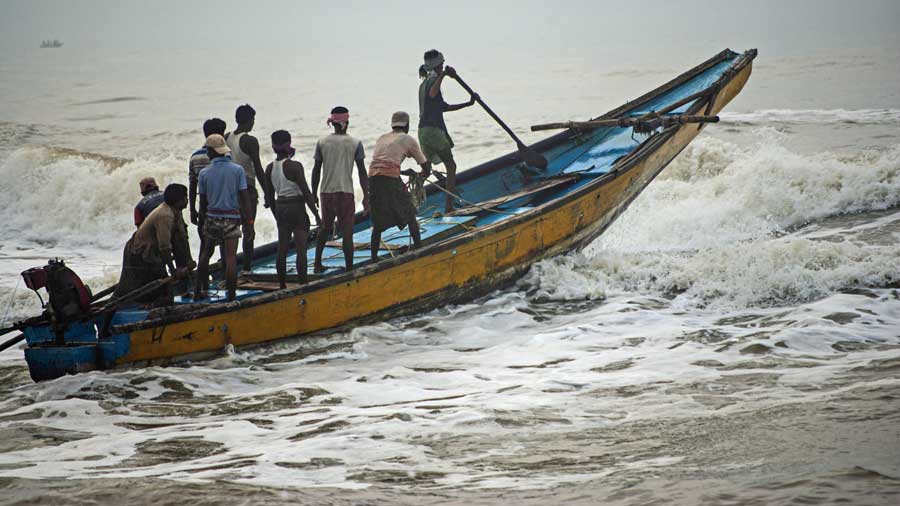 Fishermen venturing into the sea at Gopalpur
Amitabha Gupta
If you are an early riser, you must not miss the sunrise from the beach. You can also go for a swim in the morning — but stay near the main beach and do not go too much into the sea as there are no dedicated life guards around. 
How Gopalpur became Gopalpur-on-Sea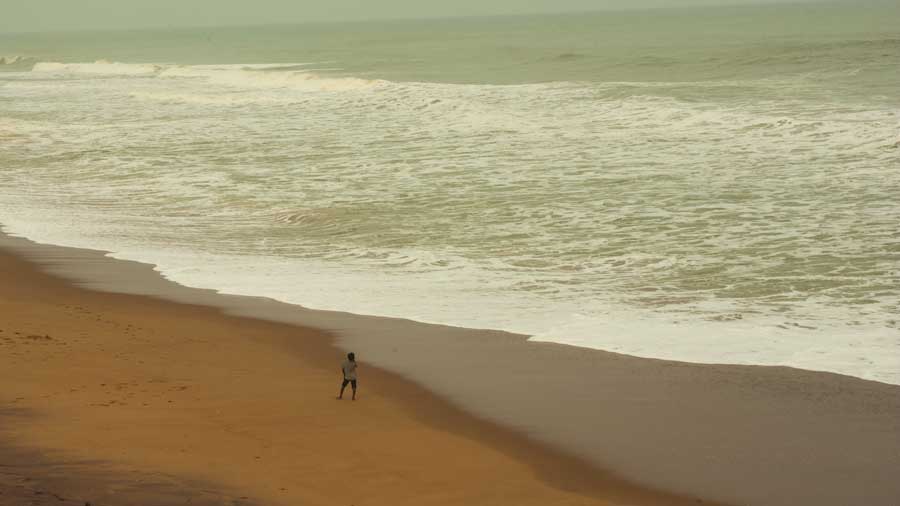 The serene Aryapalli beach
Amitabha Gupta
The British East India Company took control of Ganjam district in 1766 and operated the Gopalpur port for business. British company officials and missionaries who lived in Gopalpur started calling it Gopalpur-on-sea, much like the names of English seaside towns such as Saltburn-by-the-Sea, Barton-on-Sea and Bexhill-on-Sea.
During the two world wars, Gopalpur was the eastern sector's base for ferrying out troops and supplies to Rangoon. After independence, however, British families moved out of Gopalpur and so did many wealthy Indian families. And that was the end of Gopalpur's prosperity; it never gained that status of wealthy Bengali's preferred beachfront.
In and around Gopalpur-on-Sea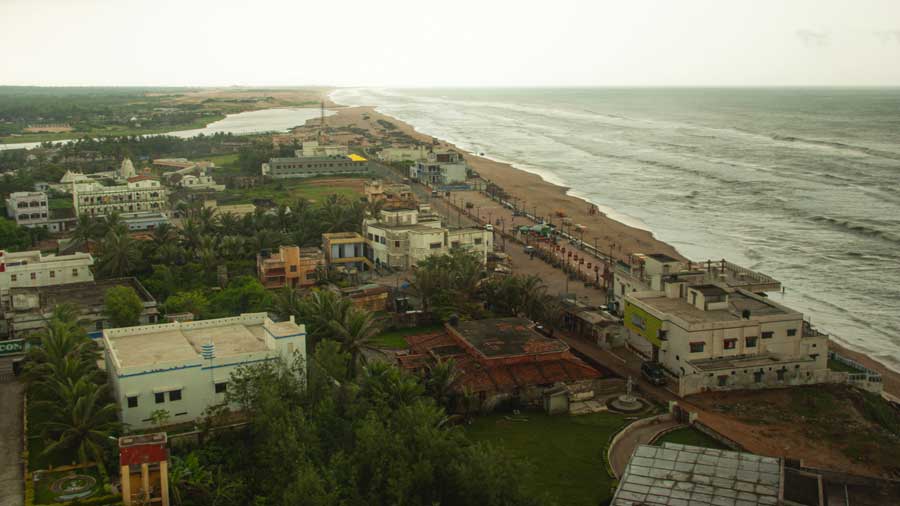 A 2009 photograph of Gopalpur from the top of the lighthouse
Amitabha Gupta
Gopalpur-on-Sea is spread around lagoons. If you walk towards the northern side of the beach and past Biju Adventure Park, there is a huge stretch of beach extending to the Gopalpur port. There are occasional stretches of quicksand on the far outskirts of the beach, so it is not advisable to take long strolls along the area where the park ends. 
You can enjoy long walks on the southern side of the beach. On your walk you might see many crumbling mansions beside the sea. Some of these are Old British warehouses. A group of graffiti artists painted such mansions in 2016 with vibrant colours. Only a handful has survived the humid weather.
Other than the beach on Gopalpur-on-Sea, you can also visit the Dhabaleswar beach (8km south) and Aryapalli beach (14km north).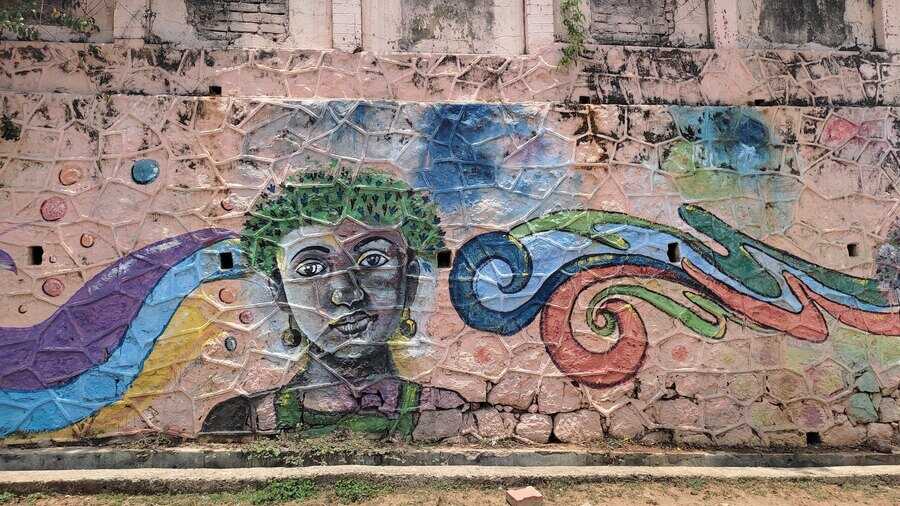 Graffiti on the walls of old mansions at Gopalpur
Amitabha Gupta
Just 35 km from Gopalpur-on-Sea is the Tarataini temple, which is located on banks the Rushikulya and is considered one the most revered Shakti peethas. The temple has been recently renovated. Around 12 km from the temple, there are remains of a fort in Jaugada. You can also go and explore the area to check out an Ashokan rock edict in that area.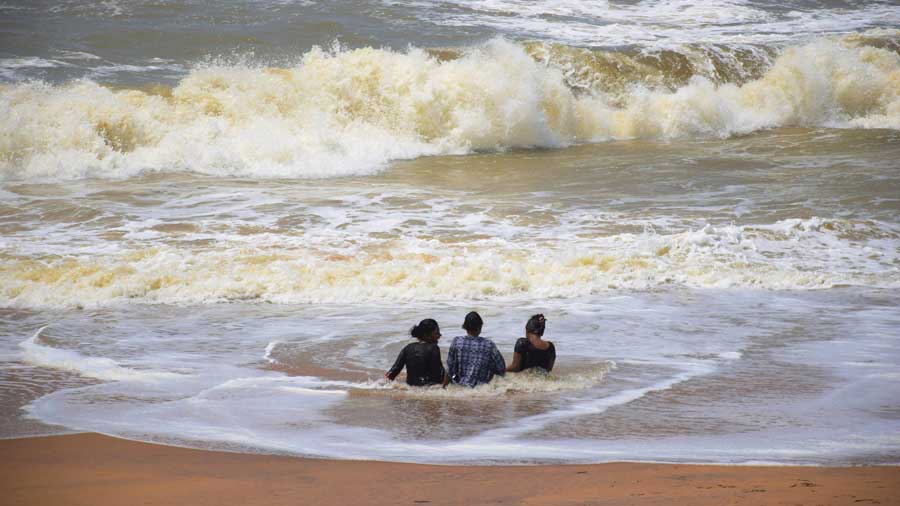 It is advisable to stick close to the shoreline when bathing in the sea at Gopalpur
Amitabha Gupta
Travel details:
Gopalpur-on-Sea is about 600km and 14hr from Kolkata by road.
The best way to reach Gopalpur-on-Sea from Kolkata is to take a train to Berhampore (Brahmapur) by train, and then get a hired vehicle. Morning trains are available from Howrah station. 
The second option is an overnight AC bus journey from Kolkata to Bhubaneswar, followed by another three- to four-hour bus journey from Berhampore. A private vehicle can be hired to reach Gopalpur.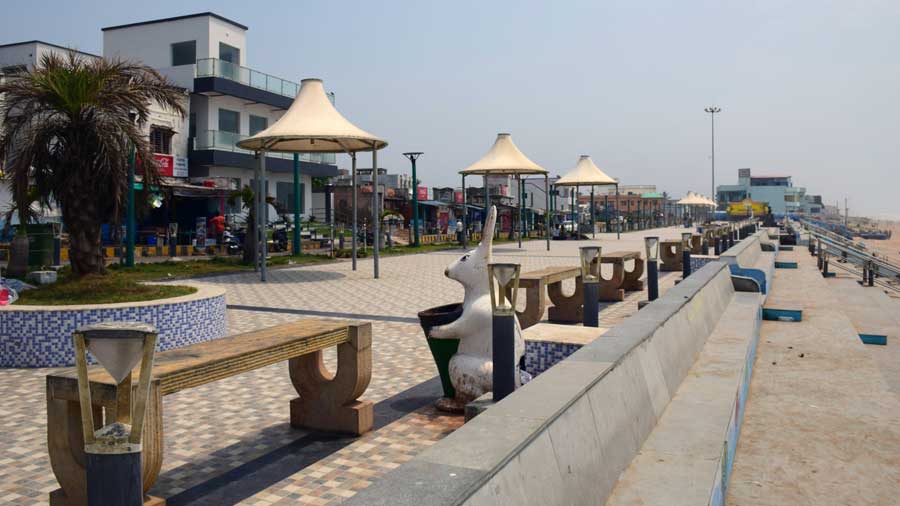 The renovated waterfront at Gopalpur
Amitabha Gupta
There are many options to stay at Gopalpur. Mayfair Palm Beach Resort is a luxury option and among the more high-end, though more pocket-friendly options are Gopalpur Palm Resort and the OTDC-run Panthanivas. All three have good in-house restaurants.
Among the more budget-friendly options are Motel Mermaid and Hotel Ocean Inn located close to the main beachfront. If staying very close to the sea is your main priority, Hotel Sea Pearl and Hotel Kalinga are some of the options you may consider.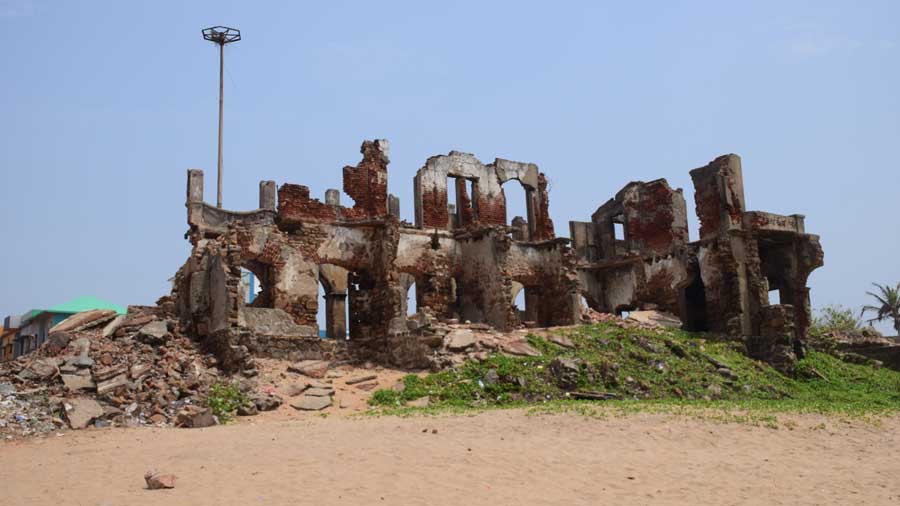 Ruins of one of several colonial-era mansions at Gopalpur
Wikimedia Commons