Bengal Heritage Foundation, a charitable organisation in the United Kingdom, brings a slice of Kolkata to Londoners each October with its Durga Puja celebration — London Sharad Utsav. The foundation tries to mirror Kolkata's patented blend of excitement and ebullience with four days of agomoni, anjali and mouth-watering bhog.
The first London Sharad Utsav was organised in 2009. The event has grown exponentially since, receiving thousands of pre-bookings this year. "We began the London Sharad Utsav with just five families getting together to celebrate Durga Puja. This year, we anticipate a lot more people to join in and celebrate with us. Many Bengalis in London missed Durga Puja last year due to the pandemic. So, this year, everyone is geared up to make up for it," said Sourav Niyogi, president of the Bengal Heritage Foundation. 
London Sharad Utsav is being held over four days (Navami and Dashmi will be held on the same day) from October 14 to 17 at the Ealing Town Hall. The theme for this year is 'Ya Devi ㅡ celebrating womanhood'. 
The festive celebrations begin on October 14 with bodhon and Sashthi puja anjali, followed by a lunch feast of luchi, torkari and misthi. The evening will see arati, anjali followed by a dinner of pulao, chhole and mishti.
Saptami's festivities will begin in the morning with chandipath and naba patrika snan. This will be followed by anjali and bhog in the afternoon. Evening celebrations will comprise arati, anjali, chandipath and, of course, bhog. The menu for every day stays the same, with the dinner item rotating between chhole and mixed vegetables.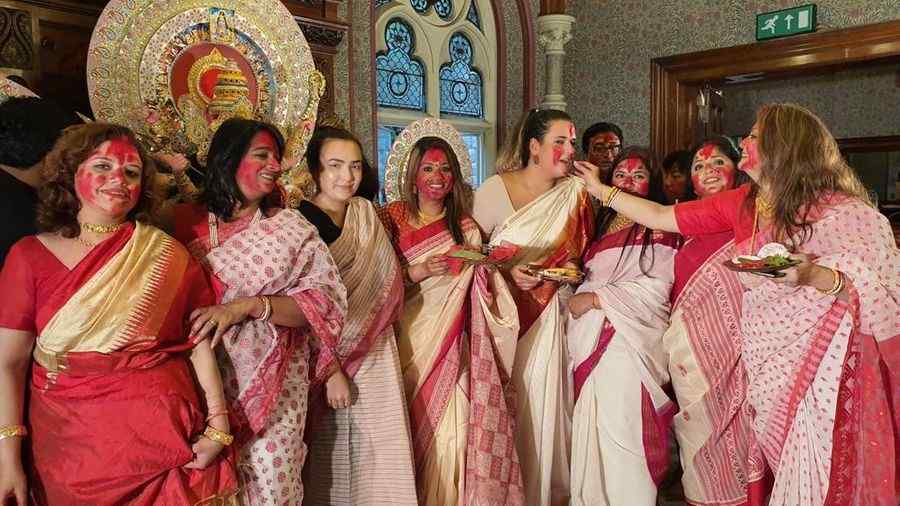 Women participate in 'Sindoor khela' during the 2019 puja
Courtesy: Joydeep Pal
The purohits, Dr Panchajanya Ghatak and Dr Parijat Bhattacharjee, who are both COVID warriors, will perform the rituals. "We make it a point to host an authentic Durga Puja celebration. Ashtami's Kumari and Navami's Sandhi puja are always held, and this year, we are trying to carry out the bhasan too," said Koushik Chatterjee, trustee of the Bengal Heritage Foundation. The event will draw its curtains with sindoor khela and a special dinner for members comprising pulao, mangsho (mutton) and rosogolla on Dashami.
A number of cultural events have been lined up over the four-day celebration to add to the mirth and merriment of the festival. The cultural celebrations will begin with a tribute to Amiya Bhattacharjee, London Sharad Utsav's purohit for the last 12 years, who passed away during the pandemic. Events such as Agomoni, Antakshari, Dhak Dhunuchi Dhamaka and a heritage quiz will be held. A Bollywood-Bangla live session of song and dance will conclude the festivities.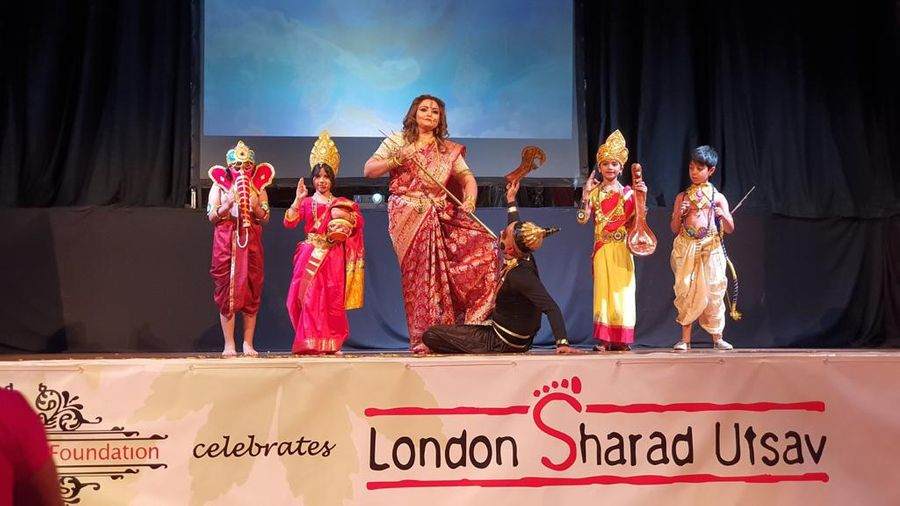 A number of cultural events have been lined up over the four-day celebration
Courtesy: Joydeep Pal
"Our cultural programmes are dedicated to the women in our lives. The highlight of the programme is Amader Durga — a fashion show inspired by powerful women. Our models will depict four types of women: women of heart, strength, soul and courage," said Jhuma Patra, trustee of the Bengal Heritage Foundation.
Festivities at London Sharad Utsav are tailored to emit an adda vibe. "Bengalis love adda! We ensure that the celebrations are free so that everyone can join us. We create an environment perfect for adda. You can come and hang out for a few hours, eat some good food, sit through our cultural programmes and get a feel of Kolkata," said Chatterjee.
The Bengal Heritage Foundation seeks to promote and preserve the heritage of Bengal globally through events like the London Sharad Utsav that amplify Bengal's art, culture, music, food and fashion.