Want to upgrade your skills in IoT (Internet of Things) before pushing for that promotion? Want to be fluent in data science before joining the workforce? Or are you a school student eager to 3D print an Iron Man suit for yourself over the winter holidays?
Head to this institute in New Town that provides training to professionals, aids industries and also offers short term courses for anyone who may, for instance, want a crash course on cyber security.
"We impart training in data science, cyber security, embedded systems and 3D printing technology," says Rashmi Sharma, head of Webel Fujisoft-Vara Centre of Excellence. "We train existing and graduate students of engineering colleges and professionals who want to upscale their skills. We also provide services to industries."
While their certificate courses are spread over 300 to 500 hours (that usually takes six months) and are followed up with internships, they are just as keen about their half-day boot camps for novices looking for an introduction into the subjects.
Print it out
3D printing is the process of constructing three-dimensional objects from a computer-aided printing machine. For this, the institute uses seven imported Stratasys machines. "These are industrial machines and remain 'on' 365 days a year," says associate manager Pratim Bhattacharjee. "They are fitted with spools of thermoplastic that are melted into a jam-like consistency. As per requirement, a nozzle ejects this to form the structure needed. Thermoplastic is engineered for great strength and can even replace aluminum, if needed."
The application of such printing is limited only by imagination. "Surgeons have found great use our services," Bhattacharjee says, showing 3D printouts of a heart, kidney and mouth. With the help of CT and MRI scans, we can make exact replicas of organs that need to be operated upon. By studying these beforehand, surgeons can reduce the time and complications inside the operation theatre."
To replicate the soft texture of organs, the spools may use liquid resin instead of plastic.
"Various companies come to us to get prototypes of their products printed — head phones, toys, furniture, shampoo bottles… Plastic is cheaper when lakhs of units are being produced in assembly line. But for a single unit, 3D is most cost-effective," he explains. "Movies and web series are printing out their props too these days."
The printouts are charged by volume. A 300mm Saraswati idol that the institute had printed out and worshipped on Saraswati puja weighed 1.2kg. It took 100 hours of non-stop printing to create it and cost about Rs 40,000. "Prices also vary as per accuracy. A medical printout would require tremendous detailing and so would be costlier. But then a showpiece could be an affordable Rs 1,500," he says.
The institute is open to printing out objects for individuals who are willing to pay too.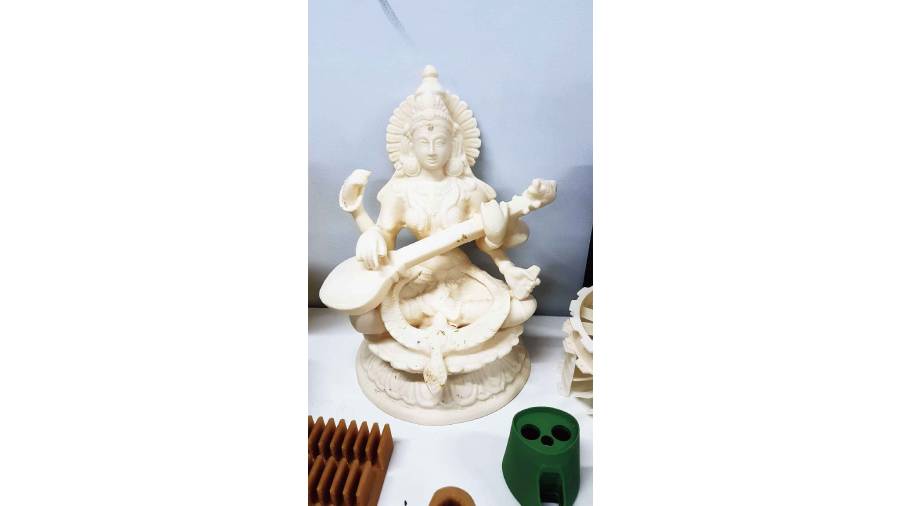 The 3D printed Saraswati idol that was worshipped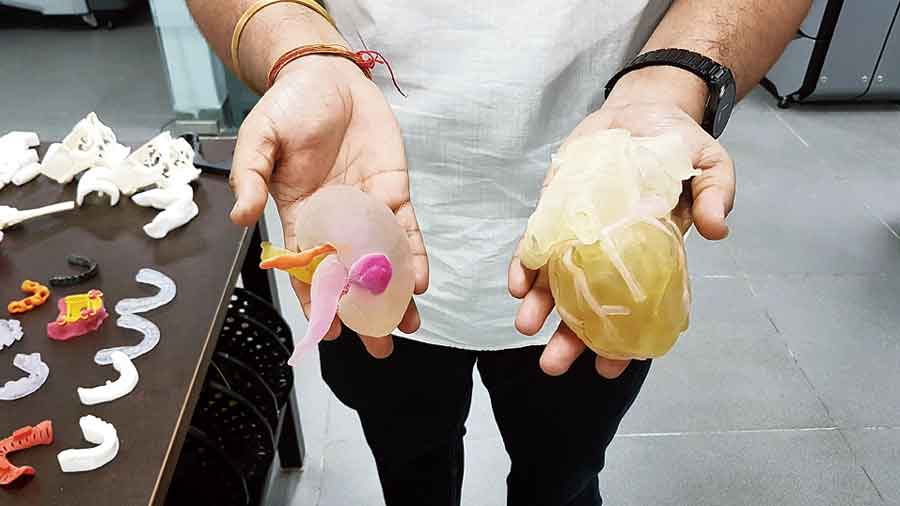 A 3D printed model of a diseased human kidney and heart that surgeons studied before operating upon patients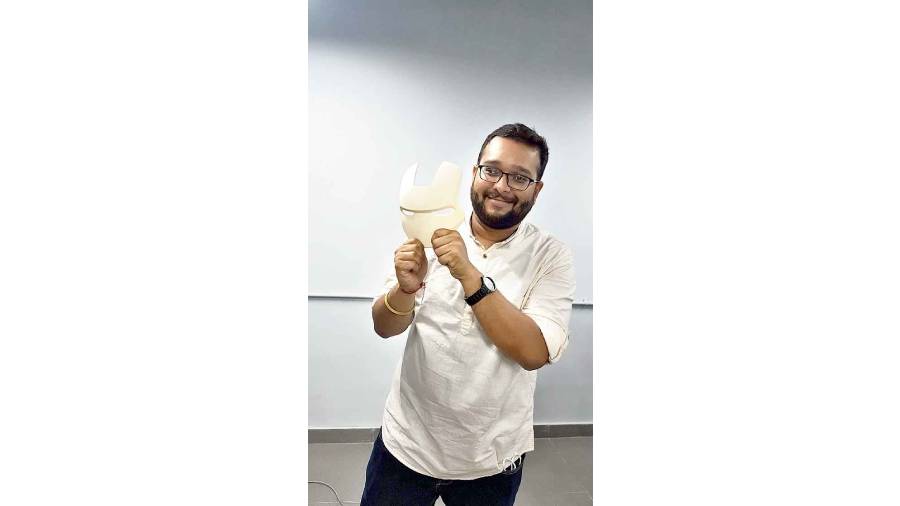 Pratim Bhattacharjee with a printed Iron Man mask replica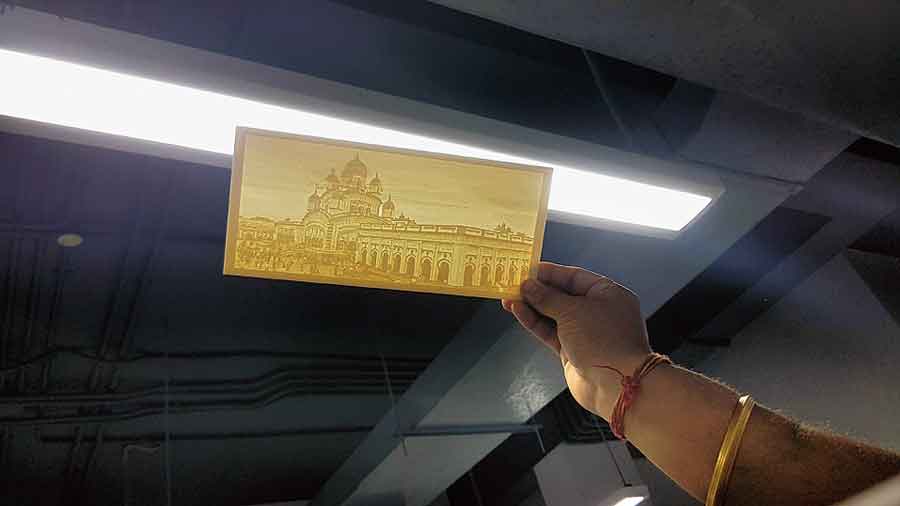 A printed panel of Dakshineshwar temple, suitable for lampshades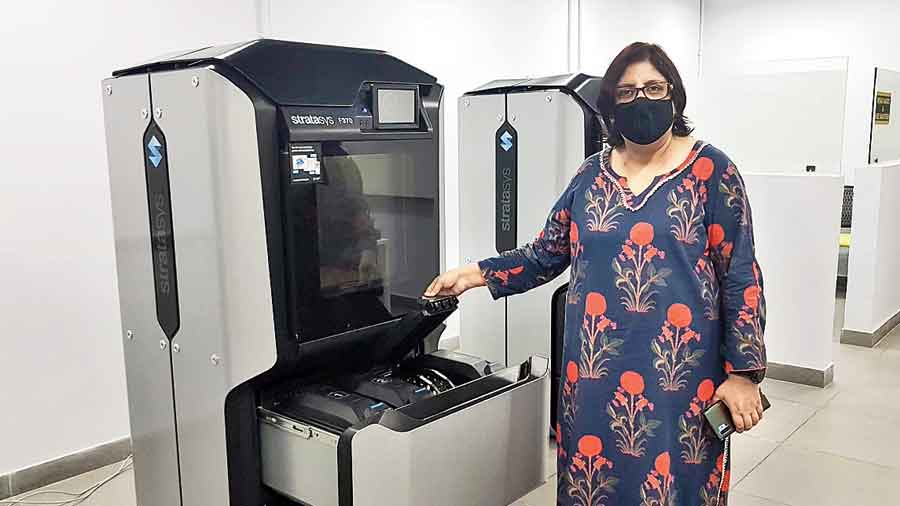 Centre head Rashmi Sharma with a 3D printer
Industry-ready
The centre of excellence, located near Uniworld City, is a state government initiative. It has been established by the department of IT and electronics (through its nodal agency Webel) and the micro, small and medium enterprises directorate. It is being executed by a joint venture between Fujisoft Inc of Japan and Vara Technology of India.
The G+3 floor campus has smart classes with wifi, built-in sound systems and smart boards that can be written on as well used as a touch screen Android board. They have their private cloud for managing big data, simulation rooms for cyber security exercises, a 100-seat auditorium and co-working space for start-ups.
"We offer industry certification and are up to date with the latest developments to find out the skills in demand. The content of our courses is validated by the biggest names in the industry and so the certificate has their name as well as ours," says Sharma.
Webel Fujisoft-Vara Centre of Excellence
Course: Data science, cyber security, embedded systems (IoT) and additive manufacturing (3D printing)
Duration: Certificate courses span 300-500 hours and admissions take place roughly every six months. The next batch will be inducted in January. They also offer short term introductory courses for novices. These can range from half a day to the length of one's vacation.
Eligibility: For certificate courses, candidates need to be graduates in fields specific to their course. For the short term courses, candidates can be as young as in Class VII.
Fees: For certificate courses, between Rs 2,00,000 and 2,50,000, exclusive of GST. For short term courses, from Rs 500 to 15,000.
Pictures by Brinda Sarkar